British Food Fortnight – 18 September – 3 October
Choosing British food means enjoying the diverse and delicious food that our varied countryside and seasonal climate produce. It is a way of rejoicing in the food that is grown on our doorsteps, tasting a part of Britain's heritage, supporting farmers who maintain our beautiful countryside.
The first British Food Fortnight was held in 2001 when the foot and mouth crisis had bought farming to its knees. Alexia Robinson, whose idea it was, wanted to do something to help revive rural communities and to give farmers a reason to continue to farm and look to the future with optimism.
British Food Fortnight was born out of her desire to get the public motivated to buy British food. The aim then, as it is now, is to use the fun of a national celebration to encourage people to actively seek out British food when they are shopping and eating out. If they enjoy doing so during British Food Fortnight then hopefully they will make a conscious effort to buy British year-round.
The inspiration was the Harvest Festival, the traditional time when communities have gathered in the autumn for hundreds of years to celebrate the produce of the land. Indeed communities around the world have annual celebrations whether it is the rice harvest or wine.
Hence, British Food Fortnight takes place every year in the Autumn, in the last week of September and the first week of October; the traditional time of harvest festival.
Why buy British food?
British food travels less far from farm to shop so has a lower carbon footprint than most imported foods.
Eating British fruits and vegetables in season is good for you. Foods in season contain the nutrients, minerals and trace elements that our bodies need at particular times of the year.
British meat is produced to some of the highest welfare standards in the world: no growth-promoting hormones are allowed and any antibiotics are administered only under veterinary direction.
Britain's pig farmers operate by UK law to standards of welfare that are some of the highest in the world.
Britain's beef and sheep industries are the envy of the world; breeding livestock and genetics from our native breeds are much sought after by farmers in other countries. Protect our great native livestock industry by buying the real thing, not an imported substitute.
British chicken is reared to some of the highest standards in the world.
You will be supporting the economy; everyone from the farmer, to those who work in food processing and the shops, pubs and restaurants selling the food.
You will play your part in protecting our environment as much of Britain's food is produced in a sustainable way that enhances the countryside.
You will have the assurance of knowing what you are eating. Britain has some of the most robust food assurance and traceability systems in the world.
What's in season when?
The fruit and veg sections of supermarkets look the same every week but behind this, there are very distinct and various seasonal fruits and vegetables that we can relish and enjoy in abundance at certain times of the year. We are fortunate to live in a country with four distinct seasons and the variety of fruits and vegetables that this provides. It makes for the richest, most delicious and healthy diet…we just need to make a conscious effort to discover it!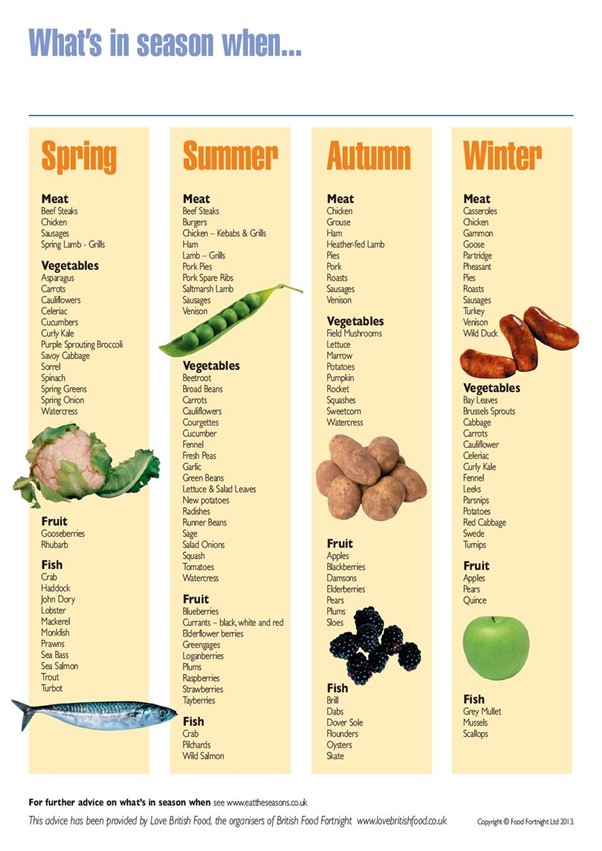 8 Reasons to Shop in Season
The greatest joy of eating seasonally is the opportunity to reconnect with nature's cycles, the passing of time and the tremendously diverse and delicious foods that our seasonal climate provides.
Food in season is cheaper because you are buying it when it is in abundance and it has not travelled a long way.
Eating seasonally reduces the energy (and associated CO2 emissions) needed to grow and transport the food we eat.
Eating seasonal foods supports the local economy: for example, it is a bit silly to buy apples from New Zealand at the height of the English apple harvest.
Seasonal food is fresher and so tends to be tastier and more nutritious: fresh asparagus, for example from the New Forest, taste more special than asparagus flown in from South America.
Eating British fruits and vegetables in season is good for you. Foods in season contain the nutrients, minerals and trace elements that our bodies need at particular times of the year.
Whenever a particular ingredient goes out of season, another delicious food has come back into season to tempt us all.
Eating seasonally is about pleasure, variety and discovery!
We'd love to celebrate by sharing some of our fantastic British supplier stories. This is a small selection of some of our British suppliers which we have featured so far on our blog…
Why not share with us on Facebook your favourite British dishes and add #BritishFoodisGreat