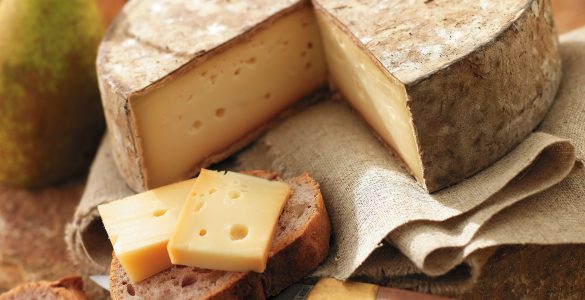 Along with fruit and veg, we also love cheese. We've got a great selection with some great stories behind them too. Find out more and try out some of our suggested recipes.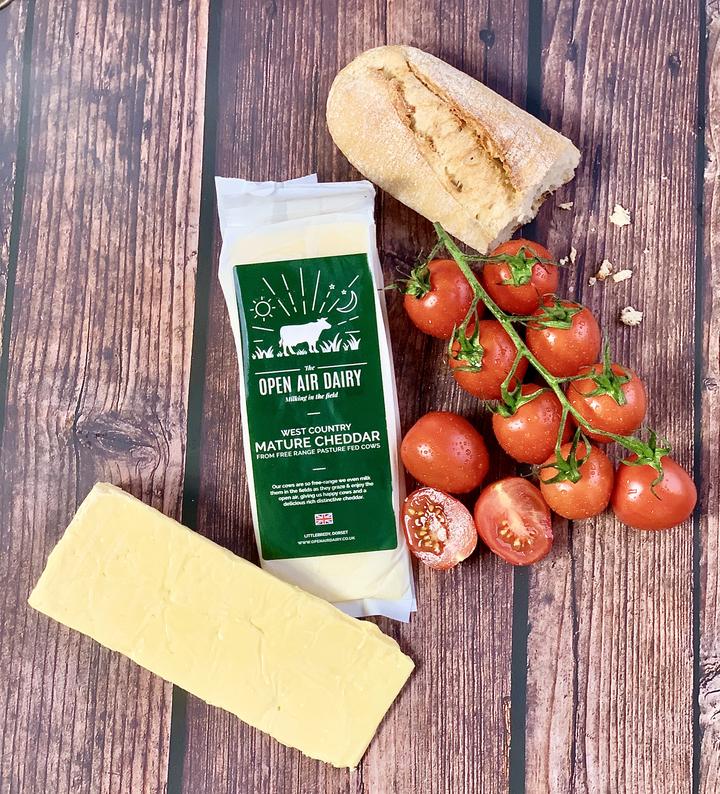 The Open Air Dairy Cheddar 
The Open Air Dairy was born out of friendship. Tom and Neil met at the University of Plymouth and there began a lifelong friendship. Together with their families, they began The Open Air Dairy with a vision for how dairy farming could be done differently.  
The farm is home to 800 free-range cows. Nestled in the beautiful Dorset countryside the cows live outside all year round, grazing and roaming everywhere.  To make it even gentler for the cows they don't even get brought in for milking.  The milking parlour is taken to them wherever they have wandered. 
The cheddar has a delicious rich distinctive flavour. 
If you have the same lunch every day, or the kids' sandwiches keep coming back, take heart. With this new idea, the school lunch-box will never be the same again!
Source: Taste – Find the recipe here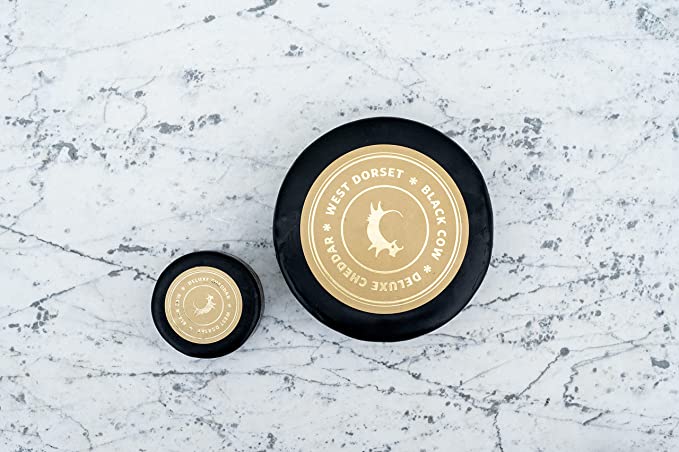 Black Cow Cheddar
Black Cow Cheddar is made from the milk of grass-grazed cows on our West Dorset farm. Intense, rich and crumbly, this is a very special cheese. 
After nearly 200 years of successful cheese-making on his family farm, West Dorset dairy farmer Jason Barber decided that he was going to do things a little different. With cheese production still a significant part of the business, Jason's efforts have turned to champion sustainability by avoiding unnecessary waste. While the curds are used for cheese-making, whey, a by-product of the cheese-making process, is used to create pure milk vodka.  
The cheddar is aged on average for 12 months in a black wax truckle. A delicious crumbly, rich and tangy cheddar perfect for the cheeseboard and dinner parties. Made from milk produced on a farm in Dorset this is a special cheese. Mature Cheddar cheese made with pasteurised cow's milk. 
Are you feeling fondue is catching on again? You can vary your fondue with anything from Welsh rarebit to lobster thermidor to chocolate fondue with marshmallows – with this dish, the possibilities are endless and a lot of fun. 
Source: Lyme-Online – Find the recipe here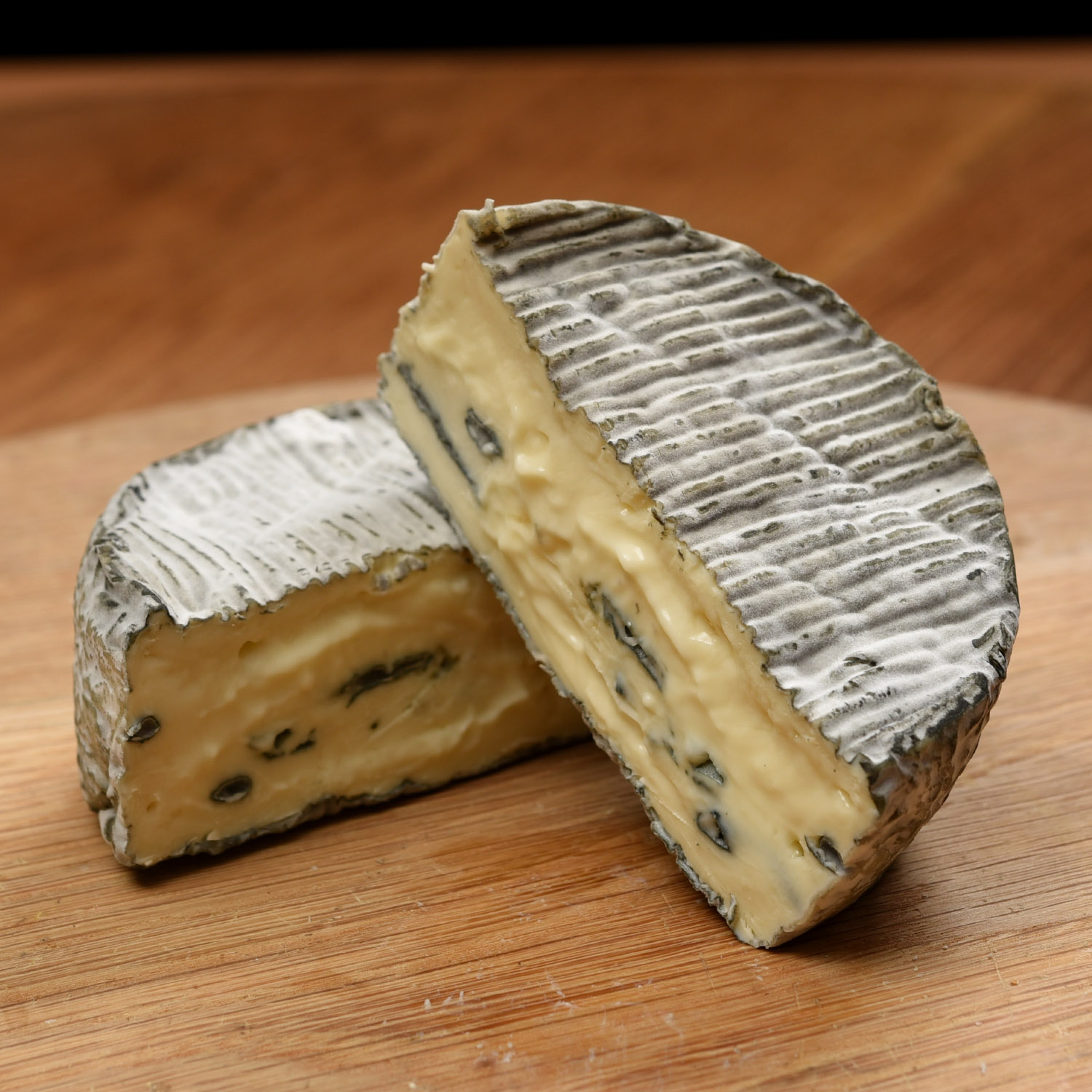 Isle of Wight Blue from the Isle of Wight Cheese Company
A firm favourite in the office this cheese was first made in 2006 and is a  naturally rinded soft cheese made with pasteurised milk. It is blue-veined and is sold at 3-5 weeks of age and has a 8-week shelf life. When the cheese is sold at 3-4 weeks it has a relatively mild blue flavour but expects the IOW Blue to accelerate quickly so that by the time it is at the end of its Best Before date, the flavour will be a lot spikier than when it was young. 
 Being naturally rinded, it is covered in green, blue, grey and white moulds. These give the cheese bags of character and the variety of surface moulds that grow on the rind will make it stand out on any cheeseboard. 
The cheese has been a multiple medal winner at the World, British and International Cheese Awards, most notably winning Best English Cheese at The World Cheese Awards and Best Vegetarian Cheese at the 2019 Artisan Cheese Awards in Melton Mowbray 
 Refrigerate your Isle of Wight Blue after purchase (6 degrees if possible) and remove from the fridge an hour before eating to allow the cheese to reach room temperature. Only remove from the fridge what you think you will eat in one go, and put the remainder straight back in the fridge.  
This delightful blue cheese soufflé can be made with your favourite blue cheese for a delightful twist on a traditional cheese soufflé.
40g butter
2 tbsp plain flour
300ml full-fat milk
4 eggs, separated
110g blue cheese, grated
Salt and pepper, to taste
1/2 tsp chopped fresh thyme
1 pinch ground nutmeg
Method
Preheat the oven to 200 C / Gas 6. Grease a 15cm soufflé dish. 
In a saucepan over medium heat, melt the butter and add the flour. Whisk in the milk gradually until the sauce thickens. Remove from the heat and whisk in the egg yolks. Stir in the cheese until melted. Season well and add the thyme and nutmeg. 
In a separate bowl, whisk the egg whites till stiff peaks form. Fold into the cheese sauce. Pour into the prepared soufflé dish. 
Bake in the preheated oven for 20 to 30 minutes until risen and golden brown. Remove from the oven and serve immediately.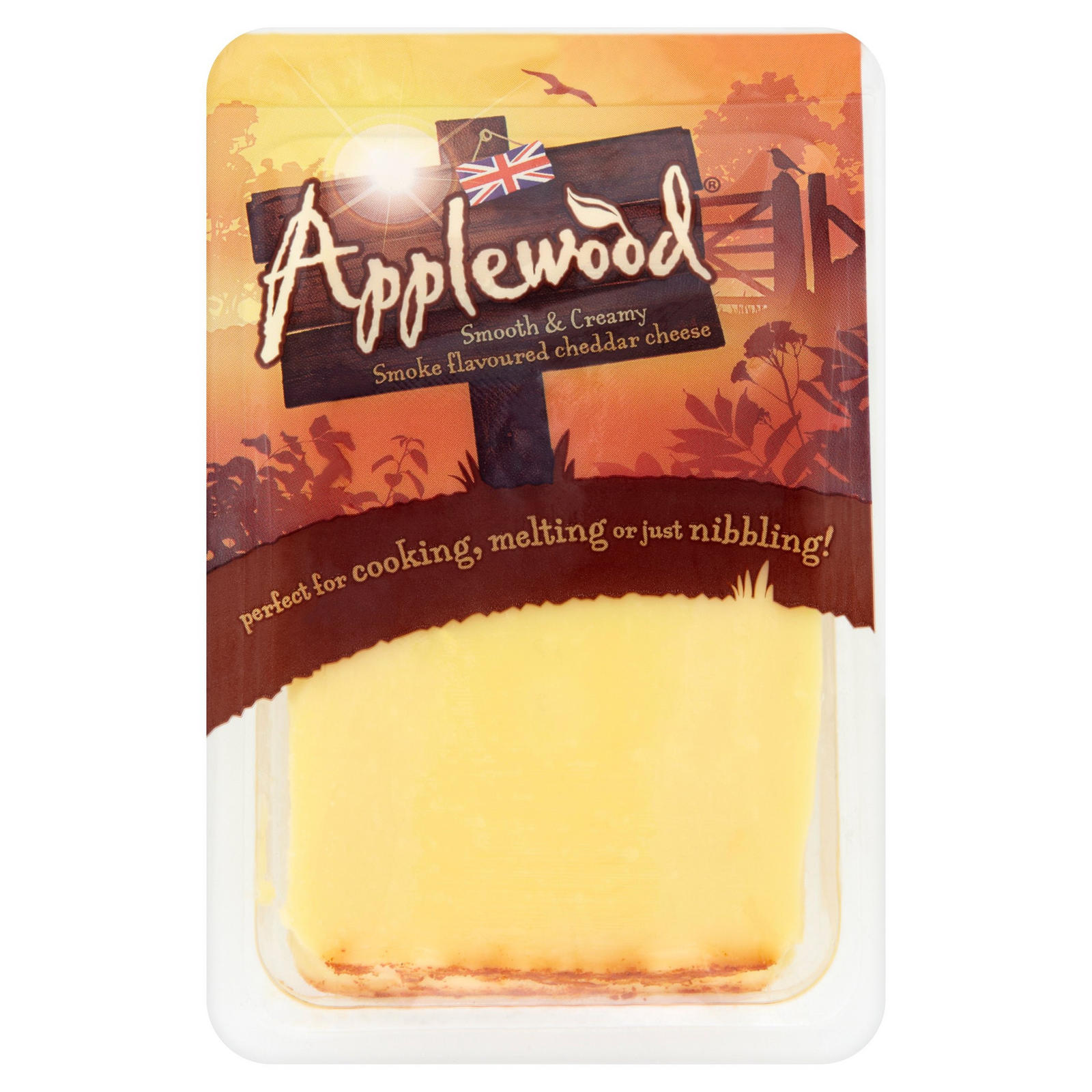 Smoked Applewood
Applewood® Cheese was first created in 1965 in Ilchester, deep in the heart of Somerset. 
Surrounded by miles of lush green grass, some of the best cheeses are crafted in this pocket of England, by people who really know a few things about cheese. Wherever possible they use the best quality local ingredients with a great deal coming from Somerset and the surrounding counties, giving you the best-tasting cheese to enjoy time and time again. The cheese is made using a traditional hand-turned farmhouse Cheddar, with a delicate smoky flavour and a lovely smooth texture, all finished with a dusting of paprika for good measure…
Great to make up little bruschettas with layers of sundried tomatoes, smoked turkey and Applewood® Cheese then grill. Grate over pasta or even a baked potato for a lovely smoky cheesy taste. 
Applewood Baked Gnocchi with Spinach & Bacon
This recipe is so simple and a great, lazy supper. It's a great meal if you're short of time but want a comforting plate of food at the end of the day. It also makes a great lunch the next day if you have any leftovers!
Source: Applewood
2 tbsp of rapeseed oil
500g gnocchi
250g bacon lardons
1 onion, finely diced
1 garlic clove, finely diced
1 tsp smoked paprika
1 tin of chopped tomatoes
1 diced vine tomatoes
100g baby spinach
Salt and pepper
1 tsp dried herbs
200g Applewood slices
50g breadcrumbs
1 tsp basil
Method
Pre-heat the oven to 180c. 
In a pan, warm the oil and add the onion to soften. Turn up the heat a little and add the bacon lardons, cooking these with a little colour. Now add the garlic and paprika, dried herbs, vine tomatoes, chopped tomatoes, spinach and salt & pepper. Cook on medium heat until rich and bubbling. Add the gnocchi and stir it into the sauce. 
Once the gnocchi has softened but is still firm to the touch, pop this into an oven dish. Lay on the Applewood® sliced cheese, then scatter the breadcrumbs over the top. Pop in the oven for 10 minutes until the topping is crisp and bubbling, then sprinkle the basil on top. 
Serve with sourdough bread and enjoy immediately!