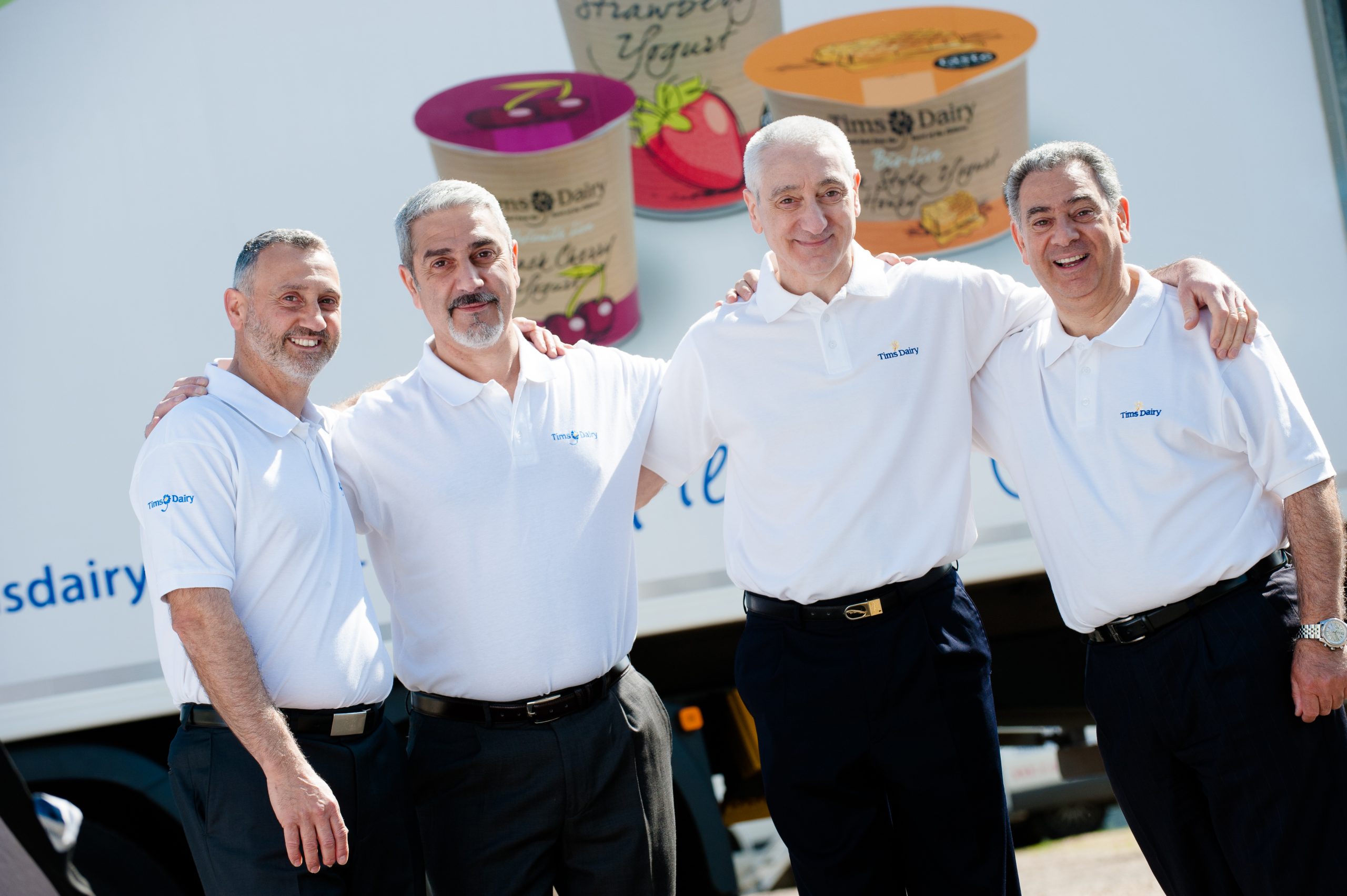 Find out more about this family-run business and try out some of their delicious recipes. For the full range on offer check out our dairy section on 5adaybox or Heritage at Home…
Tims Dairy
Tims is very much a family business currently run by four brothers Chris, Peter, Bides and Tony Timotheou.
Tims Dairy was founded in 1949 in a basement workroom in Warren Street, London by their uncle Euripides Nicolaou, who was then joined by their father, Michael Timotheou.
The very early days started in central and north London where they produced yogurts in small batches by hand at the back of a shop. Post-war consumers were not familiar with yogurt, so at first, they made natural yogurts and creamy milk desserts for restaurants, delis and cafés.
Production in those days was very hands-on with all the family playing their part to ensure the best in quality.
Five-gallon milk churns were delivered fresh daily to the doorstep – instead of bottles of milk, this always raised a smile from the neighbours! Everyone had to help out – washing the glass pots, sealing the fresh yogurts and learning the intricacies of their forefathers' yogurt recipe.
In 1996, Tims moved to a former dairy site in Chalfont St Peter in Buckinghamshire, where Tims continues to produce yogurts and cultured creams today. Heritage, passion and skill are still at the heart of every pot so that the quality and great taste people enjoyed all those years ago can still be savoured today. Using only fresh British milk and natural ingredients they are just launching all their range for retail in 100% recycled pots so that they can become yogurt pots again and again.
Tims Dairy has never been busier, and all the team worked tirelessly to meet the challenges of Covid head-on, to ensure that everybody still had a good supply of their retail range of authentic Greek Style Bio-Live Yogurts, lactose-free Kefir Yogurts and their recently refreshed Whole milk yogurts. This is a great testimony to their Greek heritage, passion, skill, experience and the family story of their lovely yogurts.
The story goes on as they continue their mission to get more yogurts to more and more consumers nationwide…
Here is a selection of our favourite recipes using Tims yogurts to try, for lots more see Tims Dairy.
Layer fruits in a jar or glass with Tims Dairy Greek Style Yogurt and top with nuts and a drizzle of Manuka Honey.
This particular jar uses fresh passion fruit and sliced strawberries, Tims Dairy Greek Style Yogurt and we have topped it with sunflower seeds and pinenuts. But try pumpkin seeds, chia seeds, flaked almonds and blueberries, raspberries, mango, whatever takes your fancy!
Strawberry Mille-Feuille with Elderflower & Vanilla flavoured Creme Napoleon
Strawberries and elderflowers are a wonderful combination. Add the delicious vanilla flavoured Greek yogurt to the cream and the whole combination makes for a very refreshing and moreish dessert.
Source: Tims Dairy
For the pastry/Mille-Feuille
1 packet of ready rolled puff pastry
3 tbsp icing sugar
1 punnet of strawberries (400g)
For the creme napoleon
300ml full fat milk
50g sugar
3 egg yolks
20g plain flour
20g cornflour
150ml double cream
50ml elderflower cordial
Method
Preheat the oven to 220°C/430°F/gas 7. Unpack the pastry and lay it onto a baking tin lined with baking paper or a silicone mat. Spray pastry with a little water and dust with half the icing sugar. Place the second mat or baking sheet over the pastry. Top with the second baking tray. Bake the pastry on the middle shelf of the oven for 15 minutes. Take it out of the oven, remove the top tray and turn the pastry over. Sprinkle with the remaining sugar, cover again, top with the second tray and bake for a further 10 minutes. When ready, it should be a deep golden colour. Leave the pastry to cool. Trim if necessary and cut into twelve equal pieces.
To make the Crème Napoleon heat the milk in a saucepan. Put the eggs and sugar in a bowl and beat with an electric whisk till light and fluffy. Add plain flour and the cornflour, continue whisking. Add milk to the mix slowly, while whisking all the time and return back to the saucepan. Cook over low to medium heat stirring with a wooden spoon continuously for a smooth, glossy cream. Transfer the cream to a bowl and lay a piece of plastic film on its surface to stop it from forming a skin. In another bowl beat the double cream with the elderflower cordial to soft peaks. When the thick custard is cool enough add the yogurt and fold in the double cream. Mix gently and empty into a piping bag with a plain nozzle
To assemble, wash the strawberries and drain. Cut ¾ of them in half and ¼ in 4 pieces for topping. The 12 pieces of pastry should give you 4 mille-feuille of 3 pastry pieces each. For each mille-feuille lay a piece of pastry on a plate. Cut a small hole in a piping bag and pipe the cream in a zigzag movement covering all the surface of the pastry
Lay strawberry halves on top of the cream and lay the second piece of pastry on. Repeat with the cream and strawberry halves. Lay the 3rd piece of pastry on. Pipe cream as before but place the strawberry quarters into the cream facing upwards. Dust with some icing sugar and decorate with elderflowers or edible flowers.
This is a thick and creamy curry, but jam-packed full of aromatic flavour.
4 onions, chopped roughly
4 cloves of garlic, diced finely
A thumb-sized piece of fresh ginger, grated finely
1 red chilli, seeds removed, diced finely
1kg boneless chicken thighs
2 red pepper, chopped roughly
250g chestnut mushrooms, sliced
1/2 block creamed coconut, crumbled
Coriander, to serve
Spices
1 tbsp ground cumin
1 tbsp ground coriander seeds
2 tsp medium curry powder
1 tsp turmeric
1 tsp mustard seeds
1 tsp curry leaves
1 tsp mace (optional)
3 cardamon pods, bashed
Method
Sauté the onions in oil until golden in colour. Add the garlic, chilli and ginger. Season and stir. Now add all of the spices and cook on low heat for 1 minute. Add the whole chicken thighs. Stir to coat the chicken with the spices on low heat for 5 minutes. Next add the red pepper, mushrooms. Crumble in the creamed coconut and gently warm through. You may think there isn't enough liquid at this stage. Fear not, providing you have it on a low enough heat the mushrooms, peppers and chicken all release juice. If for some reason, it's too dry then add 100ml hot stock or water. Place the lid on and cook on the lowest heat on the hob for 1 hour, alternatively cook in the oven for 1 hour at 150 degrees. Pour in the yogurt and gently warm through. Serve with basmati rice and fresh coriander.
A hearty & healthy salad based on the classic combo of crab and avocado – a match made in heaven. The dressing is made using simply Tims Dairy Greek Style Yogurt, lemon juice and herbs. I've included croutons as they add texture and make the salad more filling but they could be omitted.
Enjoy! A perfect summer lunch, starter or light dinner. ⠀
4 dressed crabs (or use 400g 50/50 crabmeat)
2 avocados, diced
200g green beans, blanched and cut into 1 inch pieces
100g leaves, spinach etc
6 inch piece baguette, cut into 1 inch cubes
2 tbsp olive oil
Maldon salt
Fresh basil and chopped chives, to finish
For the dressing
Juice of 1 lemon
3 tbsp Tims Greek Yogurt
2 tbsp basil leaves, shredded
1 tbsp chopped fresh chives
Method
Put the bread cubes in a frying pan and drizzle with olive oil and a generous pinch of salt. Toast for 10 minutes until golden. Set aside.⠀
Mix together the ingredients for the dressing. ⠀
Roughly separate the brown and white crab meat. Combine half the dressing with the brown crab meat and half the avocado.⠀
Layer the leaves on a platter. Spoon over the brown crab meat followed by the white crab meat, the green beans, the remaining avocado and the croutons.⠀
Finish by drizzling over the remaining dressing and sprinkling more fresh basil and chopped chives.
Close your eyes when eating and pretend you are on holiday.
3 medium potatoes, peeled and chopped
1 tsp turmeric
1 tsp chilli powder
1 tbsp oil
Salt, to taste
1/2 tsp ground cumin
Pomegranate arils – or fruit – for garnish
Chopped coriander for garnish
Method
Mix the potatoes with turmeric, chilli powder, oil and salt. Leave to marinate for 10 minutes
Roast in an air fryer or bake in the oven at 180C for 15-20 minutes until golden. Remember to flip halfway during cooking. Once done, let it cool completely
In a dish, spread a layer of roasted potatoes and add a generous layer of Kefir on top
Add another layer of potatoes and Kefir. Garnish with ground cumin, pomegranate arils and coriander.
Serve with a Mint & Kefir dip. To prepare the dip blend: