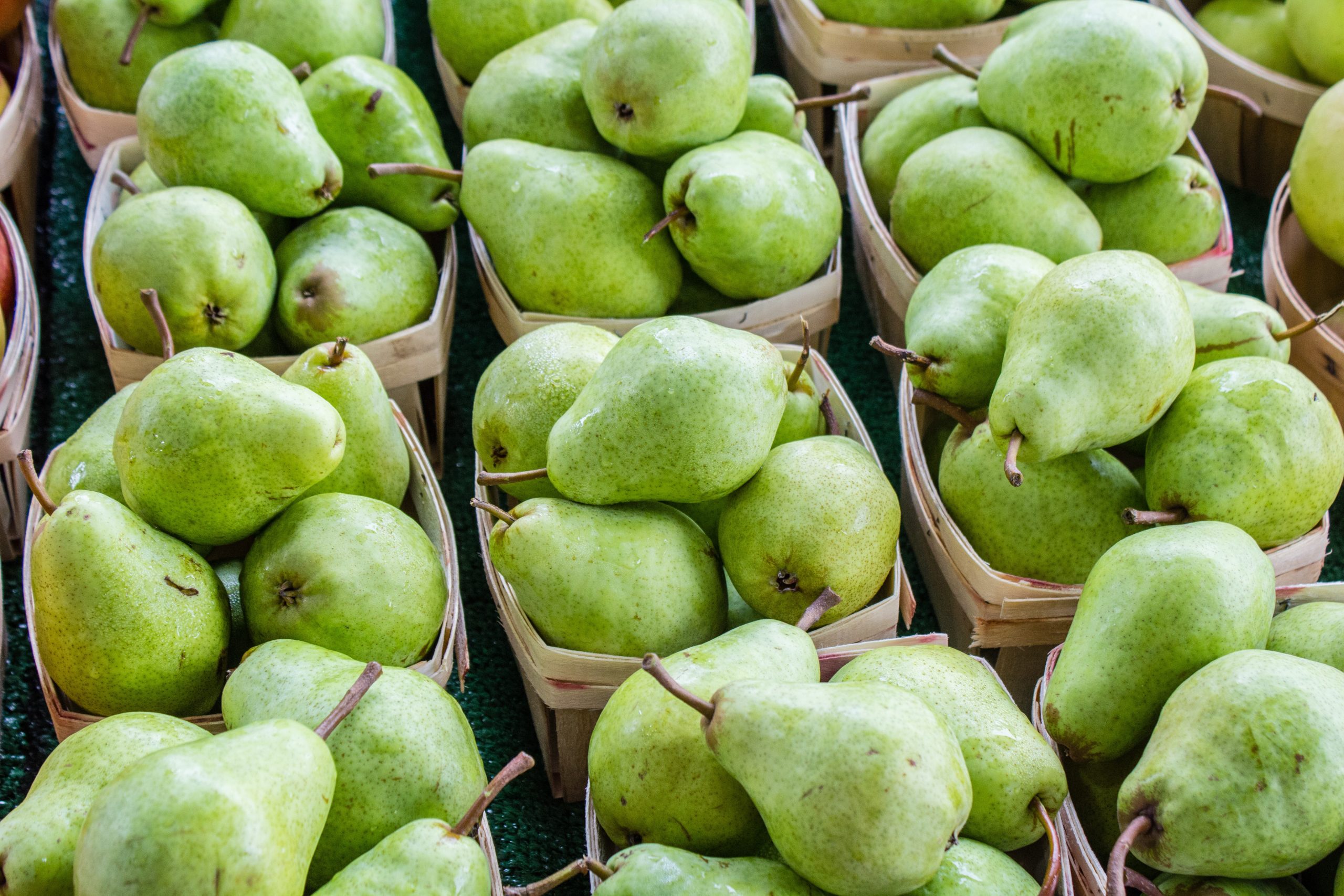 Pears hold their form and have such a distinctive texture and work so beautifully in so many dishes.  
Pears often get out-shined by apples which is not very fair as they are so versatile and perfect to cook with. 
Here's some recipe inspiration to get you started (or check out our Pinterest board) and check out Emma's video too for a delicious pear and yoghurt cake). 
Super Simple Buttery Roasted 

Comice

 Pears
Super simple and super tasty!
Source – Dinner Document, find the recipe here
2-3 large comic pears, peeled and cut into quarters or eighths
Caster sugar or soft brown sugar
Unsalted butter
Sherry Optional
Creme fraiche to serve
Toasted flaked almonds optional
Method
Preheat the oven to 150 degrees.
Peel and quarter, or eighth two large comice pears, removing seeds and hard pits in the centre. Place in a roasting tray with two tablespoons of caster sugar or soft brown sugar and around one tablespoon of unsalted butter. Roast for 1.5 hours, turning every twenty minutes in the pan to coat the pears with the sugar. If you want, chuck in a slug of booze – sherry or vermouth – twenty minutes before removing from the oven. 
Serve with the roasting-pan caramel drizzled over, a spoon of crème fraîche and if you want, some toasted almonds on top. 
This version of the classic French dessert, made with slightly floral Comice pears, is best when the stem end of the pears yields slightly to the touch, signalling that the fruit is flavoursome but neither hard nor squishy. 
Source – All  Recipes, find the recipe here
Rustic Comice Pear Yoghurt Cake
A rustic yoghurt cake topped with sweet, comice pears and a dusting of cinnamon and icing sugar – delicious as a dessert or 'breakfast' cake. This cake covered properly keeps well on the countertop for 2 days or refrigerate for it to keep for longer. 
250g natural yoghurt
60ml oil
135g sugar
2 large eggs
1/2 tsp vanilla extract
1 tsp lemon zest
170g self-raising flour
1 1/4 tsp baking powder
1/4 salt
2 medium-sized, very ripe, comice pears
1 tsp cinnamon powder
Icing sugar to serve
Method
Pre-heat oven to 180 °C. Line bottom of an 8″ round cake pan with parchment. Grease and flour pan thoroughly. Set aside. 
In a large mixing bowl, mix together the yoghurt, oil, sugar, eggs, vanilla and lemon zest till smooth. 
Placing a large sifter or sieve right over the bowl, sift together the flour, baking powder, baking soda and salt into the bowl. 
Whisk into the wet ingredients until fully incorporated and batter is smooth. 
Pour batter into the prepared cake pan and smooth top with a spatula. 
Peel, core and cut pears into thin slices. Arrange pear slices on top of cake batter. Sprinkle cinnamon powder on top. 
Bake for 40-50 minutes or till cake is puffy and golden and passes the toothpick test. 
Remove from oven and cool in pan over a wire rack for 10 minutes. Dust lightly with icing sugar, cut and serve. Enjoy! 
Sautéed Pears with Bacon & Mustard Dressing
It's not a pudding but just as tasty… Pears and walnuts are delicious together; walnuts and bacon make total sense. When you combine them all, it's magic. 
Source: Bon Appetit, find the recipe here