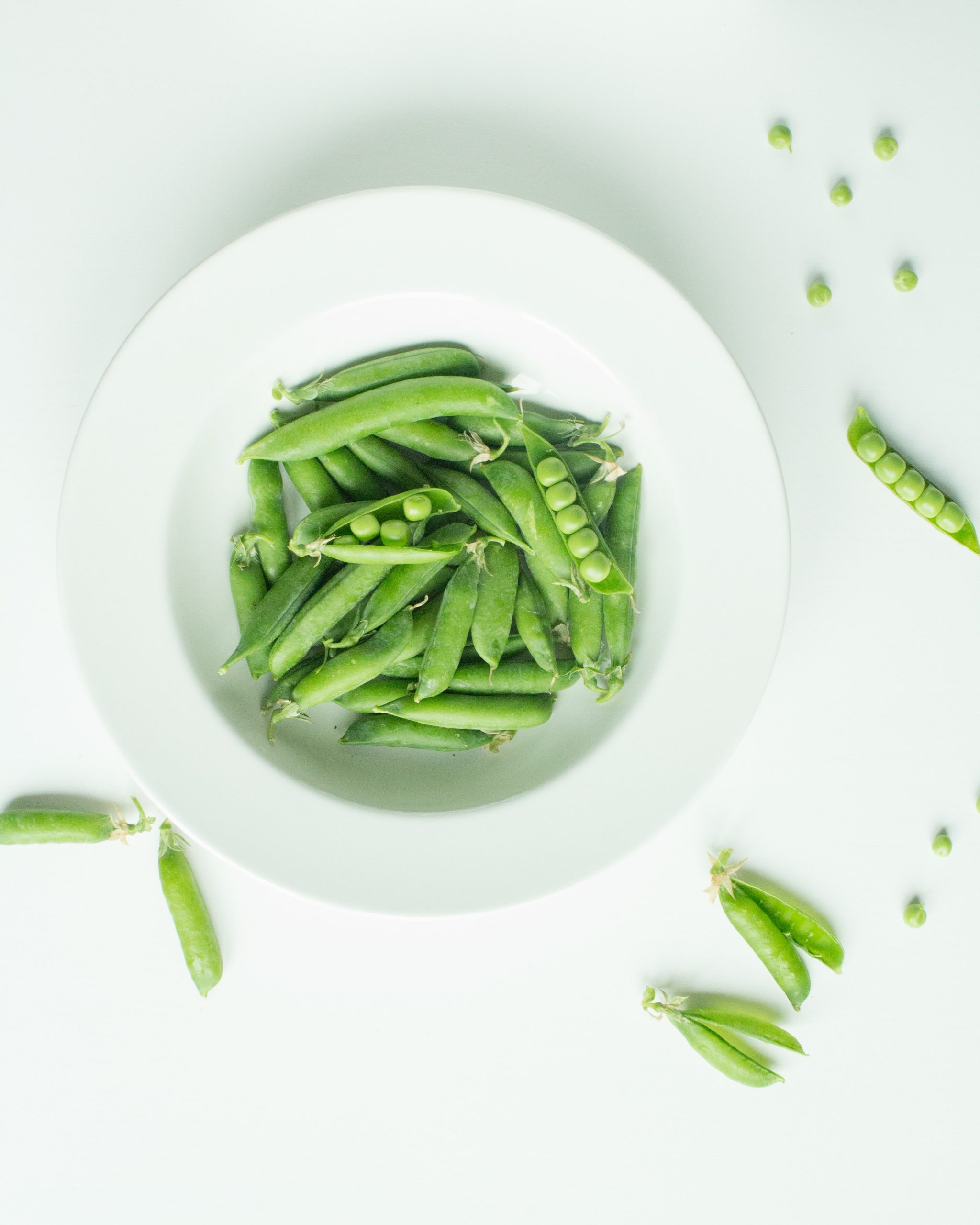 Who doesn't love fresh or frozen peas with their dinner?
Peas are known to have been eaten by humans for a staggeringly long time. The earliest reported archaeological evidence of their consumption is from a cave on what is now the border between Burma and Thailand and has been dated to almost 12,000 years ago. Ten millennia later the popularity of the pea had increased to the point where the Roman writer Apicius felt it worthy of no less than nine varied published recipes.
Here is our run down of our top 5 pea recipes. Check out our Pinterest board for more too.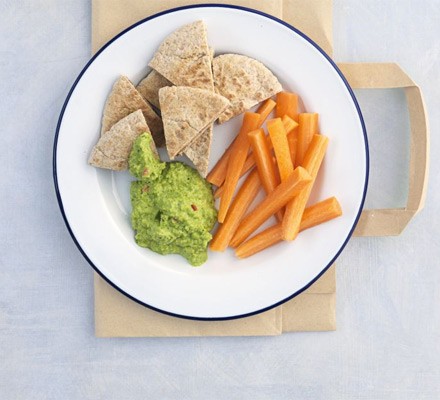 A speedy guacamole-style purée that's ready in minutes and perfect for snacking or lunchboxes.
Source: BBC Good Food
400g fresh or frozen peas, defrosted
100g fat-free natural yogurt
1 lemon, juiced
1 tsp ground cumin
Small handful of mint leaves
1 small red chilli, chopped
4 wholemeal pitta bread
500g carrots, cut into batons
Method
Whizz the peas, yogurt, lemon juice, cumin, mint and chilli together in a food processor to a texture you like. Divide between plastic tubs to pack into lunchboxes or tip into a serving bowl. Lightly toast the pittas, then cut into wedges and serve with the dip and carrots.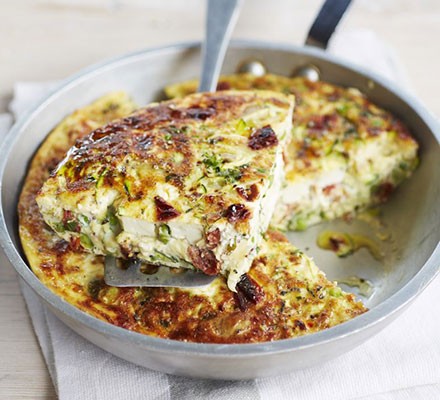 Pea, Feta & Summer Herb Frittata
Use your favourite soft herbs in this thick grilled omelette with peas, cream cheese and courgette- we like dill, mint and parsley.
Source: BBC Good Food
300g new potato, halved if large
4 eggs, + 2 egg whites
Splash of milk
1 garlic clove, crushed
1 tbsp wholegrain mustard
Handful mixed soft herbs, such as dill, mint and parsley, roughly chopped
3 tbsp cream cheese
1 tbsp olive oil
1 courgette, coarsely grated
1/2 tsp chilli flakes
140g peas, defrosted if frozen
100 feta cheese, crumbled
50g sundried tomatoes, drained and roughly chopped
100g bag salad leaves, to serve
Method
Put the potatoes in a pan of salted water, bring to a boil, then simmer for 12-15 mins or until tender. Drain, leave to cool, then thinly slice. Whisk the eggs and egg whites with the milk, garlic, mustard and herbs, and season generously. Add the cream cheese and fold through just a little so that some lumps remain. Heat the grill to medium-high.
Heat the oil over medium heat in a 23cm non-stick frying pan. Add the potatoes and fry for about 5 mins, until they start to turn golden. Add the courgette and chilli flakes, and continue to fry for a couple of mins more. Stir through the petit pois.
Tip the egg mixture into the pan and scatter with the feta and tomatoes. Cook over a gentle heat for 10-12 mins until almost set. Pop the pan under the grill and cook for 3-5 mins until puffed, golden and cooked through. Cut into wedges and serve with a crisp green salad.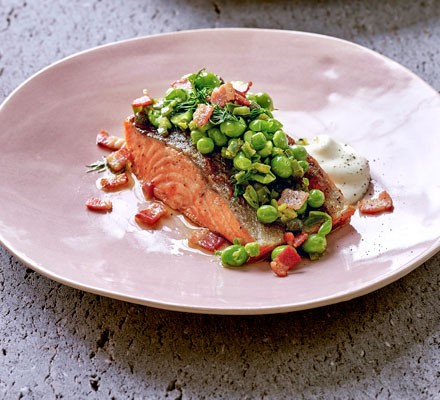 Grilled Chalk Stream Trout with Raw Pea Salsa
This recipe uses young, sweet peas, fresh trout and crispy bacon to make an easy yet stylish fish supper – an everyday meal or a dinner party dish.
Source: BBC Good Food
2 x chalk stream trout portions
20g seasoned flour
50g room-temperature butter
For the raw pea salsa
25g lard or rapeseed oil
50g streaky bacon, diced
3 tbsp rapeseed oil
1 tsp capers, drained and rinsed
1/2  lemon, zest & 1 tsp juice
1 green chilli, deseeded & diced
1/2 tsp clear honey
100g podded peas
1 tbsp dill, chopped
80g good-quality creme fraiche, whipped
Method
Place the trout, skin-side down, into the flour. Using your hands, cover each fillet in a good layer of butter. Transfer to a baking tray, skin-side up, then set aside.
To make the salsa, melt the lard or warm the oil in a frying pan over low heat. Gently fry the bacon until crispy – about 15 mins. Lift it out with a slotted spoon and leave it to drain on kitchen paper. Add the oil, capers, lemon zest and juice, chilli and honey to the bacon fat left in the pan. Warm gently for 2-3 mins to infuse all of the flavours.
Heat the grill to medium-high, about 200C. Put the fish under for about 8-10 mins, basting every 2 mins. Once cooked and the skin is crispy, remove it and leave it to rest for a few mins.
In a pestle and mortar, gently crush the peas, then add them to the warm dressing, along with the dill. Stir to combine, add a pinch of salt, then put your fish on a serving plate. Spoon over the salsa, sprinkle the bacon bits on top and serve with a little whipped crème fraîche.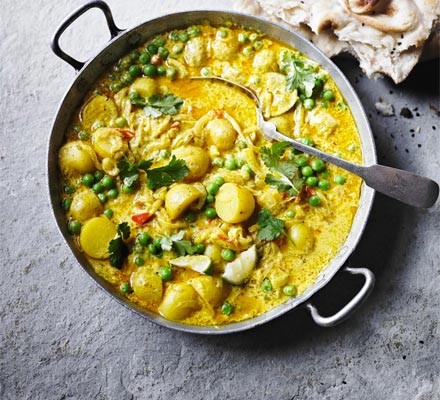 A low-fat and low-calorie vegetable curry that's made with madras spice and yogurt.
Source: BBC Good Food
1 tbsp vegetable oil
2 onions, sliced
3 red chillies, deseeded and finely sliced
Thumb-sized piece of ginger, roughly chopped
2 tsp cumin seeds
1 tsp madras curry powder
1/2 tsp turmeric
750g new potato, halved
1 lime, juiced
500ml natural yogurt
Small bunch coriander, stalks and leaves finely chopped
200-300ml vegetable or pea stock
300g podded fresh peas
Lime wedges, to serve
2 naan bread, to serve
Method
To make your own pea stock: put leftover pea pods in a large saucepan with half bunch of each mint, thyme and parsley. Add enough water to cover, and some salt and black peppercorns. Gently bring to the boil and simmer for 35 mins, then strain. Chill for up to five days or freeze for up to a month.
Heat the oil in a large, deep frying pan. Add the onions and cook over low heat for 10-15 mins until soft. Throw in the chillies, ginger and spices, and cook for a few mins. Stir in the potatoes and lime juice, coating in the spice mix.
Add the yogurt, coriander stalks and the stock. Simmer slowly for 35-40 mins until the potatoes are soft and the sauce has reduced. Stir through the peas and cook for another 5 mins. Sprinkle over the coriander leaves, and serve with lime wedges and warm naan bread.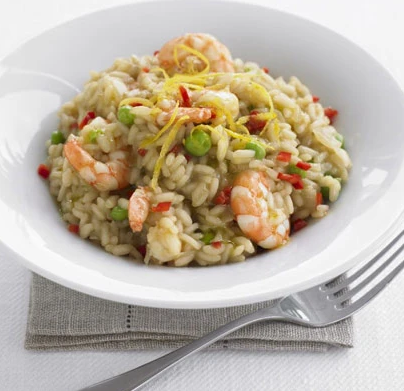 Lemony Prawn & Pea Risotto
Stirring can be strangely soothing, as you'll find when preparing this summery seafood risotto.
Source: BBC Good Food
400g bag raw prawns, in the shells, defrosted if frozen
3 tbsp olive oil
1 red chilli, deseeded, half sliced and half finely chopped
1.5 litres fish stock
50g butter
1 onion, chopped
300g risotto rice
1 small glass white wine
200g frozen peas
1 lemon, zest and juice
Method
Peel the prawns, keeping the heads and shells. Heat 1 tbsp olive oil in a large saucepan and fry the prawn shells and heads with the sliced chilli until they have toasted and changed colour. Pour in the stock and bring to the boil, then turn down to a simmer.
Bring the stock to a boil and keep on a low simmer. In a separate pan, melt half the butter over medium heat. Stir in the onions and sweat gently for 8-10 mins until soft but not coloured, stirring occasionally. Stir the rice into the onions until completely coated in the butter, then stir continuously until the rice is shiny and the edges of the grain start to look transparent.
Pour in the wine and simmer until totally evaporated. Add the stock, a ladleful at a time, stirring with each addition until absorbed. Stir through the prawns and peas. Continue adding stock a ladleful at a time and stirring the rice over low heat for 25-30 mins, until the rice is cooked al dente (with a slightly firm, starchy bite in the middle). The risotto should be creamy and slightly soupy. When you draw a wooden spoon through it, there should be a wake that holds for a few moments but not longer. Cook until the prawns change colour. Stir through the chopped chilli, lemon juice and remaining olive oil. Let the risotto rest for a few mins, then serve, topped with the lemon zest.