Traybakes are such a timesaver, just throw everything in a tray and let it cook, no stress at all!  It's also the perfect midweek family meal option and saves on washing up and time spent in the kitchen so you have more time to relax!
Here are our top 3 favourites: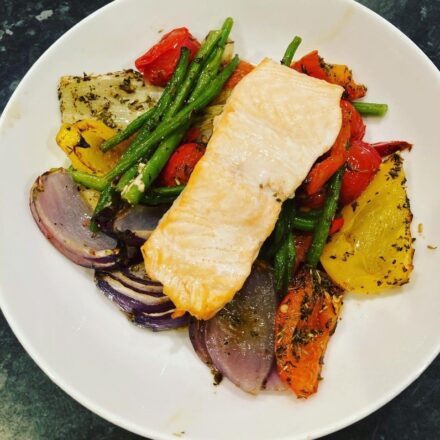 Delicious quick midweek meal! See our video tutorial on our YouTube channel.
4 skinless salmon fillets
1 large onion, cut into wedges
12 garlic cloves, peeled and left whole
1 large red pepper, cored, deseeded and cut into chunks
1 large yellow pepper, cored deseeded and cut into chunks
2 large courgettes, cut into 1cm slices
120g fine green beans
200g cherry tomatoes
50g pitted black olives
100ml fresh fish stock (veg/chicken stock is fine)
1 tsp dried mixed herbs
1 tsp dried oregano
Season with salt and pepper
Olive oil
Handful basil leaves to finish optional
Method
Preheat the oven to fan 220/gas mark 7.
Scatter the onion, garlic, peppers, courgettes and dried herbs in a roasting tray, season with salt and pepper and drizzle over the olive oil.  Cook in the top of the oven for 20 minutes.
Add the beans to boiling water and boil for a couple of minutes, drain and immerse in cold water.
Remove the traybake from the oven and add the green beans, olives and cherry tomatoes
Nestle the salmon in amongst the veg and pour over your stock.
Return to the oven and cook for 10 – 15 minutes until the salmon is cooked.
Serve with scattered basil leaves.
Oregano chicken & squash traybake
This low-calorie chicken, butternut squash and artichoke traybake is an easy dinner during busy weekdays.
Recipe Source: BBC Good Food, find the recipe here
Roasted root veg traybake
Try this great veggie midweek meal with nuts, feta and mixed roots of your choosing, plus a lemon and herb dressing. Leave out the feta to make it vegan.
Recipe source BBC Good Food, find the recipe here