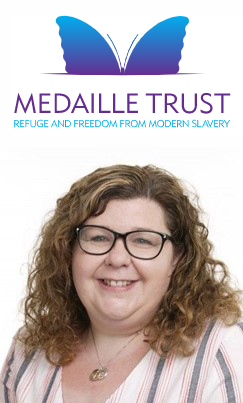 A Taste of Home – how cooking is helping survivors recover from modern-day slavery
It's always really wonderful to hear from our customers and, wherever possible, do a little good.  Emma caught up with one of our regular 5aday box customers Leanne Hubbard.
Leanne discusses what she loves about Heritage Fine Foods and the important work of the Medaille Trust.  She explains how the kitchen really is the heart of the home in their safe houses and the place where the most inspiring and healing conversations take place.
This has led to the charity releasing a cookery book 'A Taste of Home', a truly unique publication that contains an array of tantalising recipes which has been lovingly crafted by survivors of modern slavery, coupled with their stories and an insight into why the recipes are so important to them.
Read on to find out more about their important work.
Heritage at Home…
How did you find about Heritage Fine Foods?
I wanted to shop more locally, but as a busy working mum, I was finding it difficult, I did a quick google search and came up with Heritage Fine foods, who were based locally, used local suppliers and delivered – just what I was looking for.
What do you like about Heritage?
The customer service is fantastic if you need anything or there is a problem, it's dealt with quickly and always with a smile.
What's your favourite product, and why?
It has to be the large fruit and veg box, its perfect for a large family like mine, has lots of variety and encourages us to try new things. I also love that I can shop and swap so I can get things I need too.
What are your favourite things to cook?
I love to cook a big roast, with lots of veggies and all the trimmings, it's a regular Sunday thing for our family. During the week my slow cooker is my best friend especially now the winter months are coming, it's great to finish work and have a hearty dinner waiting for you.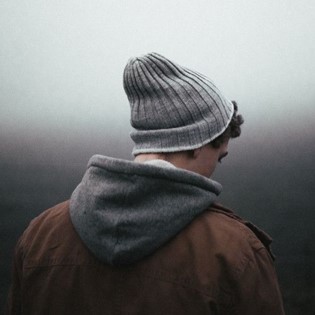 The Medaille Trust and Modern Slavery
The Medaille Trust exists to provide refuge and freedom from modern slavery. Today, they are the largest provider of supported safe house beds for victims of modern slavery in the UK.  They have 9 safe houses across the UK, with one based in Wiltshire that supports over 300 men, women and children victims every year to become survivors. They also raise awareness of Modern Slavery by talking to communities and working with local police forces.
I guess a lot of people don't realise that we have a problem of modern slavery in the UK.   Why do you think this is?
The word slavery conjures up thoughts of the slave trade in the past, and many people view it as a historical problem that is so barbaric that it wouldn't happen in modern society.
Another reason is that film and TV will portray it as being typically criminal,  such as the issues around county lines meaning that people don't see it as affecting their lives, yet modern slavery exists in every community, and at some point, you will have had contact with someone or something that is affected by modern slavery.
What business sectors are you seeing the biggest problem around modern slavery?
 Modern slavery sits within so may business sectors, there has been a lot of publicity around car washes and nail bars, but we are also seeing a lot of modern slavery within the construction, agricultural and domestic sectors at present.
How big is modern slavery in the UK alone?
Modern slavery is a big issue in the UK and its growing. Modern slavery will constantly change to meet demands and it's estimated that there are 136,000 victims in the UK today. Last year the Medaille Trust supported 315 victims and 30 dependent children. We are currently seeing an increase in male victims, who have suffered horrendous physical and mental abuse within labour exploitation and county lines.
What signs should people look out for in terms of victims of modern slavery?
You can make a huge difference by knowing the signs of possible exploitation and how to report it.
You should seek advice if a person: 
Has no control of their identification documents, such as their passport
Works long hours in harsh or unsafe conditions
Is living in dirty, cramped or overcrowded accommodation
Is living and working at the same address
Is not able to move around freely and appears to be under someone else's control
Is rarely allowed to travel on their own
Appears frightened, withdrawn or shows signs of physical or psychological abuse e.g. looking malnourished or unkempt
Is reluctant to seek help and avoids eye contact with strangers or the authorities
Is fearful of the police doesn't know who to trust or where to get help.
If you have any concerns about potential victims, do not confront them as this could make them more vulnerable. Instead, contact:
999 in an emergency
101 to report your concern to the Police
Crimestoppers on 0800 555 111 in confidence.  You can make a huge difference by knowing the signs of possible exploitation and how to report it.
How can people get involved or help?
We have loads of exciting ways to get involved from becoming a volunteer to making a donation. We can also speak at your workplace, school or community event, either in person or virtually. For more information about how you can help check out our website www.medaille-trust.org.uk and read some of the victim case studies here: https://www.medaille-trust.org.uk/case-studies
How has covid-19 affected how you can help people at the present time?
Covid-19 has had a massive impact on modern slavery and we are seeing more people needing our support, but it has also, like many other charities, affected our fundraising and engagement activities as we haven't been able to hold our events or fundraisers. We have also been unable to accept second-hand donations into our safe houses due to the virus. We know it's a difficult time for everyone but even the smallest donation will help keep our doors open for victims of modern slavery.
What do businesses need to be considering/doing/looking out for?
There are lots of things businesses can do to assist in the fight against modern slavery, but the main thing is to review their supply chain and make sure that they know their suppliers are operating ethically and legally. Also by keeping their eyes open in their local community, spotting the signs and reporting their concerns. Having a modern slavery statement is also a great idea.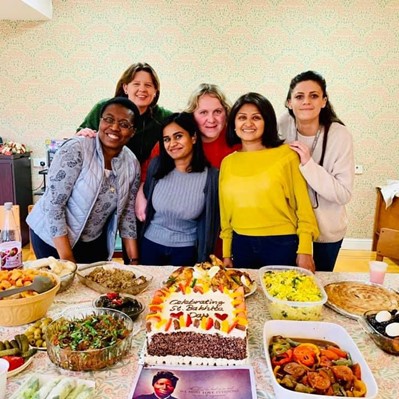 Tell us a bit about the background of the cookbook?
As The Director of Fundraising and Engagement, I am in a very privileged position to be able to visit safe houses and spend time with the staff and clients. One of the first things you notice when you enter one of our safe houses is the tantalising aroma coming from the kitchen, followed by the sounds of chatter and laughter. The kitchen really is the heart of the home in the safe houses and the place that I have had the most inspiring conversations.
Late last year I was visiting a safe house and I was invited to a shared lunch, all morning the smells coming from the kitchen were truly amazing and when I got to taste the food I was blown away. The food was delicious and like nothing I have tasted before, the clients were keen to talk about their food and share their stories, I had a wonderful afternoon and went away thinking about how food plays an important part in people's lives, as well as having some new recipes to try and recreate at home.
Over the next few weeks, I received lots of inspirational photos and stories from the safe houses, as they harvested produce from their allotments and celebrated birthdays and new babies and the repeating theme through all of these stories was food. During our staff conference it was also a recurring theme with staff, who felt that for many clients cooking is an important part of the recovery process, some of the most significant moments of community within the houses, occur when clients from different parts of the world share dishes with each other.  And in doing this they give their new friends a little taste of home, maybe unlocking happier memories from long ago when their lives were very different.  I knew we had to find a way to give our clients the opportunity to share their wonderful recipes and stories, so the idea of A Taste of Home was Born.
I couldn't believe the enthusiasm and generosity of our clients in wanting to share their own personal and family recipes along with their stories and I was delighted when Journalist and Broadcaster Louise Hulland and Celebrity Chef Ainsley Harriot agreed to support the project. After a lot of hard work and fantastic support from our Editor Nigel Bovey and Designer Sam Moore 'A Taste of Home' is now ready to share with you all.
How can people buy the cookbook?
The Medaille Trust is delighted to be able to offer you the opportunity to own a copy of A Taste Of Home. With Christmas fast approaching why not purchase a copy for family or friends, it makes a great stocking filler or a unique gift for the person who has everything. All profits from the book go directly to support victims of Modern Slavery living in our safe houses.
To place an order please send  your name, address and contact telephone number along with a cheque for £10.99 to Medaille Trust C/O 32 Hawthorn Road Melksham SN12 7FT  or you  email your order to comms@medaille-trust.org.uk and BACS your payment to Account Number 43966674 Sort Code 20-25-29 using ref ATH and your surname ( example ATHSMITH)
Please order before 15th December to guarantee Christmas delivery
The book is also available on  Amazon or the charity's website www.medaille-trust.org.uk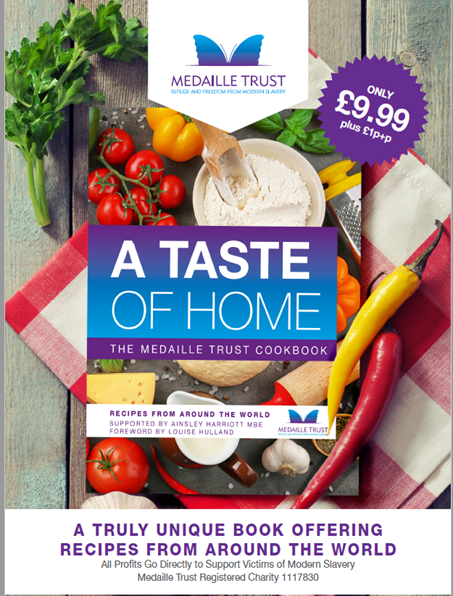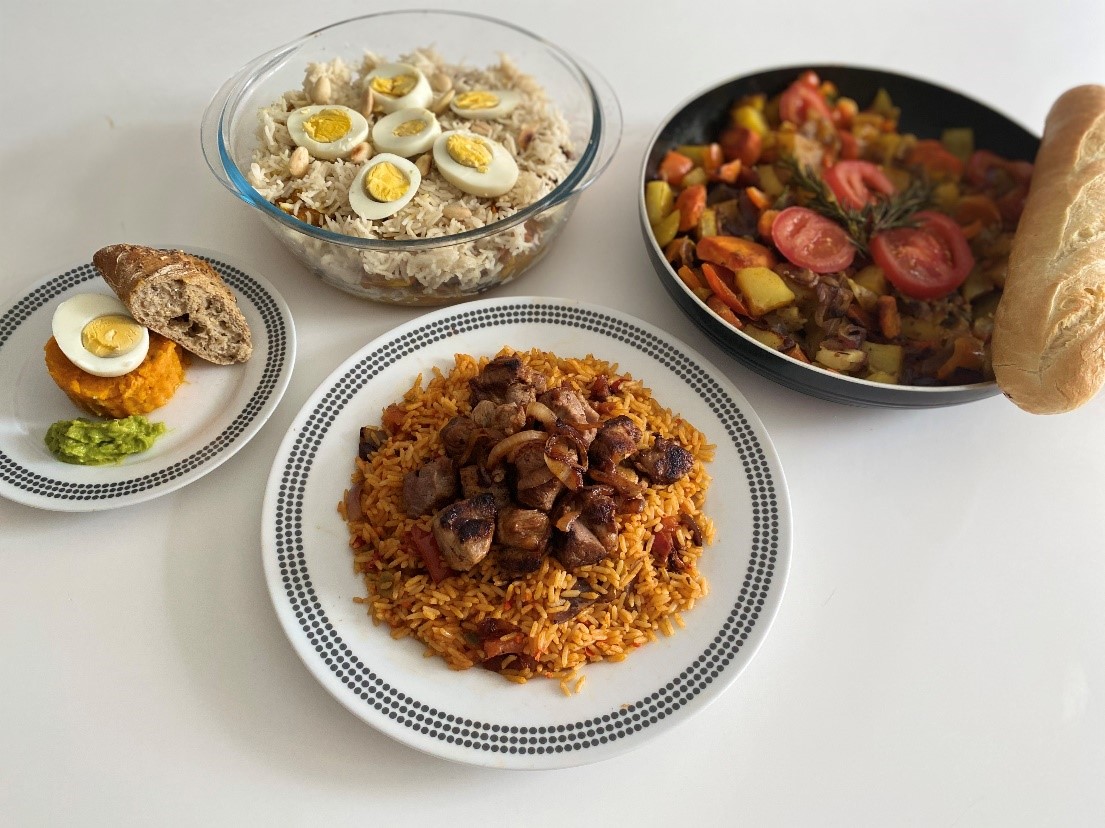 Leanne has kindly shared a recipe from the book with us for you to try out.
4 large potatoes
4 large carrots
2 large tomatoes
Ground white pepper
2 large chillies (or to taste)
1 large onion
3 garlic cloves
Oi
1 tsp fenugreek seeds
1 tsp turmeric powder
Salt
2 sprigs rosemary
1 whole red pepper
Method
Peel and chop potatoes and fry in a little oil for 10 minutes. Once done, take out and put into another pan.
In the same pan, peel and chop the carrots diagonally and fry again for 10 mins. Once done, remove from the pan and add them with the potatoes.
Peel and chop 3 garlic cloves, along with deseeding two large red chillies and slice.
Chop the onion and fry with the garlic in the oil until soft.
Add a sprig of rosemary.
Add a little water to loosen the consistency.
Slice 1 tomato and add to the pan.
Add a little salt if needed.
Put the lid on and cook until everything is soft.
Slice the bell pepper. Remove the seeds and add to the pot.
Add the potatoes and carrots to the pot.
Add the second sprig of rosemary and cook everything until soft.
Eat on its one, with some crusty bread or why not add a lamb steak for a truly satisfying meal.
If you work for an inspiring organisation and would like to be interviewed please get in touch with Emma@heritagefinefoods.co.uk