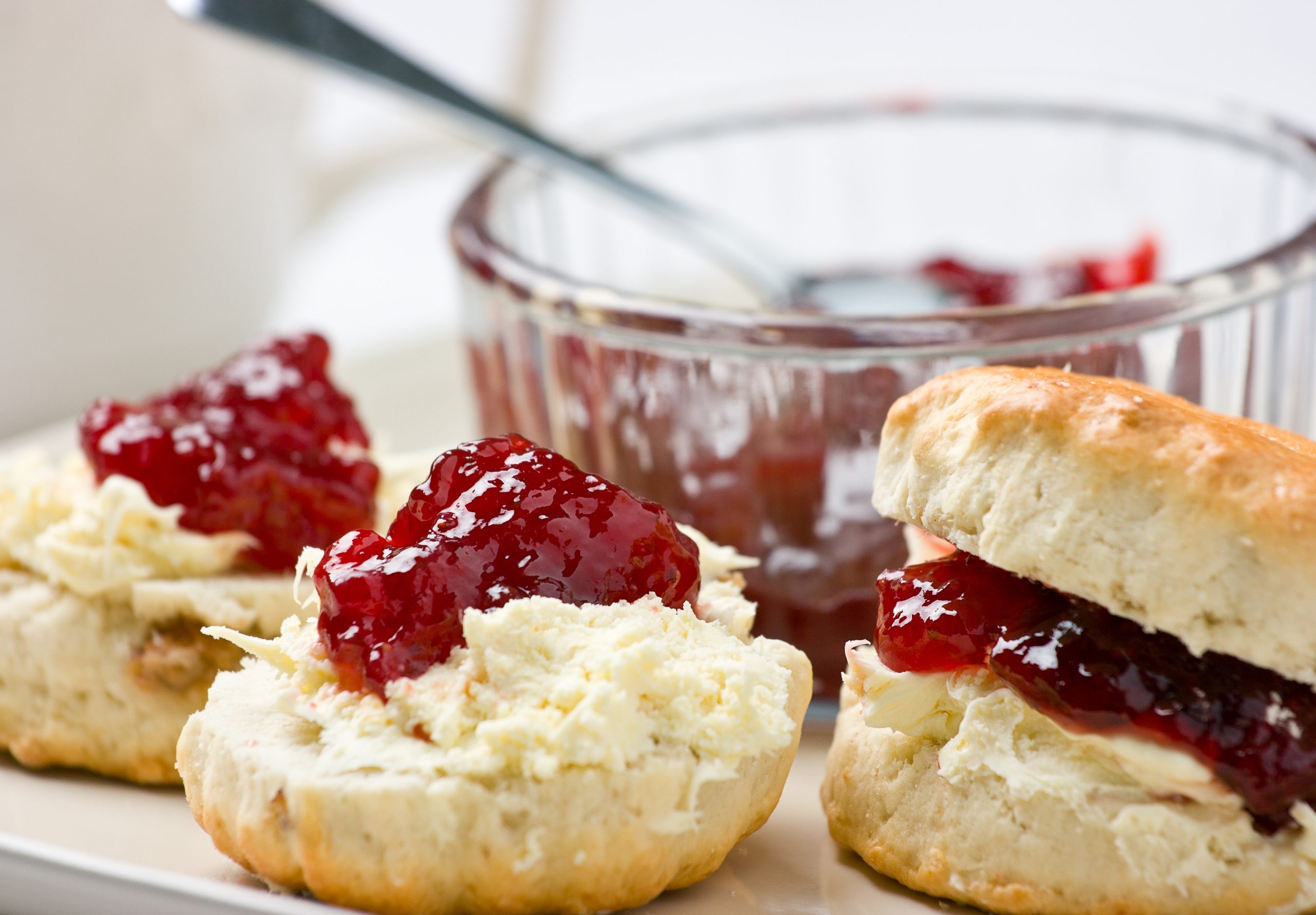 National Cream Tea Day – 30 June
A much loved British tradition, cream tea has been enjoyed by the nation since 1662.  
The cream tea tradition flourished in the Westcountry following the tourism boom in the 1850s, brought on by the opening of the railway. Visitors bustled south looking to relax and indulge, and hotels, tearooms, farmhouses and cafés were happy to oblige – offering delicious afternoon cream teas, made with the finest local ingredients.  The jam was invariably strawberry. And the cream was always clotted. 
Cream then jam or jam then cream?  
 It's the difference between the Cornish and the Devonshire cream tea and the cause of much controversy. If you want to know the correct way, why not read the cream tea society's etiquette tips below to discover the proper way to enjoy your cream tea! 
​

Loose-leaf is best. Brew loose leaves in a teapot, but remember to serve a second pot of hot water – just in case you've over-brewed.

 
If you don't want to pour, don't sit near the pot. The person nearest the pot should pour for everyone 

 

​

Make the perfect brew. Allow the tea to brew for at least three minutes before pouring – time enough for the full flavour to infuse.

 

​

Tea before milk. Pour the tea first, followed by milk (so you can accurately judge the required strength) and then sugar. 

 

​

Spoons on saucers, please. Once you've stirred, place your spoon on your saucer (think of the table cloth)

 

No outstretched pinkies! Always hold the cup between your thumb and forefinger. Contrary to popular opinion, sticking your little finger out does not a lady/gentleman make!

 

​

Simply break apart. The perfect scone should break apart with a simple twist!  Just make sure you've got your saucer to catch the crumbs.

 

​

Spoon then spread. If the table is laden with bowls of jam and cream, spoon your desired amount onto your plate first, before spreading them thick on your scone.

 

​

Jam before cream. While there's much debate around which goes first (a dispute dividing Cornwall and Devon), etiquette gurus Debrett's say you should spread your jam before dolloping cream on top.

 

​

A final word. Never use whipped cream. It's utterly improper!

 
Grab your ingredients from Heritage and get baking…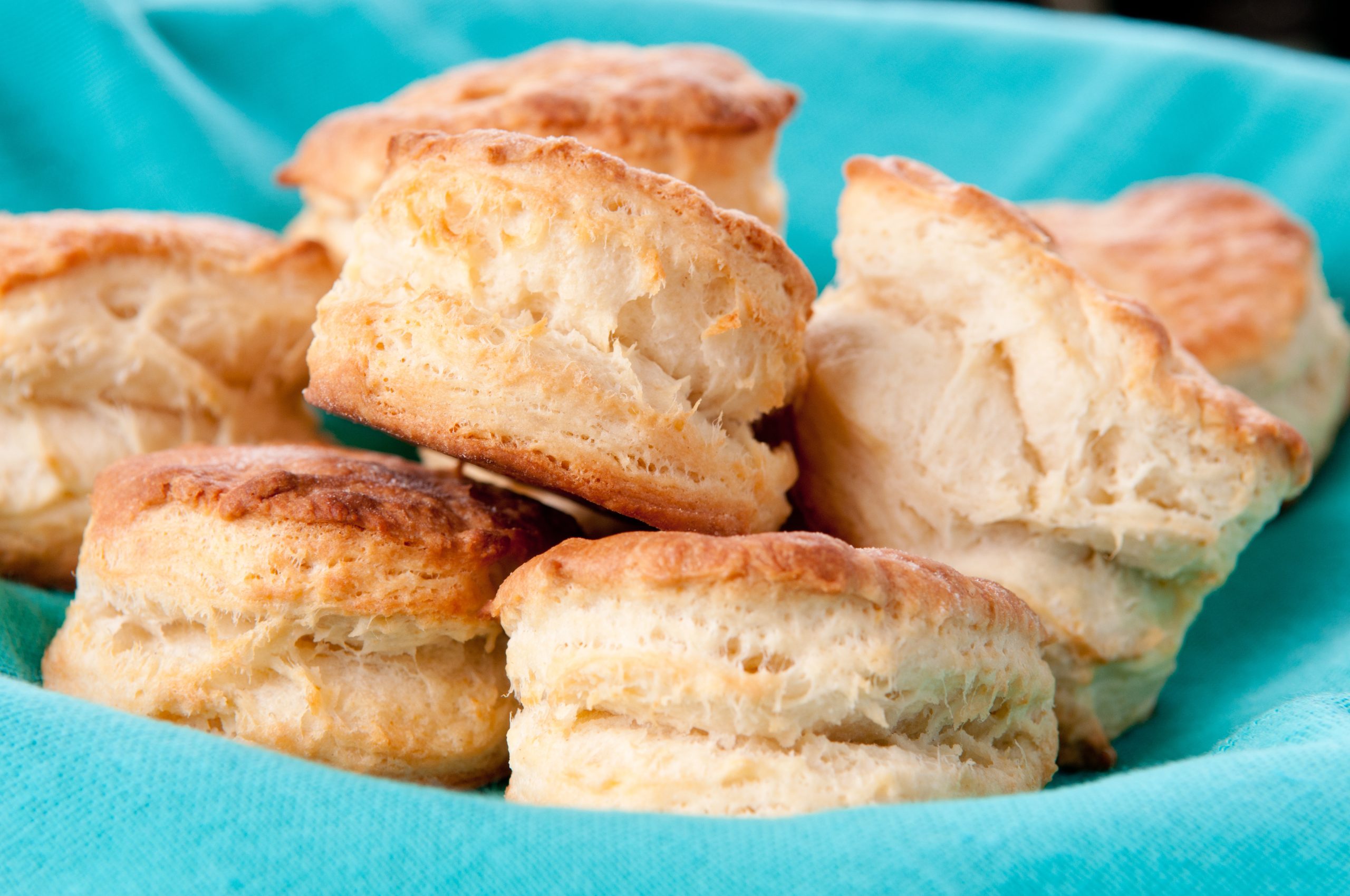 We really love these fun suggestions from the Cream Tea Society – let us know which is your favourite over on our facebook post.
Traditional strawberry conserve and clotted cream
Raspberry conserve, clotted cream and a whole fresh raspberry
Lemon curd, clotted cream with a couple of slices of kiwi
Orange marmalade with clotted cream and satsuma segments
Chocolate spread, clotted cream, raspberry and matchmakers
Smoked salmon, tomato chutney, clotted cream and an olive
Gooseberry chutney, stilton and clotted cream with a sprig of celery
​ Have you got another alternative scone topping? Share on social using the hashtag #nationalcreamteaday2023 
Source: Cream Tea Society
500g plain flour
17g baking powder
Pinch of salt
100g caster sugar
100g diced butter
250ml milk
For the egg wash
2 egg yolks
10ml milk
Pinch of sugar
Method
Sieve the flour, baking powder, sugar and salt into a bowl. 
Using your fingertips, rub the butter into the flour until it's well combined. 
Add the milk and mix well. 
Once it starts to come together, turn it out on to a lightly floured surface and knead gently until it forms a soft, smooth dough. Wrap in cling film and chill for one hour. 
Preheat the oven to 200C/gas mark 6. 
Roll out the dough on a lightly floured surface to a thickness of 2.5cm and cut into rounds with a 5cm cutter. 
Place on a baking tray lined with parchment paper. 
Now mix the egg wash ingredients together in a small bowl and brush the top of each scone, twice. 
Bake for 10 minutes until golden brown.
Using the recipe below as a starting point, toss in your favourite add-ins like white chocolate chips, toasted pecans, sweetened or unsweetened coconut, dried cranberries, peanut butter chips, etc. If it's a particularly wet add-in like chopped peaches, blot them with a paper towel before adding to the dough. Top with lemon curd or any of the suggested toppings below.  
Use this basic scone dough for any sweet scone variety. Feel free to increase the vanilla extract and/or add other flavour extracts such as lemon extract or coconut extract. Read through the recipe before beginning. You can skip the chilling for 15 minutes prior to baking, but I highly recommend it to prevent the scones from over-spreading. 
Source: Sally's Baking Addiction
250g plain flour, plus extra for dusting
100g caster sugar
1/2 tsp salt
2 1/2 tsp baking powder
115g unsalted butter, frozen
120ml double cream
1 large egg
1 1/2 tsp pure vanilla extract
Large handful of add-ins such as chocolate chips, berries, nuts, fruit etc
Optional – 1/2 – 1 tsp ground cinnamon, coarse sugar
Toppings – Vanilla icing, salted caramel, lemon icing, maple icing, brown butter icing, lemon curd, orange icing, raspberry icing, dusting of icing sugar
Method
Whisk flour, sugar, salt, and baking powder together in a large bowl. Grate the frozen butter using a box grater. Add it to the flour mixture and combine with your fingers until the mixture comes together in pea-sized crumbs. Place in the fridge or freezer as you mix the wet ingredients together. 
Whisk double cream, the egg, and vanilla extract together in a small bowl. Drizzle over the flour mixture, add the add-ins, then mix together until everything appears moistened. 
To make triangle scones: Pour onto the counter and, with floured hands, work dough into a ball as best you can. The dough will be sticky. If it's too sticky, add a little more flour. If it seems too dry, add 1-2 more tbsp double cream. Press into an 8-inch disc and, with a sharp knife, cut into 8 wedges.
For smaller scones, press dough into two 5-inch discs and cut each into 8 wedges. 
Brush scones with remaining double cream and for extra crunch, sprinkle with coarse sugar. (You can do this before or after refrigerating in the next step.) 
Place scones on a lined baking tray (if your fridge has space!) and refrigerate for at least 15 minutes. 
Meanwhile, preheat the oven to 204°C.
Line a large baking tray with parchment paper. After refrigerating, arrange scones 2-3 inches apart on the prepared baking tray. 
Bake for 18-26 minutes or until golden brown around the edges and lightly browned on top. Larger scones take closer to 25 minutes. Remove from the oven and cool for a few minutes before topping with optional toppings listed in the ingredients. 
Leftover scones keep well at room temperature for 2 days or in the refrigerator for 5 days. 
Try out some of these suggested fillings (add in a handful or more to your taste)
 See our video for a feta and spinach scone
Mixed Berry :

 Add fresh or frozen mixed berries. Raspberries and blackberries burst easily, so don't go overboard on those.

 
Cherry Chocolate Chip: 

Add a handful of

 semi-sweet chocolate chips and 3/4 cup chopped fresh or frozen cherries.

 

Savoury Herb:

 Reduce sugar to 2 Tablespoons, leave out vanilla extract, and add 2 minced garlic cloves, 3/4 teaspoon ground black pepper, handful cup chopped herbs such as rosemary, parsley, and basil. Additionally, feel free to add a large handful of grated cheese to the dough and top with sea salt before or after baking!

 

Ham, Cheddar, & spring onions: 

Reduce sugar to 2 Tablespoons, leave out vanilla extract, and add a large handful of cooked cubed ham, a large handful of grated cheddar cheese, and a handful of chopped spring onions. Top with sea salt before or after baking.

 
Other suggestions: 
Blueberry and Chocolate Chip Scones

Cranberry Orange and Pumpkin Scones

Banana  and Lavender Scones

Raspberry Almond Buttermilk Scones

Lemon Blueberry and Sprinkle Scones

Caramel Apple and Cinnamon Chip Scones

Triple Chocolate Scones – they taste like brownies!

Strawberry Lemon Poppy Seed Scones