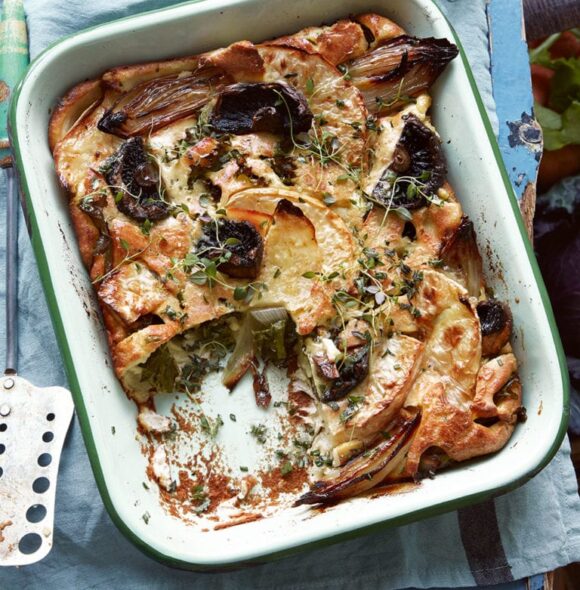 Roasted Vegetable Yorkshire Pudding Traybake – Eat Healthy For Less
1 celeriac, trimmed and cut into 1cm wedges
6 medium shallots, peeled and halved lengthways
250g chestnut mushrooms, halved
A few fresh thyme sprigs
4 tbsp oil
Large handful kale, thickly sliced
2 fresh rosemary sprigs
Salt
225g plain flour
Pinch baking powder
4 large free-range eggs
300ml whole milk
2 fresh thyme sprigs, leaves picked
Method
Heat the oven to 200°C/180°C fan/gas 6. Put the celeriac, shallots, mushrooms and most of the thyme sprigs in a large roasting tin, drizzle with 2 tbsp of the oil and sprinkle with salt and pepper. Roast for 25 minutes, turning the vegetables halfway through, until tender and starting to caramelise.
Drizzle the remaining 2 tbsp oil into the 1.5-litre baking dish, then warm in the oven for 5 minutes.
Meanwhile, for the batter, sift the flour and baking powder into a large mixing bowl, then make a well in the centre. Crack in the eggs, then pour in the milk. Using a balloon whisk, beat to make a smooth batter (you should see bubbles start to appear on the surface). Whisk in the thyme leaves and some salt and pepper.
Sprinkle the kale into the warm oil in the baking dish/casserole (see tip), then pour in the batter and arrange the roasted veg on top. Bake for 25-30 minutes until puffed up, golden and cooked through.
Roughly chop the remaining thyme sprigs, along with the leaves from the rosemary sprigs and the sage leaves. Mix with the salt. Sprinkle over the pud to serve, along with a jug of piping hot gravy, some mustard and horseradish sauce.
Top tip – Add a few teaspoons of dijon or wholegrain mustard, or a splash of Madeira, to the batter to boost the warming flavours.