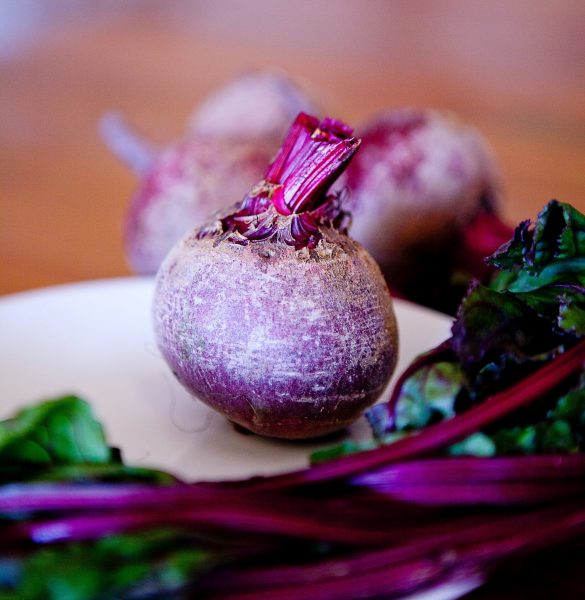 Beetroot is one of the most versatile ingredients in the kitchen as it can be used right across the menu; soups, starters, mains, puddings, cakes, and even drinks can use beetroot to add great flavour, texture and, of course, colour. 
 Packed with essential nutrients, beetroots are a great source of fibre, B9, manganese, potassium, iron, and vitamin C. Beetroots and beetroot juice have been associated with numerous health benefits, including improved blood flow, lower blood pressure, and increased exercise performance.  
 Sourced from local farms they are a fantastic seasonal product that is really versatile to cook with. Beetroots are delicious raw but more frequently are cooked or pickled. Their leaves known as beet greens can also be eaten. We sell traditional red beet, candy stripe and golden beetroot.  
5 Fun facts:  
Source: www.thespruceeats.com
It's a Hangover Cure


Betacyanin

 in beetroot

 could be the key to

 beating your hangover

. Betacyanin speeds up detoxification in your liver, which enables your body to turn the alcohol into a less harmful substance that can be excreted quicker than normal.

 
It's an Aphrodisiac


One of the earliest known benefits of beetroot is its use as an aphrodisiac during Roman times (maybe that's why The

Lupanare

, the official brothel of Pompeii, which still stands, has its walls adorned with pictures of beetroots). 

 
It Makes You Feel Better


Beetroot also contains betaine, a substance that relaxes the mind and is used in other forms to treat depression. It also contains tryptophan, which is also found in chocolate and contributes to a sense of well-being.

 
It Gives You a Sugar Rush


Beetroot has one of the highest sugar contents of any vegetable. Up to 10 percent of beetroot is sugar, but it is released slowly into the body, rather than the sudden rush that results from eating chocolate.

 
It Can Be Made Into a Wine


Bottoms up! Beetroot can be made into a wine that tastes similar to

 Port.

 
 Here are some delicious recipes for you to try. See also our April Magazine and our pinterest board for other recipes and our other blog posts for great recipes including
Marco's salt baked beetroot and goats cheese salad
Beetroot, carrot and courgette burgers
Potato, courgette and beetroot salad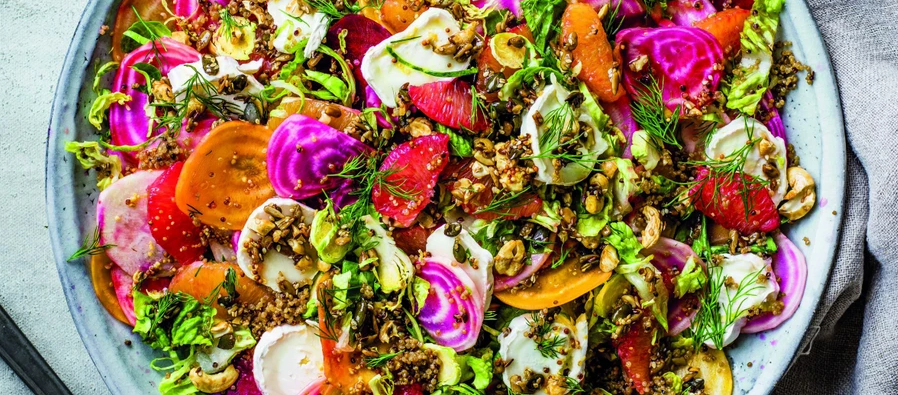 Goat's Cheese & Beetroot Citrus Salad
Use a mandoline for the beetroot and vegetables in this salad if you have one. If not, you may want to slice the beets into matchsticks to get them thin enough to soak up the pickle. 
Source: Olive Magazine
6 medium beetroots, peeled & very thinly sliced
2 oranges, peeled & segmented
1 red grapefruit, peeled & segmented
4 tbsp cider vinegar
2 tbsp caster sugar
250g ready-cooked red quinoa
Olive oil, for drizzling
2 little gems, shredded
100g Brussel sprouts, finely sliced
50g cashew nuts, roughly chopped
50g mixed seeds
1 tbsp soy sauce
2 tbsp runny honey
a small bunch of dill, leaves picked
200g goat's cheese, thinly sliced
Dressing
1 orange, juiced
1/2 grapefruit, juiced
1 tbsp wholegrain mustard
1 tbsp runny honey
100ml extra-virgin olive oil
Method
Put the beetroots, oranges and grapefruit segments into a large bowl, add the cider vinegar, sugar and some seasoning, and mix well. 
Break up the quinoa in another bowl, drizzle with a little oil and season. Add the Little Gems and brussels sprouts. Mix together all of the dressing ingredients and some seasoning in a small jug. 
Heat a small, non-stick frying pan over medium heat and toast the nuts and seeds for 1 minute, then add the soy sauce, honey and a dash of oil, and bubble for a few more minutes until sticky. Put aside. 
To assemble, mix the pickled beets and fruits into the greens. Toss through the dressing and most of the dill. Tip onto a platter and top with the sticky nuts, goat's cheese and remaining dill.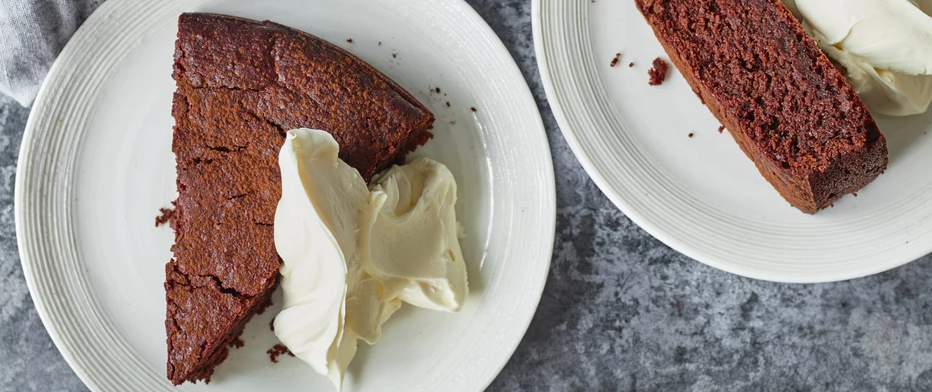 Beetroot adds earthiness and a deep-purple hue to this chocolate bake, best served with a great big dollop of crème fraîche.
Source: Olive Magazine
175g unsalted butter, cubed, plus extra for the tin
200g dark chocolate, roughly chopped
250g cooked beetroot, roughly chopped
3 eggs
150g soft light brown sugar
175g self-raising flour
30g cocoa powder
Creme fraiche, to serve
Method
Heat the oven to 180C/fan 160C/gas 4. Butter and line the base of a deep 23cm springform tin with baking paper. 
Melt the butter and chocolate together in a bowl set over but not touching a pan of gently simmering water. Take off the heat and cool a little. 
Put the beetroot in a food processor or high-speed blender and whizz to a purée. Add the eggs and sugar, and whizz again. 
Put the flour and cocoa powder in a bowl and mix together. Stir in the beetroot purée, then the chocolate-butter mixture until you have a uniform batter. Scoop into the tin and level out. Bake for 40-45 minutes or until risen. 
Leave to cool in the tin for 20 minutes then unclip and leave to cool completely. Transfer to a serving plate and serve with a dollop of crème fraîche, if you like.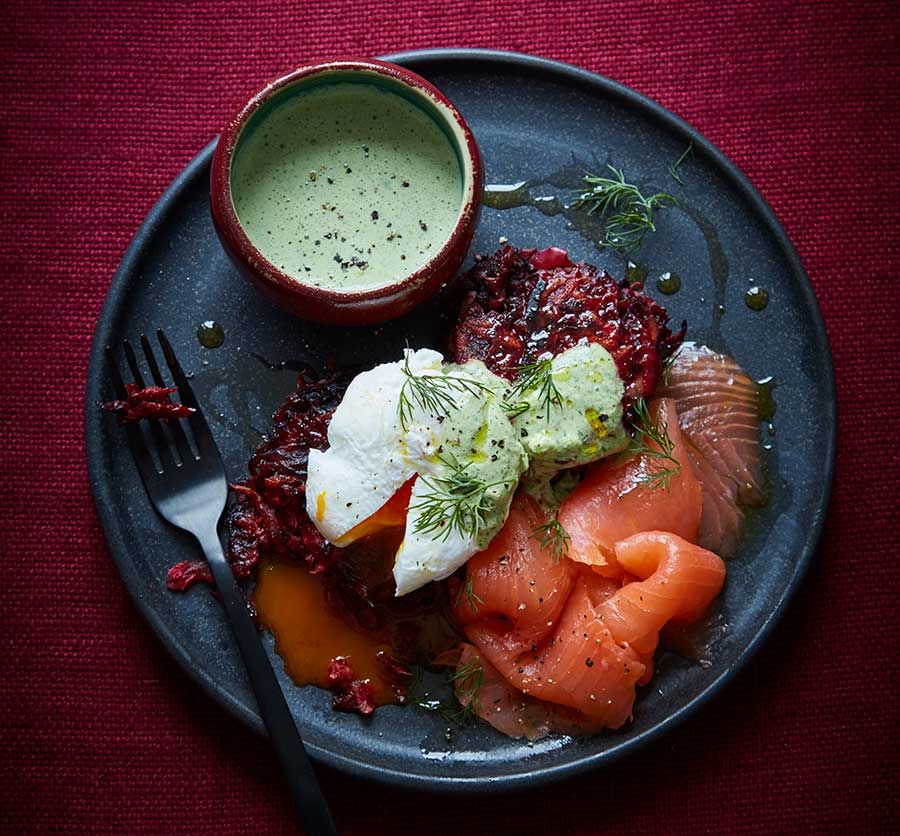 Beetroot Rosti with Green Yogurt & Smoked Salmon
Cook time: 40 mins + draining
Enjoy these colourful beetroot rostis with smoked salmon, poached eggs and herb yogurt. They make a fabulous weekend brunch, lunch or supper.
Source: BBC Good Food
600g beetroot, trimmed, peeled & coarsely grated
400g potatoes, coarsely grated
2 tbsp olive oil
1 red onion, finely sliced
5 large eggs
4 tbsp flour
2 tbsp butter
1 tbsp white wine vinegar
200g smoked salmon
For the herb yogurt
170g Greek yogurt
1/2 bunch of dill, plus extra to serve
1/2 bunch of parsley
Pinch of ground cumin
1 tbsp capers, drained & rinsed
Method
Toss the beetroot and potato with a large pinch of salt, tip into a colander in the sink, and leave to drain for 30 mins. Transfer to a clean tea towel and squeeze out any excess liquid. Heat half the oil in a frying pan and fry the onion for 5 mins. Add the grated veg and fry for 10 mins more until just soft. Remove from the heat. Cool slightly. Combine with 1 egg and the flour, season and form into eight patties. 
For the herb yogurt, tip everything into a food processor with a pinch of sea salt, and blitz until smooth. 
Heat the butter and remaining oil in a large non-stick frying pan over medium heat, and fry the rosti for 4-5 mins on each side until crisp and cooked through. Put on a baking tray and keep warm in a low oven. 
Bring a pan of lightly salted water to a simmer with the vinegar. Stir to create a whirlpool. Crack 1 egg into a cup, wait until the whirlpool has almost subsided, then tip in the egg. Poach for 2-3 mins, remove with a slotted spoon and drain on kitchen paper. Repeat with the other eggs. 
Serve the rosti with the herb yogurt, poached eggs, smoked salmon and some extra dill.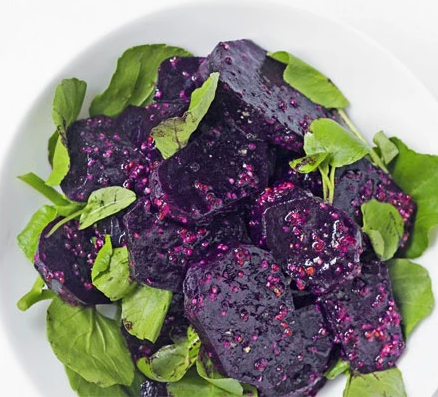 Zesty Beetroot with Watercress
Add a splash of vibrant colour to a midweek meal with this unusual side salad.
Source: BBC Good Food
3 tbsp olive oil
2 tbsp orange juice
1 tbsp wholegrain mustard
2 large handfuls of watercress
4 cooked beetroot, sliced
Method
Make the dressing by whisking the oil, orange juice and mustard with some seasoning. Arrange the watercress on a large plate and scatter it over the beetroot. Drizzle over the dressing and serve immediately.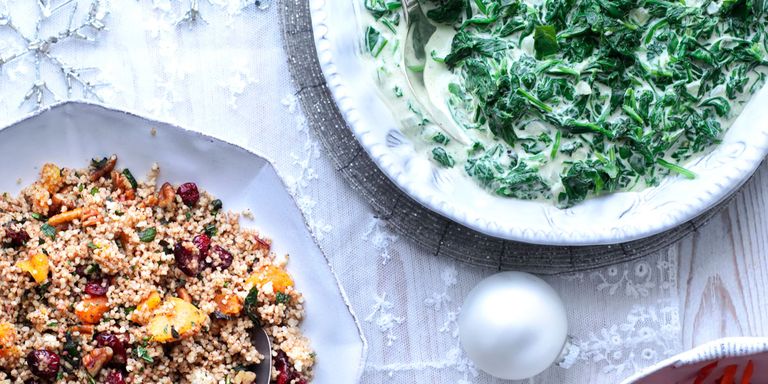 Beetroot & Fennel Coleslaw
This side dish uses pre-cooked beetroot to save time.
Source: Good House Keeping
1 fennel bulb
1/2 red onion, finely sliced
3 large carrots
250g large beetroot, peeled & cooked
1/2 juice of an orange, about 4 tbsp
2 tbsp red wine vinegar
2 tbsp extra virgin olive oil
Method
Very finely slice the fennel and onion, or use a  mandolin. Transfer vegetables to large
serving bowl. 
Peel and coarsely grate the carrots and beetroot  and stir into the fennel mixture. 
In a small jug, mix together the remaining ingredients  and stir through coleslaw. Season to taste; garnish with plenty of seasoning. Serve immediately, or cover and chill for a few hours for flavours to  marinate.