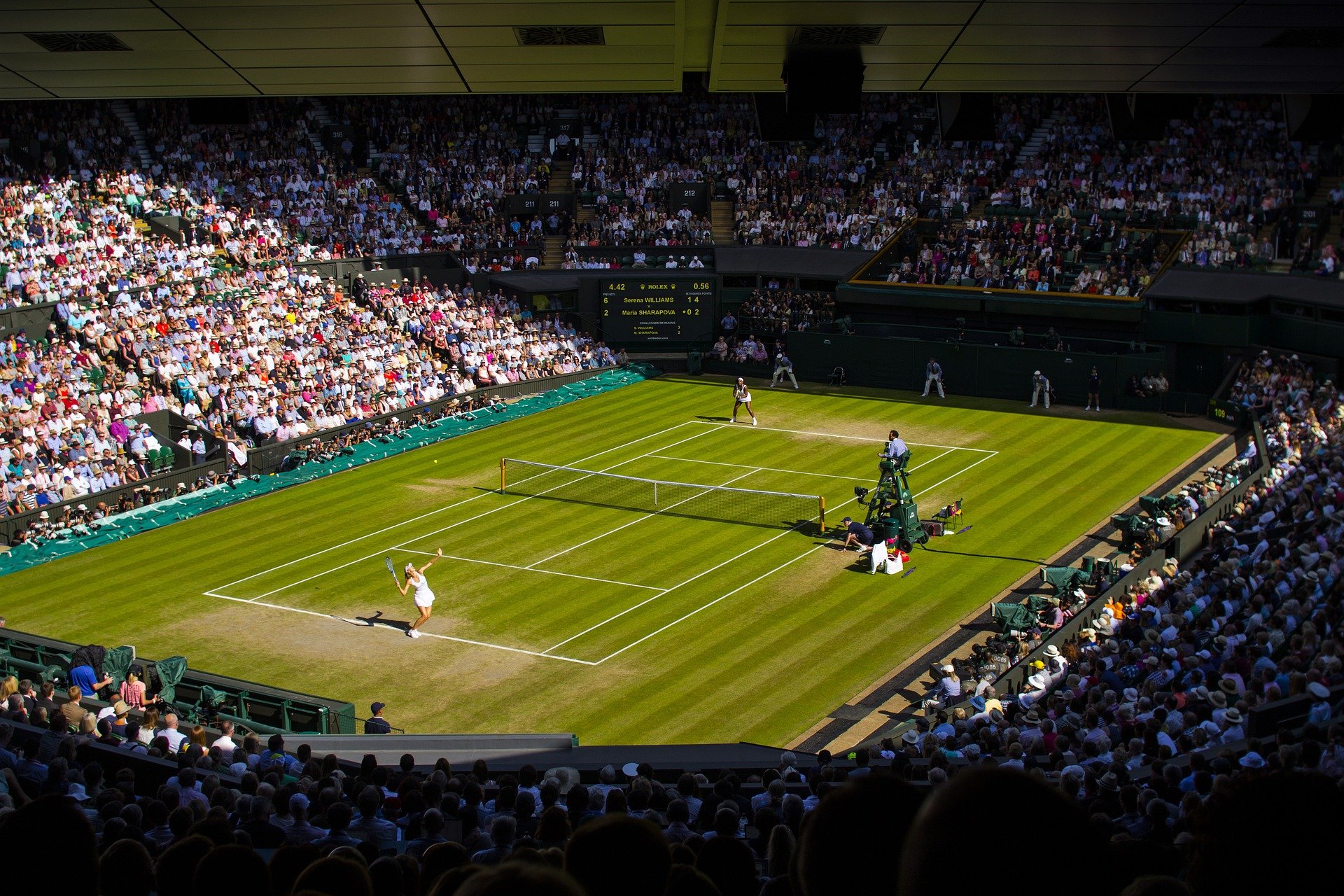 The Sweet Taste of Wimbledon
Strawberries and cream are synonymous with Wimbledon. Every year, tennis fans who visit the championships snack their way through a mountain-sized 2 million strawberries and 7000 litres of cream in a fortnight. That's more than 190,000 portions in 14 days! 
The normal British strawberry season is short and delicious and occurs at exactly the same time as the tournament.  We are lucky enough now though to be able to get strawberries for a large part of the year through New Forest fruits. 
"As a child when Wimbledon hit my mum was glued to the tv shouting, dad was in the garden picking the strawberries and my siblings and I were playing swingball, whacking the ball on the string (which usually got tangled) and trying to recreate the drama on the court in our own creative way (think John McEnroe!) This was pre-internet, mobile phones and computers – showing my age now!" Emma 
Flavours that will accompany strawberries really well include vanilla, chocolate, yogurt, ricotta (and other fresh cheeses), ice cream, custard, bananas, lemon, orange, rhubarb, apricots, mango, almonds and other tree nuts, peanuts, olive oil, sesame (tahini), coffee, things licoricey (anis, anisette, fennel, Pernod, absinthe, tarragon), buckwheat, rice flour, oats and oat flour, chestnut flour, tiger nut flour, honey, brown sugar (especially darker raw sugars), date syrup, red wine, black pepper, balsamic vinegar, basil, mint, cinnamon, cardamom, cloves. 
We thought we'd break a bit from tradition and instead of just strawberries and cream offer up the strawberry a few new tennis partners. Let us know what you think and share your own recipes on our Facebook page.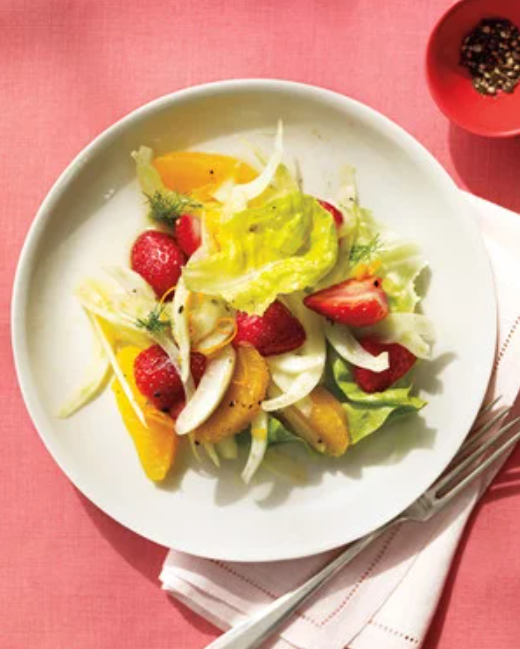 Strawberry, Fennel and Orange Salad
This simple salad is juicy and refreshing, especially on a hot summer day. The crunchy, anise-flavoured fennel offers a nice textural contrast to the soft, fragrant berries and tender oranges. 
Source: Martha Stewart
2 oranges
16 strawberries, hulled & quartered/halved
1 fennel bulb, thinly sliced lengthwise, some fronds reserved for garnish
1 1/2 tsp fresh lemon juice
1 tbsp extra-virgin olive oil
1/4 tsp coarse salt
Coarsely ground black pepper
Method
Zest one orange, and reserve zest (2 teaspoons). Cut peel and pith away from both oranges. Use a paring knife to cut out the segments, letting them fall into a bowl, along with the juice. 
Add strawberries, sliced fennel, orange zest, and fennel fronds to the bowl of orange segments and toss together gently. Stir in the lemon juice and olive oil, and season with salt and pepper. Add lettuce, toss, and serve.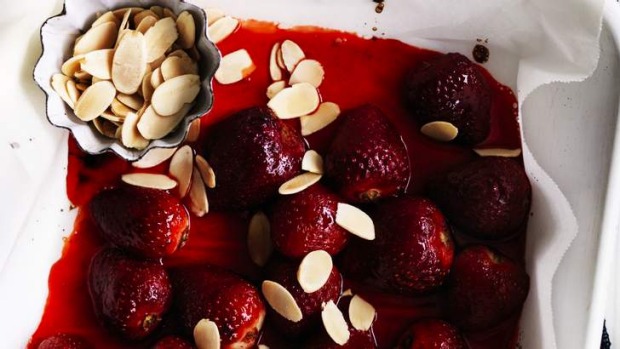 Roasted Strawberries with Liquorice Cream
For such a common fruit, the flavour of strawberries is anything but simple. There are aspects of pineapple, clove and caramel that combine to produce a flavour that's quite different to other berries. The aniseed compounds that give liquorice its flavour – anethole and glycyrrhizin – are incredibly sweet (13 and 40 times sweeter than sugar, respectively), and when the bitter caramel notes of the strawberry are enhanced by roasting, the sweet, spicy aniseed is a perfect combination. 
Source: Good Food
1kg strawberries, stems removed
60g caster sugar
Juice of 1 lemon
300ml double cream
1 tbsp icing sugar
3 tbsp Pernod anise, pastis or sambuca
65g flaked almonds, well toasted
Method
Heat your oven to 200C. Toss the strawberries with caster sugar and lemon juice. Roast in a deep baking tray for 15 minutes until the strawberries are soft, starting to caramelise and release their juices. 
Whip the cream, icing sugar and the aniseed liqueur together to soft peaks. 
To serve, place a few strawberries with their juice into a bowl or glass, top with the liquorice cream and scatter over the toasted almonds.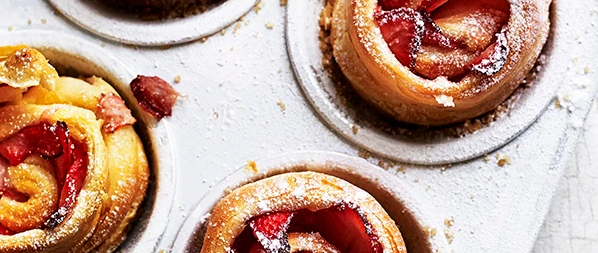 Try swapping the custard for Nutella, pistachio paste or orange curd. 
Source: Olive Magazine
1 tbsp soft butter
1/2 tsp ground cinnamon
6 tsp caster sugar
1 pack croissant dough
2 tbsp ready-made custard
125g strawberries, hulled & very finely sliced
Icing sugar, to dust
Method
Butter 6 holes of a large muffin tin generously, then mix half the cinnamon with the sugar. One by one, put a teaspoon of the cinnamon sugar into each muffin hole and roll around to coat the inside. Heat the oven to 200C/fan 180C/gas 6. 
Unroll the croissant dough carefully, and cut it into 3 rectangles of dough so that you keep 2 croissant triangles stuck together to make 3 rectangles. Cut each in half lengthways, so you're left with 6 thinner strips. 
Making one cruffin at a time, brush a thin layer of custard over the dough, leaving an empty 1cm wide border along the edge nearest you. 
Dot over the strawberries on top of the custard, letting some tips stick out above the top edge of the dough. Scatter with a pinch more ground cinnamon, then roll the croissant dough up from one of the shorter sides, pinching together the dough border to seal into a base. 
Sit the roll, pinched base side down, into one of the muffin holes, and repeat with the rest of the dough, custard and strawberries. 
When all the cruffins are assembled bake for 15-20 minutes until risen, golden and crisping on top. Push the croissant dough back into the tins if they rise too much while cooking. Dust with icing sugar to serve.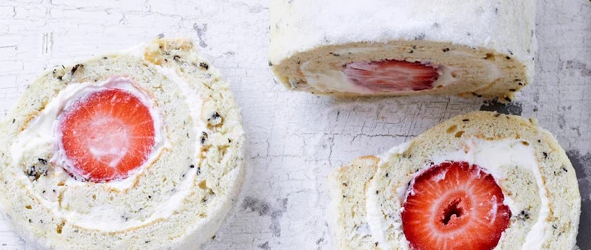 Strawberry & Earl Grey Roulade
Cook & Cooling time: 20 mins
A clever update for the classic Swiss roll. This easy Earl Grey flavoured roulade, filled with strawberries and cream is designed to impress with every slice as a smart dinner-party dessert.
Source: Olive Magazine
3 tbsp lemon juice
2 tbsp loose-leaf Earl Grey tea
4 eggs, separated
75g caster sugar, plus extra for sprinkling
75g plain flour
2 tbsp sunflower oil
A few drops of orange extract
For the filling
2 tbsp lemon juice
3 tbsp icing sugar
300ml double cream
15 medium-large strawberries
Method
Heat the oven to 180C and line the base of a 25 × 35cm swiss roll tin or shallow baking tray with baking parchment. Mix the lemon juice with 1 tbsp of the tea and warm until piping hot (in a mug in a microwave is easiest – just watch it doesn't boil over). Leave for a few minutes, stirring every so often to draw out as much flavour as possible. Crush the remaining tea with a pestle and mortar, or whizz with the flour in a food processor to break it up a bit. 
Beat the egg yolks with 25g of the sugar until pale and frothy, then mix in the flour, oil, remaining crushed tea leaves and the tea-infused lemon juice – strained through a sieve. Stir in the orange extract. 
Clean the beaters and beat the egg whites in another bowl to soft peaks. Add the remaining sugar and continue beating until thick and glossy. Gently fold the meringue mixture into the other mixture in thirds until most streaks have disappeared. Spread into the tin as smoothly as you can and bake for about 13 minutes. 
Lay a large sheet of baking parchment on your work surface and flip the cake onto it. Peel off the lining paper, then flip the cake a second time onto a new sheet of baking parchment dusted liberally with caster sugar so the cake is now sitting back up the way it was baked. Roll up the cake from one of the longest edges with the paper, and leave it to cool. 
Once completely cool, carefully unroll the cake. Make the filling by beating the cream with the lemon juice and icing sugar until just holding its shape. Trim the tops of the strawberries, plus enough of the pointy bottom ends so the strawberries can sandwich together in a relatively even line along the length of your cake. Spread the cake all over with a thin layer of cream, then line up the strawberries along the inside edge of your cake. Roll back up completely from the strawberry-lined edge so you have a Swiss roll with the strawberries sitting in the centre. Chill for 2 hours to settle and stick together before neatly slicing to serve.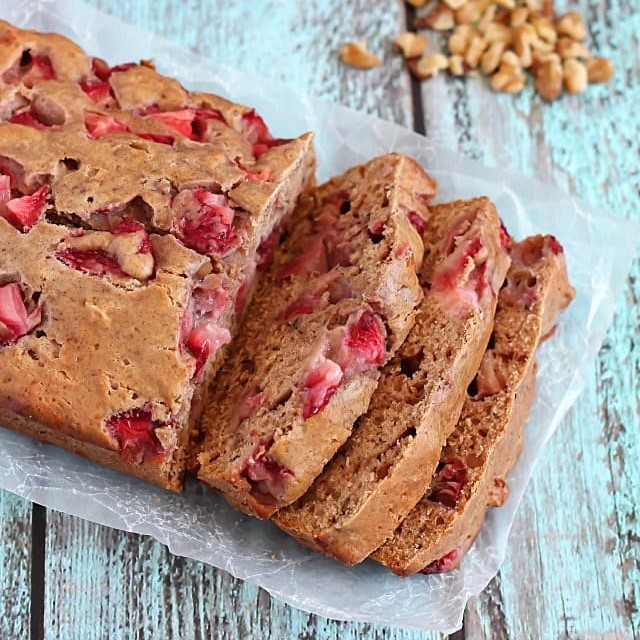 A delicious quick bread filled with fresh strawberries and walnuts. 
Source: Yummy Healthy Easy
1 egg
1 egg white
150g sugar
60ml buttermilk
1/2 tsp vanilla extract
225g flour
1/2 tsp baking powder
1/4 tsp salt
1/2 tbsp ground cinnamon
1/4 tsp ground nutmeg
2 tbsp + 2 tsp coconut oil, melted and cooled
150g strawberries, chopped
30g walnuts, toasted & chopped
Method
Preheat oven to 180C. Cut a piece of parchment paper to fit in the bottom of a 9×5 loaf pan and spray the entire pan with nonstick cooking spray. Set aside. 
In a small pan, stir and toast walnuts over medium-low heat, being careful not to burn them. Pull off heat and set aside to cool. 
In a large bowl, beat together the egg and egg white until frothy. Add the sugar, buttermilk and vanilla and beat again. 
In a separate bowl, combine the flour, baking soda, salt, cinnamon, and nutmeg. Add the flour mixture to the wet mixture and stir to combine. 
Lightly stir in the oil and then fold in the chopped strawberries and chopped toasted walnuts. Stir until just combined. Pour into the loaf pan and smooth top down evenly. Bake for 40-45 minutes, or until a toothpick inserted in the middle comes out clean. Cool in the pan for 15 minutes and then remove loaf and devour. Enjoy! 
Notes: *if you don't have buttermilk, pour 1/4 Tbsp. lemon juice or vinegar into the 65ml milk and let stand for 5 minutes before using in the recipe.