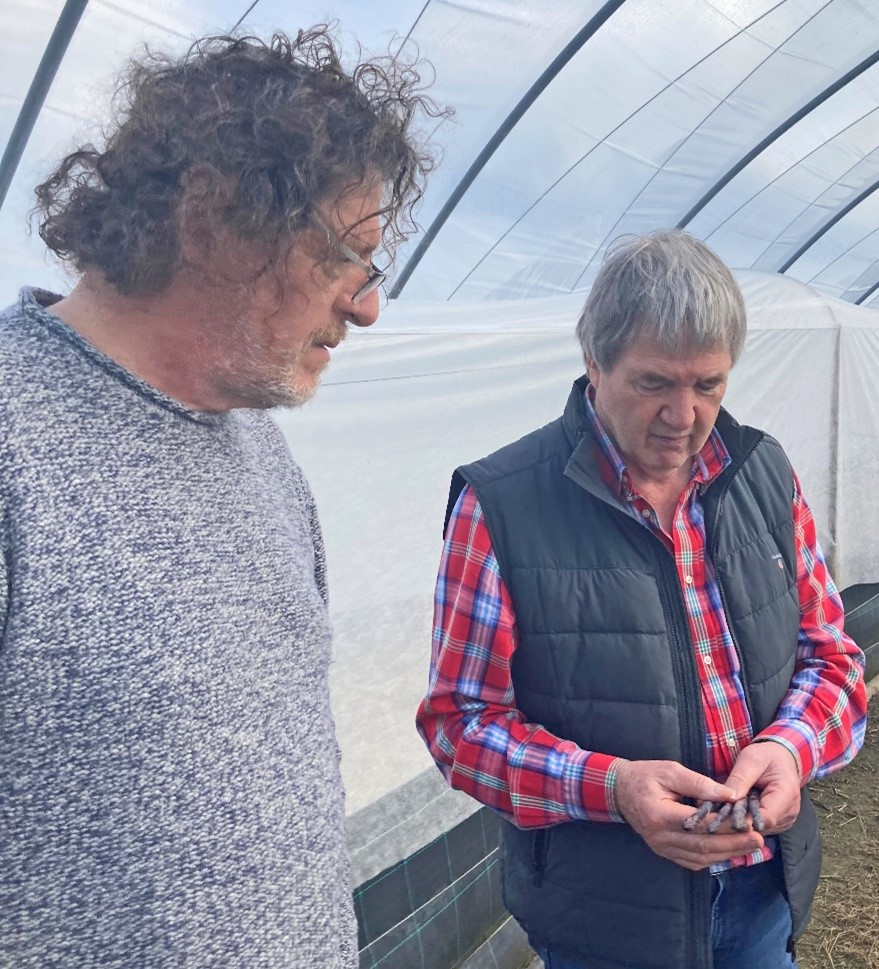 Purple asparagus is only slightly different in flavour and texture from green asparagus. It is sweeter with a sugar content that's about 20% higher and is typically less fibrous and is therefore often more tender. Purple asparagus is rich in anthocyanins which is what makes it purple.  Anthocyanins are antioxidant compounds — those that are also found in blueberries and blackberries among a handful of other purple, red, and blue-like foods.
With these subtle differences, purple asparagus recipes are interchangeable with green asparagus recipes but it works incredibly well raw in salads (it tastes very much like fresh peas eaten directly from the pod).
Why not try some for yourselves, buy our New Forest purple asparagus from our specials section for £3.95 for 200g.  We've included three recipes for you to try below too.
Purple asparagus' natural sweetness allows for it to be eaten raw.
Source: Gourmet Trading
900kg raw purple asparagus, cut into 1 inch pieces
100g pine nuts, toasted
30g mint leaves, fresh
30g basil leaves, fresh, chopped
130g red onion, chopped
2 tbsp lemon juice
2 tbsp Dijon mustard
Salt and pepper, to taste
Method
In a large bowl combine all ingredients. Toss and serve chilled.
Purple Asparagus with Lime & Shallots
This Purple Asparagus Recipe takes only 15-minutes, and it's as delicious as it is beautiful. It's the perfect vegan or vegetarian spring or summer side dish!
Source: Cooking on the Weekends
450g purple asparagus
2 tbsp unsalted butter
2 tsp fresh lime juice
1 1/2 tbsp shallots, super finely diced
Salt & fresh ground black pepper, to taste
Method
Place a medium-sized bowl of ice water on your workspace.
Cut the bottom a few inches (the tough portion), off the asparagus and discard. You can actually "snap" the ends off with your hands — it almost always breaks right where it should.
Rinse the asparagus and then peel from just below the floret to the bottom, using a vegetable peeler.
Place a steamer in a pot with the water level just below it.  Over high heat, bring the water to a boil, add the asparagus to the rack, sprinkle it with salt and cover. Reduce the heat to low and steam until tender, 5 minutes. (The cooking time will vary, depending on the thickness of the asparagus.)
Immediately add the steamed asparagus to the bowl of ice water and let it sit for a couple of minutes. Then remove, pat dry with paper towels, and add them to a medium-sized mixing bowl. Set aside.
In a very small saucepan, melt the butter with the lime juice and shallots. Then season to taste with salt and pepper.
Drizzle the butter sauce over the asparagus and carefully toss to be sure it's well coated.
Serve!
Shaved Purple Asparagus Salad with Tahini Soy Dressing
Eating Asparagus raw can be delicious especially when eaten in thin shavings here.
Source: Pippa Campbell Health
2 bunches purple asparagus
2 tsp mayonnaise
1 tbsp tahini
2 tsp Tamari
1 crushed garlic clove
Zest and juice of half lemon
Method
Cut off the tips of the Asparagus and shave the stems using a vegetable peeler
Mix the other ingredients together in a bowl and drizzle over the Asparagus.