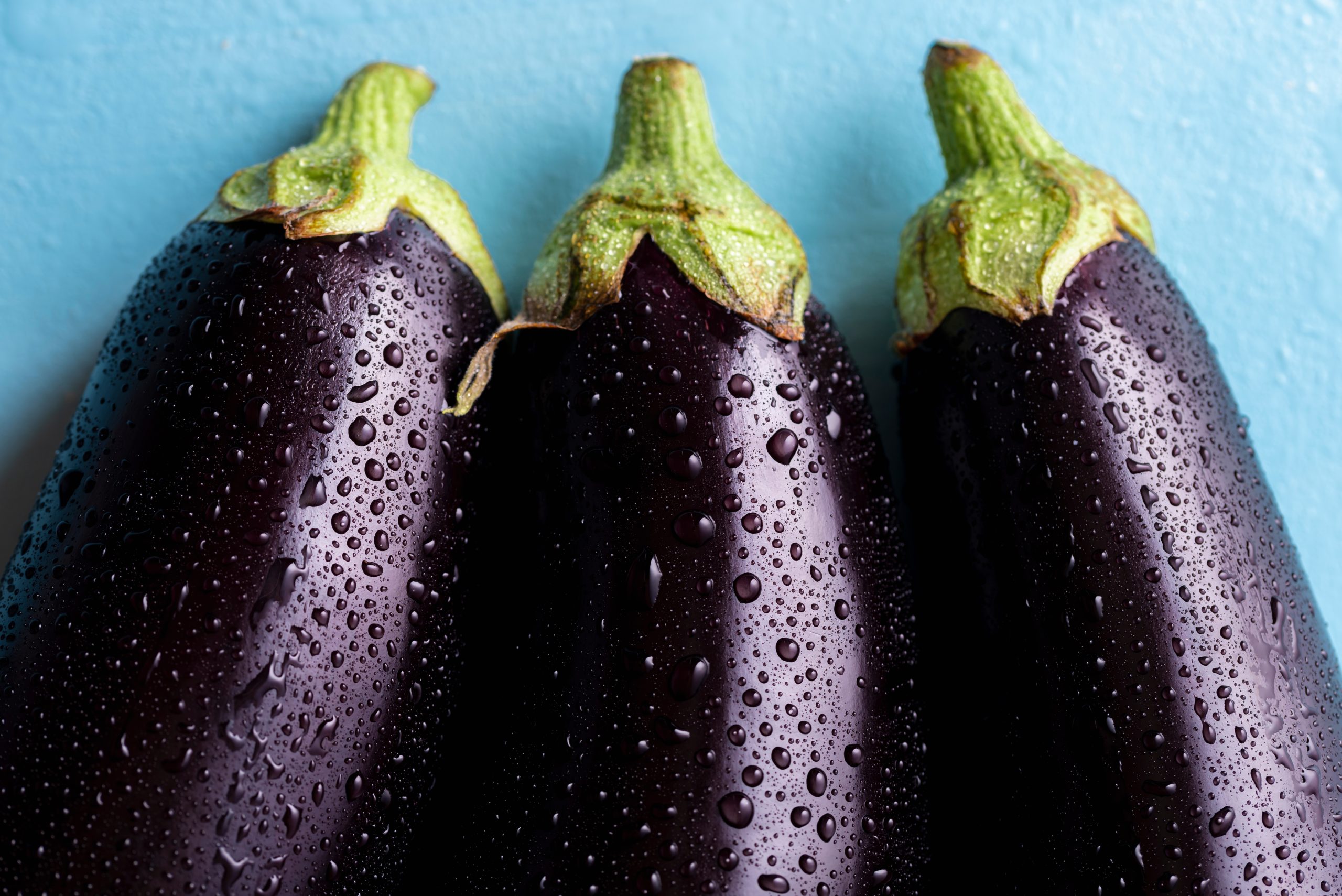 Get adventurous with Aubergines
We love aubergines: gorgeous to look at and versatile to cook with. 
They grow very much like tomatoes, hanging from the vines of a plant that grows several feet in height and are an excellent source of dietary fibre. They are also a good source of vitamins B1 and B6 and potassium and are high in the minerals copper, magnesium and manganese. 
Rich in antioxidants, specifically nasuin found in the skin giving it its purple colour. A potent antioxidant and free radical scavenger, nasunin has been found to protect the lipids (fats) in brain cell membranes. 
5
Fun Facts about Aubergines
Aubergines come in different colours

 like white, 

green

 and purple with white stripes.

 

The aubergine belongs to the tomato and potato family, which are all nightshades.

 

A

ubergine

s

 contain nicotine

, b

ut only a tiny amount, just 0.01%. You would have to eat 9 kilos of aubergines to get the same amount of nicotine as in one cigarette.

 

The aubergine is a fruit but is always prepared and regarded as a vegetable.

 

The aubergine plant originally comes from 

Myanmar

.

 

Arabs brought aubergines to Spanish Andalusia in the 15

th

 century.

 
We've included a free aubergine in our boxes this week. See our top aubergine recipes below!
Italian-Style Stuffed Aubergines
Forget stuffed peppers and serve your veggie guests this sophisticated stuffed aubergine dish instead.
Source: BBC Good Food, find the recipe here
Aubergine & Feta Frittata
This vegetarian aubergine and feta frittata is a fail-safe option for a midweek meal. Sprinkle with chopped spring onions and serve with a simple green salad. 
Source: Delicious Magazine, find the recipe here
This vegetarian curry brings together classic flavours of south-west India, including freshly grated coconut and green chilli 
Source: Recipe adapted from BBC Good Food
Emma's Aubergine Parmigiana
This aubergine parmigiana recipe makes a fantastic alternative to lasagne. With layers of grilled aubergine, courgette and peppers, a rich tomato sauce and oozy mozzarella, it takes comfort food to the max and will definitely be a new favourite aubergine recipe for the whole family to enjoy.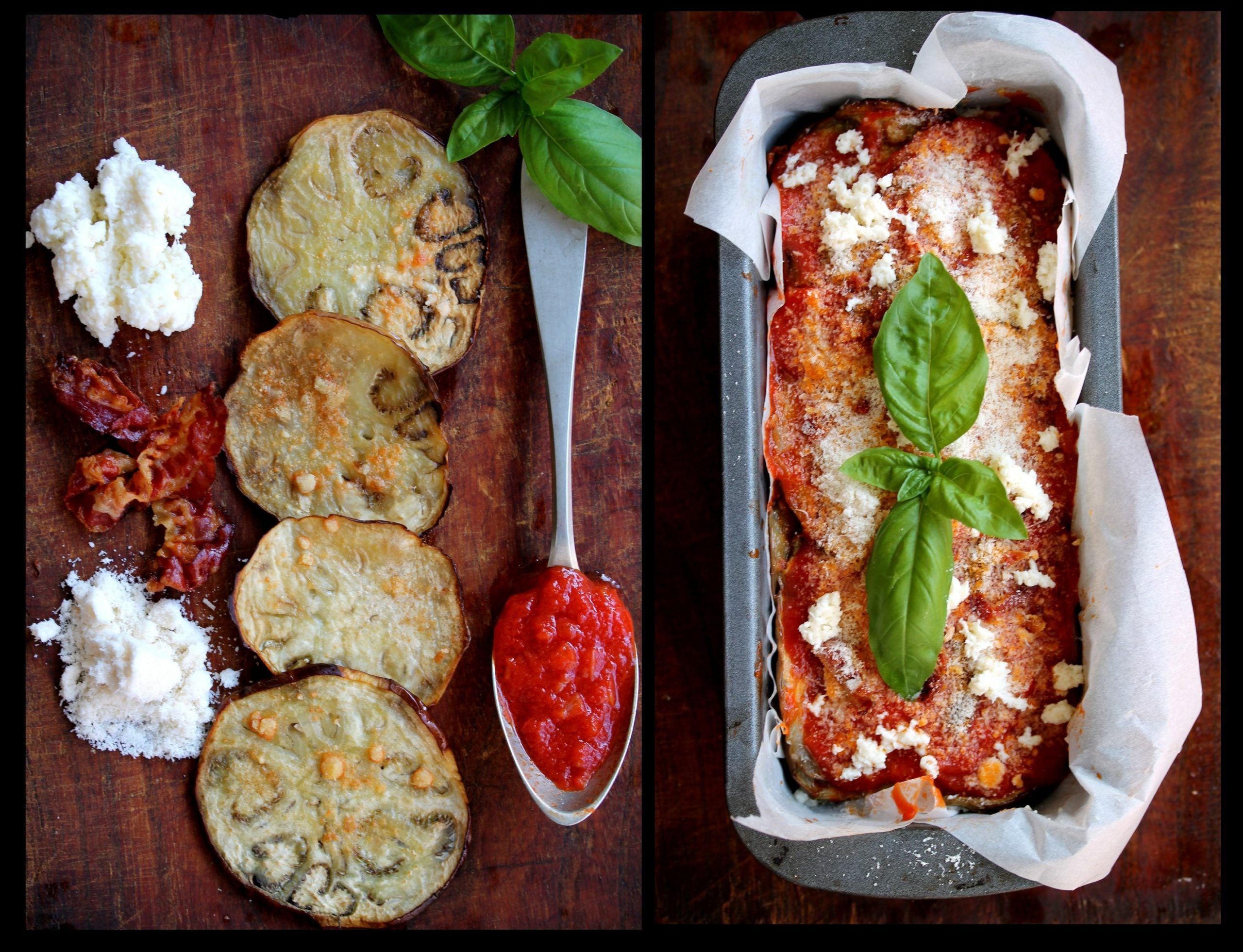 1 aubergine, cut into 1cm thick slices
1 tbsp garlic-infused olive oil (or olive oil and add 2 cloves of garlic)
2 medium onions, peeled and finely chopped
2 medium carrots, peeled and finely diced
2 small mixed peppers, diced
1 large courgette, finely chopped
1 tsp dried oregano
1 x 400g tins chopped tomatoes
25g Parmigiano cheese, finely grated
65g reduced-fat mozzarella, thinly sliced
Method
Brush your slices of aubergine with olive oil and fry until slightly browned on both sides.
Preheat the oven 180°C/fan 160°C. Heat the oil in a pan over the heat then add the onions, stirring occasionally until softened. Add the carrots, peppers and courgettes and cook for 15 minutes, stirring frequently.
Mix in the oregano and tomatoes, and simmer for 10 minutes.
Pour some of the veg sauce into an ovenproof dish, top with aubergine slices then add more sauce. Repeat until the final layer is sauce, then top with Parmigiano cheese and mozzarella.
Cook in the oven for 30-40 minutes until golden. Serve with a green salad.
Cook time: 1 hr + cooking and draining
To really amp up the flavour of this Middle Eastern dip, char the aubergines on the barbecue for extra smokiness.
Source: Delicious Magazine, find the recipe here