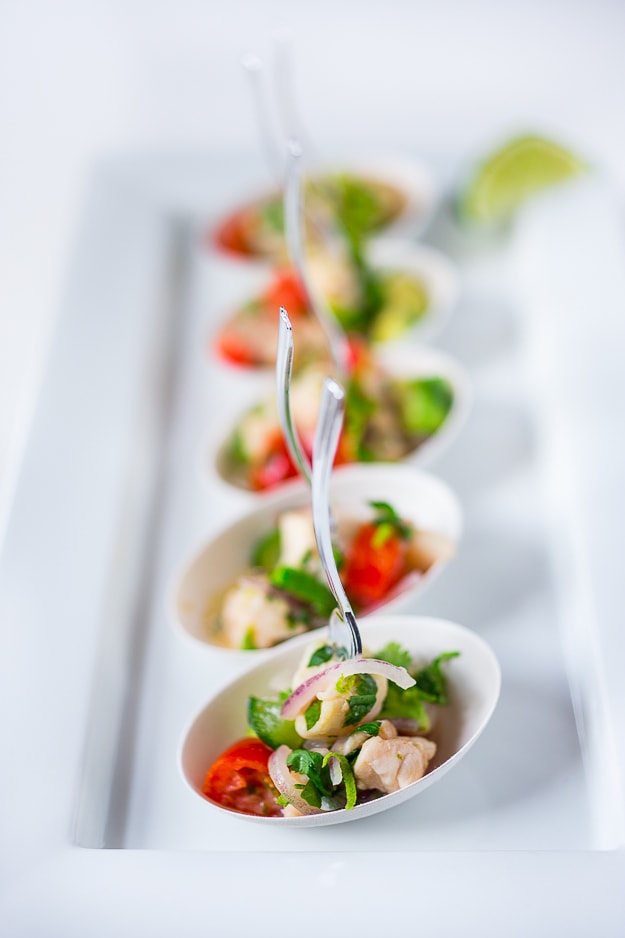 Ceviche is fresh raw fish marinated or "cooked" in lime juice, most often with onion, tomatoes, coriander and salt.  It hails from the coastal regions of Central and South America, popular from Mexico down to Peru and beyond. There are many versions, and depending on where you are, it will take on the local flavours.  It's the sort of dish that people don't ordinarily think of as simple to make at home, so restaurants readily charge a small fortune for it. 
Peruvian Ceviche 
Today ceviche is traditional all along the Pacific Coast of the Americas. Whether or not it originated in Peru, ceviche is the Peruvian national dish. Some form of it has been eaten in Peru for almost two thousand years. 
Filipino Ceviche 
There is also a Philippine ceviche called Kinilaw that predates the Colonial Period. The Pacific Spanish galleon route sailed between Acapulco, Mexico and Manila, Philippines, so ceviche may originally be Filipino. The combination of sour, salty and spicy flavours tastes very Southeast Asian. 
Moorish Ceviche 
Ceviche may be Moorish too. The rationale for this idea is that lemons and limes came to the Americas from Europe. Arab traders brought lemons from China and limes from India and Indonesia.  Spanish colonisers sailed from Cádiz in Andalusía, Spain. Some say that Moorish women who travelled with the colonisers brought ceviche to Lima. Ferran Adrià, the Spaniard who is considered one of the world's top chefs, says that ceviche is Peruvian. It doesn't really matter. Our common humanity is what is special. 
Is ceviche safe to eat? 
Ceviche, if made with fresh fish is absolutely safe to eat. Think sushi!  The lime juice cooks the ceviche on the outer edges and the longer it marinates the longer it "cooks". How do you know if the fish is fresh enough to eat raw? It won't smell fishy. It will smell clean and fresh with have a subtly sweet flavour. 
Here's a comparison of the fish immediately after tossing with lime (fish is still translucent), then 5 minutes later, it's turned white because it's cooked! 
Fish to use in ceviche:
The ONLY fish you should use for ceviche is sashimi-grade fish that is suitable for raw consumption. It is not enough to just buy "fresh fish" from the stores – this usually just means it hasn't been frozen then thawed. It does not mean it's fresh enough to eat raw. You need to check that it is "sashimi grade". As a general rule, fish that is tender and not chewy when raw will make better ceviche. This is because the fish is cut chunkier compared to the fine slices used in say fish carpaccio or sushi. Thus fish like snapper, grouper, some cods, flounder, which can be sometimes a bit tough eaten raw, are less suitable.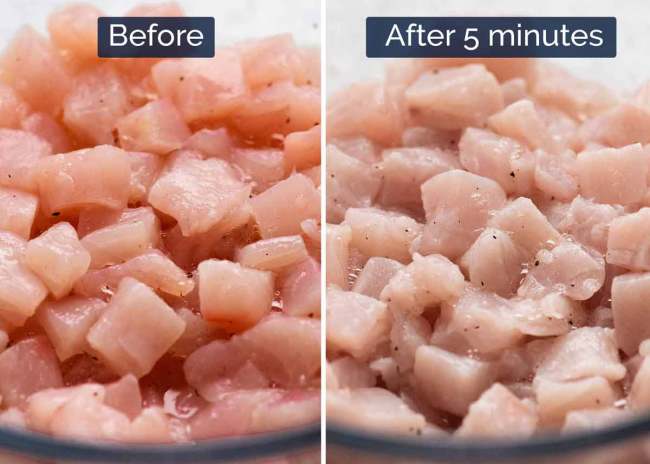 Best fish for ceviche 
There is no one way to make ceviche, and there is no single "best fish" for ceviche because it's driven by the types of seafood available. There are plenty of options, here are the most common ones for you: 
Sea bass 

– traditionally used for Peruvian Ceviche and easily found in the UK

 

Tuna 

 – popular in Mexico (along with prawn/shrimp)

 

Mackerel

 – also popular in Mexico

 

Prawns/shrimp

 – traditional in Ecuador and popular in Mexico, often with a dash of tomato juice

 

Halibut

– Chile

 

Salmon

 – though not traditional (because white fish is traditional), salmon is excellently made into ceviche

 
Bream

 

Swordfish

 – if you are lucky enough to be able to get it, this is used in some Latin American countries.

 

Cod

 
There are so many ways to serve ceviche!  For example 
mini ceviche tostadas

 

ceviche tacos

 

ceviche lettuce cups

 

ceviche stuffed avocado

 

over a bed of dressed greens

 

in a tall shot glass or appetiser cup

 

Served in a coconut.

 
Try out our recipe below and let us know what you think.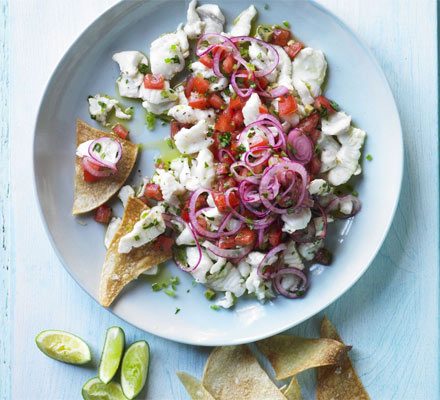 Marinating time: 1 hr 30 mins
The easy ceviche recipe is surprisingly very fast and simple to whip up and makes for a tasty, fun appetiser for parties and gatherings. Plus it's low-carb, gluten-free and low-fat – all great things to consider when serving a crowd.
Source: BBC Good Food
500g firm white fish fillets, such as haddock, halibut or pollock, skinned & thinly sliced
8 limes, juice (250ml), plus wedges to serve
1 red onion, sliced into rings
Handful pitted green olives, finely chopped
2-3 green chillies, finely chopped
2-3 tomatoes, seeded and chopped into 2cm pieces
Bunch coriander, roughly chopped
2 tbsp extra-virgin olive oil
Good pinch of caster sugar
Tortilla chips, to serve
Method
In a large glass bowl, combine the fish, lime juice and onion. The juice should completely cover the fish; if not, add a little more. Cover with cling film and place in the fridge for 1 hr 30 mins. 
Remove the fish and onion from the lime juice (discard the juice) and place in a bowl. Add the olives, chillies, tomatoes, coriander and olive oil, stir gently, then season with a good pinch of salt and sugar. This can be made a couple of hours in advance and stored in the fridge. Serve with tortilla chips to scoop up the ceviche and enjoy with a glass of cold beer.