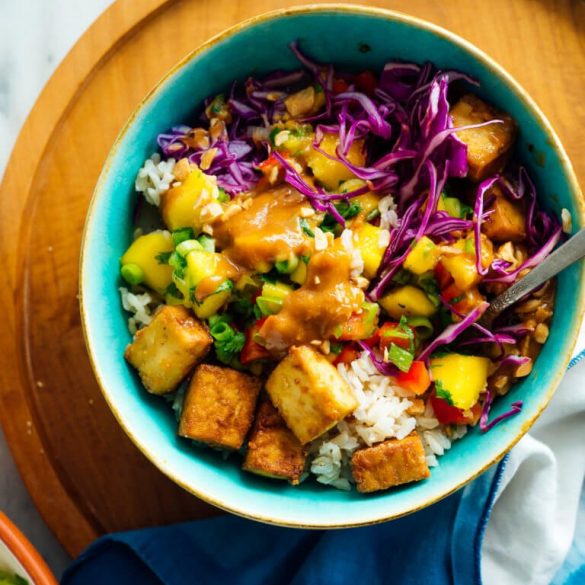 Mango Burrito Bowls – Eat Healthy for Less
Think of these mango bowls as a Thai spin on your favourite burrito bowl. This recipe features brown rice, fresh mango, tofu and peanut sauce. You will have time to prepare the produce while the tofu and rice cook, so get started on those elements first. This delicious recipe can be made for just £1.42 per serving. Let us know if you have a go at this dish and tag us in a picture on Facebook and Instagram.
Nutritional Information: Calories 678kcals; Carbohydrates 90.1g; Total Fat 23.9g; Saturated Fat 3.5g; Protein 26.8g; Fibre 10.9g; Salt 0.7g.
For the tofu and rice
340g extra-firm tofu
1 tbsp olive oil
1 tbsp soy sauce
1 tbsp cornflour
170g brown basmati rice
For the peanut sauce
45g creamy peanut butter
3 tbsp lime juice
2 tbsp soy sauce
1 tbsp honey, to taste
2 tsp toasted sesame oil
2 garlic cloves, minced
1/4 tsp red chilli flakes
For the mango salsa
2 large ripe mangos, diced
1 medium red bell pepper, chopped
4 spring onions, thinly sliced
35g fresh coriander, chopped
1 medium jalapeno, seeds removed, diced
2 tbsp lime juice
1/4 tsp sea salt
260g purple/green cabbage, shredded
Handful of chopped fresh peanuts, for garnish
Method
Preheat the oven to 205C and line a large, rimmed baking tray with parchment paper to prevent the tofu from sticking. 
To prepare the tofu: Drain the tofu and use your palms to gently squeeze out some of the water. Slice the tofu into thirds lengthwise so you have 3 even slabs. Stack the slabs on top of each other and slice through them lengthwise to make 3 even columns, then slice across to make 5 even rows. 
Line a chopping board with a lint-free tea towel or paper towels, then arrange the tofu in an even layer on the towel(s). Fold the towel(s) over the cubed tofu, then place something heavy on top (like another chopping board, topped with a cast iron pan) to help the tofu drain. Let the tofu rest for at least 10 minutes (preferably 30 minutes, if you have the time). 
Meanwhile, bring a large pot of water to boil. Add the rice and boil, uncovered, for 30 minutes. Drain off the remaining cooking water and return the rice to the pot. Cover the pot and let the rice rest, off the heat, for 10 minutes. Fluff with a fork and set aside. 
Transfer the pressed tofu to the lined baking tray and drizzle with olive oil and soy sauce. Toss to combine. Sprinkle the cornflour over the tofu and toss the tofu until the flour is evenly coated, so there are no powdery spots remaining. 
Arrange the tofu in an even layer. Bake for 25 to 30 minutes, tossing the tofu halfway, until the tofu is deeply golden on the edges. Set aside. 
Meanwhile, prepare the peanut sauce by whisking all the ingredients together in a bowl. Taste, and if it's too bold, add another teaspoon of honey to tame it. Set aside. 
Then, in a medium mixing bowl, combine the diced mango, bell pepper, spring onion, coriander, jalapeño, lime juice and salt. Stir to combine and set aside. 
To assemble your bowls, start with a big scoop of cooked rice. Top with a handful shredded cabbage, then a big scoop of mango salsa, a handful of baked tofu, a hefty drizzle of peanut sauce, and a little sprinkle of chopped peanuts. Leftover bowls will keep well in the fridge, covered, for about 4 days.