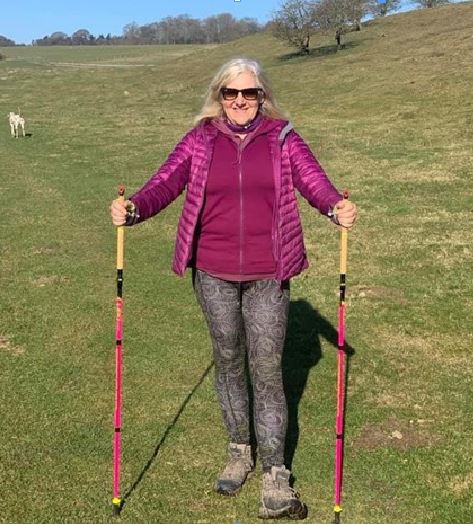 Learn to Nordic Walk with Ashley
Ashley Sandy, one of our 5aday Box customers has always enjoyed keeping fit but preferred outdoor fitness such as running and hiking to being indoors in the gym. Over the years she has undertaken many challenge runs and walks from Race for Life to the Great South Run.
Ashley learned to Nordic walk in 2005 while living in Switzerland and loved how it was a great alternative to running for fitness and calorie burn as well as making those longer hikes much easier! Ashley continued to enjoy Nordic walking on her return to the UK but was frustrated that there was no-one to teach her friends how to join her.
Deciding that she wanted to share her passion for Nordic walking with others, Ashley trained to be an instructor with NWUK in 2015.
Since then she has built up a great group of walkers in the local area who enjoy walks in the downs, on the Kennet and Avon canal and exploring the many areas of outstanding natural beauty in the North Wessex Downs.
Ashley is a WALX master and runs explorer walks to discover this beautiful area as well as teaching you the power of the poles and running Nordic walks and total body walks. Ashley is qualified to run Tai Chi for wellbeing flows and adds these at the end of wellness walks which are suitable for those wanting a more gentle walk or getting back into fitness.
LEARN TO NORDIC WALK COURSE WITH ASHLEY
Ashley runs 2 'POWER OF THE POLES' courses for complete beginners depending on your current level of fitness and your personal goals.
The POWER OF THE POLES Induction process is suitable for all levels and is a structured teaching programme. There are 2 Courses of one and a half hours each. Course 1 is designed to provide sufficient knowledge for someone to be proficient at using poles. Course 2 is an optional further course for those wanting to explore a more in depth knowledge of walking with poles and the traditional Nordic Technique. Your qualified Instructor will help you understand your current level of fitness and empower you to use poles at the correct intensity in order to get the results you want. These courses will ensure you master the technique of using poles and change the way you walk for life.
Ashley's walks are focussed in Marlborough, Pewsey and the Hungerford area but also go as far as Devizes and Swindon.
What is Nordic Walking?
Nordic Walking is an enhancement of ordinary walking – it makes something we can all do twice as effective! Nordic Walking uses poles to in order to add two major benefits to walking:
The use of poles means the upper body muscles are used as well as the legs.
The poles help to propel the walker along – this means he/she works harder than usual yet the support given by the poles makes it feel easier!
Nordic Walking is a specific fitness technique and is not to be confused with trekking, hill walking or trail running as the poles are not planted in front of the walker/runner but in a specific way that increases the use of the upper body. It can be done by anybody, anywhere and does not require expensive equipment or clothing.