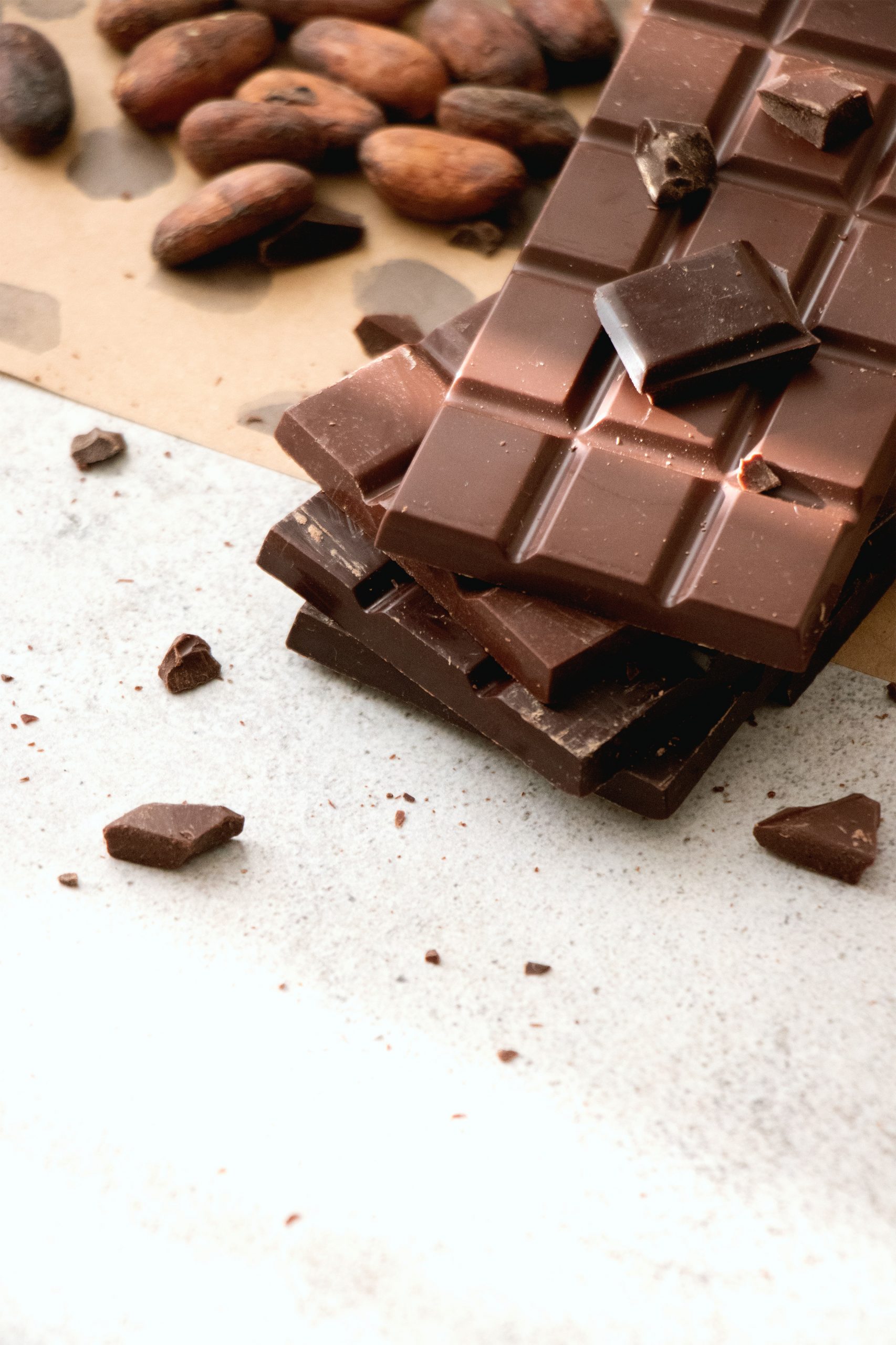 Who really needs an excuse to celebrate chocolate???
World Chocolate Day is an annual celebration of chocolate occurring globally on July 7. The observance of World Chocolate Day dates back to 2009, some suggest July 7 in particular celebrates the introduction of chocolate to Europe in 1550 in large quantities.
Other reports state that Christopher Colombus might have brought cocoa to Spain much earlier, around 1504, but the aristocracy held a monopoly on it for centuries before it trickled down to the lower classes and gained widespread popularity.
We think the best way to celebrate the versatility of chocolate is to sample a flavour combination you've never tried before. How about trying some of our recipe suggestions below and share what you made over on our Facebook page.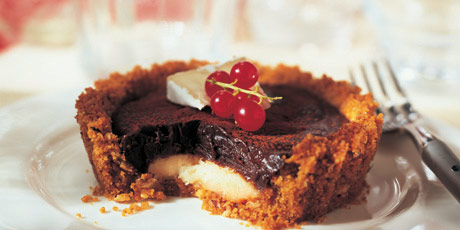 Melted Chocolate & Brie Tarts
Try this delectable flavour combination of dark chocolate and brie.
Source: Food Network
65g unsalted butter
85g digestive biscuits, crushed
65g hazelnuts, chopped
35g sugar
125g brie, rind removed, sliced
75ml double cream
90g dark chocolate, chopped
1 tbsp hazelnut liqueur
Cocoa powder, optional
Method
Preheat oven to 190°C.
In a microwave-proof bowl, melt butter. Add crushed digestive biscuits, hazelnuts and sugar; stir until smooth.
Press mixture into 4 tart pans with removable bottoms, or large ramekins (11 cm in diameter). Bake for about 10 minutes.
Meanwhile, in a saucepan over low heat, heat cream until steam starts to form. Pour hot cream over the chocolate and whisk until smooth. Chocolate must melt completely. Add liqueur and stir. Keep at room temperature.
When tart shells are done, remove them from the oven and immediately cover the bottoms with cheese, letting it melt.
Pour the chocolate mixture over melted cheese and refrigerate for at least 2 hours before unmoulding and serving. To unmould easily, run a knife around the inner edge of tart moulds to detach tarts. Cool at room temperature for at least 30 minutes before serving.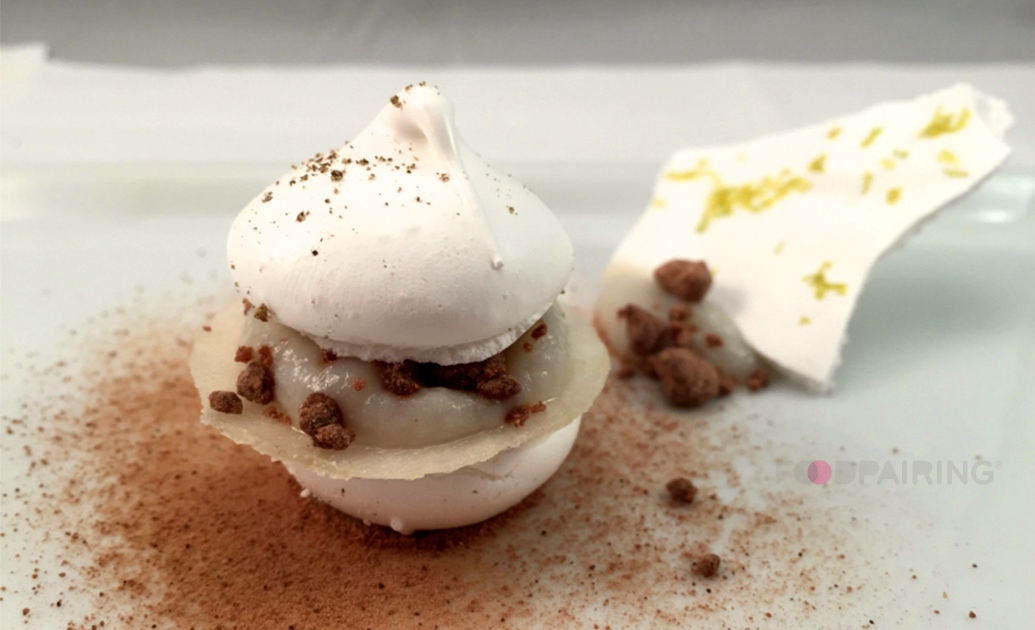 Jerusalem Artichoke, Chocolate, Lemon & Black Pepper Macarons
Not often are Jerusalem artichokes used in a dessert, let alone using this forgotten vegetable in Macarons. Combined with chocolate, lemon meringue and black pepper these macarons beat the pants off the classic French meringue cookies.
Source: Food Pairing 
For the meringues
For the Jerusalem artichoke creme
1 kg artichoke
1 tbsp mascarpone
1 tbsp double cream
For the lemon meringue
100g egg white, at room temperature
160g icing sugar, sifted
Grated lemon zest
For the chocolate sand
200g chocolate
300g sugar syrup
500ml water
500g sugar
Method
For the meringues
Mix all ingredients in a bowl that you put on a pot with a little water in the bottom. Place the pan on the stove and whisk until the sugar crystals have disappeared. Place the mixture in a food processor and mix until you get a solid foam and the mixture has cooled. Blanch black pepper four times, change the water each time. Dry the pepper in the salamander and grind it to a fine powder. Pipe the meringue on a plate and bake in the oven at 100 degrees for about 50 minutes. Sprinkle pepper on top.
For the creme
Cook the artichokes until soft. Mix and push through a fine screen mesh. Add the mascarpone and cream. Refrigerate.
For the lemon meringue
Preheat the oven to 90° C. Place the egg white in the bowl of an electric mixer fitted with a whisk attachment. Add one heaped tablespoon of the icing sugar. Whisk the whites until the mixture holds 'soft peaks'. You should still be able to make out bubbles in the mixture. Add the remaining icing sugar. Continue whisking at high speed until the meringue is shiny and stiff. Flatten the meringue on a plate, sprinkle with finely grated lemon zest and bake in the oven for 30 minutes.
For the chocolate sand
Melt the chocolate. Stir and add the sugar syrup slowly. Mix and boil the ingredients to 150 degrees. Stir, stir and stir until the mix becomes crumbly.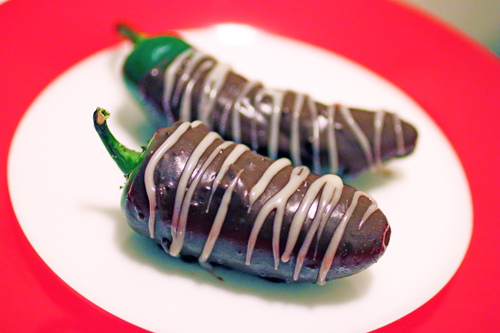 Chocolate Covered Jalapeno Peppers
This recipe for jalapeno peppers dipped in sweet chocolate and drizzled with white chocolate is a wonderful dessert.
Source: Jalapeno Madness
20 jalapeno peppers
400g milk chocolate
3 tbsp vegetable shortening
285g white chocolate
Method
Heat a small pot to low heat and add milk chocolate with 2 tbsp vegetable shortening. It is best to use a double-boiler for this, but if you don't have one, be sure to keep the heat low. Stir often until chocolate is melted and smooth.
Dip each jalapeno pepper into the chocolate and coat each side.
Set the chocolate jalapeno peppers on wax paper to cool. Refrigerate to speed up the process.
Heat a separate small pot to low heat and add white chocolate with 1 tablespoon vegetable shortening. Again, a double boiler is best, but if you don't have one, keep the heat low and stir often until melted and smooth.
Hold each jalapeno pepper over the white chocolate, and with a small spoon, drizzle white chocolate over the jalapeno in a small but steady stream. Be creative with your designs.
Set the jalapenos on wax paper to cool. Serve!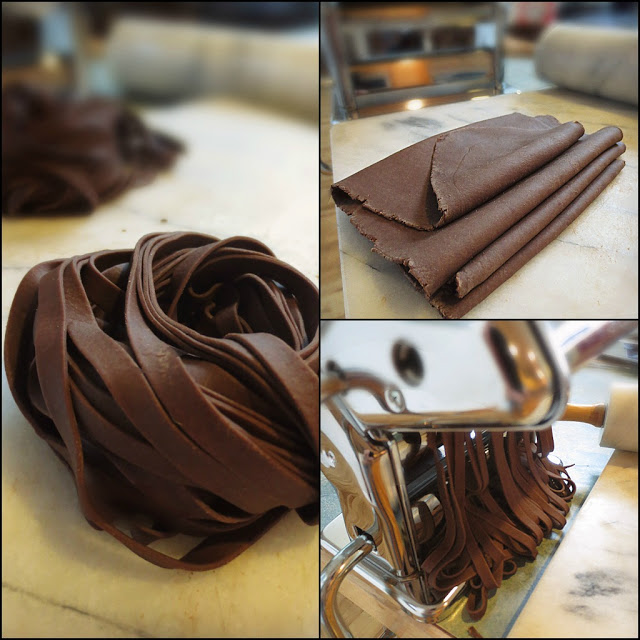 Just a few ingredients and the magic happens! Remember, this is savoury pasta, not sweet!  Toss the chocolate pasta with a cheesy alfredo-type sauce for a luxurious dish.
Source: The Brooklyn Ragazza
290g "00" flour
100g unsweetened cocoa powder
3 large eggs
Special Equipment: Rolling pin or pasta machine
Method
On a clean work surface, thoroughly combine the flour and the cocoa powder, and make a well in the middle for the eggs.
Crack the eggs into the middle of the flour well and beat with a fork, gradually pulling in some of the flour from the walls of the well to form a sticky dough. Continue in this fashion until all the dough is incorporated.
Knead the dough into a ball.  If the dough is too dry, add about a tablespoon of water. If the dough is too moist, add a little flour.
Wrap dough in plastic wrap and allow it to sit at room temperature for one hour.
After one hour, the dough will be pliable enough to roll. With a knife, cut off about 1/5 portion of the dough and roll out to about 1/4 in thin with a rolling pin.
Once the dough is 1/4 inch thin, feed it through a pasta machine using the largest setting. Repeat a couple of times on this setting until the dough is smooth and elastic. Repeat this step a few more times, but gradually decreasing the size setting each time, until the dough is desired thinness.
Once your pasta sheets are rolled out to desired thinness, use your favourite pasta machine attachment to make your favourite pasta size.
Once all your pasta is rolled and cut you may freeze or cook right away. Remember, fresh pasta cooks up very quickly (in just a couple of minutes, so keep an eye on it!)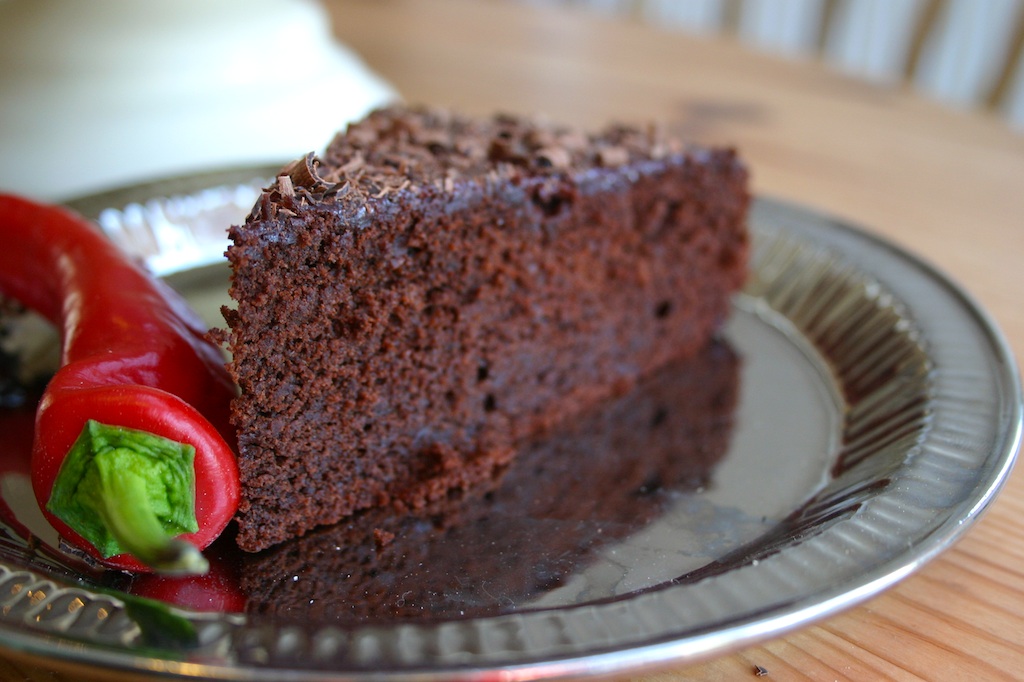 Chilli Chocolate Orange Cake
Chocolate and chili isn't a new culinary discovery. it's root go way back in the legends of the Aztec, who used it in a hot chocolate drink…it does the most wonderful thing to your mouth, which gently but deeply explodes with richness and flavour. This cake is both dense and moist at the same time.
Source: Dom in the Kitchen
For the cake
150g plain chocolate
1/2 tsp coffee granules
1 tsp chilli flakes, crushed with a pestle and mortar
125g butter
125g caster sugar
5 eggs, separated
75g self-raising flour
1 pinch of bicarbonate of soda
1 1/2 tsp baking powder
2 tbsp cocoa powder
1 tbsp rum or orange juice
1 tsp vanilla extract
1 tbsp water
1/2 orange, zested
For the fudge glaze
A few drops of red food colouring for depth and chilliness
200g caster sugar
25g cocoa powder
125g butter
4 tbsp water
Method
Preheat the oven to 160°C/gas 3.
Line and grease a 20-22cm tin (springform or loose-based).
Melt the chocolate by placing the pieces in a heatproof bowl over a pan of simmering water, not allowing the bowl to touch the water. Add the coffee granules and chilli. Let the mix melt then stir with a wooden spoon. Remove bowl and leave to cool.
Cream the softened butter with the caster sugar in a food mixer or the proper way, with a wooden spoon, until light and white. Gently stir in the cooled chocolate and four egg yolks.
Sift the flour, baking powder and cocoa powder into the bowl and then add the grated orange rind. Fold the mix gently together with a metal spoon using big scooping movements. Add the rum, vanilla and water.
Whisk 5 egg whites until stiff (don't over whisk). Add to the mixture by beating in the first tablespoon to loosen the consistency. Then fold the rest in very gently using a metal spoon. Don't worry if it's not perfect, as it can be hard to combine the two.
Pour the mix into the tin and put it in the oven for 45-50 minutes (check after 35 – ovens vary!). To test it, prick with a cocktail stick. It should come out clean. Don't worry if the top of the cake has cracked a bit – you'll be icing it up. Remove and place on a cooling rack. Take out of the tin after five minutes and leave to cool. Brush the glaze on while still a bit warm.
To make the fudge glaze: combine the sifted icing sugar and cocoa powder in a bowl. Melt the butter and water and pour into the icing sugar mix. It may be quite runny but this is only a sweet glaze.
Grate chocolate on the top before serving
Eat and enjoy!