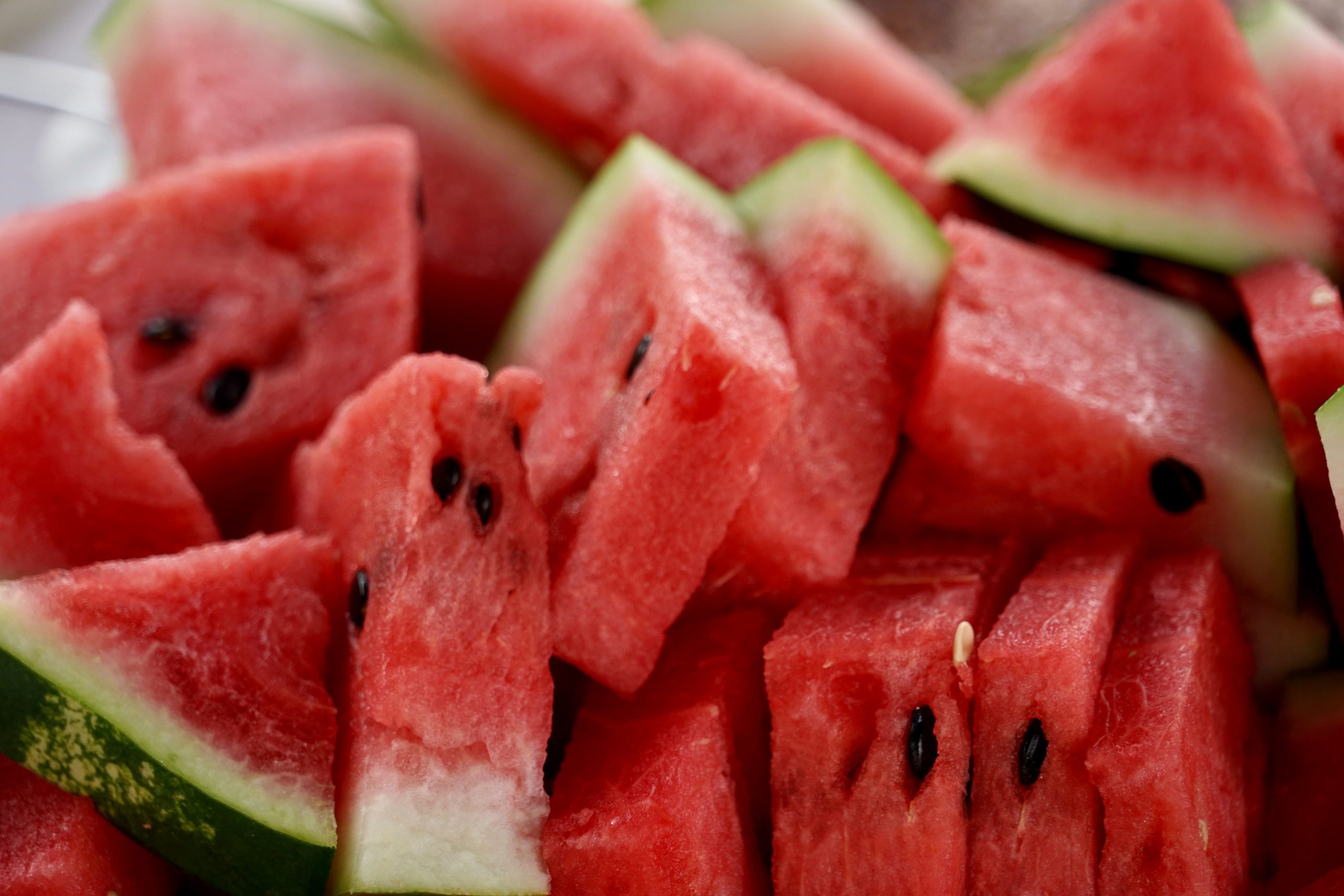 Watermelons are delicious, juicy, refreshing watermelons and are not just for the Summer months!
Sweet and juicy, watermelon can do more than just refresh you. This versatile fruit will help you get a dose of vitamin A, B1, B5, B6 and C as well as antioxidants, and fibre
There are so many things you can do with a watermelon including making a refreshing drink, grill it, make a salsa, sorbet, smoothie or shake up a cocktail.
How about trying out some of these recipes below and as always share with us what you did with it.
Halloumi, Watermelon & Mint Salad
This fresh and light salad makes an ideal lunchtime treat.
Source: BBC Good Food
250g pack halloumi cheese, thinly sliced
1kg watermelon flesh, sliced
200g pack fine green beans
Small bunch mint, finely shredded
1 lemon, juiced
1 tbsp olive oil, plus extra to drizzle
Toasted pitta breads, to serve
Method
Heat grill to high. Lay the cheese on a baking tray in a single layer, then grill for 2 mins on each side until golden. Toss the watermelon, beans and mint together with the lemon juice and olive oil, season well, then layer on plates with the slices of halloumi.
Drizzle with a little more oil if you like, and then serve with warm pittas.
Try this 3 ingredient watermelon sorbet recipe, a refreshingly dessert after a heavier meal! Each bite is an explosion of pure juicy fruit flavour.
Source: A Couple Cooks
450g seedless watermelon, cubed
6 tbsp sugar
3 tbsp lime juice
130g ice
Method
Chop the watermelon. Place in a blender and blend until a smooth juice forms, then add ice and blend again.
Pour the mixture into an ice cream maker and freeze for 20 to 25 minutes. The texture will be icy and creamy at this point. If desired, place in a container and freeze for 1 hour for a harder texture that forms into scoops. You can freeze up to 2 hours the day of (stir before serving). Freezing overnight makes a very icy texture. If you have leftovers the next day, allow them to sit at room temperature for about 20 minutes. To improve the texture, you can pulse in a blender or food processor if desired.
24 watermelon cubes
24 feta cubes
24 miniature mint leaves
3 tbsp season of choice or balsamic glaze
Method
Skewer watermelon, feta, and mint together with miniature skewer sticks. Season with preferred seasoning blend (Italian) or drizzle with balsamic.
Small batch watermelon yogurt pops made with Greek yogurt are not only refreshing they are almost guilt-free so are a great snack to have in the freezer.
Source: Chocolate Moosey
225g watermelon, cubed
125g plain Greek yogurt
50g sugar
1 tbsp lemon juice
Method
In a blender, blend together the watermelon, yogurt, sugar, and lemon juice until smooth.
Transfer the mixture to your ice lolly moulds and insert sticks. Freeze until firm, for about 4 hours (24 hours is preferred to allow the flavours to develop).
A super refreshing cocktail perfect for entertaining with.
Source: Creative Culinary
150g watermelon
20 mint leaves
Juice from 1 lime
30ml simple syrup, optional if watermelon is super sweet (mix equal amounts of water and sugar in a saucepan and boil just until sugar is dissolved. Cool.)
90ml light rum
Chilled club soda
For garnish
2 melon balls of watermelon
2 mint sprigs
Method
Combine watermelon, mint leaves and lime juice in a cocktail shaker and shake until leaves are broken up slightly and watermelon is crushed.
Fill shaker with ice, add the simple syrup and rum.
Shake until ice cold.
Fill glasses half full with ice; pour contents of shaker (do not strain) including ice into glasses.
Top with chilled club soda and gently stir.
Garnish with watermelon and mint.