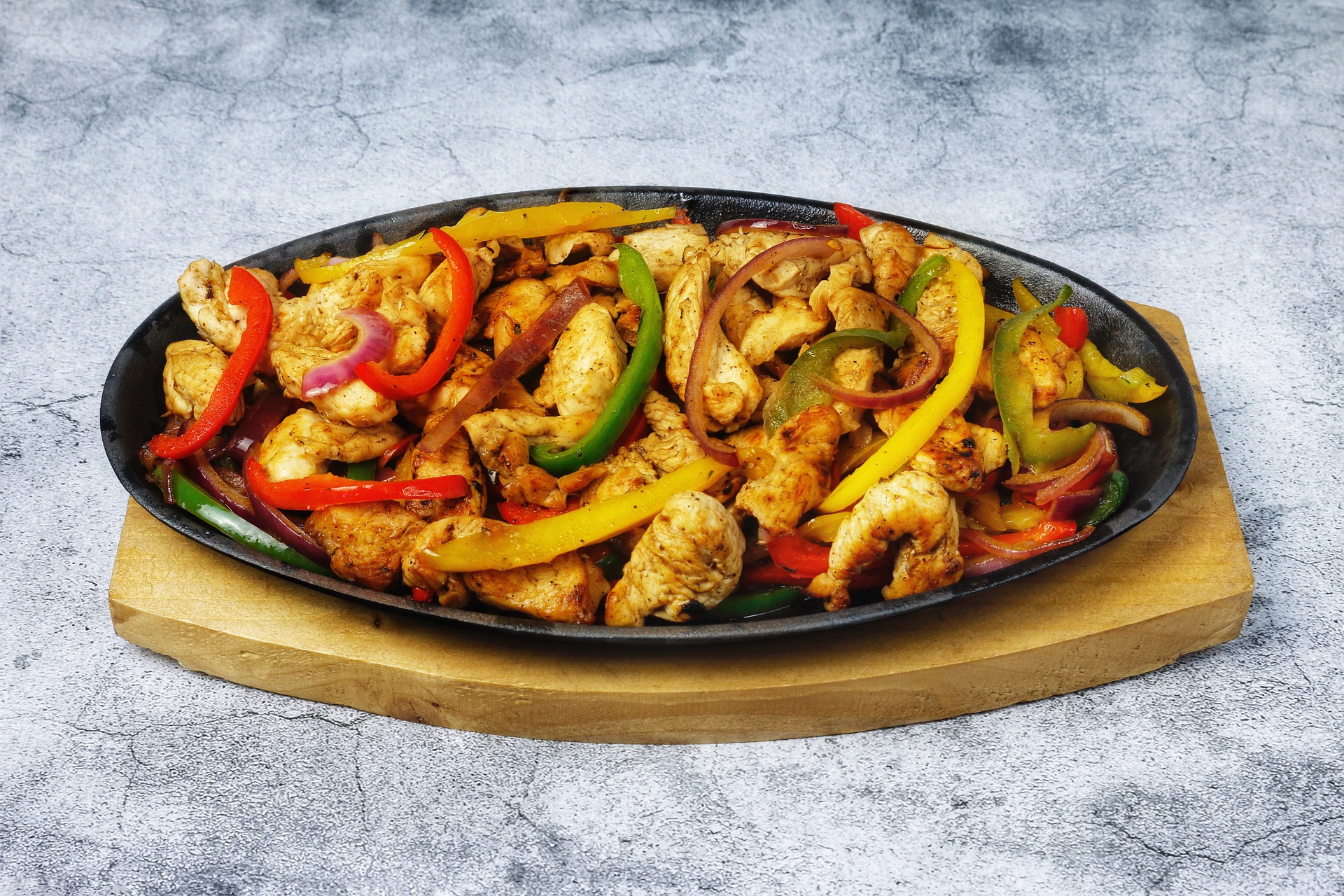 Enjoy some Feisty Fajitas
Although we don't have a national day for fajitas in the UK it is celebrated on the 18th August in the US, Tex-Mex cuisine has become more and more popular in the UK. National Fajita Day recognises the sizzling deliciousness of the savoury Tex-Mex flavour found in fajitas.
Originally made from throwaway cuts of beef by Mexican vaqueros in Southwest Texas, the fajita was developed as a regional staple in the early 1930s. The cowboys cooked the steak over an open fire or grill and served it with flour or corn tortillas. Fresh Pico de gallo, guacamole and southwestern spices elevated the fajita, introducing it to new audiences as it later became a destination food in the culinary world.
As their popularity grew, fajitas added colourful flair to Tex-Mex menus with sizzling platters full of bright peppers, onions, tender steak, shrimp, chicken or pork with freshly made tortillas. By the 1980s, most Mexican restaurants in the United States served fajitas. In the modern culinary kitchen, lime, coriander and a plethora of vegetables find their way into a fajita along with the perfect seasonings.
How about giving some of these delicious fajita recipes a try.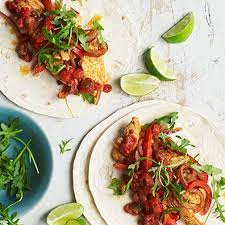 Need a simple, vibrant midweek meal the family will love? Put together these easy chicken fajitas and people can create their own masterpieces at the table.
Source: BBC Good Food
2 large chicken breasts, finely sliced
1 red onion, finely sliced
1 red pepper, sliced
1 red chilli, finely sliced
For the marinade
1 heaped tbsp smoked paprika
1 tbsp ground coriander
Pinch of ground cumin
2 medium garlic cloves, crushed
4 tbsp olive oil
1 lime, juiced
4-5 drops Tabasco
To serve
6 medium tortillas
Bag mixed salad
230g tub fresh salsa
Method
Heat oven to 200C/180C fan/gas 6 and wrap 6 medium tortillas in foil.
Mix 1 heaped tbsp smoked paprika, 1 tbsp ground coriander, a pinch of ground cumin, 2 crushed garlic cloves, 4 tbsp olive oil, the juice of 1 lime and 4-5 drops of Tabasco together in a bowl with a big pinch each of salt and pepper.
Stir 2 finely sliced chicken breasts, 1 finely sliced red onion, 1 sliced red pepper and 1 finely sliced red chilli, if using, into the marinade.
Heat a griddle pan until smoking hot and add the chicken and marinade to the pan.
Keep everything moving over high heat for about 5 mins using tongs until you get a nice charred effect. If your griddle pan is small you may need to do this in two batches.
To check the chicken is cooked, find the thickest part and tear it in half – if any part is still raw cook until done.
Put the tortillas in the oven to heat up and serve with the cooked chicken, a bag of mixed salad and one 230g tub of fresh salsa.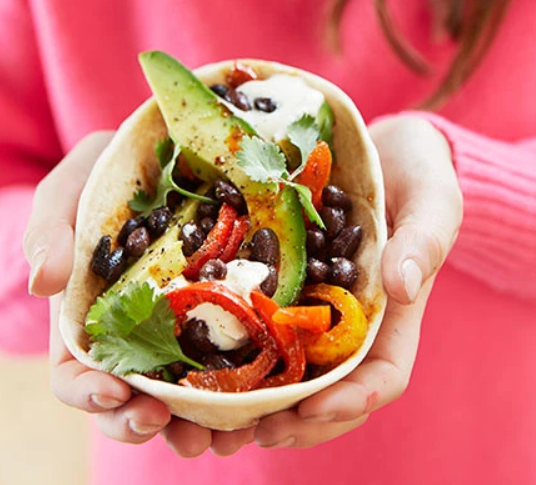 Looking for a quick and easy veggie family meal? Try these meat-free fajitas, loaded with black beans, avocado and peppers, which take just 15 minutes to make.
Source: BBC Good Food
400g tin black beans, drained
Small bunch coriander, finely chopped
4 large or 8-12 small flour tortillas
1 avocado, sliced or small tub guacamole
2 tbsp soured cream
For the fajita mix
1 red or yellow pepper, cut into strips
1 tbsp oil
1 red onion, cut into thin wedges
1 garlic clove, crushed
1/2 tsp chilli powder
1/2 tsp smoked paprika
1/2 tsp ground cumin
1 lime, juiced
Method
To make the fajita mix, take two or three strips from each colour of pepper and finely chop them. Set aside. Heat the oil in a frying pan and fry the remaining pepper strips and the onion until soft and starting to brown at the edges. Cool slightly and mix in the chopped raw peppers. Add the garlic and cook for 1 min, then add the spices and stir. Cook for a couple of mins more until the spices become aromatic, then add half the lime juice and season. Transfer to a dish, leaving any juices behind, and keep warm.
Tip the black beans into the same pan, then add the remaining lime juice and plenty of seasoning. Stir the beans around the pan to warm them through and help them absorb any flavours of the fajita mix, then stir through the coriander.
Warm the tortillas in a microwave or in a low oven, then wrap them so they don't dry out. Serve the tortillas with the fajita mix, beans, avocado and soured cream for everyone to help themselves.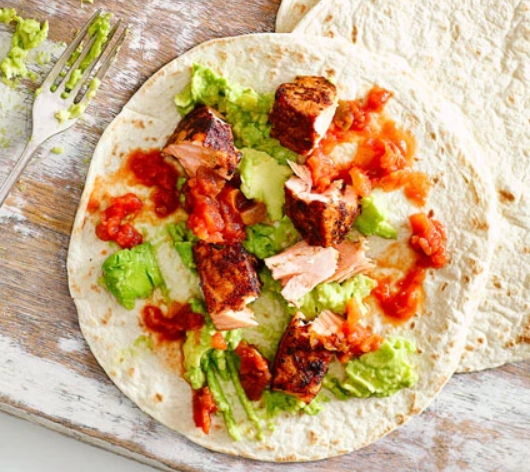 In need of a quick fix? Go Tex-Mex with these fish fajitas that'll feed four in less than 15 minutes!
Source: BBC Good Food
4 salmon fillets
Sunflower oil, or any oil suitable for frying
1 fajita kit
2 avocados
2 limes
Method
Coat the salmon in 1 tbsp oil and the fajita spice mix. Add 1 tbsp oil to a frying pan and fry for 8 mins until blackened.
Mash the avocados with a fork, season and squeeze over the juice of 1 lime. Serve the salmon in large flakes with the tortillas, avocado, salsa and the other lime, cut into wedges.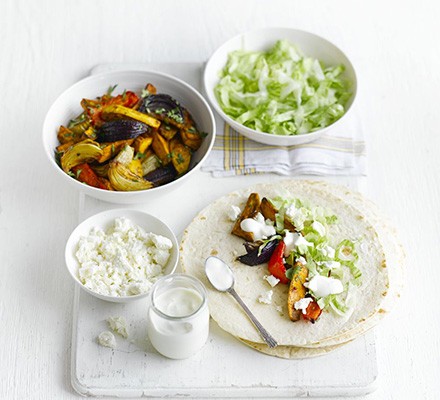 Oven-baked Sweet Potato Fajitas
Vegetarians needn't miss out on the joy of tortilla wraps- we use peppers, onions and sweet potato topped with feta and soured cream.
Source: BBC Good Food
2 large sweet potatoes
1 onion
2 red onions
1 large red pepper, deseeded
1 tbsp vegetable oil
2 tbsp cider or white wine vinegar
30g sachet fajita seasoning
8 small tortilla wraps
1/2 small pack coriander, chopped
1/2 small pot low-fat soured cream
Small iceberg lettuce, shredded
100g reduce-fat feta cheese, crumbled
Method
Heat oven to 200C/180C fan/gas 6. Chop the veg into chunky wedges and toss in a large bowl with the oil, vinegar and fajita seasoning. Arrange in a single layer on a large baking tray and cook for 40 mins, turning halfway through.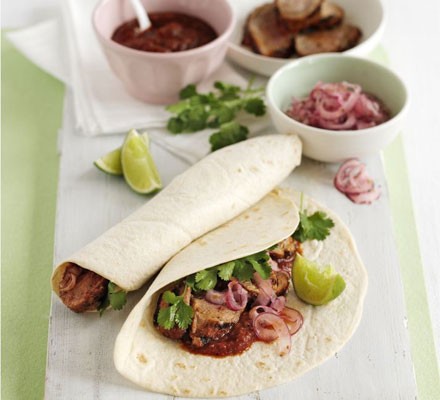 Pork Tenderloin with Chipotle Sauce & Pickled Red Onion
The ultimate Friday night food, these smoky flavoured wraps will bring the taste of Mexico to your table.
Source: BBC Good Food
2 red onions, one thickly and one thinly sliced
Juice 2 limes
2 tsp dried oregano
8 fat garlic cloves, peeled
6 medium plum tomatoes, halved
2 tbsp chipotle paste
2 tbsp chilli powder
3 tbsp soft brown sugar
2 pork tenderloins, about 500g each
Coriander sprigs and warm soft tortillas, to serve
Method
Place the thinly sliced onion in a bowl with juice 1 lime, half the oregano and a pinch each of salt and pepper. Set aside.
Dry-fry the whole garlic in a non-stick pan until blackened on both sides, about 8 mins, then peel. Heat the grill. Arrange the thickly sliced onion on a baking tray with the tomatoes, cut-side up. Season and grill until blackened, about 8 mins. Tip into a bowl with the garlic, chipotle paste, 1 tsp chilli powder, 1 tbsp sugar and remaining lime juice. Season and whizz in a blender until smooth. Gently heat through in a pan.
Rub the pork with the remaining chilli powder, oregano, sugar and seasoning. Grill for 5 mins each side until cooked. Serve sliced in warm tortillas with some sauce, the pickled onions and coriander.