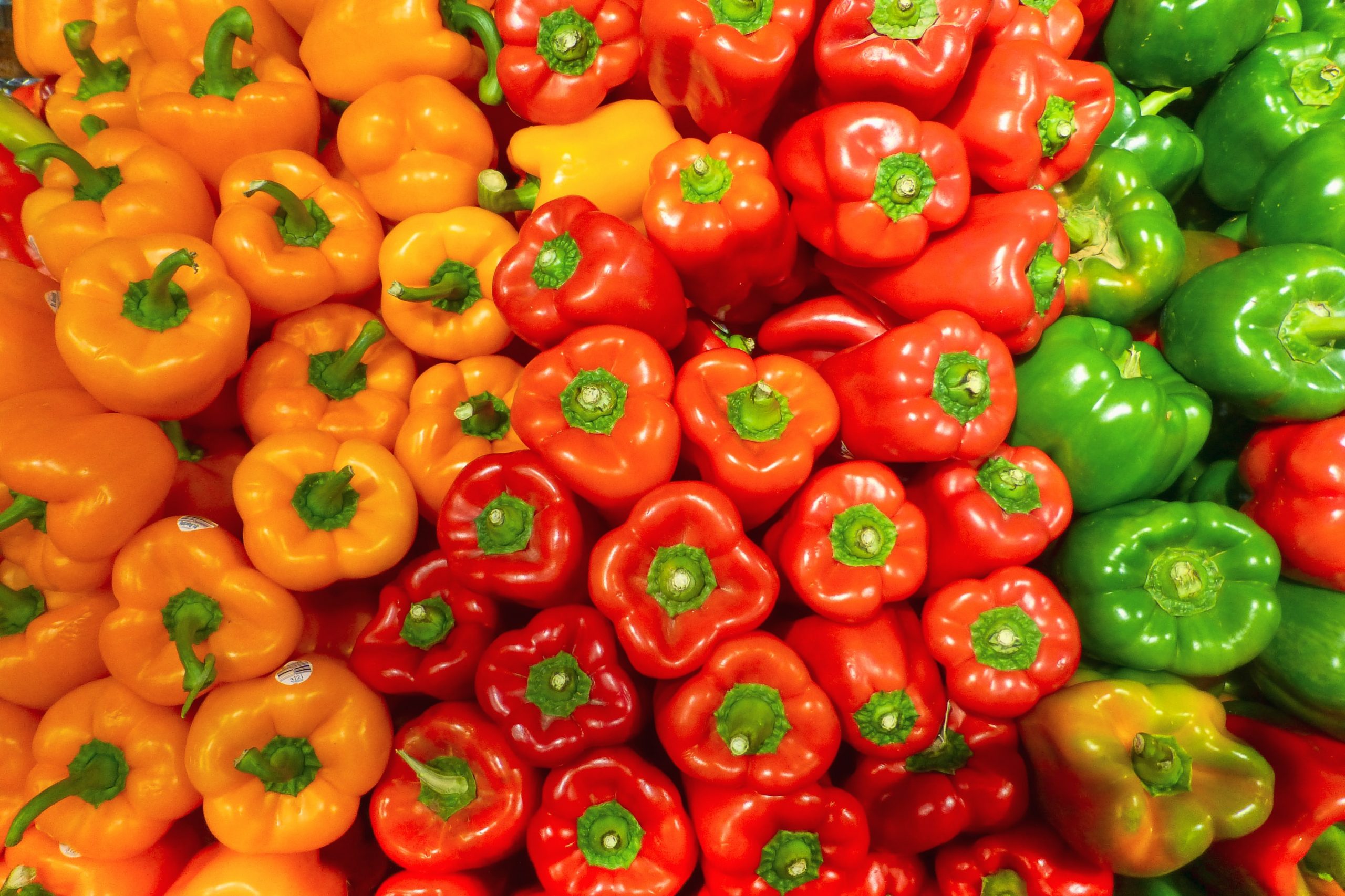 In your box this week are some delicious bell peppers.  Available in red, yellow, orange or green, bells peppers are not just a versatile ingredient. Peppers have a lot going for them, they're low in calories and are loaded with good nutrition. All varieties are excellent sources of vitamins A and C, potassium, folic acid, and fibre.
It's worth noting that the nutrition value of bell peppers varies dependent on their colour, with red varieties supplying more potassium, vitamin C and folate than their yellow, orange or green equivalents. However, immature green peppers are significantly richer than their mature red equivalent, in the protective plant compounds known as polyphenols.
The fruit of the bell pepper (capsicum annuum) and a member of the nightshade family along with aubergine, tomatoes and potatoes, bell peppers are also referred to as sweet peppers. A non-hot relative to the chilli pepper, bell peppers can be eaten raw or cooked and make a nutritious addition to a meal.
Why not try out some of our suggested recipes below as well as the delicious salad recipes in our grapevine and let us know on Facebook what you thought.
Serve this flavourful salad alongside roasted chicken, polenta, or grilled steak.
Source: Martha Stewart
4 medium red bell peppers
1 tsp extra-virgin olive oil
1 tbsp capers, rinsed and drained
35g pitted kalamata olives
1/2 tsp red wine vinegar
1 tsp lemon zest
Coarse salt & ground pepper
Fresh basil leaves, for serving
Method
Heat oven grill, with rack in top position. Place bell peppers on a foil-lined rimmed baking sheet. Grill, turning occasionally until charred on all sides and tender, about 10 minutes. Transfer to a bowl, cover tightly with plastic wrap and let steam for 20 minutes. Rub with paper towels to remove the skin. Stem, seed, and cut each pepper lengthwise into 4 pieces.
Arrange peppers on a serving platter, drizzle with oil, and top with capers, olives, vinegar, and lemon zest. Season with salt and pepper and sprinkle with basil.
This versatile dip of roasted red peppers, raisins, and capers can be spread onto grilled flatbread, used as a sandwich condiment, or spooned over grilled chicken.
Source: Martha Stewart
6 large red bell peppers
150g golden raisins, coarsely chopped
60ml plus 2 tbsp extra-virgin olive oil
3 tbsp salt-packed capers, rinsed well and drained
1 1/2 tsp coarsely chopped fresh oregano
Coarse salt
Red-wine vinegar
Method
Roast peppers over a gas flame or under the grill, turning occasionally, until charred all over, about 10 minutes. Transfer to a heatproof bowl, and cover with plastic wrap. Let stand until cool enough to handle. Peel and seed peppers.
Pulse peppers in a food processor until coarsely chopped. Add raisins, oil, capers, and oregano. Pulse to combine. Season with salt and vinegar.
This is a wonderful, colourful casserole that everyone enjoys. I'm sure you'll be hooked on it after one bite, too.
Source: Taste of Home
2 medium sweet red peppers, julienned
1 medium sweet yellow pepper, julienned
1 large red onion, sliced
3 tbsp olive oil, divided
3 garlic cloves, minced
2 medium yellow summer squash, thinly sliced
2 medium courgettes, thinly sliced
225g fresh mushrooms, sliced
225g cream cheese, softened
60ml double cream
2 tsp salt
1 tsp pepper
6 large eggs, room temperature
8 sliced bread, cut into 1/2 inch cubes, divided
170g grated Emmental
Method
In a large skillet, saute peppers and onion in 1 tbsp. oil until tender. Add garlic; cook 1 minute longer. Drain; pat dry and set aside. In the same skillet, saute the yellow squash, zucchini and mushrooms in the remaining 2 tbsp. oil until tender. Drain; pat dry and set aside.
Preheat oven to 180°C. In a large bowl, beat cream cheese, cream, salt and pepper until smooth. Beat in eggs. Stir in vegetables, half of the bread cubes and Swiss cheese. Arrange the remaining bread cubes in a greased 10-in. springform pan. Place on a baking sheet. Pour egg mixture into pan.
Bake, uncovered for about 1 hr 20 mins. Let stand for 10-15 minutes before serving. Run a knife around the sides of the pan to loosen; remove sides. Cut into wedges.
Spanish Stuffed Peppers with Tomato Sauce
Peppers Stuffed with Rice in a Tomato Sauce (pimientos rellenos de arroz con salsa de tomates)
From The Food of Spain, this tasty vegetarian recipe is great for a Spanish inspired meal. The red peppers are stuffed with risotto rice and chopped tomatoes. It is best to use a short-grain or 'round' rice, which becomes soft and sticks together when cooked. Choose peppers with a good base so they can stand up in a baking dish.
Source: The Happy Foodie
For the tomato sauce
1kg ripe tomatoes
6 garlic cloves, peeled and chopped
1 red chilli pepper, deseeded and finely choppd
3 tbsp olive oil
2 tsp sugar
Salt
For the stuffed peppers
1 large onion, peeled and chopped
4 tbsp olive oil
3 medium tomatoes, peeled and chopped
1/2 tsp sugar
Salt and pepper
2 tsp chopped oregano
250g short-grained Spanish rice or risotto rice
600ml hot chicken or vegetable stock, you can use two stock cubes
A good pinch of saffron thread
6 medium-sized red or green peppers, or 3 of each
Method
Make the tomato sauce first. You do not need to peel the tomatoes. Cut them into quarters and remove the hard white bits near the stem end, then blend them into cream in the food processor. Heat the garlic and chilli in the oil in a wide frying pan over medium heat, stirring, for 30 seconds, then add the creamed tomatoes, sugar and some salt. Cook over medium-high heat, stirring occasionally, for about 25 to 30 minutes until the sauce is reduced and thick.
For the rice filling, in another frying pan fry the onion in the oil over medium heat, stirring often until soft and golden. Add the tomatoes, sugar, a little salt and the oregano, and cook until the liquid has almost disappeared. Then add the rice, stir well, and add the stock. Stir in the saffron, a little more salt and some pepper. Bring to the boil and simmer, uncovered, over low heat for about 15 minutes until most of the liquid has been absorbed but the rice is still underdone.
Retaining the stalk, cut a circle around the stalk end of the peppers and keep these to use as lids. Remove the cores and seeds with a pointed spoon and shave the inside of the lids to make more room for the filling. Using a teaspoon, fill the peppers with the rice without pressing it down too much so that there is little room for it to expand. Replace the lids and place the stuffed peppers snugly in a baking dish.
Pour the tomato sauce around the peppers, cover with a sheet of foil and bake in an oven preheated to 200°C/gas 6 for about 1 hour. Remove the foil and continue to bake, uncovered, for another 15 minutes, or until the peppers are soft and have browned on top. Look at them occasionally to make sure they don't fall apart. Serve hot.
Roast Red Pepper Pasta Sauce
Vibrant red bell pepper pasta sauce, made with roasted red bell peppers, garlic, onion, sage, anchovies, tomato paste, red wine, paprika, Parmesan. Great to make a big batch and freeze and take out for a quick mid-week meal when required.
Source: Simply Recipe
3 tbsp extra virgin olive oil
1 onion, chopped
Salt
4 garlic cloves, chopped
1 tbsp fresh sage, chopped
3-5 anchovies, or 2 tbsp anchovy paste
2 tbsp tomato paste
360ml red wine
8 roasted red peppers
1/4 tsp smoked paprika
1/2 tsp cayenne or hot paprika
Grated cheese, parmesan, pecorino or manchego
Fresh sage, for garnish
Method
Roast your peppers: Heat oven to 220C/200C fan/gas 7. Line a large, flat baking sheet with baking parchment. Halve the peppers and arrange them on the baking sheet cut-side down. Roast for 30-35 mins until the skin is shrivelled and lightly blistered. Set aside to cool completely before peeling.
Sauté onions: Heat the olive oil in a pot over medium-high heat. Add the chopped onion and sauté, stirring from time to time, until it is wilted and translucent about 3 minutes. Sprinkle some salt over the onions as they cook.
Add garlic and sage, then anchovies, then tomato paste: Add the garlic and sage, mix well, and sauté another minute. Mix in the anchovies, smashing them up, and cook for 1 more minute. Stir in the tomato paste and cook for 2-3 minutes, stirring often, until the paste begins to turn a brick red.
Add wine, roasted peppers, then simmer: Add the red wine and stir well. Turn the heat up to high and let this boil down by half. Stir in the roasted red peppers and turn the heat back down to medium. Let this simmer for 10-20 minutes – it's pretty forgiving at this point. You just want the peppers to be cooked through and soft.
Purée: Purée the sauce in a blender. You might need to do this in batches because you don't want to fill your blender more than 2/3 up at one time. Purée the sauce, starting with the machine on low for 1-2 minutes to break up the big pieces. Turn off the blender and scrape the sides down. Turn it on again, and starting at the low setting, bring it up to its highest setting. Purée for at least a minute, until smooth.
Add spices: Return the sauce to the pan and heat to medium-low. Taste for salt and add some if needed. Add the cayenne or hot paprika, along with smoked paprika if you have some. If you want, a teaspoon of sugar helps, too, if your peppers are not already sweet enough. Keep the sauce warm while you make the pasta. Make the pasta according to the package instructions, depending on the type of pasta you are using.
Serve pasta with sauce: To serve, drain the cooked pasta and put it into a large bowl. Ladle some sauce over the pasta and mix with tongs to combine. You want to coat all the noodles evenly. Divide into servings. Garnish with some grated cheese and minced fresh sage. Serve with a medium-bodied red wine, or a dry rose.