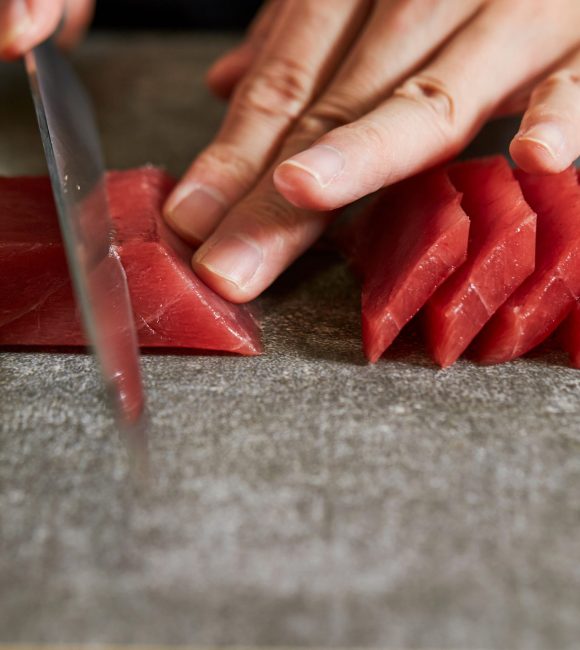 Tuna – the real king of the sea!
There is so much more to tuna than using it from a tin and adding it to a salad or pasta bake!
Tuna is really the best of what the sea has to offer and is by many thought to be the real king of the ocean.  It is such a versatile fish and is full of good fat and protein with a meaty bite.
Tuna is meaty and dense, with an almost creamy melt-in-your-mouth texture when raw, rare, or packed in oil. The flavour of fresh tuna tends toward sweet and saline; it displays a pronounced fishiness when preserved, but the sweetness and creaminess return when mixed with mayonnaise, cheese, or cream.
There is nothing to beat a beautiful fresh tuna steak grilled rare, with squeezed lemon and a drizzle of extra-virgin olive oil.
The health benefits
We all know that consuming fish is healthy and provides multiple benefits, from keeping the heart healthy to improving the eyesight and hair quality. Tuna is low in fat content and rich in proteins and nutrients so is great for aiding weight loss.
Good for your heart and lowers blood pressure
Tuna comprises omega-3 fatty acids, which help in bringing balance in the blood vessels thereby reducing cholesterol in the arteries.
Tuna is also rich in potassium, which is known for lowering blood pressure. Omega-3 fatty acids in combination with potassium bring an anti-inflammatory effect to the cardiovascular system, which in turn benefits us by lowering blood pressure, risk of stroke and heart attacks.
Provides energy and improves your immune system
Tuna not only improves your metabolism rate but also increases the functionality of your organs which keeps your body energetic, active and healthy. Tuna is rich in manganese, zinc, vitamin C and selenium, which help in strengthening the immune system. These antioxidants protect us from diseases like cancer by fighting the free radicals.
Strengthens your bones and improves your skin health
Tuna contains Vitamin B which is a major component in strengthening bones.  The Vitamin B complex in the fish helps in keeping our skin healthy. It contains a protein called elastin which gives a smooth tone to our skin
How to cook tuna
One of tastiest ways to prepare tuna is not cooking it at all, as in Italian carpaccio, Japanese sushi and sashimi or South American Ceviche. You can also preserve it by salt curing, smoking or canning in oil or water.
Tuna gets dry and grainy if overcooked so, if searing or grilling, it is best to use thick (approximately 1.5-inch) steaks and keep them rare in the centre.
Here are a couple of recipes to wet your appetite (and don't forget to order some in with your next box!):
Tuna Sashimi With Mooli and Ginger
How to Eat!
To eat, mix a little of the grated ginger into the soy sauce, then pick up the fish with chopsticks or a fork. Drag the tuna through the dipping sauce and eat. Eat the mooli in between bites and finish it with the soy sauce.
It is traditional to drink sake with sashimi. You could also drink a beer or a crisp white.
Recipe source The Spruce eats, find recipe here
The fresh tuna steaks are marinated in a classic Moroccan chermoula for a healthy BBQ with friends or family
Recipe source Olive magazine, find the recipe here
This recipe turns burgers into something special, perfect for impressing friends.
Recipe source BBC Good Food, find the recipe here
Hot mustard tuna with herby couscous
This is a dish that you'll make time and time again, it's so easy and it's super healthy too
Recipe source BBC Good Food, find the recipe here
Serves 6 as part of a meal
Colourful and quick, these simple skewers taste as good as they look!
Recipe source BBC Good Food, find the recipe here