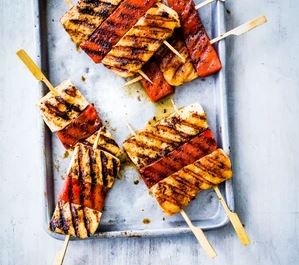 Spiced halloumi and watermelon skewers
Check out these super simple skewers with salty halloumi and sweet watermelon. Make these easy veggie skewers for your next bbq with friends
Recipe source: olive magazine
2 x 250g blocks halloumi
1 small watermelon
1 tsp ground coriander
1 tsp sumac
½ tsp ground cinnamon
1 tsp cayenne pepper
ground to make 1 tsp black peppercorns
Method
Soak 16 wooden skewers in cold water for 30 minutes or use metal skewers.
Break each block of halloumi along its natural split, then slice each 1/2 into good-sized chunks. Cut the watermelon into equal-sized pieces. Alternately thread the halloumi and watermelon onto the skewers. In a small bowl, mix together the spices with a good pinch of salt, then sprinkle all over the skewers, pressing to stick.
Heat a griddle pan over a medium-high heat or cook over indirect heat on a BBQ. Grill the skewers for 2-3 minutes on each side or until charred and the halloumi starts to soften, then serve.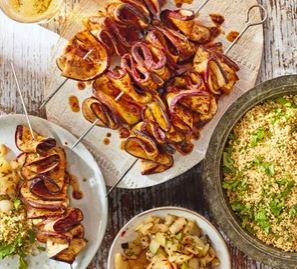 Aubergine kebabs with charred onion salsa
3 aubergines, sliced lengthways into ½cm slices
3 tbsp pomegranate molasses
2 tbsp ground cumin
½ tsp ground cinnamon
2 tbsp aleppo pepper flakes
6 tbsp olive oil
CHARRED ONION SALSA
4 medium onions, sliced into thick rounds
4 cloves garlic, crushed
2 tbsp mint leaves, finely shredded
½ tbsp dried chilli flakes
4 tbsp olive oil
2 tbsp lemon juice
TO SERVE
couscous mixed with soft herbs, (such as mint and coriander)
greek yogurt, seasoned with salt
Method
Light the barbecue. Meanwhile, sprinkle the aubergine slices on both sides with 1 tbsp of salt. Allow to drain in a colander or sieve for 30 minutes, then rinse and pat dry.
To make the salsa, put the onion slices over direct heat on the barbecue (skewering them first will make them more stable) and cook for 8 minutes or until lightly charred on both sides. Finely chop and mix with the other salsa ingredients, plus some salt and pepper. Set aside.
Combine the molasses, cumin, cinnamon, aleppo pepper, sumac and olive oil, and mix to a paste. Brush evenly over the aubergine slices and thread them, concertina style, onto six skewers, packing them quite tightly.
Cook on the barbecue for 15-20 minutes, turning occasionally, or until soft and lightly charred. Serve with the onion salsa, herby couscous and yogurt.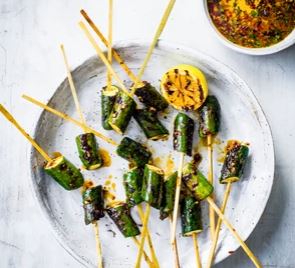 2 large courgettes

2 lemons, zested and juiced

2 tbsp oregano

1 tbsp dried chilli flakes

2 tbsp clear honey

4 tbsp olive oil

ground to make 1 tsp black peppercorns
Method
Top and tail the courgettes and cut each into 3 equal pieces and put into a shallow container or baking dish.
Mix together the lemon zest and juice, oregano, chilli, honey, oil, black pepper and a good pinch of salt in a bowl. Divide in two then pour 1/2 over the courgettes – keep the rest covered in a dish in the fridge. Gently toss and marinate for at least 3 hours but preferably overnight.
Soak wooden skewers in cold water for 30 minutes or use metal skewers. Heat a griddle pan or frying pan over a medium-high heat or cook over indirect heat on a BBQ. Skewer the courgette pieces and cook, turning on all sides until grill marks appear and the courgettes are tender. Serve with the remaining sauce for dipping.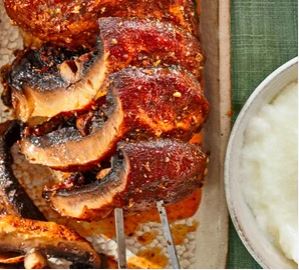 This is a stunning kebab recipe which also happens to be vegan, as the toum sauce is made without egg. It's so worth making your own shawarma spice mix, so don't skip that step!
Recipe adapted from: Olive Magazine
500g large flat mushrooms, stalks trimmed
4 large pittas, warmed on the barbecue
SHAWARMA SPICE MIX
1½ tbsp cumin seeds
2 tsp black peppercorns
1 tsp coriander seeds
1 tsp fennel seeds
½ tsp fenugreek seeds
5 cloves
½ cinnamon stick
3 cardamom pods
1 tbsp paprika (not smoked)
1 tbsp sea salt flakes
200ml olive oil
TOUM
1½ bulbs garlic, cloves peeled
300ml flavourless oil (such as vegetable or groundnut)
2 tbsp lemon juice
TARRAGON SALAD
1½ tbsp pomegranate molasses
1 tbsp red wine vinegar
a pinch caster sugar
2 tbsp olive oil
50g tarragon, woody stalks removed
50g rocket
Method
Toast all the whole spices in a dry frying pan until fragrant. Grind to a powder and mix with the paprika, sea salt and olive oil. Brush the mushrooms all over with this spice paste, making sure to get into the gills too. Leave to marinate while you make the toum
Purée the garlic and a good pinch of salt in a blender or small food processer, making sure it's a well blended paste and no chunks of garlic remain. With the motor running, very slowly pour in 100ml of the oil, followed by 1 tbsp of lemon juice. Repeat this until the lemon juice is used up, then continue, replacing the lemon juice with 2 tbsp of iced water until all the oil is incorporated.
Light the barbecue. Make the dressing for the tarragon salad by whisking together the molasses, vinegar, sugar, olive oil and some salt and pepper.
When the barbecue is ready, thread the mushrooms onto skewers (about six to eight per skewer) – if you can, use two skewers per set of mushrooms as it will make them easier to turn. Cook over direct heat with the lid on for 15-20 minutes, turning often, or until cooked through.
Combine the dressing with the tarragon and rocket. Slice the mushrooms and serve with the salad, toum and pittas.
Marinated summer veg antipasti
The best antipasti recipes use a colourful mix of summer veg. This easy one is an easy sharing plate of aubergines, peppers, courgette and mushrooms. Serve with crusty bread to mop up the juices
Recipe adapted from: Olive Magazine
1 aubergine, sliced lengthways
2 courgettes, sliced lengthways
1 yellow pepper, cut into quarters
250g button chestnut mushrooms
2 tbsp red wine vinegar
2 tsp of leaves oregano
Method
Heat a griddle pan to high. Brush the aubergines with a generous amount of olive oil and season, then griddle until completely softened and grill-marked. As each slice is done, lay it in a wide shallow bowl and keep the bowl covered with cling film. This will help steam and soften the veg even more.
Once all the aubergine is done, cook the courgettes and peppers in the same way and add them to the bowl, covering each time with cling film.
Fry the mushrooms in a normal frying pan with some seasoning until golden then add to the bowl. Sprinkle over the red wine vinegar then re-cover with clingfilm and leave for an hour to sit. Arrange on a plate, spoon over the juices and add a little oregano to finish.