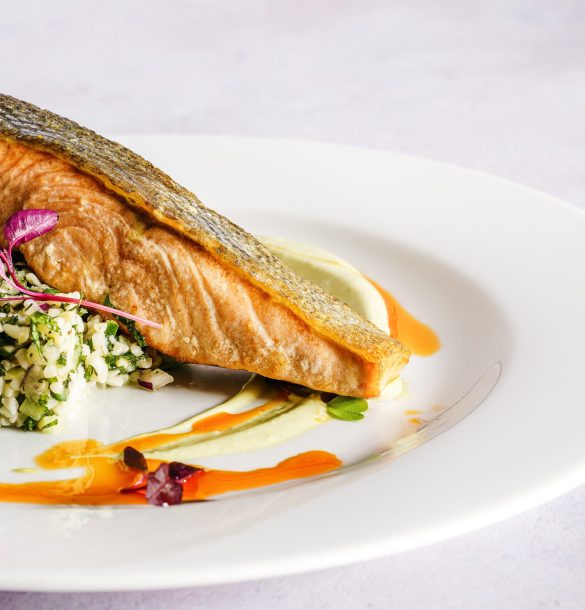 Add some fresh fish to your next order and try one of the 5 recipes we've put together and if you're looking to try the tuna supremes, we have a whole blog dedicated to the 'King of the Sea'.
Fancy a fish supper ready in under half an hour? Mix up your midweek meal with our satisfyingly spicy chorizo and cod stew.
Source: BBC Good Food
1 tbsp olive oil
1 large onion, finely chopped
200g cooking chorizo, chopped into small pieces
400g tinned chopped tomatoes
4 cod fillets
400g tinned butter beans, drained
1/2 small pack parsley, roughly chopped
To make the pastry put the flour, salt and butter into a large bowl. Using your fingertips rub the butter into the flour and salt until the mixture resembles breadcrumbs. Work as quickly as possible to prevent the dough from getting warm.  Add 2 tablespoons of water and mix using a cold knife, stir until binds together.  Add more cold water 1 teaspoon at a time. Wrap the dough in clingfilm and chill for 15 – 30 minutes.
Fry the onions in a good glug of light olive oil over low–medium heat for 20 minutes, until soft and sweet. Add the garlic for the last 5 minutes of cooking.
Bring a deep pan of well-salted water to a rolling boil. Blanch the spinach in the boiling salted water and cook for 20–30 seconds until just wilted. Remove with a slotted spoon and plunge into cold water to stop it cooking and help retain the verdant colour. When cool, drain and squeeze dry thoroughly, then roughly chop.
Gently mix the squash, onions, spinach, goat's cheese, thyme leaves, a little black pepper and a scant grating of nutmeg. If the mix seems dry, moisten it with a 1-2 tbsp of creme fraiche or mascarpone. Taste and season.
Remove the pastry from the fridge.  Cut the pastry in half. Roll each piece into a 3mm-thick, 25cm-diameter circle.  Spoon half of the mix into the middle of each circle. Brush some beaten egg around the edges, lift the edges up and together and pinch them together with your thumb and forefinger until it is well sealed and you have a classic pasty shape. Place them on a baking tray and brush with the rest of the egg wash. Cook for 10 minutes at 200C/400F/gas mark 6. Then drop to 180C/350F/gas mark 4 for 20 minutes, or until golden brown and piping hot.
If you're after something a bit lighter than potato-packed fishcakes, try these simple oriental-style burgers.
Source: BBC Good Food
4 boneless, skinless salmon fillets, about 550g, cut into chunks
2 tbsp Thai red curry paste
Thumb-sized piece fresh root ginger, grated
1 tsp soy sauce
1 bunch coriander, half chipped, half leaves picked
1 tsp vegetable oil
Lemon wedges, to serve
Method
Tip the salmon into a food processor with the paste, ginger, soy and chopped coriander. Pulse until roughly minced. Tip out the mix and shape into 4 burgers. Heat the oil in a non-stick frying pan, then fry the burgers for 4-5 mins on each side, turning until crisp and cooked through.
Chard-wrapped Fish with Lemon
This recipe is perfectly adapted to adding whatever you have around, spreading it on fish, and wrap it in chard before simmering it in a lemony, coriander sauce. Delicious!
Source: Epicurious
2 lemons
40g mixed pitted olives, plus 12 whole pitted olives
4 tbsp extra-virgin olive oil
100g fresh coriander, finely chopped
4 garlic cloves, finely minced
1 tsp chilli flakes
5 very large Swiss chard leaves, ends trimmed
680g skinless halibut fillets
1 tsp salt, plus more for seasoning
1/4 tsp freshly ground black pepper, plus more for seasoning
1 small onion, diced
1 1/2 tbsp plain flour
350ml chicken stock
65g yellow cherry tomatoes, halved
Rice or couscous to serve
Method
Finely zest and juice both lemons. Reserve the juice and half the zest. In a small bowl, combine the remaining zest with the olives, olive oil, coriander, garlic, and the chilli flakes until incorporated.
Bring a small pot of water to a boil over medium-high heat. Use a knife to separate the leaves from the chard stems so you have 2 leaves from each stem. Thinly slice the stems crosswise. Dip the chard leaves in the boiling water for 10 seconds to soften; drain, cool slightly, and pat dry. Cut the fish into 8 equal-sized pieces, season with salt and pepper, and spread 2 teaspoons of the olive mixture on each piece of fish.
Place 1 piece of fish on a piece of chard and roll it up; use the extra 2 leaves to patch any parts that need extra wrapping. Heat the remaining 3 tablespoons olive oil in a large frying pan over medium heat. Add the onion and cook, stirring, until tender and lightly golden, 8 to 9 minutes. Add the chard stems with the remaining 3 teaspoons garlic and cook, stirring until softened, 3 to 4 minutes. Add the flour and cook, stirring, until absorbed, 1 minute. Add the reserved lemon zest and juice with the stock, salt, and pepper and cook, stirring until the liquid thickens and bubbles 2 to 3 minutes.
Nestle the fish in the pan, scatter the tomatoes and whole olives over the fish, reduce the heat to medium-low, cover, and cook until the fish is opaque and the chard can be cut easily, about 10 minutes. Serve over the rice and couscous of your choice with sauce spooned over the top.
Sea bass with sizzled ginger, chilli and spring onions
The aromas released while cooking this dish will have everyone licking their lips in anticipation. Perfect for a dinner party.
Source: BBC Good Food
6 sea bass fillets, about 140g each, skin on and scaled
3 tbsp sunflower oil
Large knob of ginger, peeled and shredded into matchsticks
3 garlic cloves, thinly sliced
3 fat, fresh red chillies, deseeded and thinly shredded
Bunch spring onions, shredded length-ways
1 tbsp soy sauce
Method
Season 6 sea bass fillets with salt and pepper, then slash the skin 3 times.
Heat a heavy-based frying pan and add 1 tbsp sunflower oil.
Once hot, fry the sea bass fillets, skin-side down, for 5 mins or until the skin is very crisp and golden. The fish will be almost cooked through.
Turn over, cook for another 30 seconds – 1 minute, then transfer to a serving plate and keep warm. You'll need to fry the sea bass fillets in 2 batches.
Heat 2 tbsp sunflower oil, then fry the large knob of peeled ginger, cut into matchsticks, 3 thinly sliced garlic cloves and 3 thinly shredded red chillies for about 2 mins until golden.
Take off the heat and toss in the bunch of shredded spring onions. Splash the fish with 1 tbsp soy sauce and spoon over the contents of the pan.
Baked Trout with Lemon, Pepper and Garlic
The trout is flavoured with olive oil, salt and cracked black pepper, freshly minced garlic and fresh lemon.  Healthy, low-carb, and gluten-free recipe, packed with healthy omega 3 fatty acids.  Easy and quick dinner – only 30 minutes from start to finish!
Source: Julia's Album
450g trout
450g asparagus
3 tbsp olive oil
5 garlic cloves, minced
1/2 tsp salt
1/2 tsp black pepper, cracked
1/2 lemon, sliced
Method
Preheat oven to 200 C.
Line a small baking tray with parchment paper.
Place the trout skin-side down in the centre of the baking tray. Brush half of olive oil amount over the top of trout.
Toss the asparagus (ends trimmed) with the remaining half of olive oil. Place asparagus all-around the trout on a baking tray.
Sprinkle the trout and the asparagus with salt and pepper. Add minced garlic on top of the trout fillet and asparagus. Top with lemon slices.
Bake for about 15 minutes until the trout is cooked through.
Remove from oven and remove lemon slices before serving.