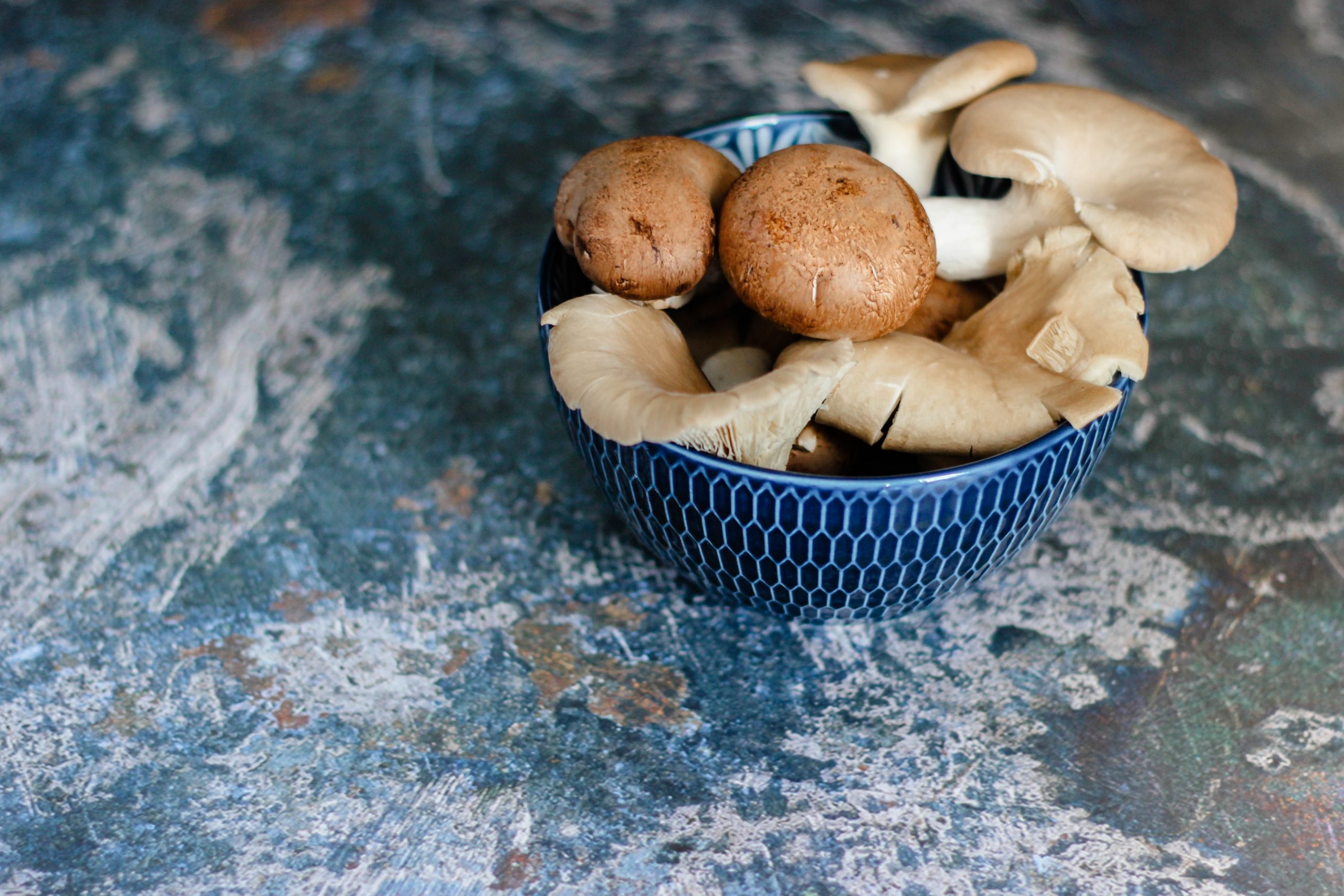 You can't go wrong with mushrooms. They're fat-free, low-salt, low-calorie, and cholesterol-free. They're also packed with fibre, vitamins, and minerals. Nutritional benefits vary depending on the type of mushroom but overall, they are a good source of nutrients.
Mushrooms come in lots of different shapes, sizes, and colours. For many years they've been used for their unique ability to add flavour in lots of different cuisines.
When choosing your mushrooms, make sure they feel firm, aren't moist to the touch and are mould-free. They can be stored in a paper bag inside the fridge for about five days. Brush the dirt off and rinse them lightly when you're ready to use them.
Mushrooms are incredibly versatile. You can prepare them in so many ways and pair them with lots of different ingredients. Slice them up raw and toss them in a salad, grill them, sauté them, or roast them. Add them to soups, sandwiches, wraps, casseroles, and Italian dishes. Mushrooms work well as a side dish, or as the main course for vegetarians. Portobello mushrooms are often served as "burgers" or "steaks" because of their meaty texture.
Check out our recipe suggestions below and see also our video for mushroom bolognese, sweet and sour portobello mushrooms and our Pinterest board here.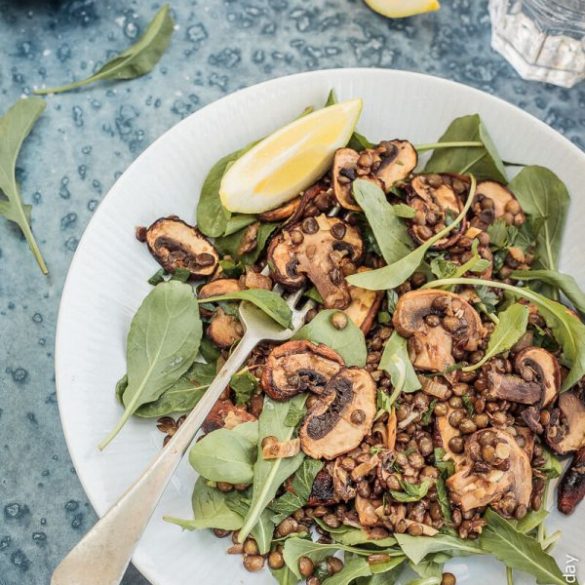 This hearty Vegan Lentil Salad is a nutritional powerhouse packed with French lentils, mushrooms, and lemon. And it comes together fast with just a handful of ingredients which you probably already have in your pantry!
Source: Delicious Everyday
95g French green lentils
480ml vegetable stock or water
300g mix of button and brown mushrooms, sliced
2 tsp olive oil
1/2 shallot or small onion, finely chopped
2 garlic cloves, finely chopped
1/4 tsp chilli flakes, or more to taste
1 1/2 tbsp lemon juice
3 tsp extra virgin olive oil
Sea salt and pepper, to taste
2 tbsp flat-leaf parsley, roughly chopped
Handful of rocket
Method
Begin by cooking the lentils. Place the lentils and vegetable stock in a saucepan and bring to a boil before reducing to a simmer. Simmer for 25 minutes or until the lentils are tender. Drain and set aside to cool.
Place a large frying pan over high heat. When the pan has come to heat (don't add oil) add ⅓ of the mushrooms (Don't slice the mushrooms too thinly. You want them to have a bit of substance and also you don't want them to dry out when they are cooked over high heat).
Leave for 2 minutes before giving the pan a shake to flip them over. The mushrooms should be lightly golden. Cook for a further minute before removing from the pan and repeating with the remaining mushrooms.
Reduce the heat to medium-low and add 2 tsp of olive oil or vegan butter and add the shallot or onion. Cook until slightly golden on the edges and return the mushrooms to the pan and add the garlic and chilli flakes and cook for 2 minutes, or until the garlic is fragrant, but not browned as it will taste bitter. Set aside to cool.
Toss the lentils, mushroom and garlic together along with the lemon juice and the extra virgin olive oil. Season to taste and add the parsley and rocket just as you're serving.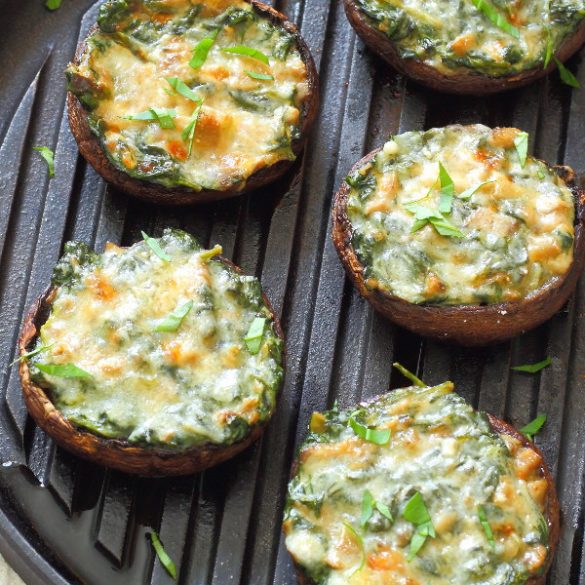 Creamy Spinach Stuffed Mushrooms
This hearty Vegan Lentil Salad is a nutritional powerhouse packed with French lentils, mushrooms, and lemon. And it comes together fast with just a handful of ingredients which you probably already have in your pantry!
Source: Delicious Everyday
10 medium or 5 large portobello mushrooms
3 tbsp butter, divided
2 tsp garlic puree
200g baby spinach leaves
3-4 tbsp sour cream
4-5 tbsp parmesan cheese, freshly grated
Method
Remove the stems from the mushrooms (I just gently slide a knife around the base of the stem and it usually pops off quite easily) and wipe any dirt off with a paper towel.
Melt one tablespoon of the butter, and brush over the mushrooms, inside and out. Set aside.
Finely chop the stems of the mushrooms. In a large pan or skillet, heat the remaining butter, add the chopped mushroom stems and cook for 2-3 minutes. Add the garlic puree, stir and cook for another couple of minutes.
Add the spinach to the pan (it looks a huge amount, but will wilt down really quickly, just add it a handful at a time!) Stir to coat the spinach in the garlicky butter.
Once the spinach is wilted and reduced in size, remove from the heat, stir in the sour cream and then set aside.
Preheat your griddle pan over medium/high heat. Spoon the spinach mixture into the centre of the mushrooms, sprinkle with freshly grated parmesan and place them on the preheated griddle. Allow to cook for 10-12 minutes – the mushrooms will be done when they are juicy, firm but tender and a glossy, dark brown colour.
To make sure your cheese is extra golden brown and bubbly, place the pan under a hot grill for the last two minutes of cooking time.
Let them rest for a couple of minutes, then serve warm, with lots of crusty bread!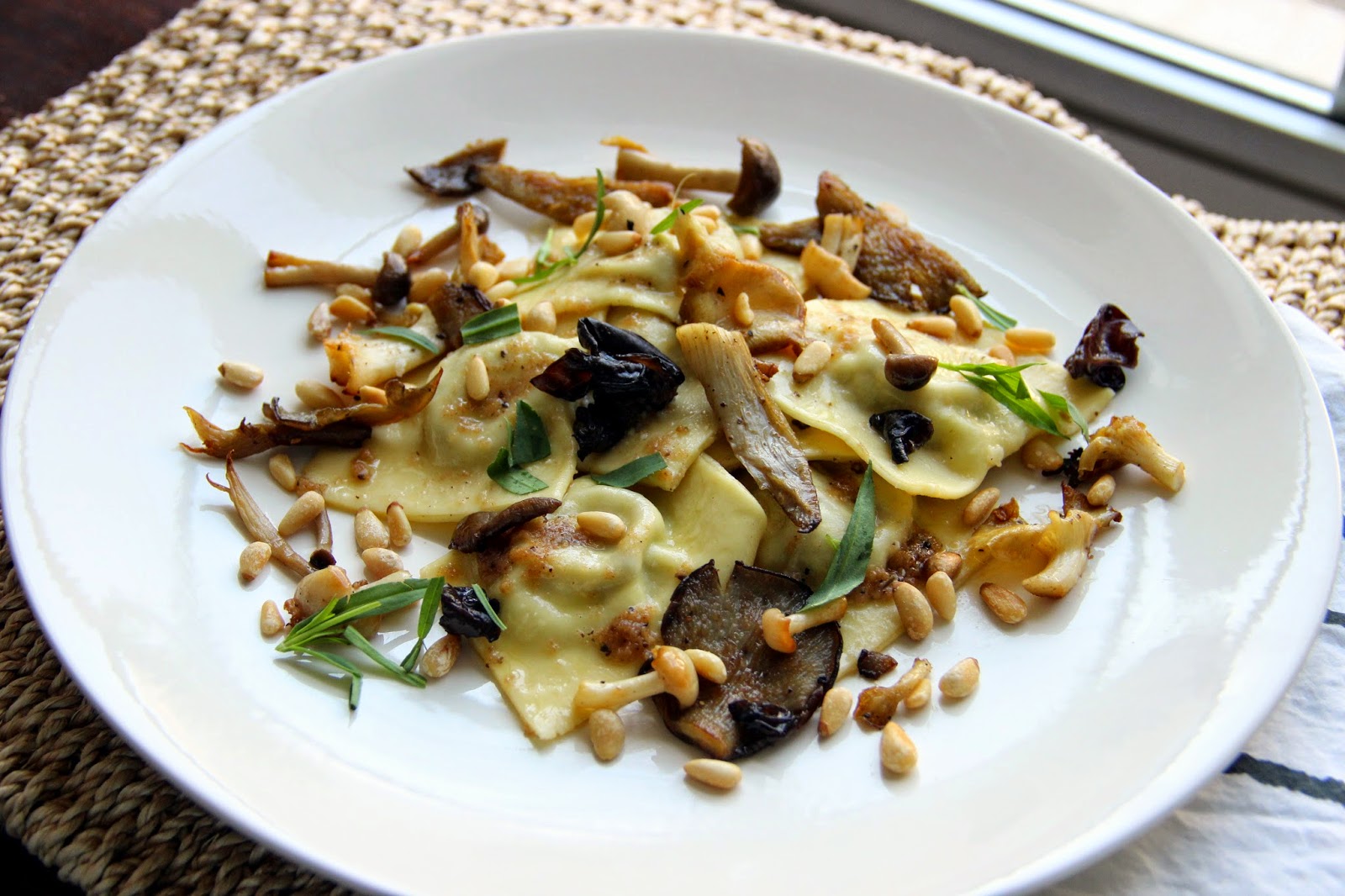 You'll never go back to shop-bought with this delicious homemade ravioli recipe.
Source: The Owl with the Goblet
Pasta
2 eggs
1 egg yolk
200g pasta flour '00'
Generous pinch of salt
Filling
450g wild mushrooms
1 small onion, minced
2 garlic cloves, minced
2 tbsp olive oil + 2 tbsp butter
1 1/2 tsp Herbs de Provence
30g goats cheese
165g ricotta cheese
25g parmesan cheese, grated
Sauce & garnishes
Extra mushrooms for sauteing + 1 tbsp of each butter and olive oil
4 tbsp butter
2 tbsp flour
80ml white wine
80ml chicken stock
2 tbsp cream
35g pine nuts, toasted
2 tbsp tarragon, chopped
Parmesan shaved
Method
First, you need to make pasta.
Place the flour on the counter and form a well. Beat eggs, yolks and salt in a separate bowl with a fork and pour into the well. Gradually pull the sides of flour into the wet mixture and incorporate until a shaggy ball of dough forms. You may have to add a few tablespoons of water to bring it all together.
Continue to knead the ball of dough for at least 15 minutes.  You are looking for the dough to become elastic and smooth. Cover with plastic wrap and refrigerate for at least 30 minutes (now is a good time to make the filling).
After the filling is done, feed through the pasta roller until you get to the third last setting. Make sure you keep flouring both sides of the pasta when it is rolled out. Sticky pasta can ruin the dish. Keep sheets of pasta divided by wax paper and make sure each side is floured.
Reserve a small handful of the prettiest looking mushrooms for later. Those will be used to saute and serve on top of the ravioli.
Chop the rest of the mushrooms into very fine pieces. Mince both onions and garlic. In a large pan, heat up butter and olive oil over medium heat and add chopped mushrooms, onion, garlic and herbs de Provence. Season with salt and pepper. Cook for at least 6 minutes, until soft and caramelised.
Remove from heat and place mushroom mixture into a large mixing bowl. While hot, add goat cheese, ricotta and parmesan and mix until combined. Set aside and prepare the pasta sheets.
1 egg, beaten
Flour for dusting
Place 1/2 tablespoon of filling on the pasta sheet, spacing appropriately apart so you can cut individual ravioli.  In between each dollop of filling, brush pasta with a beaten egg.  Fold the pasta over and use your hand to press out air bubbles and seal edges.  Using a knife or ravioli cutter, cut the ravioli.  Pick up each piece and press edges again to ensure all air is pressed out and that the edges are sealed.
Place ravioli on wax paper-lined cookie sheet dusted with flour.  You can layer ravioli on top of each other, separated by wax paper dusted with flour.  At this point, you could also freeze ravioli, but if going that route, freeze in only a single layer.
Prepare garnishes and bring a pot of water to a boil.
In a pan, heat butter and olive oil over medium-high heat. Add reserved mushrooms and saute until soft and caramelized. Remove from pan and set aside.
In the same pan, add butter and melt over medium heat until slightly browned.  Add flour and cook for 1-2 minutes. Add wine, stock and cream and whisk until smooth. Salt and pepper to taste.
Drop ravioli into boiling water. Once they float, they are done.  Add directly to the sauce and add some pasta water (if needed) to thin out. Turn ravioli onto each plate and top each plate with sauteed mushrooms, toasted pine nuts, tarragon and shaved parmesan.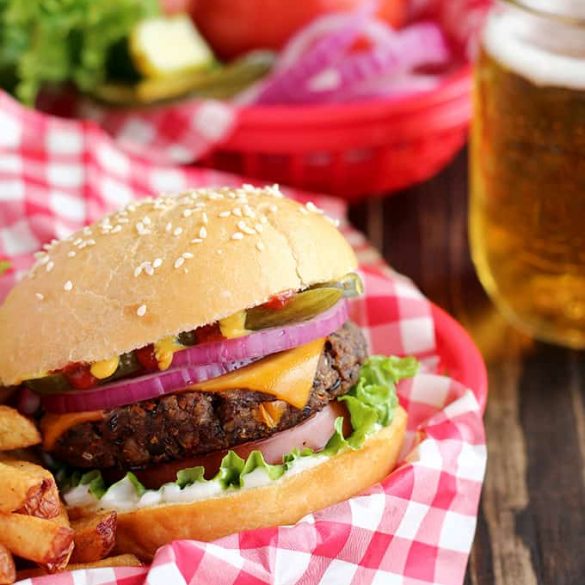 Mushroom & Black Bean Burgers
Classic vegan burgers made with a base of mushrooms, veggies, brown rice, black beans and bread crumbs. Perfect for your summer BBQ!
Source: I Love Vegan
210g cooked brown rice
400g tin black beans, mashed
1 tbsp olive oil
6-8 medium mushrooms, finely chopped
1 stalk celery, finely chopped
1 small carrot, finely chopped
1/4 red onion, finely chopped
2 garlic cloves, finely minced
1/2 tsp salt
260g breadcrumbs
1 tbsp ground chia seeds
2 tbsp nutritional yeast
2 1/2 tbsp soy sauce
Squeeze of lemon juice
Burger toppings
Buns
Cheese slices
Tomato, sliced
Red onion, sliced
Dill pickles, sliced
Green leaf lettuce
Condiments: mayo, ketchup, mustard
Method
In a large skillet, heat olive oil over medium-high heat and sauté the finely chopped mushrooms, celery, carrot, onion, and garlic until just tender. Sprinkle with salt and stir.
Add the black beans, brown rice, bread crumbs, ground chia seeds, nutritional yeast, and soy sauce, lemon juice and stir until the mixture gets very thick and difficult to mix. Refrigerate for at least 1 hour.
Portion the burger mixture into handfuls (or slightly larger) patties (about ½" thick). You can now refrigerate, freeze, or cook the patties.
Heat a generous amount of oil over medium heat. Fry each patty for 3-5 minutes, flip, top with a slice of cheese (if using) and cover with a lid until the cheese melts. Warm the cut side of the buns while the patty finishes cooking.
Spread the bottom bun with mayo, top with lettuce, a slice of tomato, the burger patty, pickles, onion, ketchup, mustard, and the top bun. Enjoy!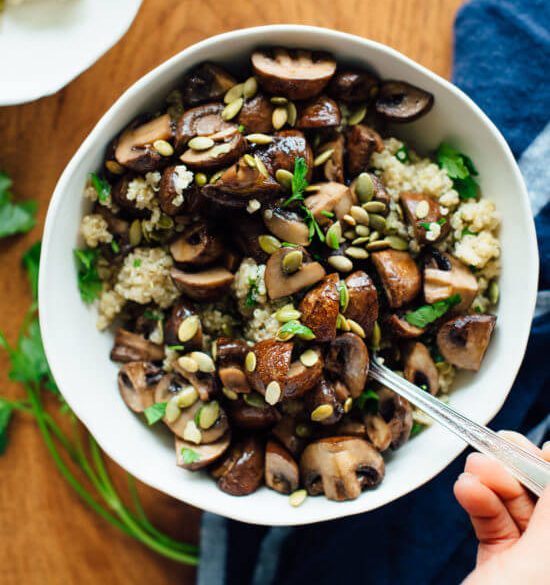 Roasted Mushrooms with Herbed Quinoa
Delicious side dish or light meal of roasted mushrooms on herbed quinoa, topped with toasted pepitas and olive oil!
Source: Cookie and Kate
Roasted Mushrooms
450g baby mushrooms
1 tbsp extra virgin olive oil
1/4 tsp salt
Herbed Quinoa
180g quinoa, rinsed
480ml water
40g parmesan cheese, grated
Handful of chopped fresh flat-leaf parsley, divided
5 spring onions, thinly sliced
1 garlic clove, minced
1/4 tsp salt
1 tbsp extra virgin olive oil, plus more for drizzling on top
2 or 3 tsp lemon juice, to taste
Freshly ground black pepper, to taste
2 tbsp toasted pepitas
Method
To prepare the mushrooms: Preheat the oven to 220°C. Line a large rimmed baking sheet with parchment paper for easy cleanup (the rim is important, as the mushrooms release a lot of juices while roasting—use a large baking dish if you don't have a rimmed baking sheet).
Quarter the large mushrooms, halve the medium mushrooms, leave small mushrooms whole, and place them all onto the prepared baking sheet. Drizzle the olive oil over them and sprinkle the salt on top. Toss until the mushrooms are evenly coated in oil. Roast until the mushrooms are tender and somewhat condensed in size, about 15 to 18 minutes, tossing halfway.
Meanwhile, to cook the quinoa: Combine the rinsed quinoa and water in a saucepan. Bring the mixture to a boil over medium-high heat, then decrease the heat a bit to maintain a gentle simmer. Cook until the quinoa has absorbed all of the water, about 15 to 20 minutes. Reduce heat as time goes on to maintain a gentle simmer.
Remove the pot from heat, cover, and let the quinoa steam for 5 minutes. Then, remove the lid and fluff the quinoa with a fork. Add the Parmesan, most of the parsley (reserve about 1 tablespoon for garnish), spring onions, garlic, salt and olive oil. Stir to combine, then add 2 to 3 teaspoons lemon juice to the mixture and black pepper, both to taste.
To assemble, pour the quinoa into a small serving platter or medium serving bowl. Top with the roasted mushrooms and their extra juices, then sprinkle pepitas and the remaining parsley on top. Finally, finish the dish with a light drizzle of olive oil over the mushrooms. This dish is best when fresh, but leftovers keep well in the refrigerator, covered, for up to 3 days.