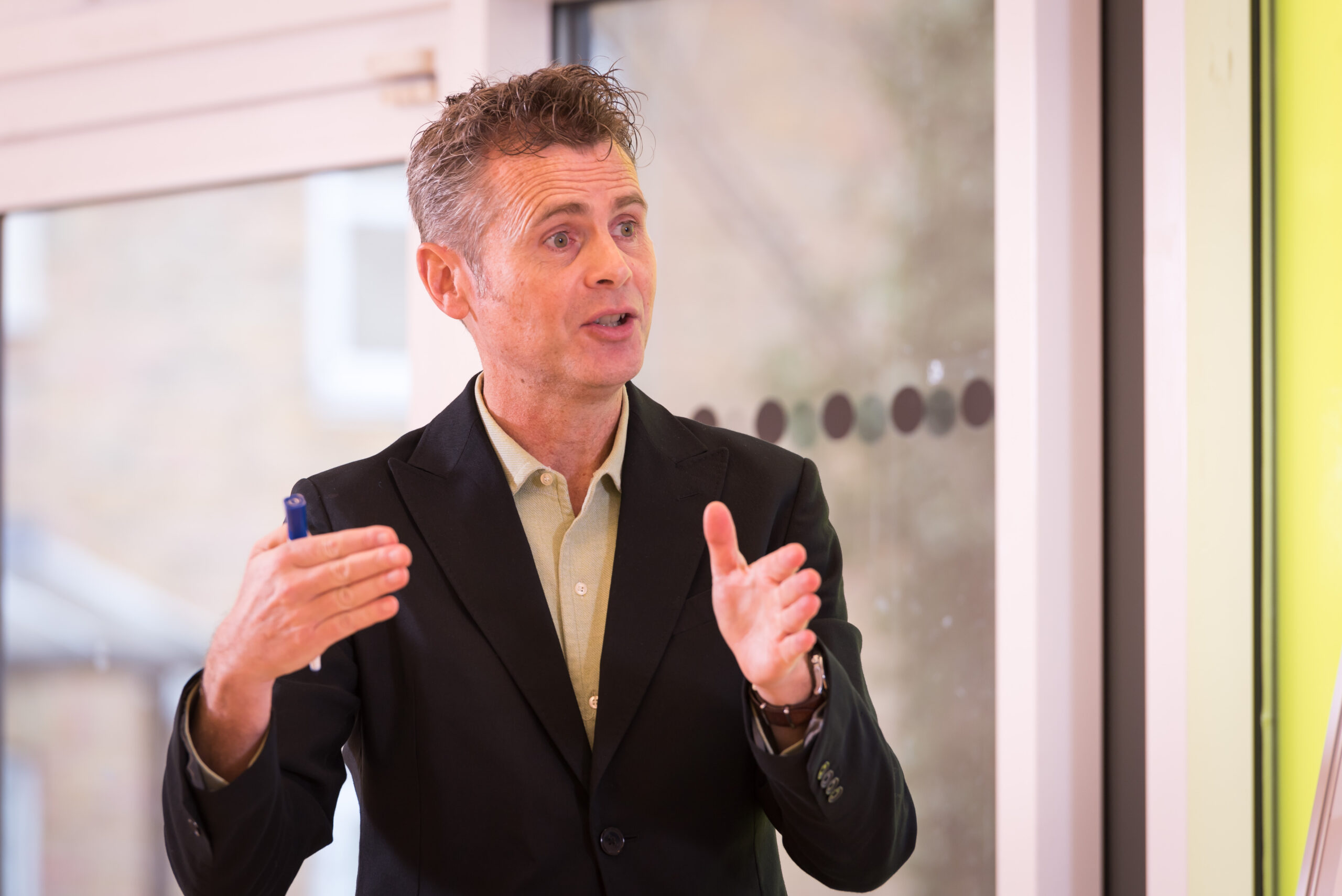 The power of storytelling: From Mexican mango orchards to food to enrich your soul
We love to feed you, our customers, with interesting stories to inspire you.  We are really delighted to have secured this interview with Robin Bayley and are really very grateful for him taking the time to speak to Emma.
Robin is a storytelling, public speaking and leadership coach. He empowers people to communicate with greater resonance and emotional engagement to have the impact they want on their audience.
Robin started his career working in advertising and children's tv but he has also worked as a teacher in Colombia and was also cast in a Bollywood feature film as a drug smuggler!  Robin also wrote the internationally acclaimed novel 'The Mango Orchard' where he tells the story and adventure of tracing his long lost Mexican family.  Emma chatted to Robin about his journey into storytelling, about his long lost Mexican family, his favourite foods and how he would like to spend his Christmas.
You have had a really interesting career path which has included a lot of travel, do you find it difficult to be rooted in one place?
Lockdown has certainly been a challenge. Last year I was out of the country almost as much as I was in it. Now, a trip to the shops feels like a treat. Who knew that going out to the shops could feel so exotic?
You started travelling at a young age, where has been your favourite places to travel and what have been the most interesting eating experiences (good and bad)?
Perhaps foolishly, I decided I would become vegetarian on my first flight to Latin America, not realising that in much of the continent at the time vegetarianism was about as common as cannibalism is here. Also, as my Spanish pronunciation was pretty poor to begin with, whenever I said I was 'vegetariano' people thought I was saying I was 'Italiano'. To this day there are probably people in rural Guatemala who believe that Italians don't eat meat.
I became fascinated by your story through your amazing novel The Mango Orchard – tell us a bit more about that, are you still in contact with your Mexican relatives?
To me, the book is about the power of storytelling. My grandma told me extraordinary stories about her father in the Americas. They were about bandits, gun battles, buried treasure, and a daring escape from the Mexican Revolution. Imagine hearing those stories as a seven-year-old! From that age, I was convinced a hidden treasure was waiting for me to find it. The treasure turned out to be a family of 400, who welcomed me with open arms, some even thought I was the reincarnation of my great grandfather.
The only reason I was accepted though, was because the Mexican family had also been told stories about their English forebear. Finally, when I returned to England, I told my stories to my grandma, as she had to me when I was a boy. On the strength of those stories, she asked me to take her to Mexico – just after her 90th birthday – to meet this enormous family she never knew she had. It was all only possible because of stories. Every family is the same; we are bound together by the stories we tell.
Funnily enough, some of the stories related to food. Very unusually for a man in the early 1900s, my great grandfather was a keen cook. Some of his dishes had been handed down the generations in the Mexican family and were cooked for me when I got there. There was one with sweet potatoes and pine nuts that was particularly good.
And yes, I'm still in contact with many of them – thankfully it's easier now with WhatsApp. When I first found them, sending a fax was very expensive and letters took 6 weeks. I've been back out there at least ten times, and quite a few have been to England to visit me.
The book was obviously a labour of love, I understand it took 5 years to write – did you enjoy the process of writing and putting it together or is it something you would not repeat?
I didn't feel I had any choice about writing the book, it was something I felt compelled to do. Being dyslexic didn't help, but the main reason it took so long was that the story was huge. It spanned a hundred years, two continents and five generations. My story was also the story of hundreds of others, and I felt the responsibility to get right.
Do you have any intentions to do any follow-up novels or is that story now told?
There were several stories I have looked into. One of them was about one of the Colombian characters in The Mango Orchard, Pablo Escobar, the Cuban secret service, the CIA, FARC and the killing of a presidential candidate. In the end, there were some powerful forces who didn't want the story to be told, so I had to shelve the idea.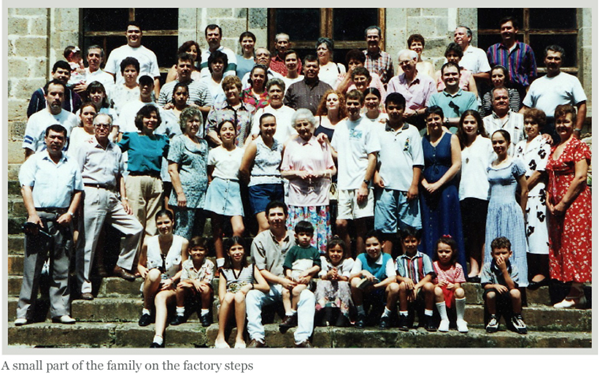 I guess it's quite a natural progression to go from storyteller yourself to helping people to express themselves, what do you love about this?
The main reason I haven't yet written another book is that writing is such a solitary activity.
Helping other people to find their stories, on the other hand, is such a pleasure to witness. To tell a story is to raise your gaze from the immediate demands of the daily grind to the reason why you're doing it in the first place. It's liberating. I've seen people change the way they live their life after telling one three-minute story.
A valuable by-product of storytelling workshops is that they bind teams together. When you've heard someone's story, you know who they are; you trust them.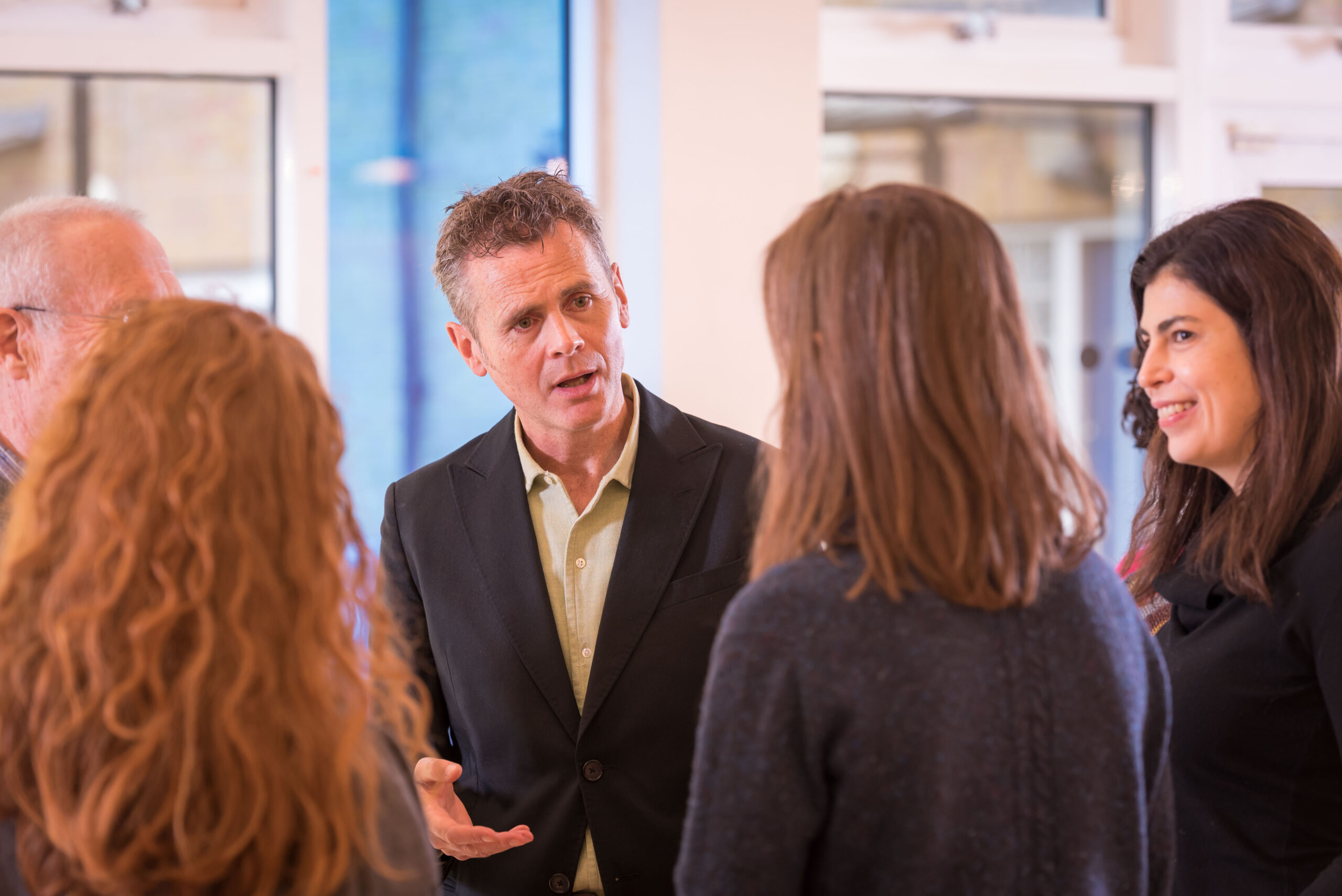 What is the most common issue people come to you about?
If it's an individual it's usually either for a specific speech, pitch or presentation or to help them to navigate their career better. I also see that kind of coaching in terms of storytelling. People often need to find themselves in their own story. I ask them what story they are telling themselves and the outside world, and what story would they like to be able to tell.
For teams, it's usually to gain greater confidence about how they communicate and enable them to talk about data, or what they do, in a meaningful way.
How have you coped in lockdown and how have you managed to work – are you running online sessions?
I was already doing a lot of one-one coaching on video conferencing apps like Zoom, but what astounded me was how easy it was to run workshops, and even three-day retreats online.
There have been some challenges, of course. Early in lockdown, for reasons best known to themselves, my internet provider cut the broadband to my house. For three weeks I had to run coaching sessions from the car in a friend's garage.
Why do you think people struggle so much with public speaking and how do you help them to 'get their story out'? 
It's scary to speak to a large group of people! And biologically it makes sense that we find it difficult. Our brain's primary function is to keep us safe, and hundreds of people looking at us can be seen as a threat.
The key to someone 'getting their story out' is to listen to them – not just to the words they say but the way they say them. I look for the story behind the story, the reason why they care. A woman I was working with in Sydney, Australia last year wanted to talk about the NFL team the New England Patriots. It was her passion, her hobby, but I wanted to know why it was so important to her. Eventually, it came out that she had recently moved to Sydney from the other side of the country, and that her love of American football had allowed her to connect to a new group of people. Her talk was not really about the New England Patriots, it was about belonging.
I've obviously started doing live (and recorded) lockdown cook-along videos, what advice would you give me (and others) to reduce nerves (and waffling!)
I'll have to look up those videos! I think the key to feeling more comfortable with anything like this is knowing what you want to say; not scripted – far from it – but know what the main message is. What's the one thing that you want your viewers to remember from each video?
The main reason for waffle is not having a strong opening and close. Think of it like a plane taking off and landing. Those are the critical bits of the journey. Get those bits right and the rest takes care of itself.
The Oxford Dictionary defines food as any nutritious substance that people or animals eat or drink, or that plants absorb, in order to maintain life and growth. For me food is very much about communicating something, it becomes a story in itself with the preparation, culture, tradition and creates a conversation at the table itself. What's your view? Is the food as a communication tool part of your narrative?
It is. If you want to get to know someone better, you eat together. You want to show someone that you really care, you cook for them. Stories are important as they help us survive and thrive. Food is the same, and when you combine the two it enriches the soul as much as the body.
Are you a foodie? Has any of your Mexican heritage rubbed off on you?
I love to cook. When I'm in Mexico I spend a lot of time with my aunts who are known for having sazón, which literally means seasoning, but is said to infer that someone has a chef's touch. I see what they do, what herbs and textures they mix. Like me, they never follow recipes, they go by what feels right, and what they themselves have observed in those with sazón in the previous generations, like my great grandfather.
What are your favourite things to eat and drink?
In Mexico, it would have to be pescado zarandeado, which is a speciality of the region where my Mexican family live. It's fish on a griddle over a fire of mangrove wood. To die for.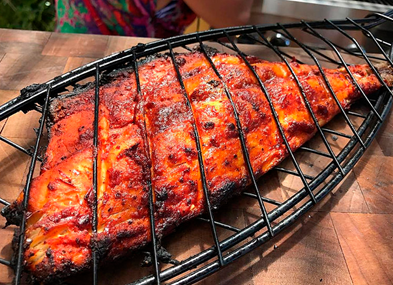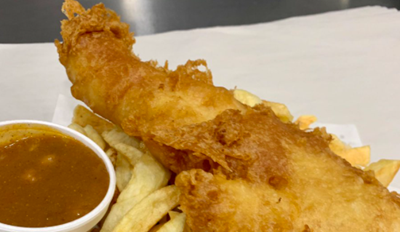 Who would be your dream dinner party guests (dead or alive)?
Having not seen many of my friends around the dinner table since March, I'd like to see them, but as your readers won't know them, I'll say, Salma Hayek, George Harrison, Jack Lemmon, Helena Bonham-Carter, Sarah Kendall (Australian comedian and storyteller supreme), Maya Angelou
What's your guilty food pleasure?
I'm quite partial to battered cod with curry sauce, but I don't feel guilty about it
What are your plans for Christmas this year? What do you love to eat, are you a traditional person or like something a bit more unusual for your Christmas dinner?
No, I'm not a traditional Christmas person. Last year I was on a beach in Mexico. I'd rather be there, to be honest.
Can you share a favourite recipe for our customers to try?
It almost doesn't matter what you cook, as long as you do so with love
QuickFire questions:
Last meal on Earth: One that lasts a very long time
Favourite dessert: Baked bananas with melted chocolate
Favourite vegetable: Aubergine done well is majestic
Least favourite vegetable: Potato – I'm allergic to them now, but even before I couldn't eat them, I thought they were exceptionally dull
Favourite cheese: A creamy goats cheese
Favourite fish: Ventresca de atún
Favourite meat: The last meat I ate was an Arby's roast beef sandwich in Los Angeles in February 1994. I have to admit, it was delicious
Favourite tv chef: I don't really watch any, but I like Jamie's passion and the fact that he believes in the importance of teaching about food and cooking to improve people's lives.
To speak to Robin about storytelling and leadership coaching, please get in touch robinbayley.com  / robin@robinbayley.com /+44 (0)7985919856
Find out more about The Mango Orchard novel here http://www.themangoorchard.com/ You can purchase it from various outlets (including audio) online or in your local book shop.
Images courtesy of Robin Bailey