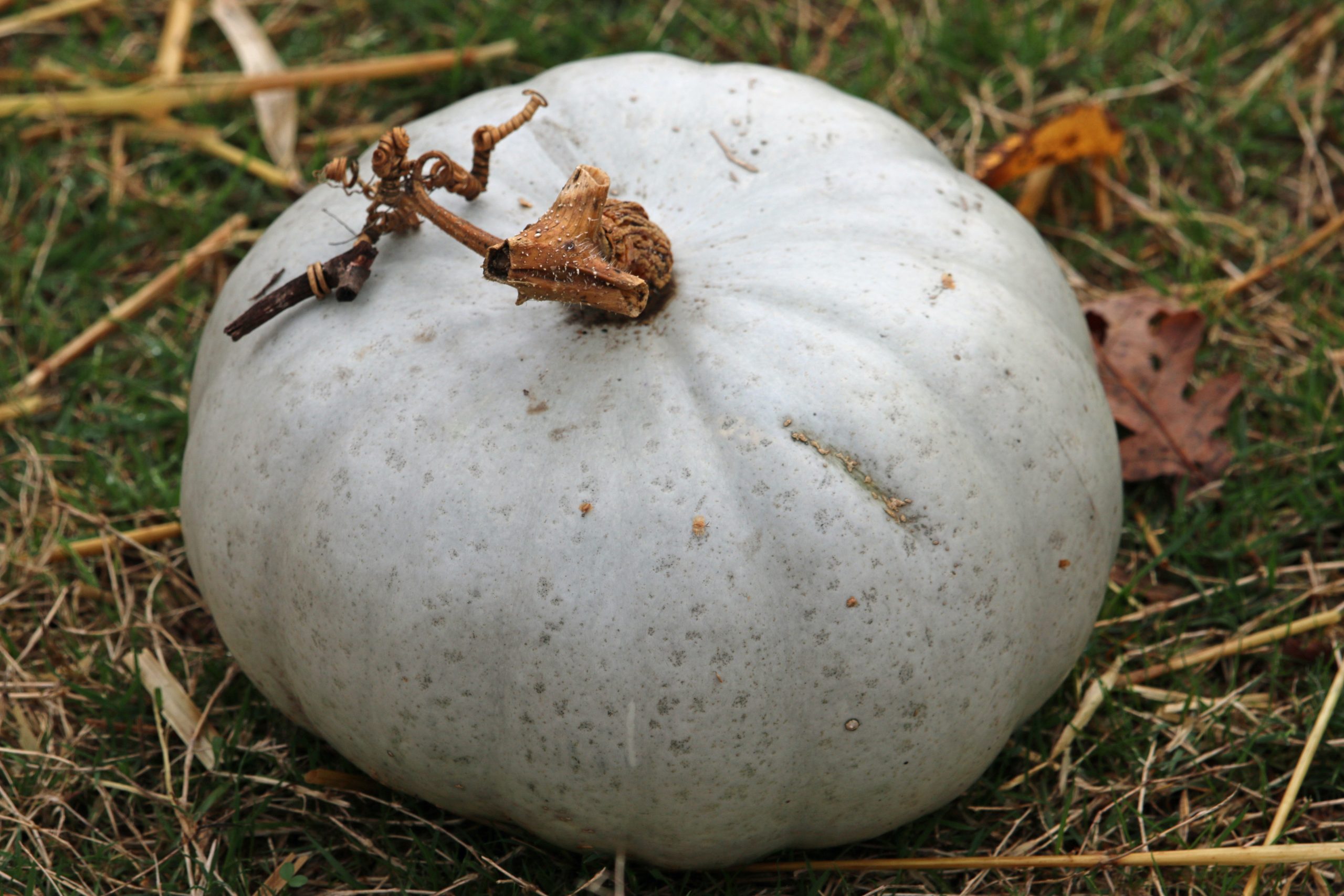 Ask any grower their idea of the best-flavoured winter squash and you can pretty much guarantee this one will come out top of their list. A nutty, honey-like depth and smooth, pudding-like flesh make it a superb choice for roasting. One of the most long-storing of all squashes, it can be kept for 3 – 6 months if stored in a cool and dark place with good air circulation.  Once sliced wedges can be kept loosely wrapped in the fridge for a couple of days.
Pictured is Kay, holding giant beetroot and Ken, holding two crown prince squash.
With steel blue skin, bright orange flesh and a sweet nutty flavour it's also a really beautiful vegetable to look at it could almost be put on your mantlepiece!
Crown Prince squashes were developed in New Zealand and quickly spread as a home gardening variety to Australia. While the exact date of origin is unknown, the variety is believed to be a relative of the kabocha squash and also spread to Europe, especially to the United Kingdom, where it became a widely cultivated speciality variety. Today Crown Prince squashes are found at local farmer's markets in Australia, New Zealand, Europe, and the United States.
Prince squashes are popularly sliced into wedges and roasted to create a caramelized, tender texture, and once cooked, the flesh can be stirred into risotto, mashed as a side dish, or tossed into a salad. The flesh can also be incorporated into soups, curries, and stews, baked into muffins and pies or kneaded into gnocchi. In addition to the flesh, the seeds can be cleaned, roasted, and consumed as a crunchy snack. Crown Prince squashes pair well with nuts such as walnuts, pecans, and pine nuts, honey, ginger, cheeses such as goat, blue, and parmesan, crème Fraiche, potatoes, mushrooms, tomatoes, spinach, radicchio, parsley, and thyme.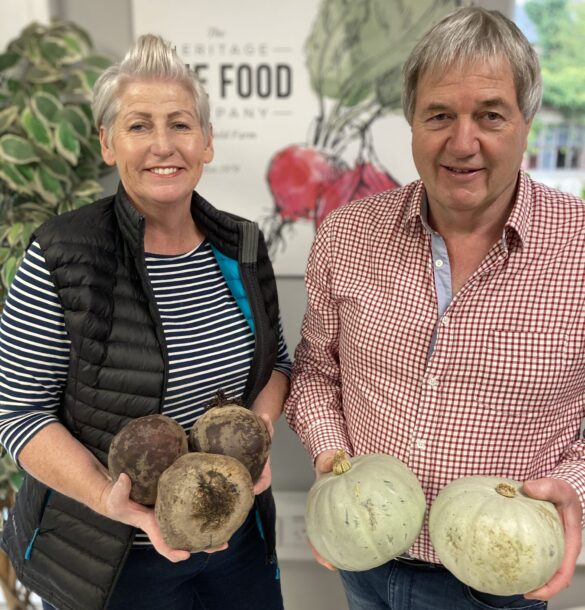 Nutrients
100g – 35cal, 9g, 0% fat and 1g protein
Crown Prince squashes are a good source of beta-carotene, which is an antioxidant that creates the orange pigment found in the flesh and can be converted into vitamin A within the body. The squashes also contain fibre, which can help regulate digestion.
Check out our Pinterest board also which is full of wonderful squash recipes – you can use the Crown Prince Squash for all these recipes too. Happy cooking!
Squash, goat's cheese and spinach pasties
Here, squash takes on the role normally played by potatoes in more traditional pasties.
Source:The Guardian, find the recipe here
Roast Crown Prince Squash, Squash Puree, Kale, Ricotta Walnut Salsa
Roasted & pureed in this delicious vegetarian main, brought together with kale, ricotta cheese and a walnut salsa, this hearty supper dish is impressive enough for a dinner party menu and will convert the most ardent meat-eater. If you are preparing the ricotta cheese do the night before (or buy a tub instead).
Source: Thyme, find the recipe here 
Easy Crown Prince Squash Soup with Ginger & Coconut
An easy, rich, creamy squash soup using crown prince squash, fresh ginger, and coconut. It also works as a pasta sauce. Totally plant-based and super healthy and vegan too.
Source: Kind Earth, find the recipe here
Crown Prince Squash Stuffed with Fine Beans, Walnuts and Quinoa
It is a great centrepiece to bring out at a meal. Crown Prince Squash stuffed with Fine Beans Walnuts and Quinoa is sure to delight.
Source: Ethi Vegan, find the recipe here 
Pumpkin and Raisin Tea Loaf
Grated pumpkin or squash works just as well as carrot in a cake, making for a sweet, moist result. This delicious loaf is also made without any oil or butter.
Source: Hugh Fearnley-Whittingstall, The Guardian, find the recipe here