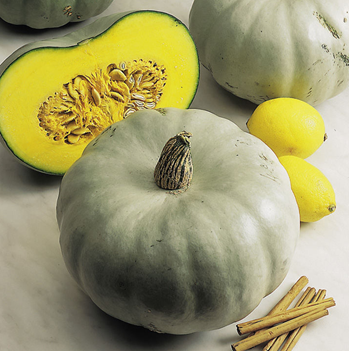 Ask any grower their idea of the best-flavoured winter squash and you can pretty much guarantee this one will come out top of their list. A nutty, honey-like depth and smooth, pudding-like flesh make it a superb choice for roasting. One of the most long-storing of all squashes, it can be kept for 3 – 6 months if stored in a cool and dark place with good air circulation.  Once sliced wedges can be kept loosely wrapped in the fridge for a couple of days.
Pictured is Kay, holding giant beetroot and Ken, holding two crown prince squash.
With steel blue skin, bright orange flesh and a sweet nutty flavour it's also a really beautiful vegetable to look at it could almost be put on your mantlepiece!
Crown Prince squashes were developed in New Zealand and quickly spread as a home gardening variety to Australia. While the exact date of origin is unknown, the variety is believed to be a relative of the kabocha squash and also spread to Europe, especially to the United Kingdom, where it became a widely cultivated speciality variety. Today Crown Prince squashes are found at local farmer's markets in Australia, New Zealand, Europe, and the United States.
Prince squashes are popularly sliced into wedges and roasted to create a caramelized, tender texture, and once cooked, the flesh can be stirred into risotto, mashed as a side dish, or tossed into a salad. The flesh can also be incorporated into soups, curries, and stews, baked into muffins and pies or kneaded into gnocchi. In addition to the flesh, the seeds can be cleaned, roasted, and consumed as a crunchy snack. Crown Prince squashes pair well with nuts such as walnuts, pecans, and pine nuts, honey, ginger, cheeses such as goat, blue, and parmesan, crème Fraiche, potatoes, mushrooms, tomatoes, spinach, radicchio, parsley, and thyme.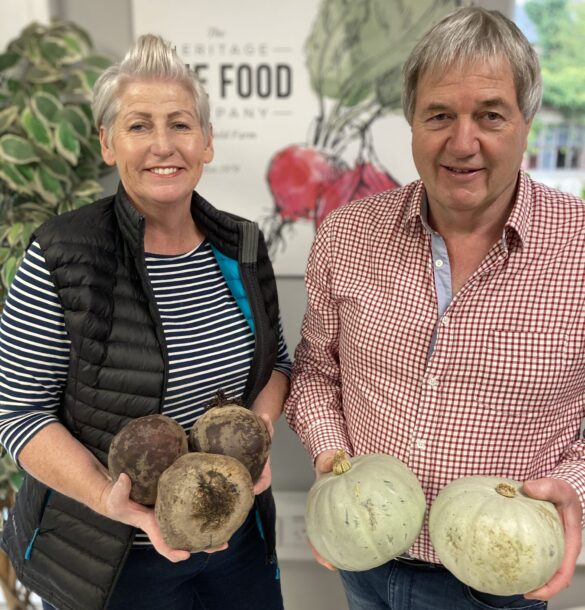 Nutrients
100g – 35cal, 9g, 0% fat and 1g protein
Crown Prince squashes are a good source of beta-carotene, which is an antioxidant that creates the orange pigment found in the flesh and can be converted into vitamin A within the body. The squashes also contain fibre, which can help regulate digestion.
Here are our favourite recipes for cooking the squash and don't forget also to check out our video for Squash Carbonara and our recipe for butternut squash, chickpea and spinach curry.   Check out our Pinterest board also which is full of wonderful squash recipes – you can use the Crown Prince Squash for all these recipes too. Happy cooking!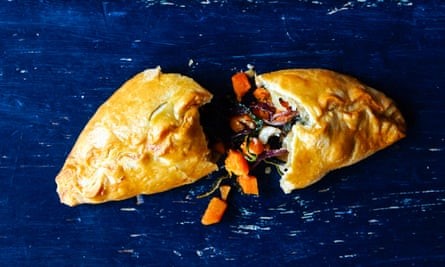 Squash, goat's cheese and spinach pasties
Here, squash takes on the role normally played by potatoes in more traditional pasties.
Source:The Guardian
1 red onion, peeled & thinly sliced
A good glug of light olive oil
1 garlic clove, finely chopped
250g washed fresh spinach
400g diced and roasted squash
80g goat's cheese, crumbled
1 thyme sprig, leaves stripped
A pinch of nutmeg
Salt and black pepper
Creme Fraiche or mascarpone
1 egg, beaten
For shortcrust pastry
200g plain flour
1 pinch salt
60g butter (or half butter and half lard; cubed)
2-3 tbsp cold water
To make the pastry put the flour, salt and butter into a large bowl. Using your fingertips rub the butter into the flour and salt until the mixture resembles breadcrumbs. Work as quickly as possible to prevent the dough from getting warm.  Add 2 tablespoons of water and mix using a cold knife, stir until binds together.  Add more cold water 1 teaspoon at a time. Wrap the dough in clingfilm and chill for 15 – 30 minutes.
Fry the onions in a good glug of light olive oil over low–medium heat for 20 minutes, until soft and sweet. Add the garlic for the last 5 minutes of cooking.
Bring a deep pan of well-salted water to a rolling boil. Blanch the spinach in the boiling salted water and cook for 20–30 seconds until just wilted. Remove with a slotted spoon and plunge into cold water to stop it cooking and help retain the verdant colour. When cool, drain and squeeze dry thoroughly, then roughly chop.
Gently mix the squash, onions, spinach, goat's cheese, thyme leaves, a little black pepper and a scant grating of nutmeg. If the mix seems dry, moisten it with a 1-2 tbsp of creme fraiche or mascarpone. Taste and season.
Remove the pastry from the fridge.  Cut the pastry in half. Roll each piece into a 3mm-thick, 25cm-diameter circle.  Spoon half of the mix into the middle of each circle. Brush some beaten egg around the edges, lift the edges up and together and pinch them together with your thumb and forefinger until it is well sealed and you have a classic pasty shape. Place them on a baking tray and brush with the rest of the egg wash. Cook for 10 minutes at 200C/400F/gas mark 6. Then drop to 180C/350F/gas mark 4 for 20 minutes, or until golden brown and piping hot.
Roast Crown Prince Squash, Squash Puree, Kale, Ricotta Walnut Salsa
Roasted & pureed in this delicious vegetarian main, brought together with kale, ricotta cheese and a walnut salsa, this hearty supper dish is impressive enough for a dinner party menu and will convert the most ardent meat-eater. If you are preparing the ricotta cheese do the night before (or buy a tub instead).
Source: https://www.thyme.co.uk/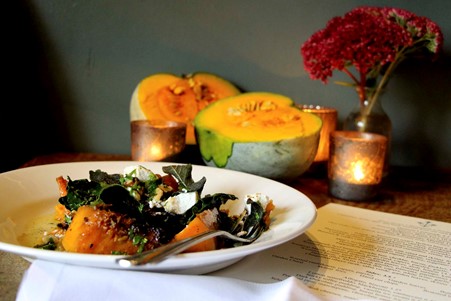 1 medium crown prince squash, deseeded & cut into wedges
Chilli flakes
50g sage
250g red or green kale, washed
100ml rapeseed oil
75g unsalted butter
Juice of 1/2 lemon
Sea salt
Black pepper
Method
Pre-heat oven to 180°c
Heat a large frying pan over high heat. Once hot pour a little oil into the pan, then carefully place a few squash wedges into the pan and caramelise on both sides.
Once caramelised place the squash on to a suitably sized baking tray, season with salt and pepper, a few sage sprigs and chilli flakes then roast for 15 minutes in a hot oven or until just soft.
Put the butter in a large saucepan over medium heat.
Then place the kale into the pan, add 50ml of boiling water, cover with a lid and leave to steam for 2 minutes.
Splash with lemon juice.
Season to taste with salt and pepper.
Remove kale from the pan and place into a colander or onto kitchen towel to drain any excess fat.
For the Squash Purée:
1 small crown prince squash
50 g bunch of sage, leaves picked from stems
Sea salt
Black pepper
Pre-heat oven to 180°c
Carefully cut one of the squash in half, scrape out the seeds.
Place the squash on a baking tray, drizzle with olive oil, season with salt & pepper and a few sprigs of fresh sage.
Cook the squash in the preheated oven for about 25 minutes or until soft.
Once cooked, remove the squash from the oven, set to one side and allow to cool for 30 minutes.
Remove the flesh from the skin, place in a food blender and blitz on full power until a smooth purée.
For the Walnut Salsa:
100 g walnut halves, chopped
75 ml cider vinegar
100 ml walnut oil
Sea salt
Black pepper
To make the salsa place all the ingredients into a mixing bowl and mix well until resembles a dressing and is the desired consistency.
Season to taste.
For the Ricotta cheese:
1 pint whole milk, free-range if possible (pasture promise)
50ml double cream
10ml lemon juice
Place the milk, double cream and salt into a heavy bottom saucepan.
Bring the liquid to 85°c or scalding point just before it boils, add the lemon juice, turn down the heat and simmer for 5 minutes over medium heat.
Remove from the stove, cover with a lid and allow to steep for an hour.
Once steeped you should notice the milk has separated into large curdles. It is now ready to strain the ricotta through a muslin cloth and allow to sit in the fridge overnight.
To plate:
Start plating with the purée in the middle of your plates, then start adding the rest of your components and building up the plates until you're happy there is enough.
Finish the dishes with the ricotta and walnut salsa at the last moment.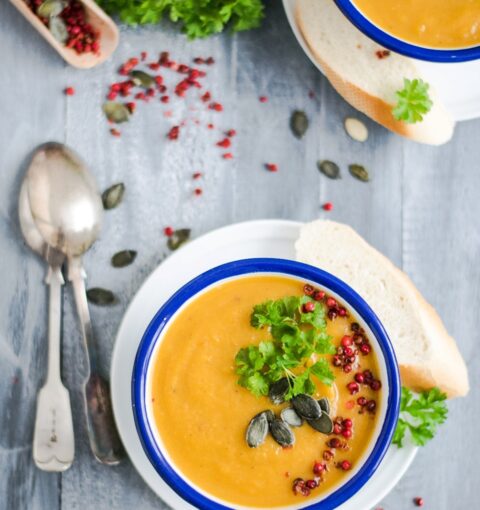 Crown Prince Squash, Ginger and Coriander Soup
This Crown Prince squash, ginger and coriander soup is so bright and full flavoured. Feel free to add as many extras as you like, but to allow the soup to shine, serve as is.
Source: https://eatlikeagirl.com/
750g crown prince squash, peeled and diced
3 cloves of garlic, peeled and finely chopped
30g ginger, peeled and finely chopped
1 tsp chilli flakes
700ml veg stock
A handful of fresh coriander leaves
1 tbsp fresh coriander, coconut milk and a pinch of chilli flakes, for garnish
Light oil for frying
Method
Sauté the garlic and ginger for one minute over medium heat in one tablespoon of light oil.
Add the squash, chilli and stock and bring to the boil. When the squash is tender add the coriander as purée.
Season to taste and finish with the garnish.
Crown Prince Squash Stuffed with Fine Beans, Walnuts and Quinoa
It is a great centrepiece to bring out at a meal. Crown Prince Squash stuffed with Fine Beans Walnuts and Quinoa is sure to delight.
Source: https://www.ethivegan.com/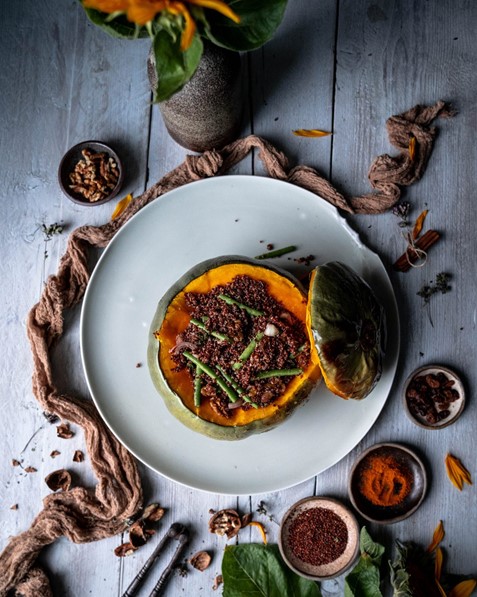 1 crown prince squash
2 tbsp oil olive
180g quinoa
2 shallots, chopped
2 garlic cloves, chopped
3 tbsp extra-virgin olive oil
50g sultanas
50g walnuts
150g fine beans
1/4 tsp cayenne pepper
4 cardamoms, deseeded
1/2 cinnamon stick, grounded
1 tsp oregano
1/2 tsp salt
Method
Preheat oven to gas mark 180 degrees Celsius or if you have a fan oven 160 degrees Celsius.
Place the squash in an ovenproof dish. Using a pastry brush baste the squash in olive oil. Place in the oven for about 20 minutes. Set aside.
Soak the sultanas in lukewarm water and set aside.
Cover the quinoa with at least two or threes times as much water and cook for about 20 minutes. Drain and set aside.
Sauté the shallots in the oil until translucent. Add the garlic cloves.
Place the quinoa in a large mixing bowl. Add the cayenne pepper, cardamom seeds, cinnamon, oregano and salt. Mix well. Finally, stir in the sultanas, walnuts, fine beans.
Remove the top of the squash and using a tablespoon, scoop out the seeds. Discard the seeds.
Fill the squash with the fine bean, walnut and quinoa mixture. Place the top of the squash back on. Return to the oven and cook for a further 40 minutes.
Serve warm.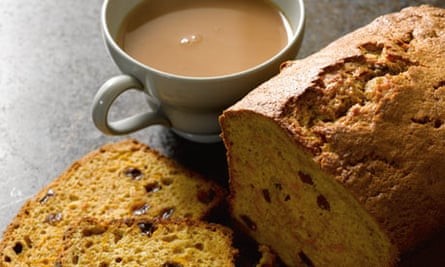 Pumpkin and Raisin Tea Loaf
Grated pumpkin or squash works just as well as carrot in a cake, making for a sweet, moist result. This delicious loaf is also made without any oil or butter.
Source: Hugh Fearnley-Whittingstall, The Guardian
200g light brown sugar
4 large free-range eggs, separated
200g finely grated raw squash flesh
Finely grated zest and juice of 1 lemon
100g raisins
100g ground almonds
200 self-raising flour
Pinch of salt
1 tsp ground cinnamon
Generous grating of fresh nutmeg
Method
Heat the oven to 170C/335F/gas mark 3 and line a 10cm x 20cm loaf tin with baking parchment. Use an electric whisk to beat the sugar and egg yolks for two to three minutes, until pale and creamy. Lightly stir in the pumpkin, lemon zest and juice, raisins and almonds. Combine the flour, salt and spices, sift these in, then fold them in. Beat the egg whites until they hold soft peaks. Beat a heaped tablespoonful of egg white into the batter to loosen it, then fold in the rest as gently as you can.
Tip into the prepared tin and level the top. Bake for about an hour, until a skewer comes out clean. Leave to cool for 10 minutes in the tin, then transfer to a wire rack to cool completely before slicing.