Coconut squash soup with seared scallops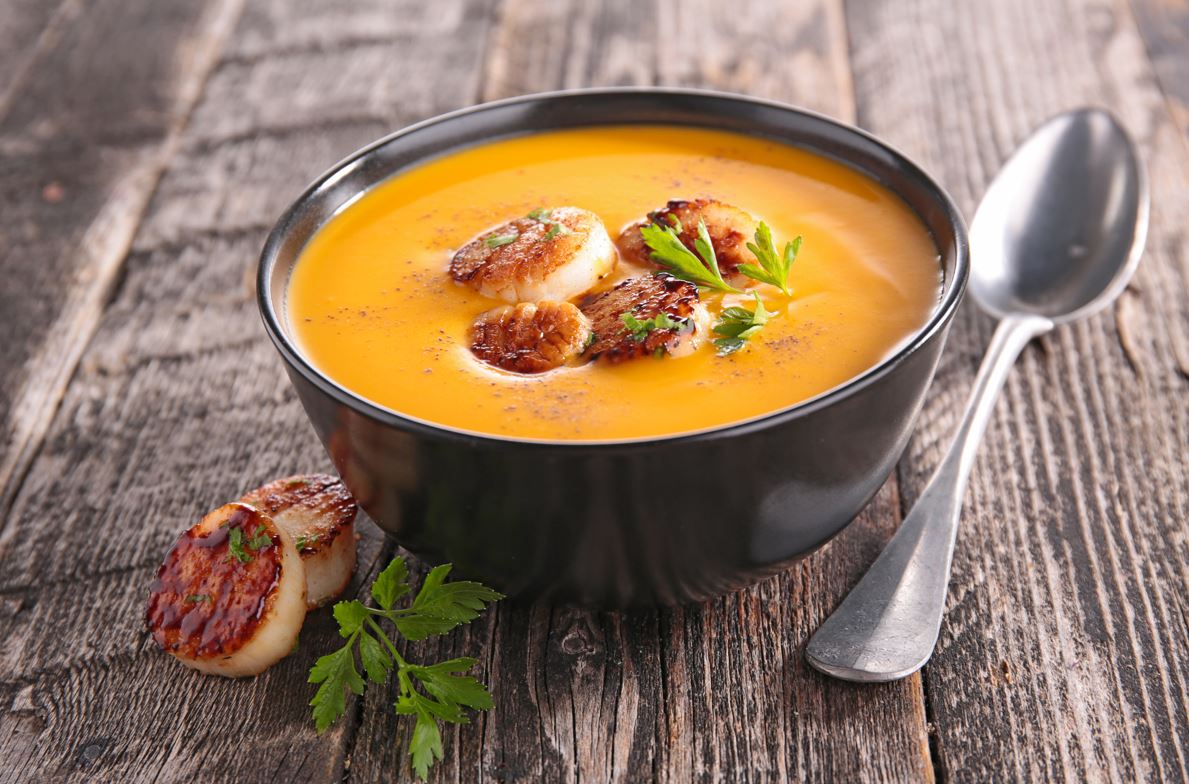 Use your free butternut squash from this week's box to make this delicious silky soup. Include a couple of seared scallops and top with pumpkin seeds, coriander and lime peel for an added wow-factor.
8 medium fresh scallops
Nonstick cooking spray
2 medium leeks, trimmed and thinly sliced
3 cloves garlic, minced
2 slices minced fresh ginger root
830ml vegetable stock
900G butternut squash, peeled and cut into 1-inch pieces
1 can reduced-fat unsweetened coconut milk
⅛ teaspoon cayenne pepper
½ teaspoon ground coriander
⅛ teaspoon salt
⅛ teaspoon black pepper
¼ cup pumpkin seeds, toasted (Optional)
2 tablespoons snipped fresh coriander
2 teaspoons finely shredded lime peel (Optional)
Method
Rinse scallops and pat dry with paper towels; set aside.
Coat an unheated large saucepan with cooking spray; heat pan over medium heat. Add leeks. Cook for 3 minutes, stirring occasionally. Add garlic and ginger. Cook and stir for 1 minute more.
Add stock and squash to leek mixture. Bring to boiling; reduce heat. Simmer, covered, about 15 minutes or until squash is tender. Remove from the heat and cool slightly.
Transfer squash mixture to a blender or food processor. Cover and blend or process until smooth. Return mixture to the saucepan. Stir in coconut milk and cayenne pepper.
Heat through over medium-low heat, stirring occasionally (do not boil).
In a small bowl, combine coriander, salt and black pepper. Sprinkle evenly over scallops.
Coat an unheated indoor grill pan or large nonstick frying pan with cooking spray; heat over medium-high heat.
Add scallops to grill pan or frying pan. Cook for 3 to 4 minutes or until scallops are opaque, turning once halfway through cooking.
To serve, ladle soup into four serving bowls. Float two scallops on each serving of soup. Sprinkle with pumpkin seeds (if using), coriander and lime peel (if using).