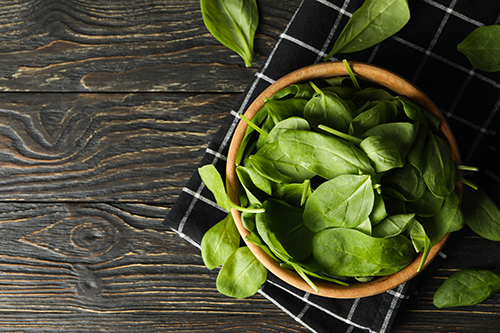 Spinach is a superfood and is incredibly good for you. It is loaded with tons of nutrients in a low-calorie package. Dark, leafy greens like spinach are important for skin, hair, and bone health.
Thought to have originated in ancient Persia, Arab traders carried spinach into India and then later introduced it into ancient China. There it was known as "Persian vegetable." The earliest available record of the spinach plant was found in Chinese, saying that the spinach plant was introduced into China via Nepal.
During her reign as queen of France, Catherine de Medici enjoyed spinach so much, it was served at every meal. To this day, dishes made with spinach are known as "Florentine" reflecting Catherine's birth in Florence.
Eaten raw or cooked and is available fresh, frozen or canned it is one of the best sources of iron and an excellent source of calcium, folic acid, fibre, protein, calcium and vitamins A, C and K and is loaded with cancer-fighting antioxidants and is believed to help improve cardiovascular and gastrointestinal health.
There are so many ways to enjoy spinach and it's so easy to use. Throw it into smoothies, sauces for pasta, pizza and curries or with scrambled egg.  How about trying some of these spinach recipes with the spinach included in your box.
Go back to basics with this green side salad. The simple combination of leaves, almonds and raisins make it versatile and thrifty.
Source: BBC Good Food, find the recipe here
Chickpea, Spinach & Almond Butter Bowl
Combine chickpeas and spinach with almond butter and spices to make this veg-packed family supper. Ready in just 25 minutes, serve with rice.
Source: BBC Good Food, find the recipe here
Spinach and Blue Cheese Pizza
This vegetarian pizza is super-quick to make because the base is yeast-free. Packed with spinach, walnuts, mushrooms and blue cheese, it's super-tasty too.
Source: BBC Good Food, find the recipe here
Pea, Spinach and Crab Risotto
Make this vibrant pea risotto as a low-calorie dinner for the family. Serve topped with a punchy chilli crab salsa.
Source: Olive Magazine, find the recipe here
Spinach, Mascarpone and Ham Hock Rotolo
Spirals of salty ham hock, creamy mascarpone and spinach create this showstopping pasta bake.
Source: Olive Magazine, find the recipe here