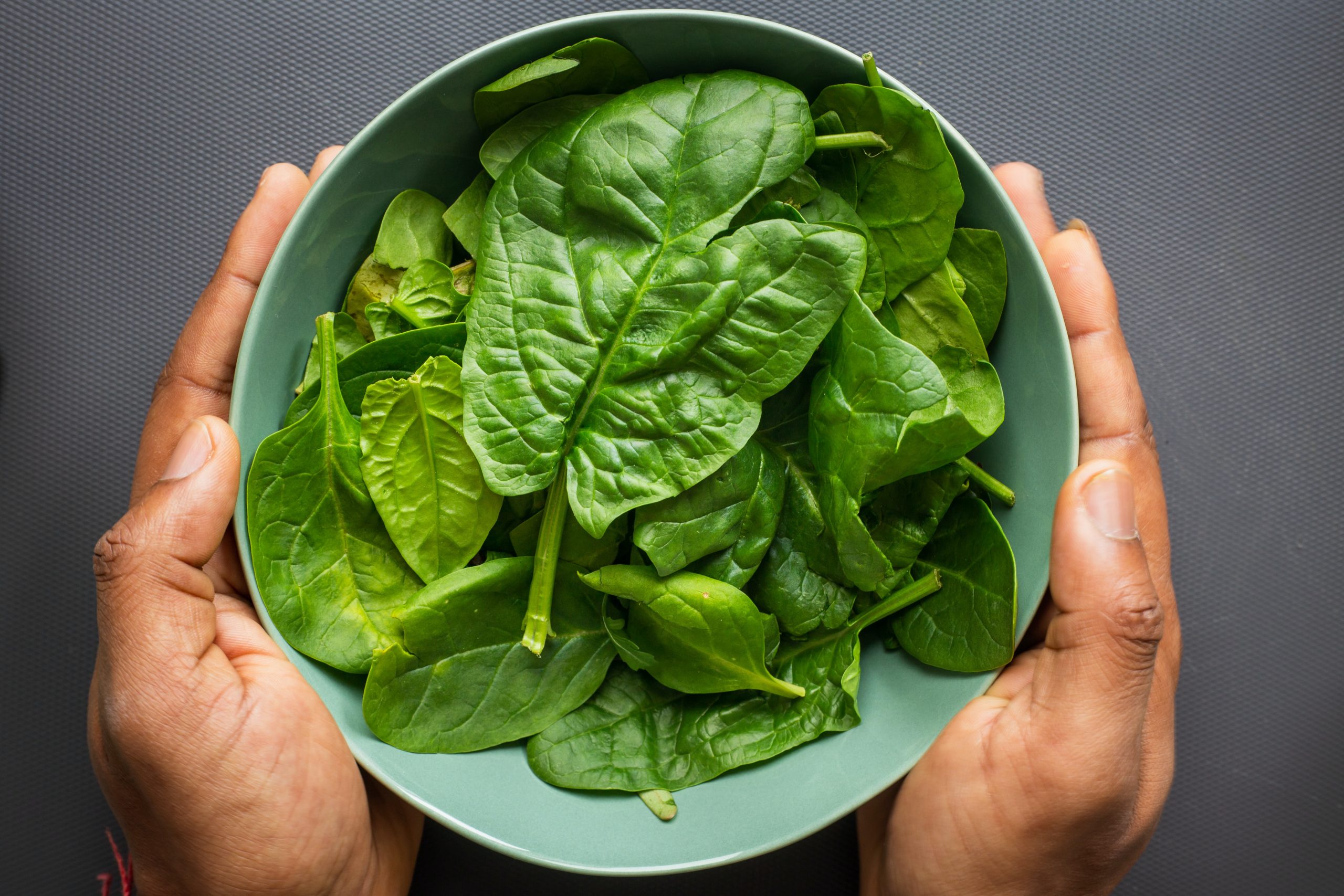 Spinach is a superfood and is incredibly good for you. It is loaded with tons of nutrients in a low-calorie package. Dark, leafy greens like spinach are important for skin, hair, and bone health.
Thought to have originated in ancient Persia, Arab traders carried spinach into India and then later introduced it into ancient China. There it was known as "Persian vegetable." The earliest available record of the spinach plant was found in Chinese, saying that the spinach plant was introduced into China via Nepal.
During her reign as queen of France, Catherine de Medici enjoyed spinach so much, it was served at every meal. To this day, dishes made with spinach are known as "Florentine" reflecting Catherine's birth in Florence.
Eaten raw or cooked and is available fresh, frozen or canned it is one of the best sources of iron and an excellent source of calcium, folic acid, fibre, protein, calcium and vitamins A, C and K and is loaded with cancer-fighting antioxidants and is believed to help improve cardiovascular and gastrointestinal health.
There are so many ways to enjoy spinach and it's so easy to use. Throw it into smoothies, sauces for pasta, pizza and curries or with scrambled egg.  How about trying some of these spinach recipes with the spinach included in your box.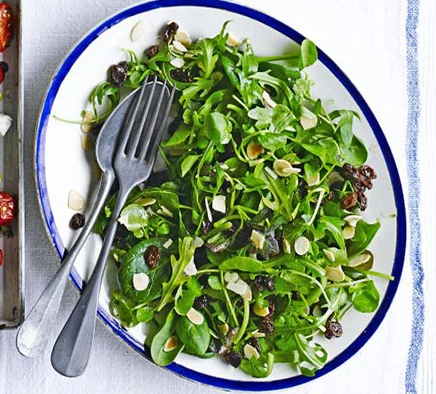 Go back to basics with this green side salad. The simple combination of leaves, almonds and raisins make it versatile and thrifty.
Source: BBC Good Food
1 tbsp red wine vinegar
2 tbsp olive oil
140g spinach, watercress & rocket
2 tbsp toasted flaked almonds
50g raisins
Method
Whisk together the vinegar and olive oil with a little seasoning. Toss through the salad leaves along with the almonds and raisins. Serve immediately.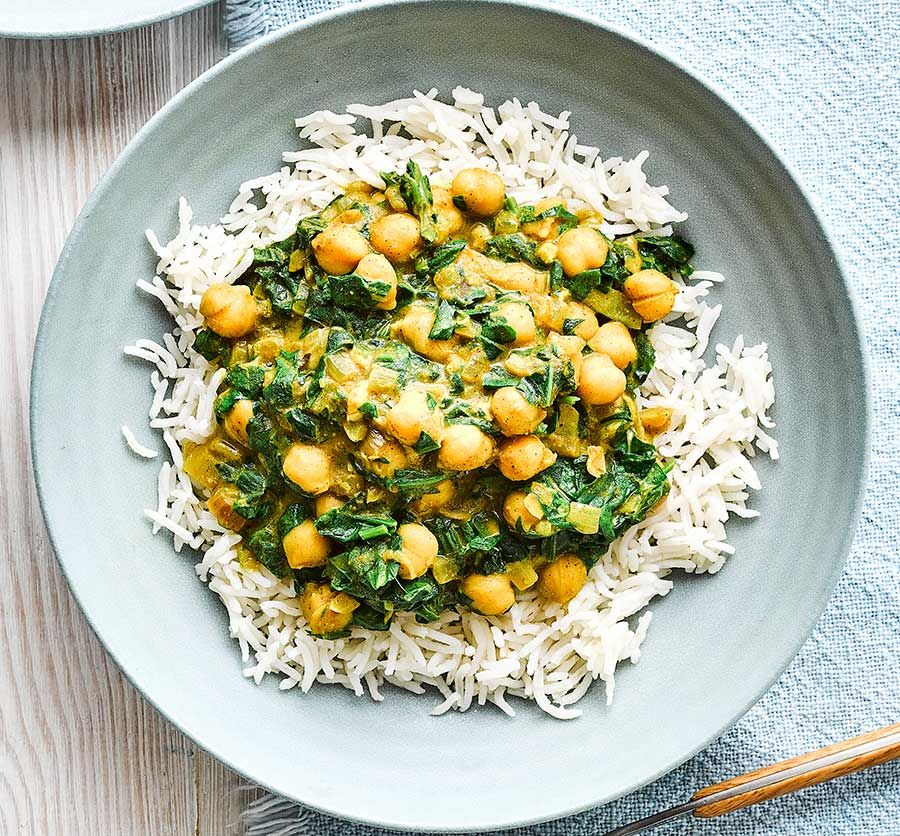 Chickpea, Spinach & Almond Butter Bowl
Combine chickpeas and spinach with almond butter and spices to make this veg-packed family supper. Ready in just 25 minutes, serve with rice.
Source: BBC Good Food
Vegetable oil, for frying
1 large onion, finely chopped
3 garlic cloves, crushed
2 1/2cm piece of ginger, peeled and grated
1 tsp ground coriander
2 tsp ground cumin
1 tsp ground turmeric
1/2 tsp fenugreek
400g tin chickpeas, drained and rinsed
300ml vegetable stock
2 tbsp unsalted almond butter
200g spinach, roughly chopped
Cooked rice, to serve
Method
Heat some oil in a pan over medium heat and fry the onions for 5 mins. Add 50ml water and cook for 7 mins more until just brown. Add the garlic and ginger.
Combine the coriander, cumin, turmeric, fenugreek and some pepper with 2 tbsp water, and tip into the pan. Cook for 5 mins more, then stir in the chickpeas.
Stir in the stock and almond butter, then add the spinach and cook for 3-5 mins more until the spinach has wilted. Serve over rice.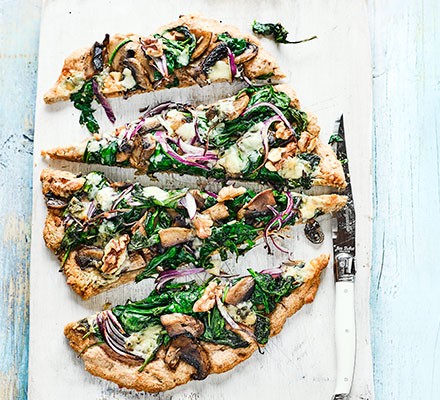 Spinach and Blue Cheese Pizza
This vegetarian pizza is super-quick to make because the base is yeast-free. Packed with spinach, walnuts, mushrooms and blue cheese, it's super-tasty too.
Source: BBC Good Food
1 tsp rapeseed oil
2 large flat mushrooms, halved and sliced
2 garlic cloves, chopped
160g spinach, thoroughly dried after washing
1 red onion, halved and thinly sliced
40g vegetarian blue cheese, crumbled
4 walnut halves, broken
For the base
125g wholewheat spelt flour
1/2 tsp baking powder
2 tbsp bio yoghurt mixed with 3 tbsp water
Method
Heat oven to 200C/180C fan/gas 6 and place a baking sheet inside to get hot. Heat the oil in a large non-stick frying pan and cook the mushrooms and garlic, stirring frequently, until softened. Add the spinach, a handful at a time, and cook until just wilted but not soggy. Add the onion and stir it through, then turn off the heat.
For the base, tip the flour and baking powder into a bowl, and stir in the yoghurt mixture with the blade of a cutlery knife to make a ball of soft dough. Dust a sheet of baking parchment with flour, put the dough on top and press with floured hands to make a flat 20cm round. Top with the spinach mixture, scatter over the cheese and walnuts, then bake on the hot baking sheet for 12 mins or until the dough is cooked through and golden.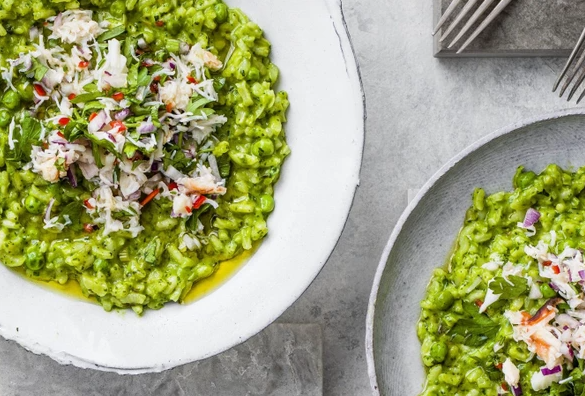 Pea, Spinach and Crab Risotto
Make this vibrant pea risotto as a low-calorie dinner for the family. Serve topped with a punchy chilli crab salsa.
Source: Olive Magazine
Olive oil for frying
1 onion, thinly sliced
Small bunch spring onions, finely sliced
350g arborio rice
2 garlic cloves, crushed
170ml white wine
1.1L chicken stock
150g frozen petit pois
70g parmesan, grated, plus extra to serve
1/2 lemon, juiced, plus wedges to serve
2 tbsp double cream
Method
Heat a glug of oil in a large casserole or deep frying pan and gently fry the onion and spring onions for 5 minutes until softened. Turn up the heat to medium, add the rice and garlic, and fry for 1 minute until the rice is coated in the oil and turning translucent.
Pour in the wine, stirring all the time, and let it almost fully reduce. Turn down the heat to low-medium and slowly add the stock, a ladle at a time, stirring regularly, only adding more once the last ladleful is absorbed. Season.
For the green sauce, put the spinach, peas, olive oil and 100ml of water in a blender or food processor. Blitz to a smooth sauce.
When you have added all the stock and the rice is nearly cooked (this will take about 25-30 minutes), stir in the green sauce. Keep stirring the risotto for a further 10 minutes, then stir in the peas, parmesan, lemon and cream. Season and simmer for 5 minutes until the peas are cooked and the rice is tender.
Mix together all of the crab salsa ingredients. To serve, spoon the risotto into bowls and top with crab salsa and a drizzle of olive oil. Serve with lemon wedges and parmesan.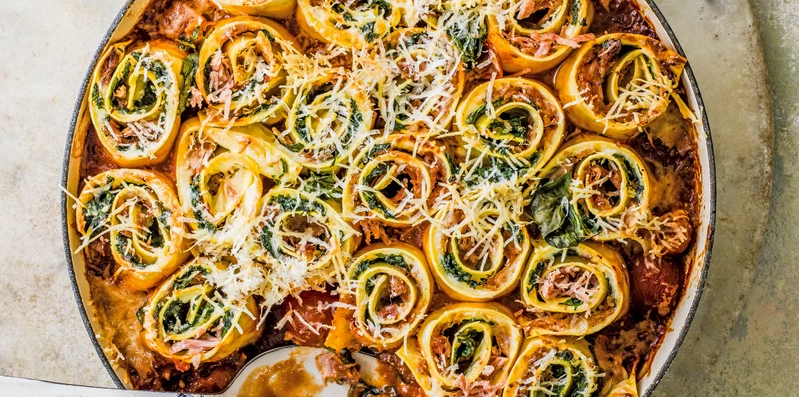 Spinach, Mascarpone and Ham Hock Rotolo
Spirals of salty ham hock, creamy mascarpone and spinach create this showstopping pasta bake.
Source: Olive Magazine
6 sheets fresh egg lasagne
50g Grana Padano
For the tomato sauce
1 tbsp olive oil
1 onion, finely chopped
2 garlic cloves, crushed
200ml red wine
2 x 400g tinned cherry tomatoes
1 tbsp tomato puree
2 tbsp Worcestershire sauce
2 tsp caster sugar
Small bunch of basil, leaves picked
For the filling
300g spinach
500g mascarpone
2 garlic cloves, crushed
1 lemon, zested and juiced
200g ham hock
Method
For the tomato sauce, heat the oil in a large shallow casserole over low-medium heat. Fry the onion for 5 minutes until starting to soften, then stir in the garlic. Turn the heat up, add the wine and bubble for 2 minutes to reduce a little.
Turn the heat down to medium heat and add the tinned tomatoes, tomato purée, Worcestershire sauce, sugar and most of the basil. Simmer for 20 minutes.
Meanwhile, put the spinach into a colander and pour over a kettle full of just-boiled water, then leave to drain and cool for 5 minutes. Put the spinach into a clean J-cloth or tea towel and squeeze out as much water as possible, then finely chop. Put the mascarpone, garlic and lemon juice and zest into a small bowl, and mix with plenty of seasoning.
When the sauce has simmered, check the seasoning. Heat the oven to 180C/fan 160C/gas 4. Lay the pasta sheets out onto a chopping board, spread 1/6 (about 2 tbsp) of the mascarpone evenly onto each sheet then sprinkle over 1/6 of the spinach, then 1/6 of the ham. Roll up from the short sides of the sheets to make tubes, then slice each into four even pieces. Sit the pasta spirals upright into the sauce, so they fit snugly together. Tuck in the remaining basil leaves and finely grate over the Grana Padano. Bake for 30 minutes until golden and bubbling.