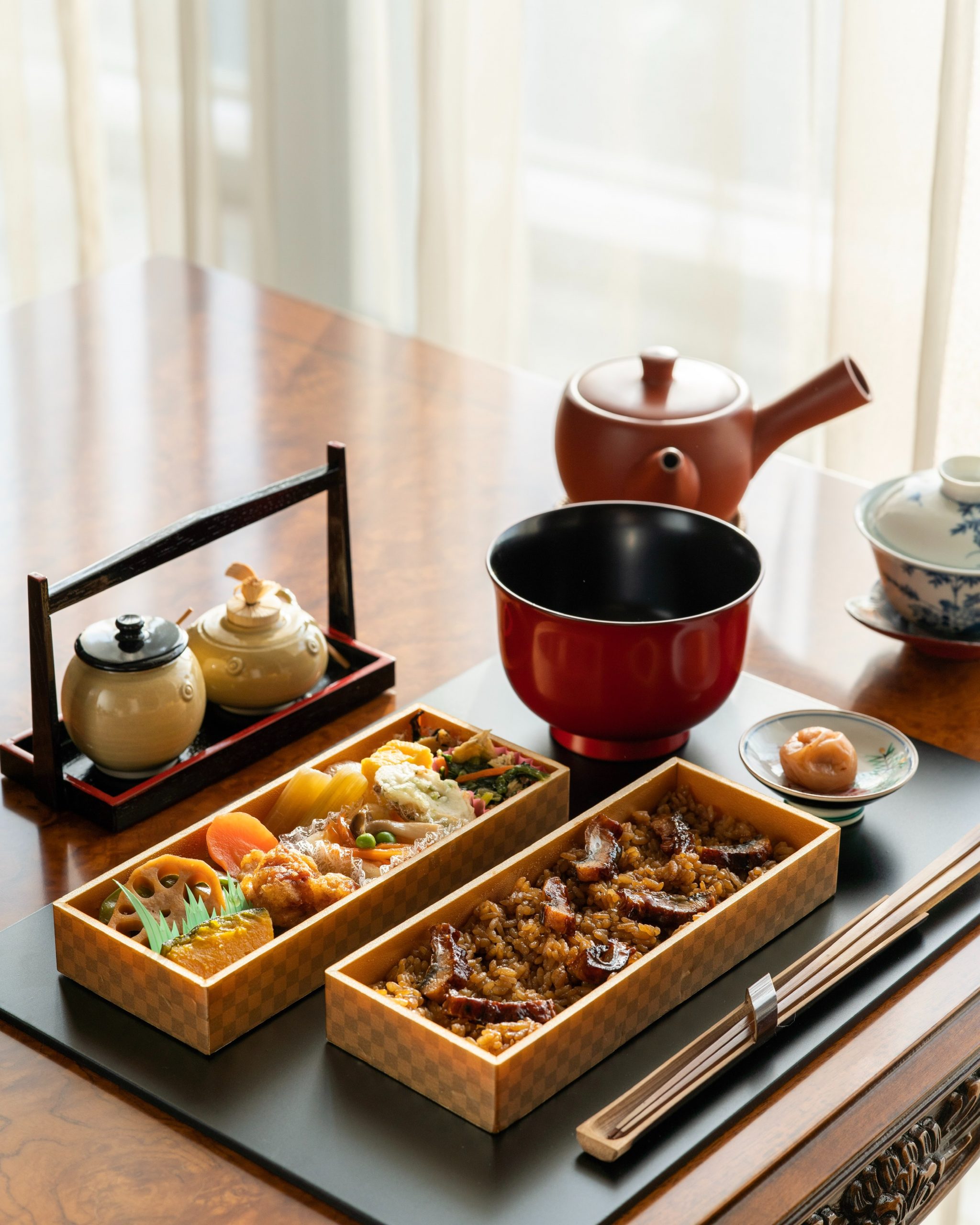 With the Olympics opening today in Tokyo we thought we would enter the spirit of Japan and share some Japanese inspired recipes for you to try.
Japanese cuisine encompasses the regional and traditional foods of Japan, which have developed through centuries of political, economic, and social changes. The traditional cuisine of Japan (Japanese: washoku) is based on rice with miso soup and other dishes with an emphasis on seasonal ingredients. Side dishes often consist of fish, pickled vegetables, and vegetables cooked in broth. Seafood is common, often grilled, but also served raw as sashimi or in sushi. Seafood and vegetables are also deep-fried in a light batter, as tempura. Apart from rice, a staple includes noodles, such as soba and udon. Japan also has many simmered dishes such as fish products in broth called oden, or beef in sukiyaki and nikujaga.
Historically influenced by Chinese cuisine, Japanese cuisine has also opened up to influences from Western cuisines in the modern era. Dishes inspired by foreign food—in particular Chinese food—like ramen and gyōza, as well as foods like spaghetti, curry, and hamburgers, have been adapted to Japanese tastes and ingredients. Traditionally, the Japanese shunned meat because of Buddhism, but with the modernisation of Japan in the 1880s, meat-based dishes such as tonkatsu and yakiniku have become common. Japanese cuisine, particularly sushi and ramen, has become popular throughout the world.
So get out your chopsticks and start cooking!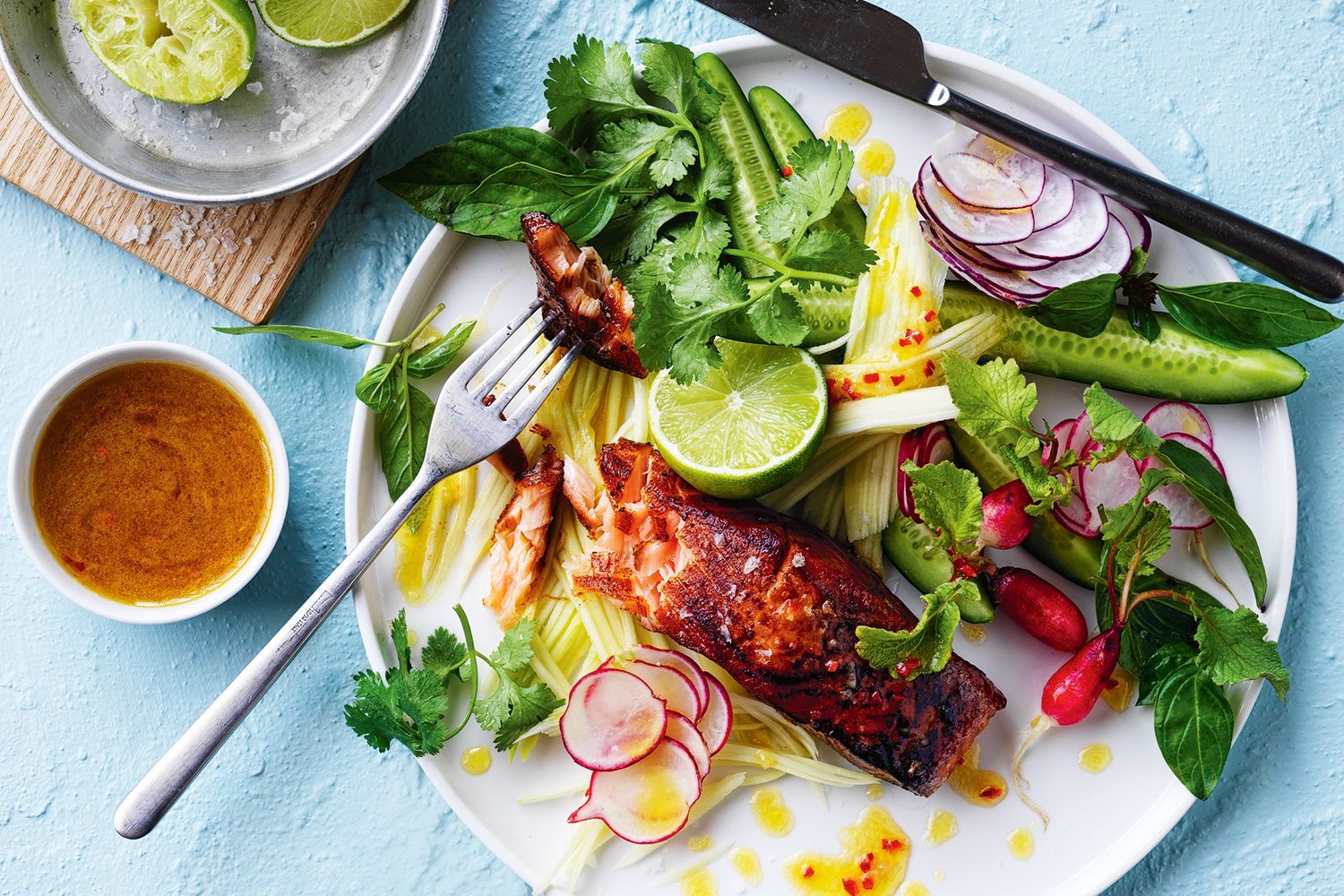 Barbecued Salmon in Wasabi and Soy
Bold, flavourful and effortless, this salmon will satisfy any crowd. Begin at least 3 hours ahead.
Source: Delicious
2 tbsp extra virgin olive oil
80g unsalted butter, chopped
4 x 220g skinless salmon fillets, pin-boned
1 small green mango, shredded
1 mini cucumber, sliced lengthwise into wedges
4 mixed baby heirloom radishes, shaved
1/4 bunch of each, mint, coriander & Thai basil, leaves picked
Lime halves, to serve
Wasabi & Soy marinade
310ml soy sauce
125g brown sugar
2 1/2 tbsp wasabi paste
Lime dressing
125ml lime juice
3 garlic cloves, crushed
1 long red chilli, seeds removed, finely chopped, plus extra sliced to serve
2 1/2 tbsp fish sauce
1 tbsp caster sugar
125 ml light olive oil
Method
For the marinade, place all the ingredients in a small saucepan over medium heat and stir until sugar has dissolved. Transfer to a bowl and chill until cooled completely. Add salmon to the bowl, toss to combine and cover with plastic wrap. Chill for 3-4 hours, to marinate, turning occasionally, or if time permits, overnight.
Meanwhile, for the lime dressing, place all the ingredients in a small jar with a lid. Season to taste and shake well to combine. Set aside. You can adjust your balance of flavours with sweet, sour and salty, according to your preference.
Heat a large non-stick frypan over high heat. Add the oil and butter and when the butter begins to foam, drain salmon well from the marinade then place in the frypan, skin-side up. Cook for 2-3 minutes until caramelised and deep golden. Turn and cook for a further 1-2 minutes until caramelised. Remove from the heat and rest salmon in pan for 5-6 minutes before serving.
To make the salad, place all remaining ingredients in a large bowl, add half of the dressing, season to taste and toss to combine.
Divide salad among plates and top with the salmon. Serve scattered with extra chilli and lime halves, alongside.
Tender Stem Broccoli & Soba Noodle Salad with Wasabi Dressing & Ginger Salt
Add some serious kick to your dinner with this punchy wasabi dressing that'll lift your noodle game to new levels.
Source: Delicious
2 eggs
2 bunches tender stem broccoli, sliced lengthways
120g frozen podded edamame, thawed
2 tbsp soy sauce
1 tbsp peanut oil
1 tsp wasabi paste
1 tbsp mirin
1 1/2 tbsp sea salt flakes
2 tsp very finely chopped ginger
180g soba noodles, cooked according to packet instructions, drained
1 avocado, sliced
Method
Bring a saucepan of water to a boil over medium heat. Add the eggs and cook for 6 minutes for soft-boiled or until cooked to your liking, then drain. Refresh eggs under cold running water, then peel and set aside.
Meanwhile, in a separate pan of boiling water, cook the broccoli for 2 minutes or until just tender. Add the edamame and cook for a further 1 minute or until warmed through. Drain and set aside.
To make the dressing, whisk the soy sauce, peanut oil, wasabi and mirin in a bowl until combined. Set aside.
To make the ginger salt, place the salt and ginger in a small bowl and rub together with your fingers to combine.
Place the soba noodles, broccoli and avocado in a large bowl and drizzle with the wasabi dressing. Cut the eggs into quarters and place them on top of noodles. Sprinkle with ginger salt to serve.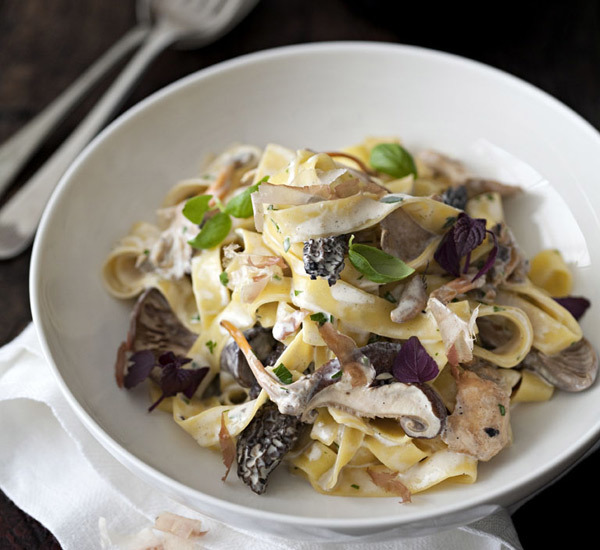 Mushroom and Cream Pasta with Dashi
Add a delicious Japanese twist to an Italian favourite with this mushroom and cream pasta with dashi recipe. Made using dashi stock and bonito flakes, this variation will leave all your diners asking what your secret is. If you want something quick, easy, and delicious for dinner, this is the recipe for you.
Source: Japan Centre
1 tsp dashi powder
Bonito flakes
200g spaghetti or linguni
120g mushrooms of your choice
1 garlic clove
Single cream
160g olive oil
2 tbsp basil or shiso
Method
Boil pasta according to the manufacturer's instructions. Strain and leave to one side.
Slice the mushrooms into bite-sized pieces and mince the garlic.
Place a frying pan over medium heat and add the olive oil. Once the pan is hot, sauté the mushrooms and garlic for a few minutes till the mushrooms are done.
Mix OFJ dashi powder with 1 teaspoon of hot water. Then add the pasta, single cream and dashi paste to the frying pan. Stir lightly until the sauce is fully incorporated with pasta.
Add salt and pepper to taste.
Garnish with chopped basil or shiso and bonito flakes.
Make this easy katsu curry with options to adapt the recipe for vegetarian, vegan and gluten-free diets. You'll need chicken or tofu depending on your preference.
Source: BBC Good Food
4 tbsp rapeseed oil or vegetable oil
2 x 200g pouches cooked rice
1/2 large cucumber, peeled into ribbons
Handful mint leaves or coriander leaves, or both
Lime wedges, to serve
For the curry sauce
1 tbsp rapeseed oil or vegetable
2 onions, chopped
2 large carrots, chopped, plus 1 peeled into ribbons
2 garlic cloves, crushed
Thumb-sized piece of ginger, peeled and grated or finely chopped
1 tbsp curry powder, mild or medium depending on your spice tolerance
1/2 tsp ground turmeric
400ml can coconut milk
2 tsp maple syrup or honey
For the katsu
1 tbsp corn flour
8 chicken mini fillets, or a 280-300g block of firm tofu
200g breadcrumbs
Method
First, make the curry sauce. Heat 1 tbsp oil in a pan, cook the onions and chopped carrots until the onions are soft and starting to caramelise about 8 mins. Add the garlic and ginger and sizzle for another 30 secs, then stir in the curry powder and turmeric. Once the spices are warmed through, add the coconut milk, maple syrup or honey and 100ml water. Season well, cover and simmer over low heat for 20 mins.
Now make the katsu. In a wide bowl, mix the cornflour with 4 tbsp water and some seasoning. Dip the chicken or tofu into the flour mixture (if cooking for both vegans and meat-eaters, make sure you dip the tofu first to avoid mixing it with meat). Place the breadcrumbs in another bowl and dip the chicken or tofu in it, turning until well coated.
When the onions and carrots in the curry sauce are soft, blitz using a hand or table-top blender. If the sauce is too thick, add a little more water, check the seasoning, adding more salt, maple syrup or some lime juice, if you like. Keep warm.
Heat the oil in a frying pan and cook the chicken or tofu for 4-5 mins on each side until golden and cooked through. Warm the rice and divide between bowls. Top with the curry sauce, katsu chicken or tofu, and serve with the cucumber, carrot ribbons, herbs and lime wedges.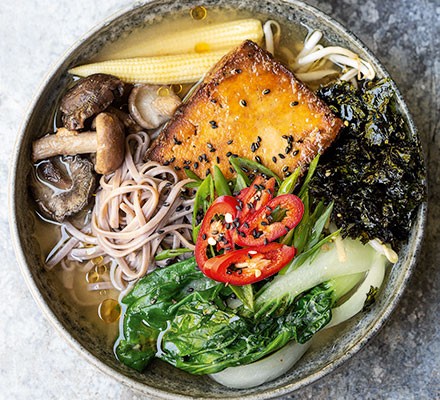 Not sure about the taste of tofu? In this miso ramen, it's fried in a deliciously sweet and sticky glaze and is accompanied by amazing Japanese flavours.
Source: BBC Good Food
5 tbsp miso paste
2 tbsp soy sauce
2.5cm piece ginger, grated
12 shiitake mushrooms
225g smoked tofu, cut into 4 slices
2 tbsp liquid aminos or tamari
250g soba noodles
16 ears baby corn
1 tbsp vegetable oil
8 baby pak choi
200g ready-at-eat beansprouts
2 red chillies, finely sliced on an angle
2 spring onions, finely sliced on an angle
4 tbsp crispy seaweed
2 tbsp black sesame seed
1 tbsp sesame oil, to finish
Method
Put the miso, 1.5 litres of water, soy sauce, ginger and shiitake in a large saucepan. Stir to mix in the miso, then bring to a very gentle simmer. Keep simmering for 5 mins.
Meanwhile, place the smoked tofu in a shallow bowl and pour over the liquid aminos. Turn the tofu slices over to make sure they are soaked well on both sides.
Bring a pan of salted water to a boil. Add the soba noodles, bring back to the boil and cook until just tender, about 5 mins.
Add the baby corn to the miso broth and cook for a further 4 mins.
Meanwhile, heat the oil in a non-stick frying pan over high heat. Lift the tofu from its bowl, shaking off the excess liquid aminos and saving it. Gently place the tofu in the frying pan and cook for 2-3 mins on each side until browned. Add the reserved liquid aminos to the pan (it will bubble up) and reduce to a glaze. Remove from the heat.
As soon as the noodles are cooked, drain them in a colander and rinse under cold water, then divide between four serving bowls. Add the pak choi to the miso broth and remove it from the heat.
Divide the pak choi, baby corn and beansprouts between the bowls. Ladle over the miso broth and add the tofu. Garnish with chillies, spring onions and crispy seaweed. Sprinkle with sesame seeds, drizzle over the sesame oil and serve straight away.