National Potato Day is August 19, so if you like spuds, this one's for you!
Potatoes have been a popular food for centuries so it's about time we recognise this versatile vegetable. Mashed, smashed, chipped, or covered in cheese, potatoes can be eaten with just about every meal — or as a meal! — making these starchy veggies a delicious and easy way to get iron, potassium and vitamin c.
Did you know there are over 4000 different kinds of potatoes?
So here is a rundown of our top 5 favourites, share we us on Facebook what your favourite is?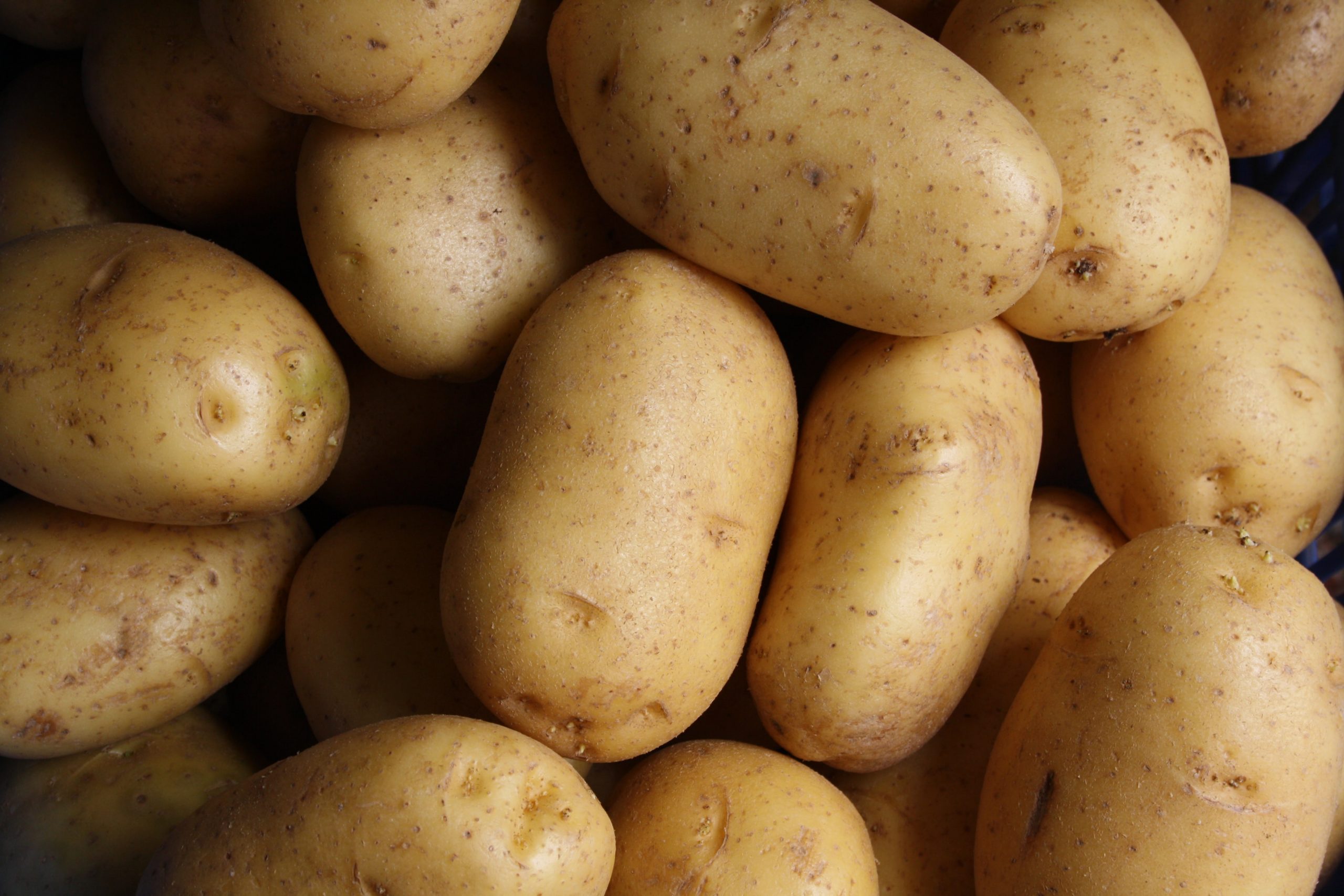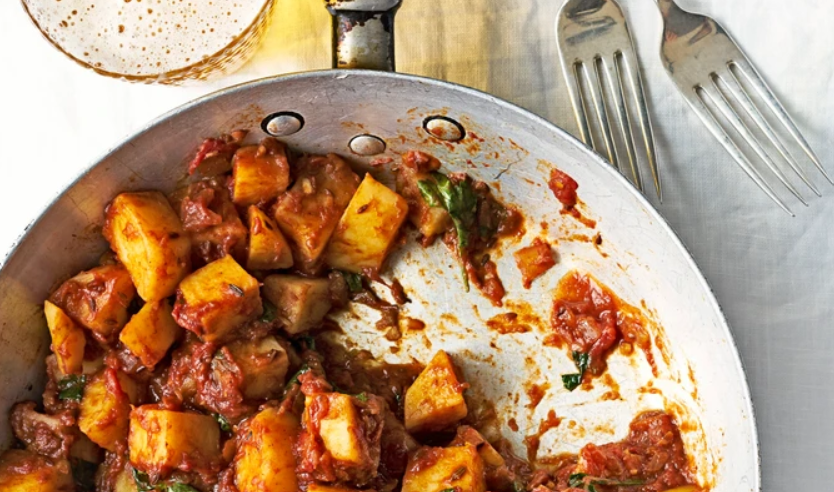 Quick Tamarind Potato Curry
This simple vegan tamarind potato curry is packed with punchy flavour, it's low in calories and easily serves 4, a great warming family meal
Make this quick tamarind potato curry for a comforting dinner, then check out more vegan curry recipes such as our easy spinach, chickpea & potato curry.
For more veggie options, check out our vegetarian curry, vegetarian chilli, vegetarian paella and other vegetarian recipes.
Source: Olive Magazine
750g All-purpose potatoes, desiree or Elfe, peeled ad cut into large dice
1 large onion
1 garlic clove
A walnut-sized piece of ginger, roughly chopped
1 green chilli, chopped
Oil for frying
1 tsp cumin seeds
1/2 tsp fennel seeds
1 tsp ground coriander
1 tsp medium chilli powder
400g tinned plum tomatoes
2 tsp brown sugar
2 tbsp tamarind paste
A large handful of coriander
Rice or naan bread, to serve
Method
Boil the potatoes for 5 minutes in salted water, then drain. Whizz the onion, garlic, ginger, chilli and 2 tbsp of water to a purée
Heat 1 tbsp oil in a pan. Cook the whole seeds for a minute until they pop. Add the rest of the spices and cook for a minute, then add the purée and cook for 5 minutes. Add the tomatoes, sugar and tamarind, and simmer for 10 minutes. Add the potatoes and a splash of water, put on a lid and cook until the potatoes are completely tender but still holding their shape. Stir in the coriander and serve with rice or naan bread.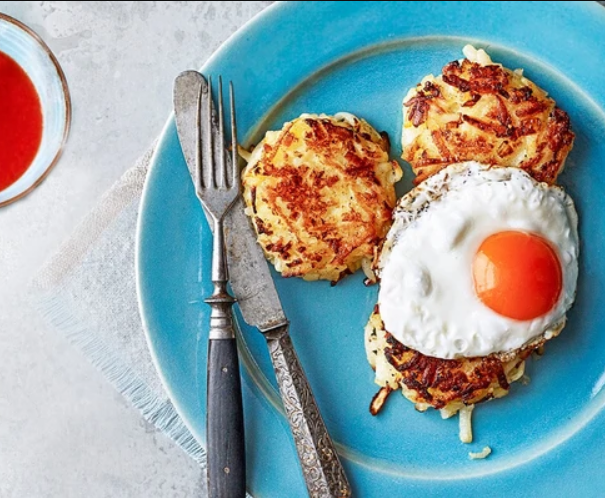 Potato cakes are typically Scandinavian and can be made and served in many different ways. Try our easy version using just four ingredients. Make ahead and warm through to serve with dill-cured gravadlax or butter and cinnamon sugar.
Source: Olive Magazine
1 kg potatoes
4 tbsp double cream
Butter, at room temperature
250g-200g plain flour
Method
Boil the potatoes, drain really well, then mash. Chill completely. Add the cream, a large knob of butter and a good pinch of salt. Beat the mixture together with electric beaters until it is as light as you can get it. Chill again. Add enough flour to stiffen the mix then knead until smooth. Take pieces about the size of an egg and gently roll each one out until it is quite thin (about ½cm at the most).
Heat a non-stick frying pan and cook for 2-3 minutes on each side until lightly browned and starting to puff up. Stack between pieces of greaseproof paper to stop them drying out. Serve warm with salmon gravadlax or butter and a dusting of cinnamon and sugar.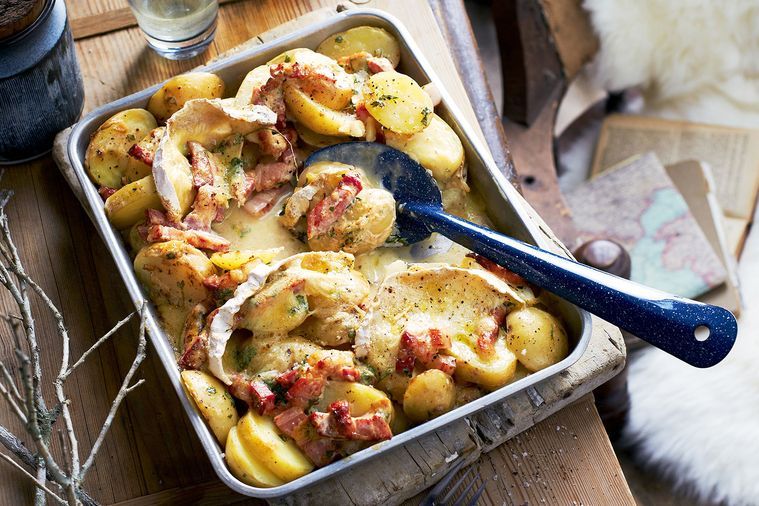 Tartiflette (French-Style Cheese & Potato Bake)
Sweet baby cheeses, this is good stuff. Indulge in your two favourite food groups (dairy and carbs) and spare a thought for those who have sworn off them.
Source: Delicious
1.5kg potatoes, scrubbed
300g bacon, cut into strips
3 large shallots, thinly sliced
2 garlic cloves, crushed
2 thyme sprigs, leaves picked
80ml dry white wine
60g creme fraiche or sour cream
2 tbsp flat-leaf parsley leaves
250g camembert
Method
Place the potato in a pan of cold, salted water and bring to the boil, then reduce the heat to medium-low and cook for 20-25 minutes or until tender. Drain, then cool slightly and thickly slice.
Meanwhile, preheat the oven to 190°C. Place bacon in a frying pan over medium heat and cook for 3 minutes or until the fat has rendered. Add the eschalot and cook, stirring, for 5 minutes or until softened.
Add the garlic and thyme to the pancetta mixture, then cook for 1 minute or until fragrant. Add the wine, then bring to a simmer and remove from the heat. Stir in the creme fraiche and parsley, then add the potato and gently stir to combine. Season, then transfer mixture to a 20cm x 30cm ovenproof dish. Cut the cheese in half horizontally to make 2 discs, then cut each disc in half to make 4 semi circles. Place cheese on top of the potato mixture, then bake for 25 minutes or until the cheese is melted. Serve immediately.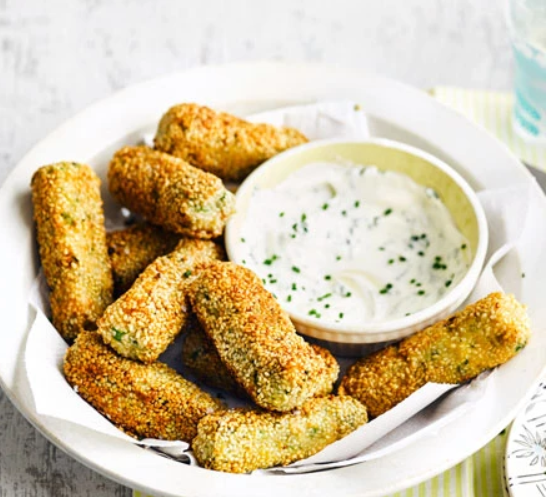 Broccoli & Potato Croquettes
Cook time: 30 mins + freezing time
These crunchy croquettes are both a stealthy way to get more vegetables into your kids as well as a great vegetarian party nibble.
Source: BBC Good Food
400g floury potatoes, large ones cut in half
150g broccoli, broken into florets
1 medium egg yolk
40g mature cheddar, grated
60g fresh breadcrumbs
For the crust
20g plain flour
2 medium eggs, beaten
100g sesame seeds
4 tbsp olive oil
For the dip
100g cream cheese
50g natural yogurt
1 tbsp chives, snipped
1-2 tbsp full-fat milk, if needed
Method
Put the potatoes in a medium saucepan and just cover with cold water. Bring to the boil and simmer for 14-16 mins until completely cooked through. Drain and mash well, then put back in the saucepan over a low heat and cook for 1-2 mins, stirring constantly – this will remove excess moisture.
Meanwhile, bring a small saucepan of water to the boil, add the broccoli and simmer for 6-7 mins until tender. Drain really well and pat dry with kitchen paper (it's important to do this thoroughly as excess water will make the croquettes a little wet). Finely chop the broccoli, then add to the mashed potato with the egg yolk, cheese and breadcrumbs. Divide the mixture into 12 equal balls and roll each one into a short sausage shape. Chill for 10 mins in the freezer.
Meanwhile, make the dip. Put the cream cheese, yogurt and chives in a bowl and stir to a soft consistency, adding the milk if needed.
Put the flour, beaten eggs and sesame seeds in three separate bowls. Roll the croquettes in the flour, dip in the beaten egg, then roll in the sesame seeds.
Heat the oil in a large, non-stick frying pan and fry the croquettes on a low-medium heat for 4-5 mins, turning frequently for an even, golden colour. Drain on kitchen paper and serve with the cream cheese dip.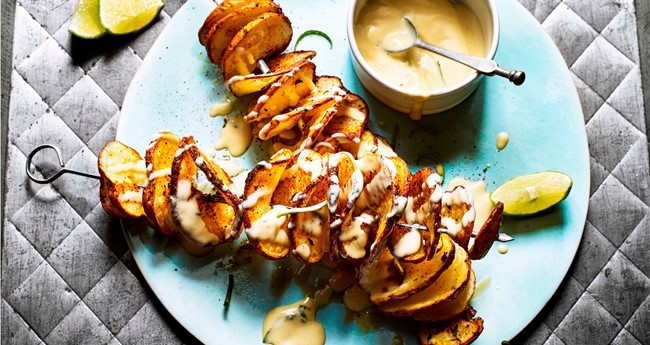 Tornado Twister Potatoes with Zingy Lime Mayo
These crispy, smoky potatoes are delicious served alongside the zesty, zingy mayo.
Source: Love Potatoes
2 large fluffy potatoes, such as Maris Pipers
1/4 tsp salt
1/4 tsp dried oregano
1/4 tsp smoked paprika
1/4 tsp black pepper
1/2 tsp fresh thyme leaves
1/4 tsp chilli powder
2 tbsp olive oil
For the lime mayo
4 tbsp mayo
Zest & juice of 1 lime, to taste
1/4 tsp honey
Method
You will need two skewers for this recipe. Metal skewers are ideal as they are more robust, but wooden skewers will work too. If you are using the latter, soak them in cold water for at least 10 minutes to stop them burning. Then oil each skewer so it goes into the potato more easily.
Preheat the oven to 210°C, 190°C fan. Prepare the spice mix and set aside.
Using steady hands push a skewer through the centre of each potato. Then using a small sharp knife, carefully push the knife in one end of the potato until it reaches the skewer and rotate the potato around as you create a spiral shape through the whole potato (ideally the potato pieces will be between 0.5 and 1cm thick). When you have finished, steadily pull the potato out so that it uncoils along the skewer.
Use a pastry brush to thoroughly coat each potato with oil, then sprinkle liberally with the spice mix until you have full coverage. Place the tornados in the oven for 30-40 minutes, until they are cooked through and crispy on the outside.
Make the lime mayo by mixing all the ingredients together and serve alongside the tornados as soon as they come out of the oven.