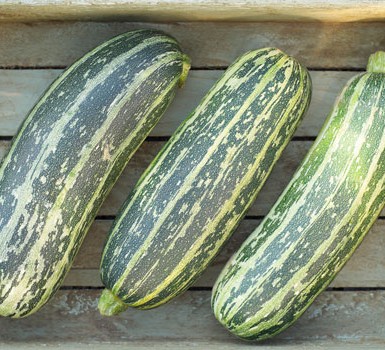 There's no point in beating around the bush with this one, marrows are unglamorous and are an often overlooked vegetable. But don't push them aside as they are fantastic flavour carriers and so you can use them as a canvas for some of your favourite things as well as making a generous dinner for a crowd and it won't cost the earth.
Marrows are easy to grow and provide a large harvest in a relatively short time. They are closely related to courgettes, squashes and pumpkins, and all are grown in basically the same way. They need a warm, sunny position, out of cold winds, with rich, moisture-retentive soil.
Good marrow recipes can be hard to come by. Well, don your apron and get cooking – these seriously tasty, very easy marrow recipes are definitely ones to try.
Check out our extra marrow recipe in the grapevine this week.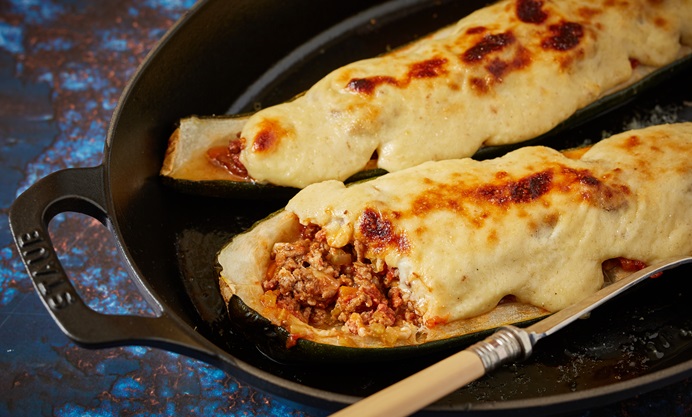 Slow-cook a tasty Bolognese sauce to fill the roasted marrows with before topping with an unctuous cheesy bechamel sauce and extra grated Parmesan. The perfect meal for a big family dinner (or even better, leftovers the next day).
Source: Great British Chef
1 marrow
400g mince beef
1 carrot, peeled & finely chopped
1 onion, finely chopped
2 sticks of celery, finely chopped
2 garlic cloves, finely chopped
5 tbsp of olive oil
1 bay leaf
400g tin of chopped tomatoes
Salt & pepper
For the cheese sauce
400ml milk
1 banana shallot, studded with 1 clove
1 bay leaf
6 peppercorns
40g unsalted butter
40g flour
150g parmesan
1 large egg
½ nutmeg, grated
Salt & pepper
Method
Heat 3 tablespoons of oil in a heavy-based saucepan and add the carrot, onion and celery. Cook initially at quite a high heat to get the vegetables going for about 5 minutes. Do not allow to colour. Add the garlic, then turn the heat down and continue cooking for another 10 minutes. The base must be totally cooked before you add the mince
Infuse the milk for the cheese sauce by placing the milk, clove-studded shallot, peppercorns and bay leaf in a saucepan together and bring to boiling point. Place a lid on top and set it aside.
Add the mince to the base and stir around, breaking up the meat. Cook on high heat until all the meat has lost its raw colour. Now add the tin of tomatoes (if they're whole peeled tomatoes then be sure to break them up), along with the bay leaf and plenty of seasoning.
Allow to simmer away gently with the lid on askew for at least an hour. Stir every now and then. Taste and adjust the seasoning.
Preheat an oven to 175°C/gas mark 4. Wash the marrow, trim the ends off and slice it in half lengthways. Scoop out the seeds and fluff. If there is a lot of flesh (I find marrows can be quite variable), then scoop out some flesh, leaving a 1 cm border. If it isn't so fleshy and there is only about 1cm of flesh all around then not to worry, leave the marrow as it is.
Drizzle 2 tbsp of the oil over the marrow and place it on a baking tray and then into the oven. Bake for about 30 minutes until the flesh is only just cooked. Remove and set aside for now.
Finish making the cheese sauce by melting the butter over low heat in a saucepan and then add the flour. Cook for at least two minutes, stirring all the while. Strain the milk and add it all at once, whisking vigorously.
Once everything has combined and is smooth, switch back to a wooden spoon and stir constantly until the sauce has thickened and just come to a simmer. Turn off the heat. Add 120g of the grated Parmesan and season with salt, pepper and nutmeg. Lastly, stir in the egg.
Time to assemble the marrow. Fill each marrow half with meat sauce until it comes to just before the top. You may have some meat sauce leftover – this will do perfectly for a separate meal of spag bol. Pour over the bechamel until it is generously covered. Sprinkle with the remaining Parmesan.
Place in the oven and cook for half an hour or until golden brown.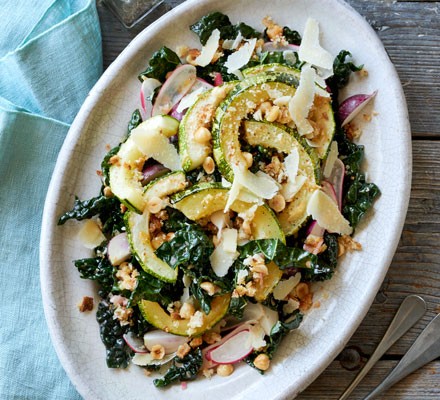 Maple-Roasted Marrow on Cavolo Nero Salad
Drizzle marrow with maple syrup and garlic, then top with crunchy hazelnuts and breadcrumbs for a comforting yet healthy vegetarian dish.
Source: BBC Good Food
1 medium marrow
1 tbsp olive oil
1 garlic clove, crushed
1 tbsp maple syrup
3 tbsp hazelnuts, halved
2 slices toasted sourdough bread, blitzed into crumbs
200g cavolo nero, stalks removed, shredded
10 radishes, quartered
16 shavings of vegetarian-style Parmesan
For the dressing
2 tbsp red wine vinegar
1 tbsp lemon juice
3 tbsp extra virgin olive oil
1 shallot, finely diced
1 tsp Dijon mustard
pinch golden caster sugar
Method
Heat oven to 220C/200C fan/gas 7. Slice the marrow open lengthways and scoop out the seeds. Cut the marrow into slices and place it on a baking tray. Toss with olive oil, garlic, maple syrup and some seasoning. Roast for 20 mins, then sprinkle the hazelnuts and breadcrumbs over. Roast for another 8 mins, then remove.
While the marrow is roasting, prepare the rest of the salad. Shred the cavolo nero leaves into bite-sized pieces. Put on a large platter or shallow bowl and top with the radishes.
Combine the dressing ingredients in a small bowl, adding some salt. Mix well.
Just before the marrow has finished cooking, drizzle the dressing over the cavolo nero. Use your hands to massage it into the cavolo nero for a few mins so that it softens it, then top with the marrow, breadcrumbs and hazelnuts. Sprinkle the Parmesan shavings over and serve.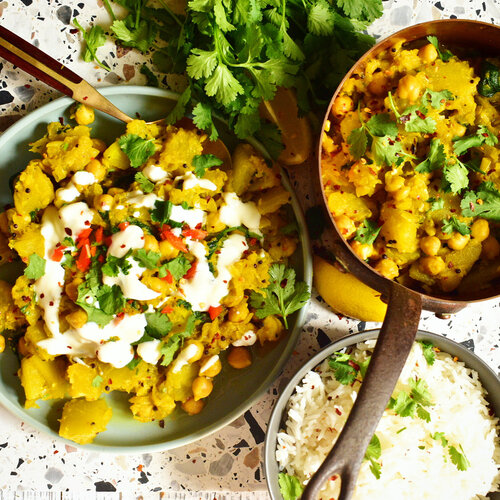 Vegan Curried Marrow & Chickpea
The marrow is par-boiled first, then added to sautéed onions and spices along with chickpeas to create a wonderfully warming Indian-inspired dish. It's finished with garam masala, lemon juice, fresh coriander and chilli to create a harmony of aromatic flavours. Serve on its own with rice or as a side dish to accompany other Indian dishes.
1 medium marrow
2 Tbsp rapeseed oil
2 tsp black mustard seeds
1 large (or 2 small) red onions, finely diced
1/2 tsp salt
3 cloves garlic, finely chopped
1 tsp ground cumin
1 tsp ground coriander
1/2 tsp ground turmeric
1/2 tsp chilli flakes
1 tin chickpeas, drained (240g drained weight)
1 tsp garam masala
1 Tbsp mango chutney
2 Tbsp fresh lemon juice
Method
Start by preparing your marrow. Peel the marrow and scoop out the soft, spongy flesh and seeds from the middle (see picture below – the chunk on the right has had the spongy centre scooped out). Your compost will love the peelings and discarded flesh/seeds!
Cut the prepared marrow into 2 cm chunks and add to a large pan of boiling water. Bring back to the boil and simmer for 5-6 minutes until they are fork-tender, then drain.
Meanwhile, heat the oil in a large pan over a medium heat, then add the mustard seeds and fry for a couple of minutes until they start to crackle and pop. Add the finely diced onion and salt, then saute for another 10 minutes to cook slowly.
When the onions had softened and begun to brown and caramelise (as per the picture below), add the garlic, cumin, coriander, turmeric and chilli flakes and stir continuously for 2-3 minutes as the garlic and spices become fragrant.
Add the marrow and chickpeas to the pan and cook for a further 10 minutes. The marrow will release some liquid and become much softer. Now smash the marrow with the back of a wooden spoon to lightly crush.
Stir through the garam masala, mango chutney and lemon juice just before serving. Taste and adjust seasoning, adding more salt, lemon juice, mango chutney to taste. Then top with fresh coriander, soy yoghurt, and fresh chilli.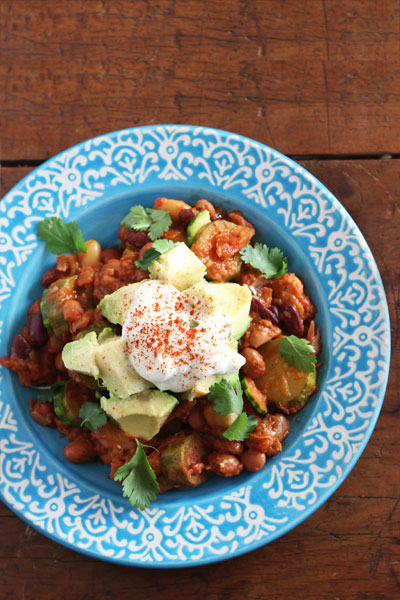 A vegetarian version of tex-mex chilli, serve on its own, over nachos or in tacos for a Mexican inspired meal.
Source: Crush
1 tbsp extra virgin olive oil
1 large onion, iced
4 garlic cloves, crushed
2-3 green chillies, sliced
1 ½ tsp ground cumin
1 ½ tsp paprika
½ tsp ground coriander
½ tsp cayenne pepper
325g marrow, chopped
2 x 400g tinned tomatoes
400g tinned kidney beans
400g tinned pinto beans
400g tinned butter beans
375g corn
375ml vegetable stock
Salt and pepper
Method
Heat olive oil in a large pot over medium-high heat. Once the oil is hot add onion and fry until tender, about 4 minutes, adding in garlic during the last 30 seconds of frying. Add in green chilli, cumin, paprika, ground coriander and cayenne pepper and fry.
Add marrow and fry until softened, about 8 minutes. Add in the tins of tomatoes, beans and corn and cook for another few minutes. Add the stock and season to taste with salt and pepper. Bring mixture just to a boil and then reduce heat. Simmer for 10 minutes.
Serve warm as a topping for nachos or tacos, or just on its own with optional toppings like coriander, grated cheddar cheese, sour cream, diced avocados or tortilla chips for a tex-mex feast.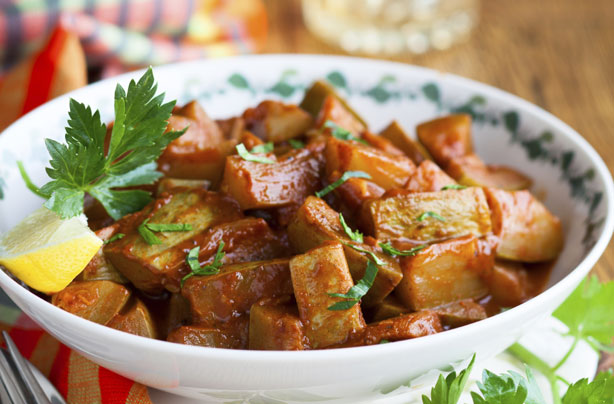 Spiced Moroccan Marrow Stew
This is a great way to use up a marrow but is also delicious made with other vegetables such as cauliflower florets, carrots, cubed butternut squash, aubergine, red peppers, sliced runner beans or whole French beans, or chunks of corn on the cob. Serve it simply with couscous as a vegetarian main or as a side dish to roast chicken or lamb or grilled fish.
Source: Good to Know
1 tbsp sunflower oil
1 onion, chopped
2 garlic cloves, crushed
600g marrow, cut into chunks
½ tsp honey
½ cinnamon stick
½ tsp ground coriander
½ tsp ground cumin
½ tsp paprika
400g tinned chopped tomatoes
Grated zest ½ orange
A little chopped parsley and a wedge lemon or orange, to garnish
Method
Heat the oil in a small flameproof casserole and fry the onion until tender and transparent.
Add the garlic and marrow and fry for a few minutes until lightly browned.
Add the honey and spices and cook for 1 min to release their fragrance then add the chopped tomatoes and orange zest.
Bring to the boil then reduce the heat and simmer for 15 mins until the marrow is tender and the sauce has reduced and thickened slightly. Sprinkle with parsley and garnish with a wedge of lemon or orange. Serve with couscous.