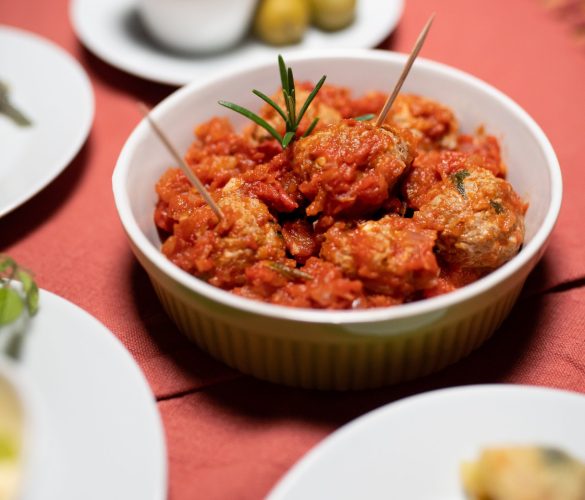 The word "tapa" translates as "cover". Tapas traditionally may have been a complementary piece of sliced ham served on top of a glass of wine, but we know tapas today as small portions of food.
Tapas in Spain is one of the best-known customs across the world. Indeed, no tourist or Spaniard can resist these small bites of Mediterranean gastronomy. There are all kinds of tapas, from a small snack—fried potatoes, nuts or olives—to a true miniature feast.
So what are the origins of Tapas?
One of the most popular stories claims that, back in the 13th century, King Alfonso X of Castille found that, while he was recovering from an illness, he could only eat and drink in small amounts – resulting in one of the first forms of tapas.
According to The Joy of Cooking, the original tapas were thin slices of bread or meat which sherry drinkers in Andalusian taverns used to cover their glasses between sips. This was a practical measure meant to prevent fruit flies from hovering over the sweet sherry. The meat used to cover the sherry was normally ham or chorizo which are both very salty and activate thirst. Because of this, bartenders and restaurant owners created a variety of snacks to serve with sherry, thus increasing their alcohol sales. The tapas eventually became as important as the sherry.
Other stories claim that because tapas bars used to be standing-only affairs, people who ordered a snack had nowhere to put their plate but on top of their glass – hence the tradition.
Another source claims that some sneaky tavern keepers discovered that, if they covered cheap wine with a plate of strong cheese, their punters, in a state of confusion, wouldn't notice how bad the beverage was.
These are a few of many different origin explanations but whatever the true origin tapas's influence has spread the world over. In some bars and restaurants in Spain and across the globe, tapas have evolved into a more sophisticated cuisine. Tapas can be combined to make a full meal. In some Central American countries, such snacks are known as Bocas. In parts of Mexico, similar dishes are called botanas.
My own tapas is called a less refined 'choosing tea' and is a great way for the family to experience tastes of new creations made and eat as much or as little as they like – making it fun and interesting.
Create your own tapas feast with our top 5 recipes (and an extra sweet treat) and then head over to our Pinterest board for more inspiration.
Recreate this popular Spanish tapas dish at home with our recipe, complete with a classic paprika tomato sauce.
750g potatoes, peeled and cut into bite-sized chunks
5 tbsp olive oil
1 large onion, finely chopped
3 cloves garlic, crushed
400g tin chopped tomatoes
3 vine tomatoes, chopped
1/2 tsp dried chilli flakes
1 tbsp sherry vinegar
1 tsp caster sugar
1/2 tsp sweet smoked paprika
Flat-leaf parsley, finely chopped, to serve
Method
Heat a large pan of salted water until boiling, add the potatoes and simmer for 3 minutes. Drain really well then spread out to dry on kitchen paper
Heat the oven to 200C/fan 180C/gas 6. Spoon 3 tbsp olive oil on a large, non-stick baking tray. Add the potato and toss to coat. Roast for 40-50 minutes or until crisp, turning now and again so they get evenly golden
To make the sauce, heat 2 tbsp of oil in a pan and cook the onion and garlic gently for 15-20 minutes or until soft. Tip in the remaining ingredients and season. Simmer for 20 minutes until thickened.
To serve, season the potatoes with salt then spoon into a warm serving bowl (or bowls). Spoon over the sauce, sprinkle with parsley and serve.
Slow roast red peppers filled with chorizo, baby tomatoes, lots of garlic and a sweet sherry vinegar glaze.
4 red peppers
150g pack cherry or baby plum tomatoes
1/2 ciabatta loaf, or similar, cut into 2.5cm chunks
3 fat garlic cloves, thinly sliced
140g chorizo, cut into chunky slices
4 tbsp sherry vinegar
4 tbsp good-quality olive oil
Pinch of sugar
Parsley (optional) and more bread, to serve
Method
Heat oven to 220C/200C fan/gas 7. Halve the peppers through the stalk, then cut out and throw away the seeds. Sit the peppers snugly, cut-side up, in a casserole dish, or two if needed. Halve any larger tomatoes, then divide them, the bread chunks, garlic and chorizo between the dishes.
Drizzle over the vinegar, then the olive oil, and season with pinches of sugar, sea salt and ground black pepper. Bake for 30 mins, covered until the peppers are tender and collapsing a little. Remove, uncover and cook for a further 30 mins. Leave the peppers to cool a little, then scatter with parsley, if you like, and spoon onto plates, scooping out any extra juices. Serve with crusty bread for mopping up the juices.
Goat's cheese and piquillo pepper croquettes
This tapas staple made with goat's cheese and peppers is also a perfect canapé, ideal for serving as a party nibble.
Recipe source Delicious, find the recipe here
Spanish Green Beans and Tomatoes
A traditional Spanish side dish that I've served at parties for many years. But it's a simple, tasty dish anytime!
Recipe source All recipes, find the recipe here
Pair this simple Butter Bean Dip with a bag of pita chips or a loaf of crusty bread, and you've got the perfect campfire appetizer to hold everyone over until dinner. Cannellini beans will also be a great substitute.
Recipe source Fresh off the grid, find the recipe here
Churros with Hot Chocolate Sauce
Make these Spanish sweet treats for a comforting dessert or breakfast. The rich, indulgent hot chocolate sauce is also delicious over ice cream.
Recipe source Olive magazine, find the recipe here