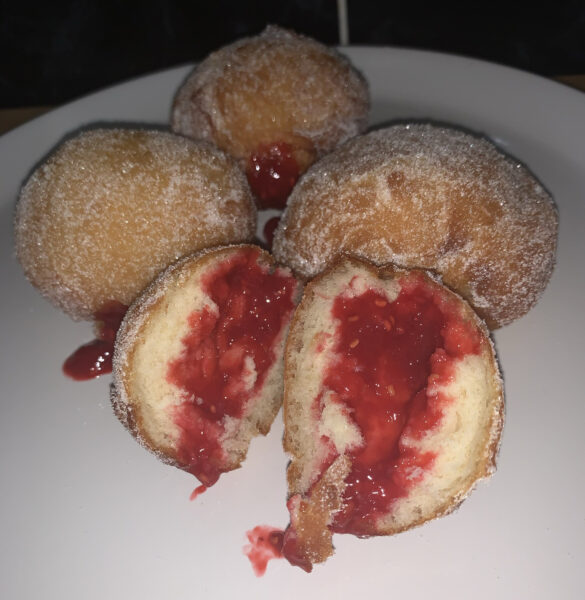 There's nothing quite like a freshly made doughnut and they're actually really straightforward to make. Lots of us got the baking fever during the first lockdown and now is time to get the baking bug again and try these yeasted jammy doughnuts. Use your favourite jam or have a go at my raspberry doughnut filling. – Courtney
Watch Courtney make this recipe on our YouTube channel.
1 tbsp yeast
4 tbsp caster sugar
150ml milk, warmed
225g plain flour, extra for dusting
1/4 tsp salt
50g butter, melted
1 free-range egg
300ml vegetable oil, for frying
Jam of your choice
Method
Mix the yeast with a tbsp of sugar and two tbsp of warm milk. Place in a warm place to rest for 15 minutes.
Sift the flour and salt into a large bowl. Stir in 1 tbsp of sugar.
Make a well in the centre of the flour and pour in the yeast mixture, the rest of the milk, the melted butter and the egg. Mix to make a dough then knead, cover and leave to prove for 45 minutes.
On a floured work surface, knead the dough then divide into 16 equal balls for small doughnuts or 12 for larger doughnuts. Place in a warm place for 30 minutes.
Heat the oil in a deep pan until it reaches 150-160C, or a cube of bread dropped in sizzles and turns golden within 30 seconds.
Gently lower the doughnuts into the hot oil, if you are confident, fry in batches of 2-3, and fry for 3-5 minutes or until golden brown, turning halfway through. Remove from the oil with a slotted spoon and drain on kitchen paper.
When the doughnuts have cooled slightly, poke a hole into the centre, roll in sugar, then fill with jam. Serve.
Homemade Raspberry Doughnut Filling
If you want to make my raspberry filling you will need the following;
250g raspberries (fresh or frozen)
65g caster sugar
1 1/2 tbsp cornflour
1 tbsp water
Add the raspberries into a saucepan over medium-high heat until the berries break down.
Bring to a light boil and then add the sugar.
In a small bowl, mix the cornflour and water together. Then add to the saucepan.
Stir vigorously for 1 minute then remove from the heat and let cool, it will thicken as it cools.
Use right away to fill your doughnuts or store in the fridge for up to a week or in the freezer for up to a month.