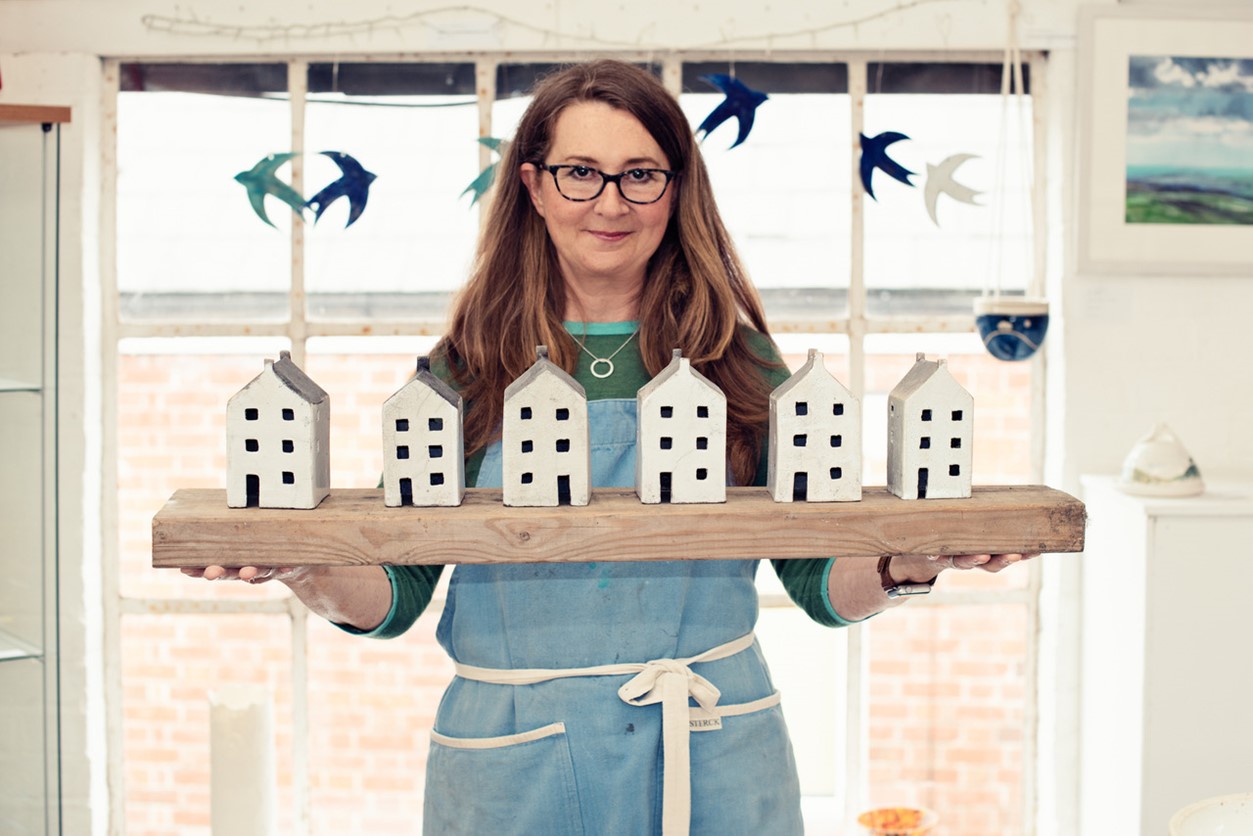 Seize the Clay: An Interview with Jacqui Melhuish
It's more important than ever to buy and support local businesses.  In the run-up to Christmas, we are featuring some of our customers and local businesses in videos and interviews to highlight the local talent and gifts available to you.
This week Emma is chatting to one of our customers and local ceramist/illustrator Jacqui Melhuish who is based at Wagon Yard Studios in Marlborough where you can, amongst other things, find the perfect pieces to set off your Heritage Christmas dinner or make your tree shine with unique tree decorations.  You will also find lovely gifts to give your nearest and dearest.
Tell us a bit about your background, what inspired you to get into ceramics and illustration?
I originally studied technical illustration but when I moved to Marlborough with a young child I started pottery lessons with Clay and Glass artists Jeannette Therrien. She told me about access to an Art Foundation course at Swindon College so I signed up. After completing my foundation course I began a BA Hons Illustration degree, something I had always wished I had done. The whole experience was amazing and I felt so lucky to have had some fantastic tutors. I used the ceramic studio throughout on various projects and by the end of my degree realised I just had to do ceramics too! I had joined Wagon Yard Artists and after two more years of studying ceramics, I finally felt complete!
How would you define the style of your work and how did it develop?
I would say I'm far from the traditional studio potter. I would call myself a ceramic artist as I approach it from an idea first then interpret it through clay.
Do you come from a creative background? How did your family and the place that you come from shape you?
My father was a carpenter, My grandmother was a seamstress and Spanish and my grandfather an author and linguist.
I was encouraged from a young age to do what you are best at and art was something I was very obsessed with early on. My Grandfather fought in the Spanish civil war working as a translator. He wrote about his experiences and published poetry. This had a huge influence on me. I used his poetry and some of the Spanish adages and sayings in my work.
Where do you draw your inspiration from?
My own experiences mostly. The flattened tea sets are directly from my own experiences and sayings passed down through generations. If I'm not illustrating on the pots I'm looking at the form.
Nature plays a big part but as I'm playing with what is essentially mud I'm already inspired by natural materials! I like the imperfect, natural and undulating edges reminiscent of weathered and eroded surfaces. In my Raku work, coastal tiles and strata vessels this is very evident.
What artists/ceramists have influenced your work?
To begin with, it was illustrated pottery that really captivated me. People with a story to tell. I'm a big fan of Grayson Perry, even more so after the fantastic tv series he did during lockdown. Then the wonderful figureheads by Jane Muir that are like 3D illustrations. More recently it's been Kaori Tatebayashi who also has her work in two camps, beautiful hand-built tableware and her decorative sculptural pieces, installations which are painstakingly created hand-built copies of everyday objects in white stoneware. As I have continued to explore the clay medium rather than just see it as a canvas I have greatly appreciated the whole idea of perfect imperfection. I love the idea of Wabi Sabi, finding beauty in every aspect of imperfection in nature. I really enjoy the process of Raku, blackening with the smoke and crackling glazes, often with unpredictable results. When my Raku pots break from the thermal shock of the firing process I repair them with a method called Kintsugi, putting back the broken pieces with gold. The idea that something is more beautiful from having been broken.
Your work has a very strong theme yet it seems organic, how do you balance evolving your work whilst maintaining the integrity of your style?
I concentrate on small batches. I never have to compromise as I mostly sell work I make for me first then see if anyone will buy it from the gallery.
What fascinates you about ceramics as a medium for design?
When we eat together and share conversations we have a memory of that moment and often those objects like a favourite cup or bowl bring back loving memories. They are a good canvas for decoration too. More practically though everyday items need to compliment the food and enhance the enjoyment. There are so many reasons to make! When I was doing my Illustration degree I started to look at my own family for inspiration and noticed that both grandparents often used adages and sayings which were repeated through generations, shaping and influencing who we were. Often these are exchanged at mealtimes or over cups of tea so I decided to make a tea set called Pearls of Wisdom and later developed the idea into a cup totem pole with each generation having their own cup and adage dripping down into the next. I slip cast the cups and used images and text made into decal transfers on each one, it was the perfect medium to tell the story.
Are there any elements of clay work that are your favourite or that you don't enjoy?
I love the leather hard stage of the clay. That moment when it's not completely dry but is not flexible any more. I love scraping back the lumps and bumps thinning the edges. It makes a great sound too. Glazing is a nightmare. You have gone so far along the production line and its success all hangs on the glaze doing what it should!
How did you develop your own colour palette and how does it change with time?
I am always drawn to Cobalt blue. It's not a new thing for ceramists! Throughout history, the Chinese and the Dutch have also appreciated the tones and depth of colour that it offers on white porcelain or white glazed earthenware. In the beginning, I liked to draw images but its nice to simply enjoy the energy the splash marks make. I have found ceramic artists like Adam Frew and Tom Kemp who use natural organic marks on their pots. Tom Kemp said that there is a necessary terror just before you make that mark and I totally agree. You have to steady yourself and breathe in before unleashing the flick of the brush loaded with oxide. There is no going back!
Which materials fascinate you the most other than clay? Are there any that you have not worked with but would like to try out?
I have used glass and loved it! I made glasshouses in Jeannette Therrien's studio in Ogbourne St George, a little on the same theme as my Raku houses. Having trained first as an Illustrator I've enjoyed trying out a broad range of materials, all fulfilling a brief but I still really appreciate watercolour. Mark making with a beautiful brush full of a delicious colour on a fresh white paper can't be beaten.
Do you have a dream project that you would love to realize someday?
I have many folders and sketches of ideas I want to pursue but nothing on a monumental scale. I never have enough time!
To what extent do you plan your designs and to what extent are they the result of natural chances?
I'm aware if you don't plan well you can end up with quite a shelf full of mishaps so I always test clay and glazes first.
What pieces of work are you most proud of?
It has to be the more personal ones that I'm most proud of. The cup Totem is the one!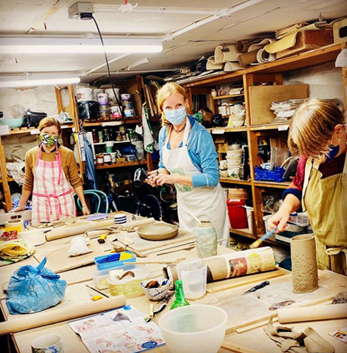 Are you missing your workshops (I attended a raku one which I loved)?
I've been working and walking through lockdown and it's kept me sane! A few years ago I discovered a walking group, Wessex Nordic Walking and thought I would give it a go and have never looked back. I had no idea there were so many fantastic places on my own doorstep! That combined with a mad scramble in March to get some big raised beds and fill them with vegetable plant plugs (bought on the internet in the nick of time as you just couldn't get any after that) meant I was occupied for most of the tougher part of lockdown.
I started getting back to the studio as soon as possible and when the rule of six came in I ran a five-week course with just four very keen students who were missing their lessons. We managed really well and even did a Raku at the end of the term. It gave me great pleasure to do it for them. I have missed the students very much and know they are desperate to get started again. Hoping we can in the new year.
Any tips for aspiring ceramists?
If you love it nothing will stop you! I am lucky here being close to Bath Potters Supplies and Bluematchbox in Newbury who can offer advice and quick delivery. The lessons are a way of having a steady income while you develop and make your work but there has to be a careful balance.
What are your plans for the future?
I feel so lucky to be able to make whatever I like and pursue any new ideas. I will never retire!
How can people buy from you during lockdown?
If you see anything you like on Instagram or Facebook just message me and you can have a look in the gallery (on your own with hand sanitizer at the door and a mask of course) or just collect it from the gallery. A bit like click and collect. I'm in the process of building a new website and shop so will let everyone know when it's ready via social media. 
What do you do to wind down after a busy week?
At the moment it's walking but usually like to go away for a long weekend to the coast or city breaks, enjoying amazing scenery or visiting museums and galleries.
Are you a foodie?
There's nothing better than tucking into a new cookbook! When I get time I love to cook and collect so many recipes from food magazines. I baked some lovely cake recipes during lockdown, Santiago almond torte was my favourite. I enjoyed finding recipes that were super simple but full of flavour. I looked for recipes to also use the veg that I had grown. Slow roasted cherry tomatoes and mozzarella for example on sourdough with fresh basil is delicious.
What's your favourite food and drink to enjoy?
Can't beat Moules marinière and frites with a chilled white wine. I use a recipe from Rick Stein's Food Heroes.
What's your guilty food pleasure?
Affogato. I keep vanilla cream in the fridge so I can always have my favourite dessert whenever I want it!  Good quality vanilla ice cream, strong Italian coffee and a shot of Disaronno Amaretto.
Can you share a favourite recipe?
Santiago Almond Torte with Lemon Syrup
Inspired by a traditional recipe from Santiago de Compostela in northern Spain, this torte is light, easy to make and gluten-free. The skin on the almonds will add colour to the torte. If you prefer, you can use ground almonds instead. The torte will keep for 2-3 days in an airtight container.
2 x 150g packs whole shelled almonds
4 medium eggs, separated
250g caster sugar
Grated zest of 1 unwaxed lemon and 1 tbsp juice
1 tsp ground cinnamon
For the lemon syrup
25g caster sugar
Pared and thinly sliced zest and juice of 1 unwaxed lemon
Icing sugar, to dust
Method
Preheat the oven to 160°C, gas mark 3. Grease a 20cm-round loose-bottomed cake tin and line the base with baking parchment. Place the almonds in a food processor and whizz until finely ground.
Place the egg yolks, sugar, lemon zest and juice in a large bowl and whisk with an electric or hand whisk until the mixture becomes thick, creamy and pale. Mix in the almonds and cinnamon.
Place the egg whites in a clean, dry bowl and whisk with an electric or hand whisk until they form stiff peaks. Using a metal tablespoon, lightly fold 2 tablespoons of the egg white into the almond mixture to loosen it slightly, then gently fold in the remaining egg white, until the mixture is thoroughly combined. Pour into the tin and bake for 45 minutes, or until a skewer comes out clean. Leave to cool in the tin.
While the torte is cooling, make the syrup. Reserve a few pieces of lemon zest for decoration. Place the rest with the juice, sugar and 1 tablespoon of cold water in a small saucepan. Heat gently until the sugar has dissolved. Spoon the warm syrup over the top of the torte. Just before serving, dust with the icing sugar then cut into slices and serve with a dollop of lightly whipped cream or natural yoghurt, decorated with the reserved lemon zest.