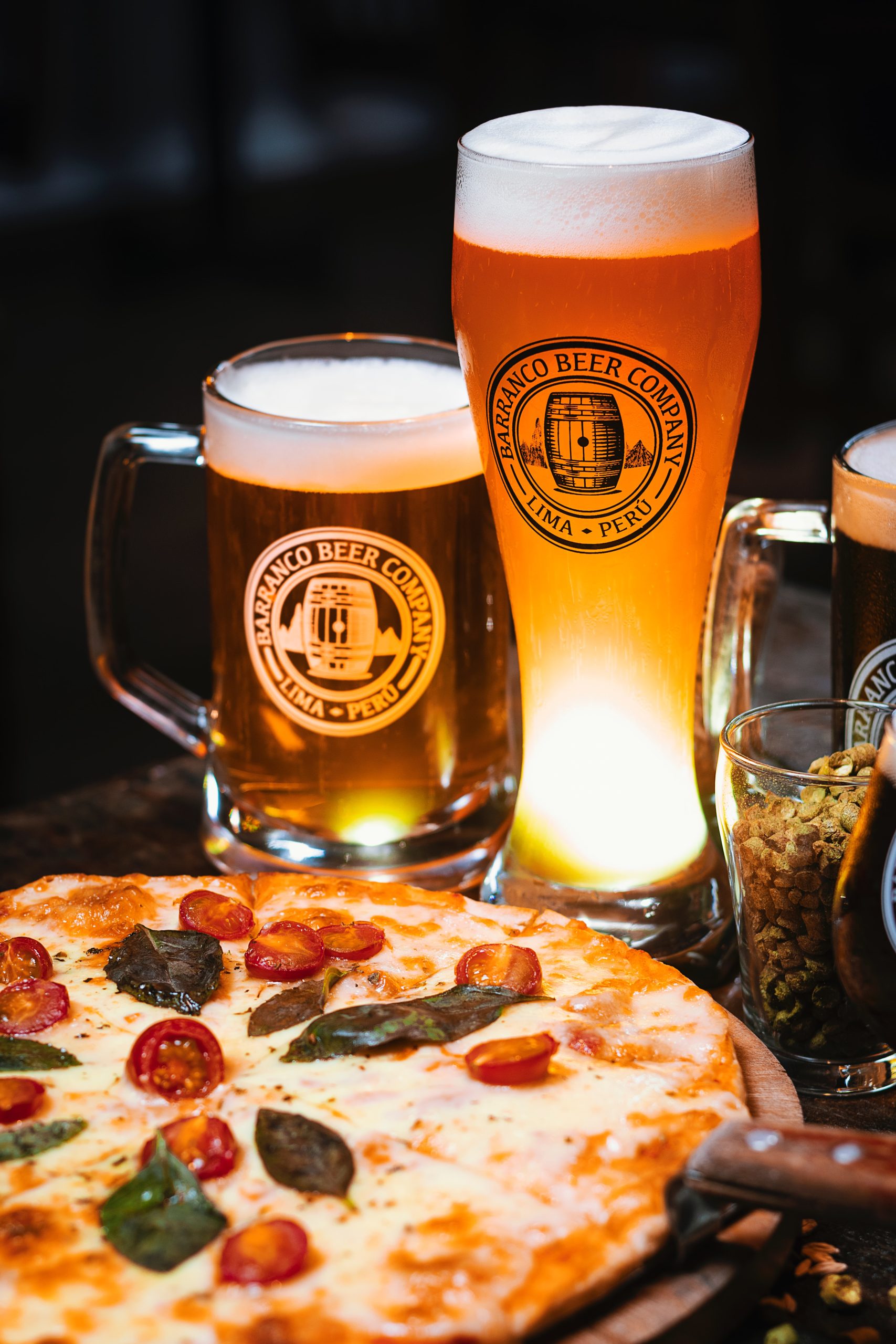 International Beer and Pizza Day – 9th October
Celebrated each year on October 9th, International Beer and Pizza Day pays homage to one of the most iconic food and drink combinations on the planet Earth. Both beer and pizza come in a countless number of varieties and both are enjoyed by many different cultures all over the world.
Beer is one of the oldest beverages humans have produced, dating back to at least the fifth millennium BC and recorded in the written history of ancient Egypt and Mesopotamia.
How about trying out some of our beers available online.
The word pizza was first documented in 997 AD in Gaeta, Italy, and successively in different parts of Central and Southern Italy. The precursor of pizza was probably the focaccia, a flatbread known to the Romans as panis focacius, to which toppings were then added. How about trying out some of these delicious pizza recipes too.
See also our pizza making video here: https://youtu.be/_lj6VtRVEUA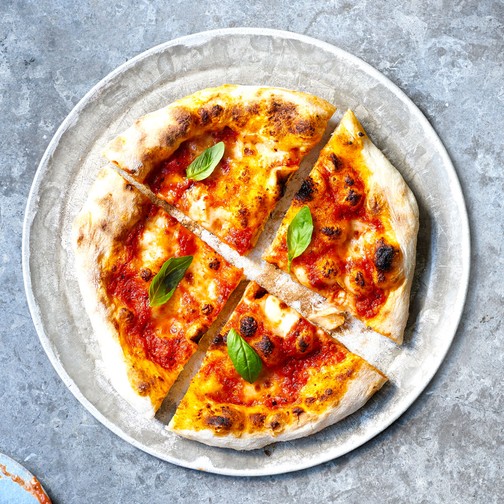 Next Level Margherita Pizza
Prep time: 1 hr + 5 hrs resting
Forget takeaways – you can't beat a homemade Margherita pizza topped with fresh tomato sauce and melted cheese. Here's how to master this everyday classic…
Source: BBC Good Food 
500g strong white bread flour, plus extra for dusting
1 sachet fast-action dried yeast
For the sauce
400g tin plum tomatoes
1 tbsp extra virgin olive oil, plus extra to serve
1/2 tsp dried oregano
Small bunch basil, leaves picked, stalks reserved
For the toppings
50g parmesan, freshly grated
200g mozzarella from a block, cut into chunks
Method
First, make the dough. Tip the flour into a bowl and add 300ml tepid water. Mix together and set aside at room temperature for 1 hr. Dissolve the yeast in 2 tbsp water and mix this and 15g of salt through the dough. Cover with cling film and leave somewhere warm to double in size for a few hours. For a sourer flavour, leave it in the fridge for at least 8 hrs and up to 24 hrs – the longer you leave it the sourer it will be.
When the dough is ready, tip it onto a lightly floured surface and divide it into four. Roll into balls and leave to rest, covered with a tea towel or cling film for another hour.
Now make the tomato sauce. Drain some of the juice from the can and tip the rest into a bowl with the olive oil, oregano and a generous pinch of salt, then either scrunch everything together with your fingers for a chunky sauce or blitz with a stick blender if you want it smooth. Tie the basil stalks together, bruise with the back of a knife and place in the sauce. Leave the sauce at room temperature until needed.
To make the pizza, heat a grill to its highest setting and get a heavy frying pan. On a floured surface push and stretch one of the balls of dough out into a circle roughly the same size as the frying pan. Slip the round onto a floured baking sheet and top with a quarter of the sauce, a scattering of cheese, a few basil leaves and a quarter of the mozzarella.
Get the pan very hot and carefully slide the pizza onto it. Cook for 2 mins, then put the pan under the grill for another 2 mins until the sides are puffed up and the cheese has melted. Lift onto a board, drizzle with a little olive oil if you like, then cut into wedges and serve while you make the next one.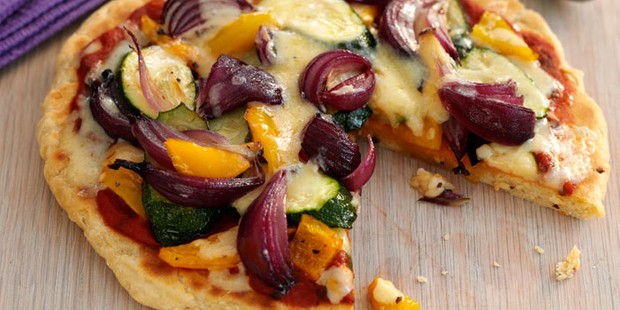 1 yellow pepper, deseeded and cut into chunks
1 courgette, thickly sliced
1 red onion, cut into wedges
225g self-raising flour
2 tbsp olive oil, plus 1 tsp
5 tbsp fresh tomato pasta sauce
50g cheddar cheese, grated
Method
Heat oven to 220C/fan 200C/gas 7. Place the pepper, courgette and red onion on a large non-stick baking tray and drizzle with 1 tsp olive oil. Season well and toss to combine. Roast in the oven for 20 mins until soft and beginning to brown. Set aside.
Heat the grill to medium. Season the flour well and, in a large bowl, mix with the remaining oil and 4-5 tbsp water to form a soft dough. Knead briefly, then roll out on a floured surface to a rough 20cm circle. Transfer the dough to a large ovenproof, non-stick frying pan and fry over medium heat for 5 mins, until the underside begins to brown. Turn over and cook for a further 5 mins. Spread the tomato sauce over the base, scatter with the roasted veg, then sprinkle with cheddar. Grill the pizza for 3-4 mins until the cheese has melted. Serve immediately, sliced into wedges, with a large green salad.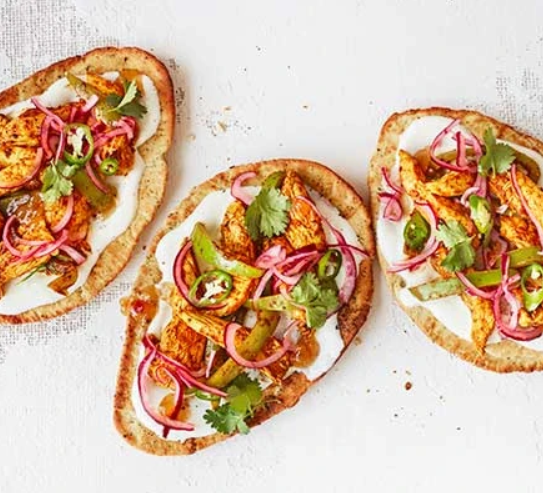 Chicken Tikka Masala Pizzas
Rustle up our spiced chicken pizzas using naan bread in just 20 minutes. To balance the heat, serve them with dollops of mango chutney and natural yogurt.
Source: BBC Good Food 
1 small red onion, thinly sliced
1 tbsp red wine vinegar
4 garlic and coriander naan breads
4 chicken breasts, cut into strips
2 green pepper, sliced
2-3 tbsp tikka masala curry paste
150ml natural yogurt
1 green chilli, thinly sliced
1 small pack coriander, leaves torn
Few dollops of mango chutney, to serve
Method
Heat oven to 180C/160C fan/gas 4. Toss the red onion with the red wine vinegar and a good pinch of salt and set aside (the vinegar will soften the onion slightly, which is a blessing as no one wants completely raw onion on pizza).
Put the naan breads on a baking tray, sprinkle over a little water, then put in the oven for 2 mins to heat up. Meanwhile, put the chicken and peppers in a frying pan with the curry paste, toss together, then fry over high heat for 6-8 mins until cooked.
Take the naans out of the oven, spread each one with yogurt, then top with the chicken, red onion, green chilli, coriander and mango chutney.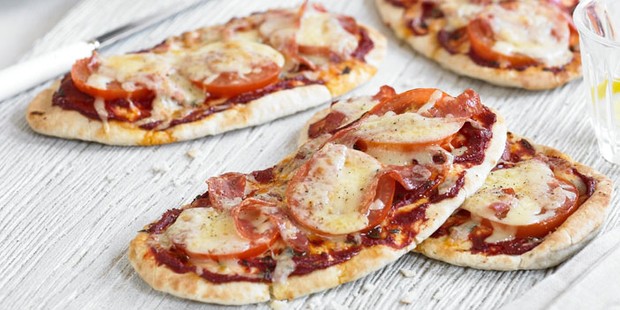 Little ones will love these fun and super-easy pizza's for lunch or a light supper.
Source: BBC Good Food 
4 large pitta breads
4 tbsp tomato puree
2 tsp mixed herbs
2 tomatoes, sliced
5 slices salami, torn into small pieces
50g cheddar, grated
Method
Heat the grill. Spread each pitta bread with 1 tbsp tomato purée, sprinkle over the mixed herbs, then lay on the tomato slices. Divide the salami between the pittas, sprinkle over the cheese and grill until the cheese is golden and bubbling.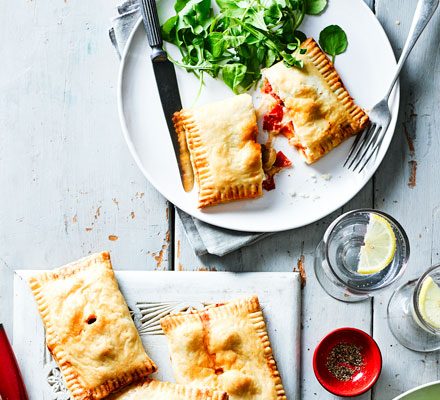 These pastries will be a hit with everyone. Make them vegetarian by leaving out the pepperoni and adding a pinch of chilli flakes for a similar spicy kick.
Source: BBC Good Food 
1 tbsp oil
1 large garlic clove, crushed
1/2 tsp dried oregano
400g tin plum tomatoes, drained & crushed
1 tbsp tomato puree
2 x 320g sheets ready-rolled shortcrust pastry
250g mozzarella, grated
80g pepperoni, chopped
160g pack stuffed green olives, halved
1 egg, beaten
Method
Heat oven to 200C/180C fan/ gas 6. Heat the oil in a saucepan, add the garlic and oregano, and cook for 1 min until fragrant. Stir in the tomatoes and tomato purée, and cook over a high heat for about 5 mins until thickened.
Unroll the pastry, cut each sheet into quarters, and arrange on two baking trays. Spread a little of the tomato sauce over half of each quarter, keeping a border about 0.5cm around the edge. Top with the cheese, followed by the pepperoni and olives (this keeps the cheese from sticking to the top of the pastry as it melts). Brush the edges with egg and fold over the uncovered half of the pastry, pressing down the edges with a fork to seal. If you have time, leave the pockets in the fridge for at least 15 mins to firm up.
Before baking, make a hole in the top of the pockets and brush with a little more egg. Bake for 20 mins or until golden.