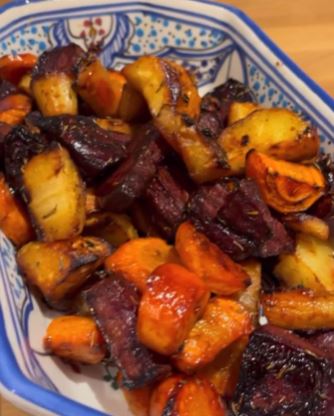 Honey roasted beetroot, carrots and parsnips
This colourful side dish of honey roasted beetroot, carrots and parsnips will brighten up any dinner table.
It's a perfect seasonal side dish which will wow your tastebuds.
View video on our instagram here
1 garlic clove minced
1/2 tablespoon fresh thyme minced
1 tablespoons olive oil
1 tablespoon honey
1/4 teaspoon Kosher salt
1/4 teaspoon freshly ground black pepper
2 carrots peeled, cut into even sized chunks
2 parsnips cut into even sized chunks
2 beets peeled, cut into 1 1/2" chunks
1 lemon juiced
Method
Preheat oven to 220 and line an oven dish with baking paper. Set aside.
In a bowl mix together garlic, thyme, olive oil, honey, salt and pepper. Mix the vegetables in and coat well.
Place the vegetables on the parchment lined oven dish. Make sure vegetables are spread out evenly on the pan.
Roast for 40 to 45 minutes until the veg is all tender – check they are ready by piercing with a sharp knife.
Transfer vegetables to a serving bowl. Squeeze fresh lemon juice over the vegetables and serve.