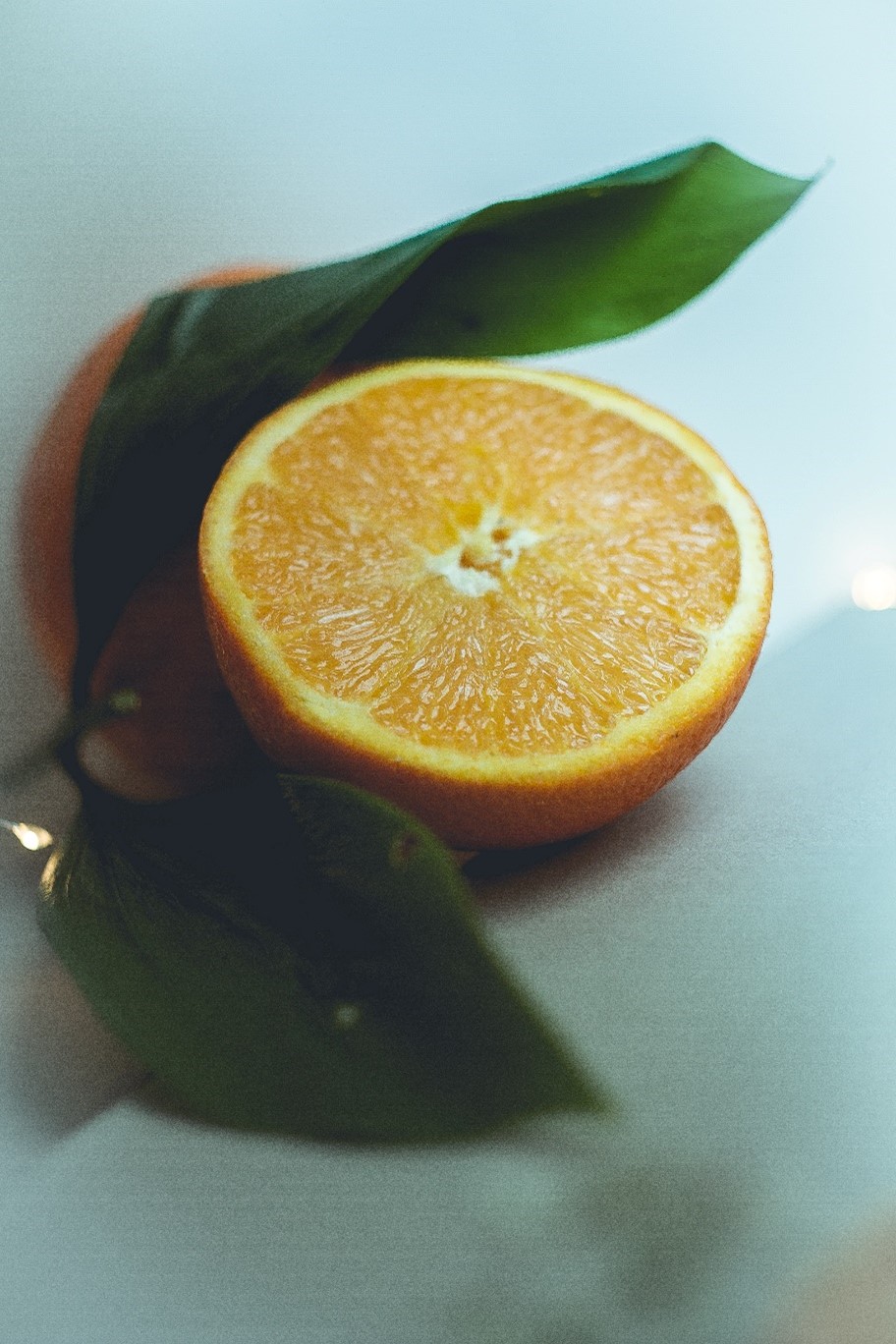 Marmalicious – Shout out for the Seville orange
For all you marmalade makers we are now stocking some beautiful and bright Seville oranges
Seville oranges are in season from the end of December through to mid-February, when the smell of these fruits floods the streets and squares of the Seville region of Andalucia with its glorious perfume. Britain is the largest market for these oranges – Paddington Bear has a lot to answer for.
Luckily these knobbly-skinned, bitter marvels can be enjoyed year-round as they freeze well whole (wrap them in clingfilm and pack in freezer bags), so when you see them, stock up.
They are generally unwaxed so don't let them hang around in the fruit bowl for more than a week as they lose their moisture content quickly and become tough, mean and unusable.
Although they are more often than not used to make marmalade, a little rind adds zing to meat dishes and a squeeze of the juice gives that extra excitement and dimension to a gin and tonic.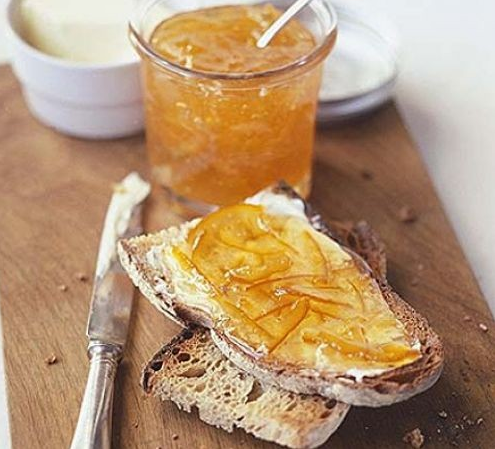 The Ultimate Seville orange marmalade
The original, and classic, English marmalade, as made famous by Paddington Bear.
Source – https://www.bbcgoodfood.com/recipes/ultimate-seville-orange-marmalade
1.3kg Seville oranges
2 lemons, juice only
2.6kg preserving or granulated sugar
Method
Put the whole oranges and lemon juice in a large preserving pan and cover with 2 litres/4 pints water – if it does not cover the fruit, use a smaller pan. If necessary weight the oranges with a heat-proof plate to keep them submerged. Bring to the boil, cover and simmer very gently for around 2 hours, or until the peel can be easily pierced with a fork.
Warm half the sugar in a very low oven. Pour off the cooking water from the oranges into a jug and tip the oranges into a bowl. Return cooking liquid to the pan. Allow oranges to cool until they are easy to handle, then cut in half. Scoop out all the pips and pith and add to the reserved orange liquid in the pan. Bring to the boil for 6 minutes, then strain this liquid through a sieve into a bowl and press the pulp through with a wooden spoon – it is high in pectin so gives marmalade a good set.
Pour half this liquid into a preserving pan. Cut the peel, with a sharp knife, into fine shreds. Add half the peel to the liquid in the preserving pan with the warm sugar. Stir over a low heat until all the sugar has dissolved, for about 10 minutes, then bring to the boil and bubble rapidly for 15- 25 minutes until setting point is reached.
Take pan off the heat and skim any scum from the surface. (To dissolve any excess scum, drop a small knob of butter on to the surface, and gently stir.) Leave the marmalade to stand in the pan for 20 minutes to cool a little and allow the peel to settle; then pot in sterilised jars, seal and label. Repeat from step 3 for second batch, warming the other half of the sugar first.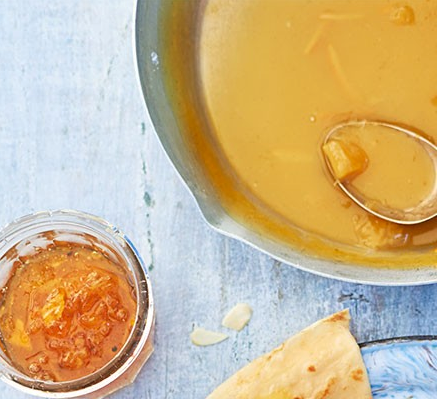 Seville Orange, vanilla and cardamom marmalade
Make this zesty orange, vanilla and cardamom marmalade to spread on toast, scones or pancakes. It will store for up to a year.
Source – BBC Good Food
8 Seville oranges (about 1.2kg)
10 cardamom pods, seeded
1 vanilla pod, split
1 lemon, juiced
850g preserving sugar
Method
Peel and finely chop 7 of the oranges, discarding the pips. Reserve the skin of 3, discarding the rest, and finely chop into fine strips. Halve the remaining orange, skin-on, and finely slice. Add this to the pan with the cardamom seeds and 400ml water. Add the vanilla seeds and throw in the pod.
Boil for 10 mins until the skins are softening, then add the lemon juice and sugar, stirring constantly. Once the sugar has dissolved, simmer for 30-35 mins. Turn up the heat and boil to set (about 10-15 mins) – the boiling point of jam is 105C. If you don't have a cooking thermometer, try the 'wrinkle test' – spoon some marmalade onto a cold saucer and leave for a minute. If it wrinkles when you poke it and has a fine skin on top, it's ready to set.
Pour the marmalade into sterilized jars, top with wax discs and lids, and store for up to a year.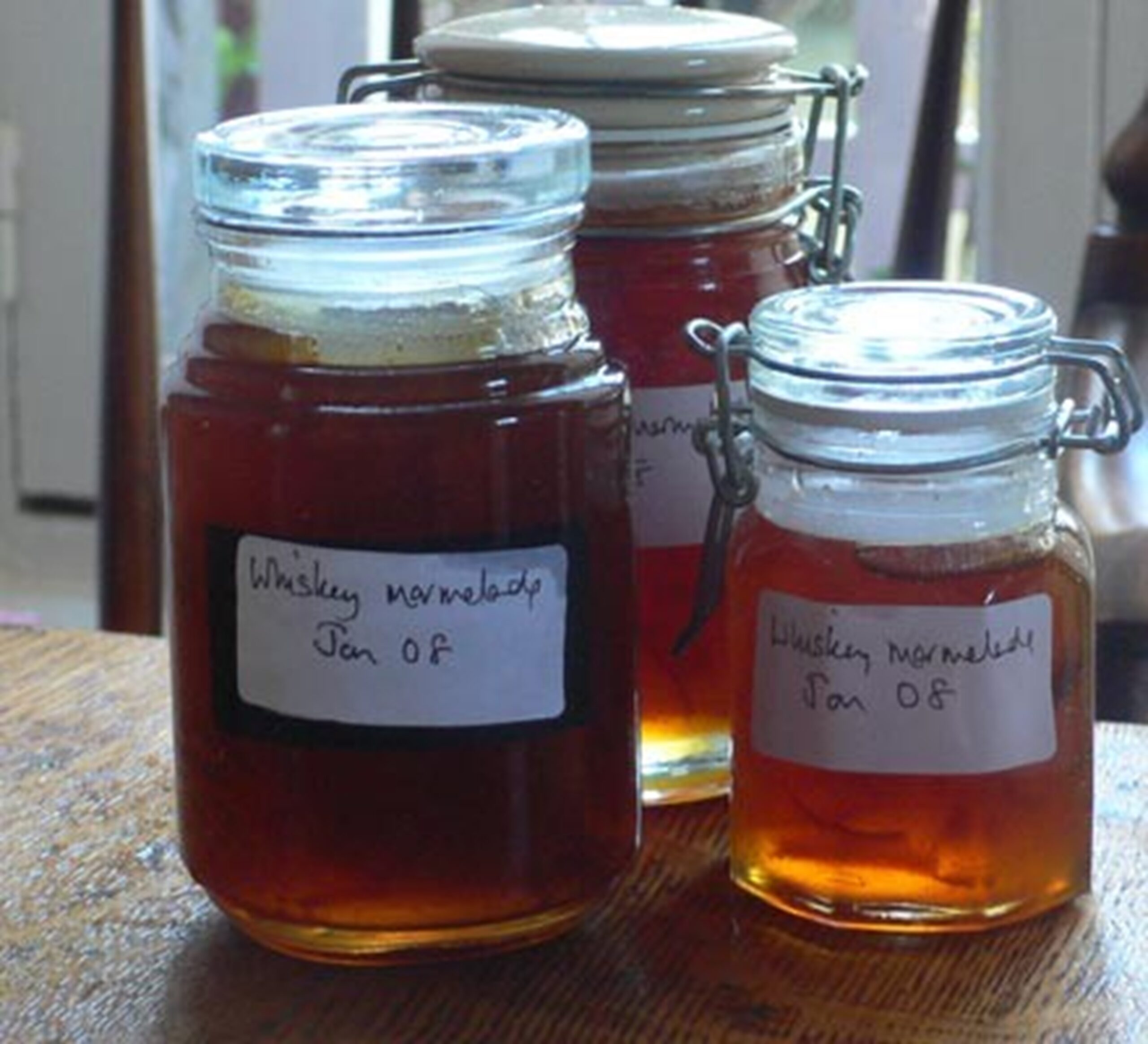 Whiskey and Seville orange marmalade
Add a kick to a classic. Marmalade lovers won't be able to resist.
Source – BBC Good Food
1.5kg Seville oranges
3 litres water
2 lemons, juiced
2 rounded tbsp treacle
5 tbsp Irish whiskey
Method
Wash the oranges and put in a large pan with the water and lemon juice. Bring to the boil, partly cover and simmer for 2 1/2 hours, until the oranges are very soft. Remove from the heat and scoop the oranges out into a large bowl. When they are cool enough to handle, cut them in half and scoop the flesh and seeds back into the pan using a dessertspoon. Bring back to the boil and simmer uncovered for 30 mins.
Meanwhile cut the orange peel into strips (either using a sharp knife or knife and fork for a chunkier style). Press the contents of the pan through a sieve into a preserving pan, pressing though as much pulp as possible. Add the peel, sugar and treacle or molasses to the pan. Put a couple of saucers in the freezer.
Bring slowly to the boil, stirring to dissolve the sugar, then raise the heat and boil rapidly until setting point is reached. This should take around 6-10 mins. To test, turn off the heat under the marmalade, take a saucer out of the freezer and spoon on a little blob of marmalade. Leave for a moment, then push the marmalade with your finger. If the surface wrinkles it is ready, if not boil for a few more minutes and test again.
Stir the whiskey into the marmalade, then leave it to cool for 10 mins. Give it a stir to distribute the peel, then spoon into clean warm jars (put them through the dishwasher and leave to dry or wash and drain, then wash well, then warm in the oven for 10 mins) cover and label.
A final note
You can still make delicious homemade marmalade with plain seedless oranges. However, if you're lucky enough to find Seville oranges, grab them, if you miss out you can substitute as follows:
For a juice substitute add 2 parts lime juice to 1 part orange juice.
If you're making marmalade then, per 2lbs of Seville oranges substitute 3 sweet oranges, 1 grapefruit and 2 lemons and reduce the amount of sugar used.
Check out more recipes on our Pinterest.