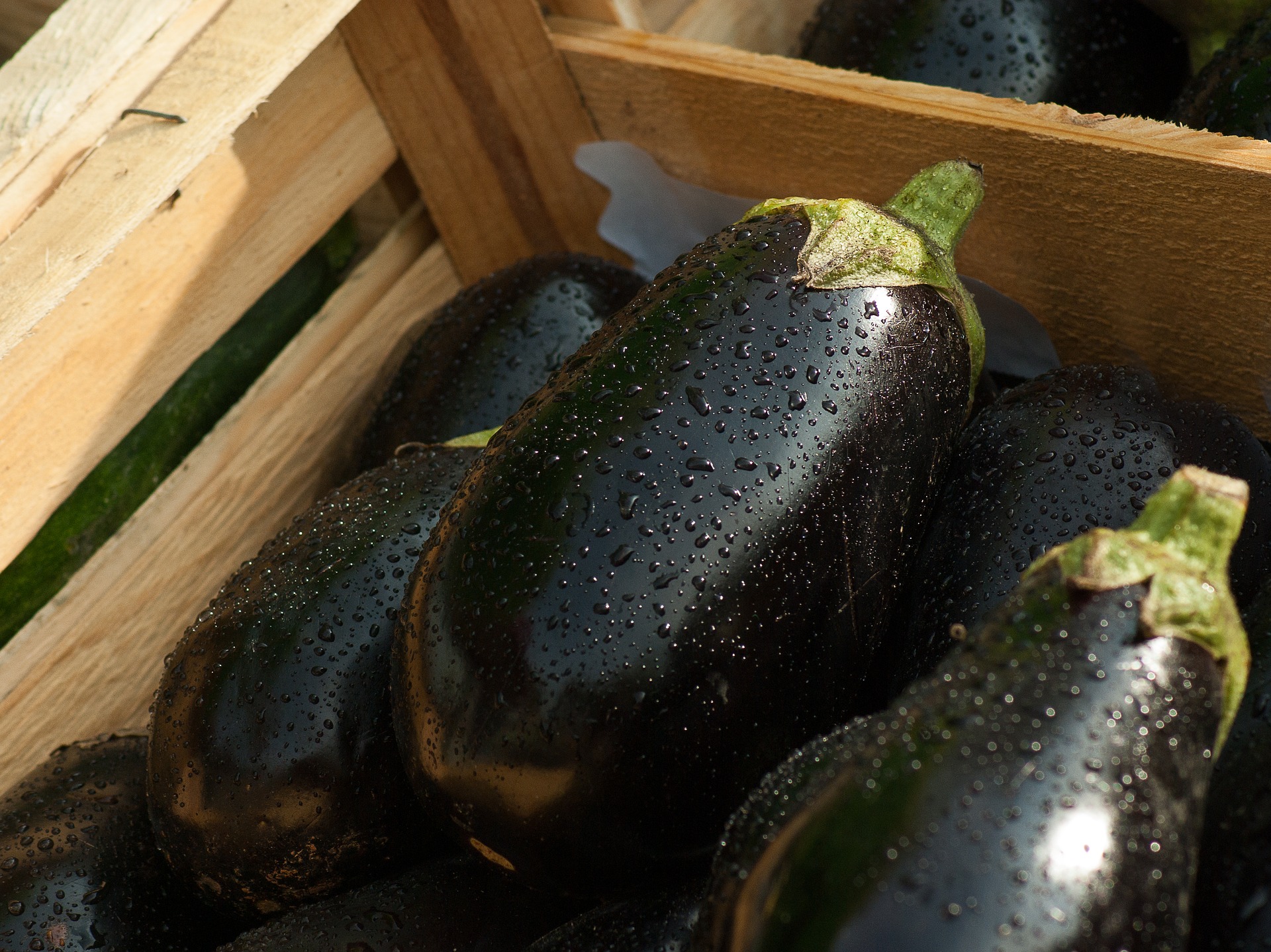 Get adventurous with Aubergines
We love aubergines: gorgeous to look at and versatile to cook with. 
They grow very much like tomatoes, hanging from the vines of a plant that grows several feet in height and are an excellent source of dietary fibre. They are also a good source of vitamins B1 and B6 and potassium and are high in the minerals copper, magnesium and manganese. 
Rich in antioxidants, specifically nasuin found in the skin giving it its purple colour. A potent antioxidant and free radical scavenger, nasunin has been found to protect the lipids (fats) in brain cell membranes. 
5
Fun Facts about Aubergines
Aubergines come in different colours

 like white, 

green

 and purple with white stripes.

 

The aubergine belongs to the tomato and potato family, which are all nightshades.

 

A

ubergine

s

 contain nicotine

, b

ut only a tiny amount, just 0.01%. You would have to eat 9 kilos of aubergines to get the same amount of nicotine as in one cigarette.

 

The aubergine is a fruit but is always prepared and regarded as a vegetable.

 

The aubergine plant originally comes from 

Myanmar

.

 

Arabs brought aubergines to Spanish Andalusia in the 15

th

 century.

 
See our top aubergine recipes below!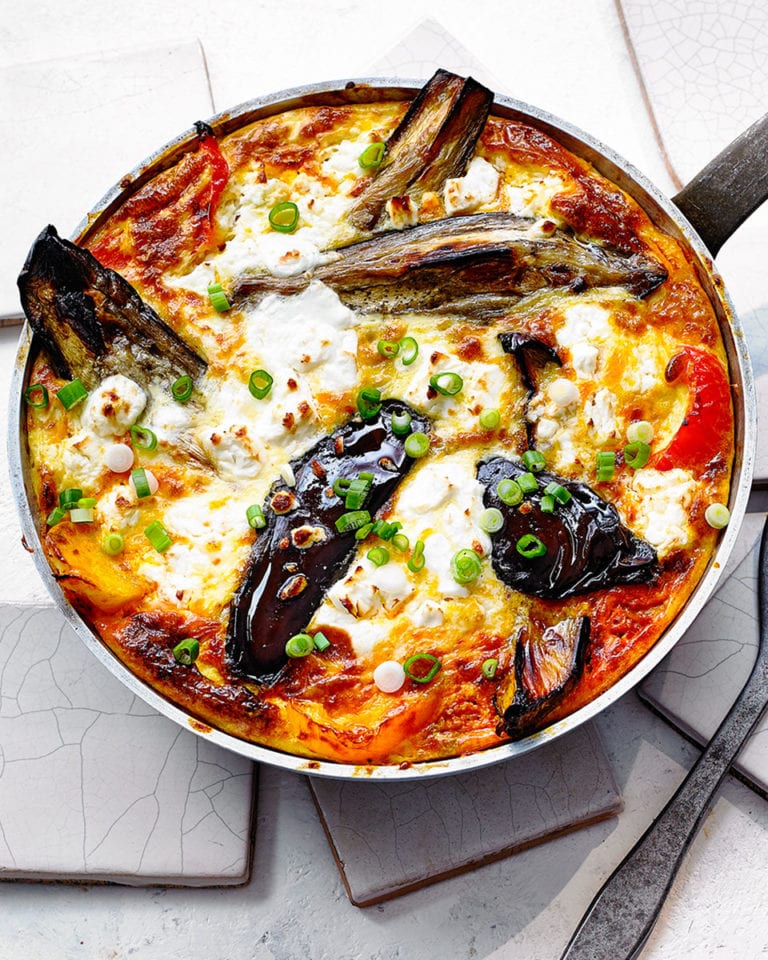 Aubergine & Feta Frittata
This vegetarian aubergine and feta frittata is a fail-safe option for a midweek meal. Sprinkle with chopped spring onions and serve with a simple green salad. 
Source: Delicious Magazine
1 tbsp light olive oil
2 peppers, sliced
250g mixed tomatoes, halved or quartered if large
2 tsp rose harissa paste
650g potatoes
8 medium eggs, beaten
400g aubergines
200g vegetarian feta, crumbled
⅓ bunch chopped spring onions
¼ lettuce
Fresh basil or coriander to serve
Method
Cut 400g aubergines into long wedges, rub them with oil, then season with salt and pepper. Spread out on a large roasting tray and roast for 20 minutes.
Peel 650g potatoes, boil for 15 minutes, then cool.
Heat the grill to medium. Heat the oil in the pan/shallow casserole over medium heat. Add the sliced peppers and chopped tomatoes, then fry for 10-12 minutes, stirring occasionally, until softened and lightly golden. Stir in the harissa paste.
Add the sliced potatoes to the pan, gently mixing them together. Pour the beaten eggs evenly over the top, arrange the aubergine and sprinkle on the feta. Cook for 5-7 minutes until the base is golden and the frittata is cooked halfway through.
To finish off, grill the frittata for about 5 minutes until it's puffed up and cooked through and the feta on top is starting to turn golden. Serve in generous wedges, sprinkled with the chopped spring onions, alongside some green, herby salad.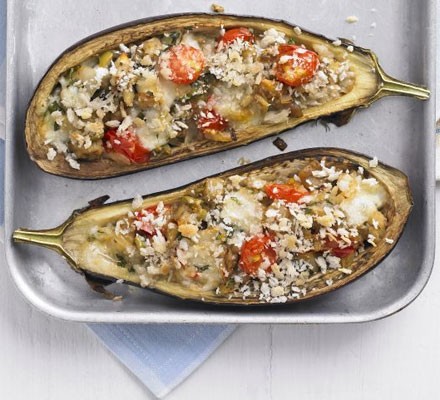 Italian-Style Stuffed Aubergines
Forget stuffed peppers and serve your veggie guests this sophisticated stuffed aubergine dish instead.
Source: Recipe adapted from BBC Good Food
1 aubergine
1 tbsp olive oil, plus extra for drizzling
1 small onion, finely chopped
2 garlic cloves, finely chopped
6 cherry tomatoes, halved
25g pitted green olives, chopped
Small handful basil leaves, chopped
65g vegetarian mozzarella, torn into bite-size pieces
Small handful fresh white breadcrumbs
Method
Heat oven to 220C/200C fan/gas 7. Slice the aubergine in half lengthways, leaving the stem intact. Using a small knife, cut a border inside each side about ½-1cm thick. Using a teaspoon, scoop out the aubergine flesh, so that you have 2 shells. Brush these with a little of the oil, season and place in a baking dish. Cover with foil and bake for 20 mins. Chop the flesh and place it to one side. 
Meanwhile, add the remaining oil to a non-stick frying pan. Tip in the onion and cook until soft. Add the chopped aubergine flesh and cook through. Tip in the garlic and tomatoes and cook for 3 mins more. Stir in olives, basil, mozzarella and seasoning. 
When the aubergine shells are tender, remove them from the oven and reduce heat to 200C/180C fan/gas 6. Pile stuffing into shells and sprinkle with breadcrumbs and drizzle with a little more oil. Bake for 15-20 mins, until the cheese is gooey and the breadcrumbs are golden. Serve with a green salad.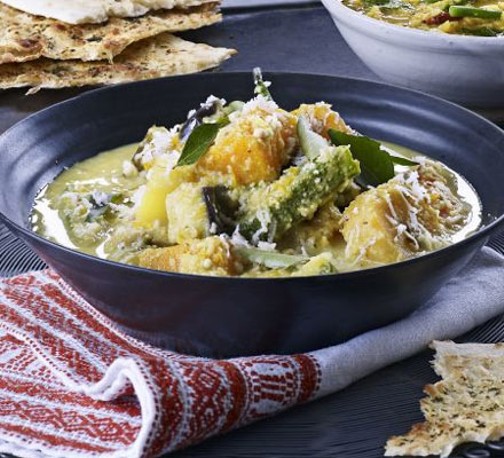 This vegetarian curry brings together classic flavours of south-west India, including freshly grated coconut and green chilli 
Source: Recipe adapted from BBC Good Food
1kg mix of vegetables including aubergine, carrot, potato, courgettes, cauliflower and squash, prepared appropriately and cut into chunks
2 tsp turmeric
5 small green chillies, 4 chopped, 1 left whole but split lengthways
1 tsp ground cumin
1 tsp ground coriander
200g/7oz freshly grated coconut
1 small onion, chopped
10 curry leaves
150ml plain yoghurt
Method
Place all the vegetables in a saucepan and cover with 500ml water. Add the turmeric and a pinch of salt and bring to a boil. Simmer for 20-25 mins until tender.
Meanwhile, blend 4 chillies, the cumin, coriander, half the coconut, the onion and some seasoning in a food processor.
When the vegetables are tender, add the paste, curry leaves and remaining chilli and simmer for 5 mins. Stir in the yoghurt and very gently simmer for 1 min. Scatter with remaining coconut and serve.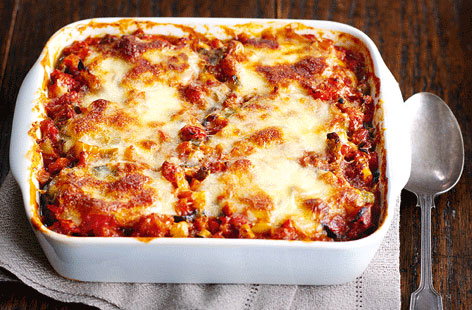 This aubergine parmigiana recipe makes a fantastic alternative to lasagne. With layers of grilled aubergine, courgette and peppers, a rich tomato sauce and oozy mozzarella, it takes comfort food to the max and will definitely be a new favourite aubergine recipe for the whole family to enjoy. 
1 aubergine, cut into 1cm thick rings
1 tbsp garlic-infused olive oil (or olive oil and add 2 cloves of garlic)
2 medium onions, peeled and finely chopped
2 medium carrots, peeled and finely diced
2 small mixed peppers, diced
1 large courgette, finely chopped
1 tsp dried oregano
1 x 400g tins chopped tomatoes
25g Parmigiano cheese, finely grated
65g reduced-fat mozzarella, thinly sliced
Method
Set the grill to high then cook the aubergine slices until browned on each side. Remove from the grill.
Preheat the oven 180°C/fan 160°C. Heat the oil in a pan over the heat then add the onions, stirring occasionally until softened. Add the carrots, peppers and courgettes and cook for 15 minutes, stirring frequently.
Mix in the oregano and tomatoes, and simmer for 10 minutes.
Pour some of the veg sauce into an ovenproof dish, top with aubergine slices then add more sauce. Repeat until the final layer is sauce, then top with Parmigiano cheese and mozzarella.
Cook in the oven for 30-40 minutes until golden. Serve with a green salad.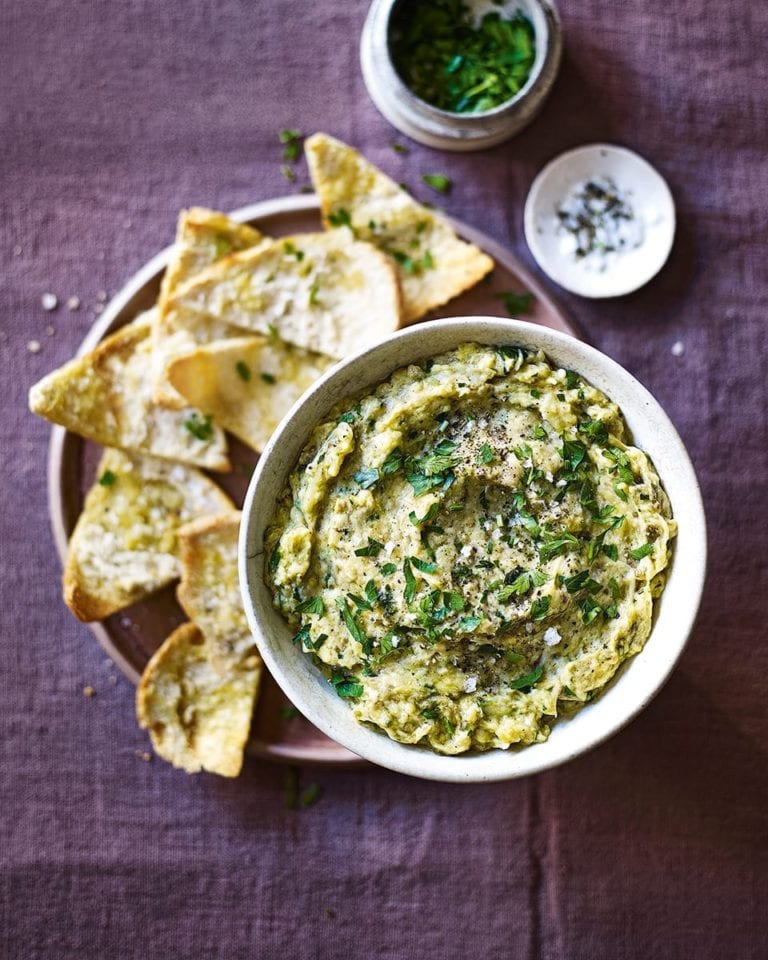 Cook time: 1 hr + cooking and draining
To really amp up the flavour of this Middle Eastern dip, char the aubergines on the barbecue for extra smokiness.
Source: Delicious Magazine
2 large aubergines
3 tbsp olive oil, plus extra for roasting
1 small garlic clove, finely chopped or grated
Juice ½ lemon
3 fresh parsley sprigs, roughly chopped, plus extra to serve
2 tsp tahini (optional)
Method
Heat the oven to 240°C/220°C fan/gas 9 or its highest setting. Rub the aubergines all over with oil, then put them on a baking sheet. Roast, turning every 15 minutes, for 45-60 minutes or until they've collapsed and the skin has charred and blackened.
Remove the aubergines from the oven and set aside until cool enough to handle. Cut them in half, scoop out the flesh (discard the skins) and put them into a sieve to drain for 15-20 minutes. Transfer to a bowl, add the remaining ingredients with some salt and pepper, then combine with a fork, gently breaking up the aubergine. Serve sprinkled with parsley as part of a mezze, or as a dip with pitta chips.