Easy Ratatouille with Poached Eggs – Eat Healthy for Less
This easy one-pot meal is jam-packed with veggies and can be made ahead of time – just crack the eggs in at the end. It's delicious served with crusty bread to help mop up the juices.  Let us know if you have a go at this dish and tag us in a picture on Facebook and Instagram.
Nutritional Information: Calories 190kcals; Carbohydrates 13g; Dietary Fibre 5g; Total Fat 11g; Sat Fat 2g; Protein 12g; Sugars 10g; Salt 0.36g.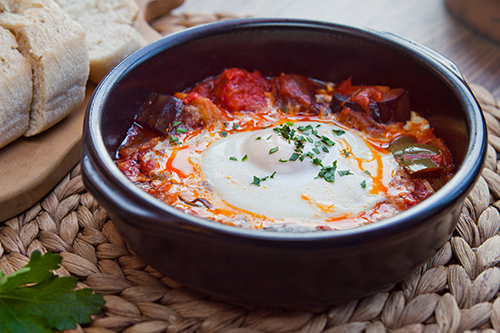 1 tbsp olive oil

 

1 large onion

, chopped

 

1 pepper

, deseeded and thinly sliced

 

2 garlic cloves

, finely chopped

 

1 aubergine

, diced

 

2 courgettes

, diced

 

1 tsp balsamic vinegar

 

400g tin chopped tomatoes

 

4 large eggs

 

Handful of fresh basil leaves

 
Method
Heat the oil in a large frying pan. Add the onion, pepper, and garlic, then cook for 5 mins, stirring frequently, until the onion has softened. Add the aubergine and courgettes, then cook for 2 mins more. 
Add the tomatoes, then fill the can with water, swirl it around and tip into the pan. Bring to the boil, cover, then simmer for 40 mins, uncovering after 20 mins, until reduced and pulpy. 
Stir the vinegar into the ratatouille, then make 4 spaces for the eggs. Crack an egg into each hole and season with black pepper. Cover, then cook for 2-5 mins until set as softly or firmly as you like. Scatter over the basil and serve with some crusty bread to mop up the juices.