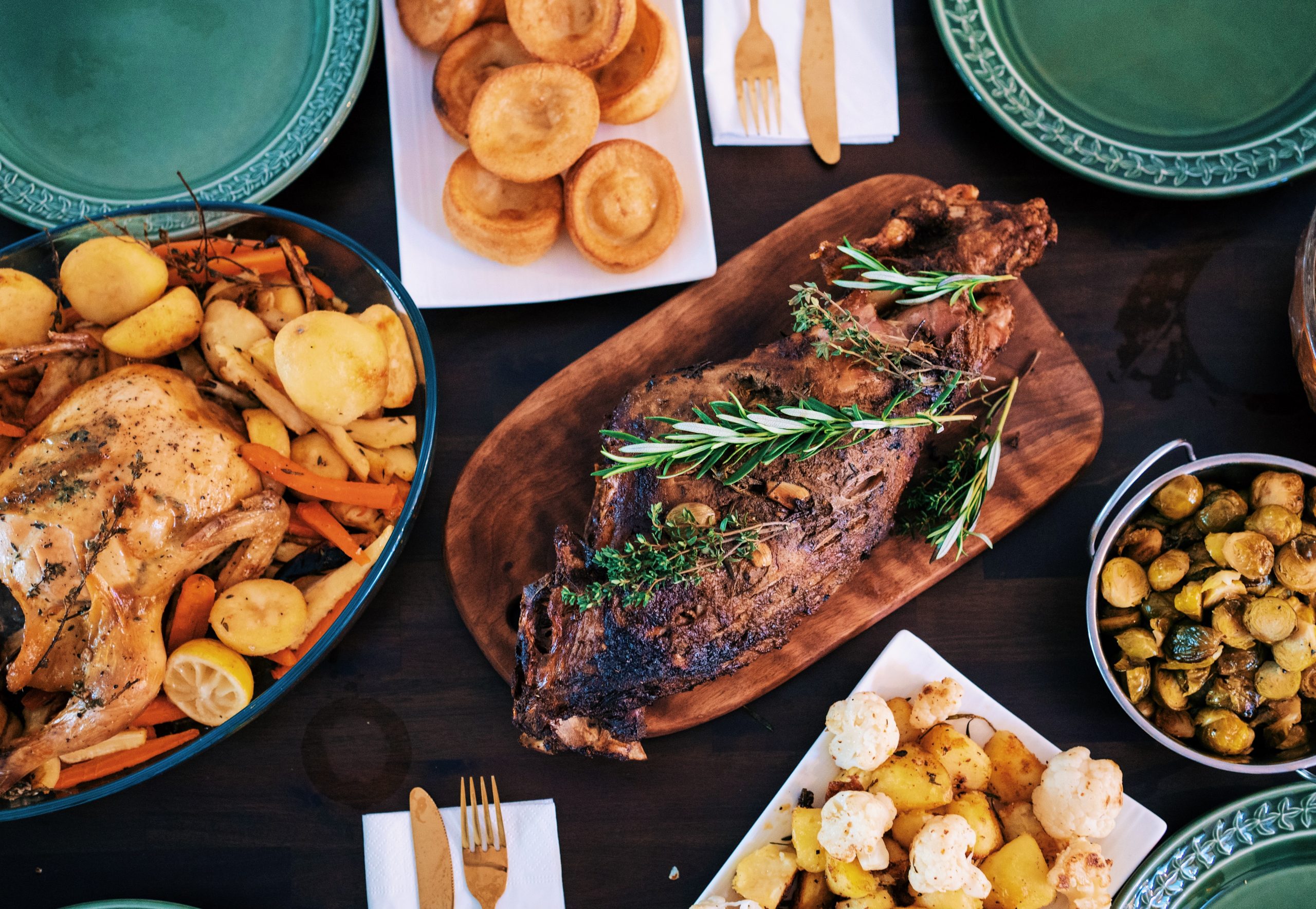 There's nothing better on Easter weekend than to sit around the table and enjoy an extended big family meal with all the Easter trimmings. This Easter will be different again, of course, like millions of other families around the world for the 2nd year running we will continue to be separated from our wider families and friends so there will be no crowded, overflowing table to gather around this Spring. In this season of missing our wider family and community, the blessings of Easter feels more essential than ever.  
Why not pull up a laptop to the table and join virtually while enjoying your meals with your loved ones and compare notes on your meals. 
You could even share recipes and have a virtual Easter cook-off, get everyone to score their meal for appearance and taste and see who is the winning household 😊 Whoever wins gets treated by the others to the first meal out (or in) after lockdown. 
If you fancy a change why not treat yourself to one of our 2-course recipe boxes – perhaps the roast chicken dinner, Greek salmon or our latest Lebanese style meal. The boxes include everything (excluding salt, pepper & oil) you need for a tasty two-course meal for 4 people. See all our recipes boxes on 5adaybox or on Heritage at Home.  
Or why not break totally from tradition and have an Easter barbecue – check out our blog here for ideas and inspiration.  
And finally, don't forget to get the kids involved too in our Easter bake-off competition on Facebook.  Order your kit today and get them baking over the Easter holidays. 
Here are some other fun recipes to inspire you.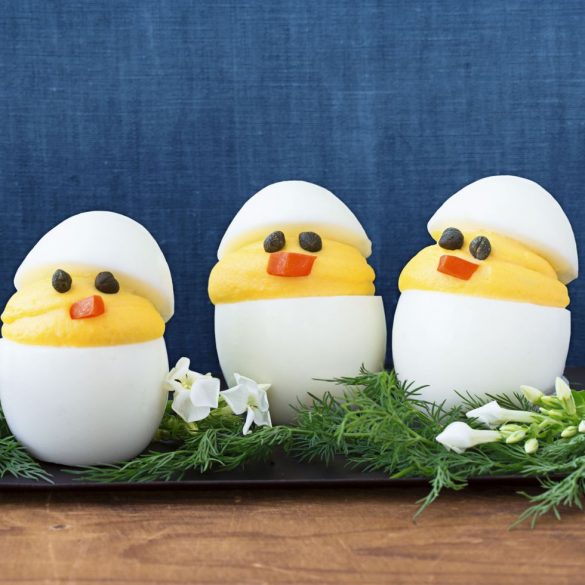 Transform old-school deviled eggs into an adorable appetiser with carrots and capers.
Source: Good House Keeping
12 large eggs
65g mayonnaise
32g finely grated Parmesan cheese
2 tsp Dijon mustard
3 thin slices of carrot
24 capers, blotted dry
Dill sprigs, for garnish
Method
Boil your eggs and let stand for 12 minutes. Cool, then peel. 
Trim bottoms of eggs so they stand upright. Cut off the top third of eggs, reserving egg white tops. Gently remove yolks; place in a medium bowl. Mash with mayonnaise, Parmesan and mustard until smooth. Transfer to a resealable plastic bag. 
Snip a small hole in corner of the plastic bag. Pipe enough yolk mixture into each egg white to fill the cavity and come about 1 inch above the rim. 
Cut carrots into very small triangles. Stud yolks with capers for eyes and carrots for beaks. Top with egg white tops. Place in the fridge for at least 1 hour or up to 1 day. 
To serve, line platter with dill. Arrange chicks carefully on top.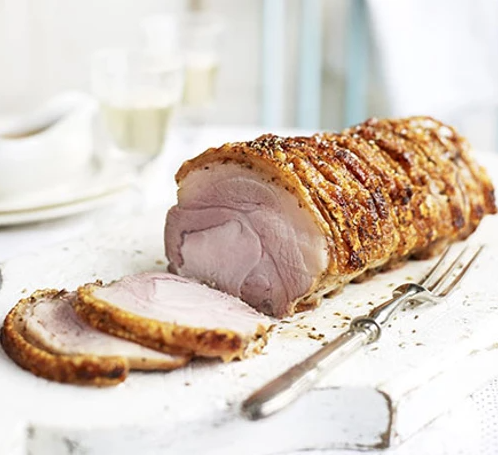 Italian-Style Roast Pork with Crispy Crackling
Cook time: 2hrs 15mins + marinating & resting
A take on the fennel-seasoned Italian dish porchetta, this Sunday lunch-worthy loin has a layer of perfect crackling.
Source: BBC Good Food
3 garlic cloves, finely chopped
3 bay leaves, roughly chopped
1 tsp black peppercorns
2 tsp sea salt
1 1/2 tbsp fennel seeds
2 1/2 tbsp olive oil
1.8kg rolled pork loin, untied with the skin scored
1 onion, cut into wedges
1 lemon, cut into wedges
For the gravy
2 tbsp plain flour
125ml Marsala or red wine
500ml vegetable or chicken stock
Method
Pound the garlic, bay, pepper, 1 tsp sea salt and 1 tbsp of the fennel seeds using a pestle and mortar, then stir in 1 tbsp oil. Place the pork, skin-side up, in a clean sink and pour over a kettleful of boiling water (this tightens the skin – the first step towards great crackling). Drain, pat dry and place, skin-side down, on a chopping board. Rub the garlicky paste all over it, then roll up the loin and tie it at intervals with kitchen string. Arrange the onion and lemon in the centre of a roasting tin and sit the pork on top, skin-side up. Rub the rind with the remaining salt and leave at room temperature, uncovered, for 1 hr. 
Heat oven to 230C/210C fan/gas 8. Rub the skin of the pork with the remaining oil. Lightly crush the remaining fennel seeds and scatter over the meat. Roast for 30 mins, then turn the heat down to 180C/160C fan/gas 4 and continue to roast for 1 hr 20 mins. Remove the pork, cover loosely and leave to rest for 30 mins. If your crackling isn't crisp, pop the joint under a hot grill for a few mins, but watch it as it will burn very easily. 
Meanwhile, make the gravy. Tip away all but 1 tbsp of fat from the tin and put on the hob. Add the flour and mix with the onion and lemon, scraping any bits from the bottom. Pour in the Marsala and let it bubble, then gradually add the stock and any of the resting juices, and simmer gently for 8-10 mins. Season, if needed, and strain through a sieve before serving.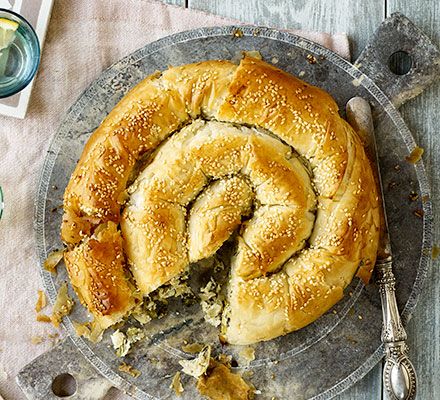 Leek & Globe Artichoke Pie
Cook time: 40 mins plus cooling
Make this Greek-inspired pie as a centrepiece dish for a special occasion. Encased in fabulous filo pastry, it's packed with leeks, artichokes and cheese 
Source: BBC Good Food
3 tbsp olive oil
3 leeks, trimmed, washed and chopped into fine rings
1 onion, finely chopped
2 garlic cloves, finely grated
255g cooked artichoke hearts, sliced
250g ricotta, drained
55g grana padano, grated
1 medium egg
1/2 small bunch of dill, chopped
1/2 small bunch of parsley, chopped
250g pack filo pastry, 10-12 sheets
85g butter, melted
1/2 tbsp sesame seeds
Method
Heat the olive oil in a heavy-bottomed pan and add the leeks and onion. Season and cook over medium heat until the leeks and onion are soft, stirring frequently. Add the garlic and cook for another 2 mins. Make sure that the mixture isn't too 'wet' or it will make your pie soggy. If it is, turn the heat up to cook off the excess moisture. Add the artichoke, then set it aside to cool.  
Mix together the ricotta, parmesan, egg and herbs together in a large bowl, then tip in the cooled vegetables. Season and mix with a fork. 
Clear a big space on your work surface or kitchen table – you're going to construct a pastry that is one meter wide. Take one piece of filo, put it on the work surface with the long side facing you and brush it with butter. Put two more pieces on top, brushing each one with butter. Now do the same again with three layers, overlapping the previous sheets to the left side by about 3cm. Keep doing this until you have one meter of overlapping buttered pastry sheets. 
Heat the oven to 220C/200C fan/gas 7 and put in a baking sheet to warm up. Spoon the filling in a thin layer onto the pastry, about 2.5cm from the edge. Keep going until you have filled the entire length. Carefully roll this up, working from the edge nearest you, until you have a long sausage shape. You need to be firm, but don't roll too tightly or the filo will split. You should have a couple of unused sheets of filo left, so use these to patch things up, if you need to. 
Working from one end of the sausage shape, coil the pastry, then carefully transfer onto a baking sheet (about the same size as the one warming in the oven). 
Brush the pie with butter, sprinkle over the sesame seeds, then slide the baking sheet onto the one that's already in the oven (this helps to ensure even cooking). Bake for 30-35 mins, or until golden. Leave the pie to cool a little before eating.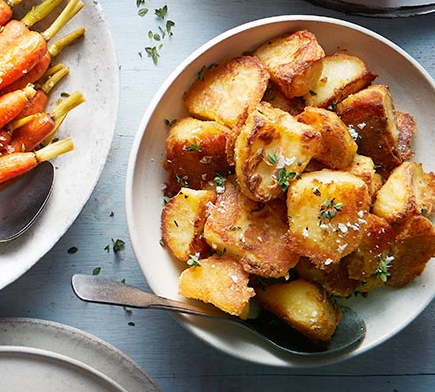 Crispiest Roast Potatoes Ever
Make soggy potatoes a thing of the past with this clever recipe. You'll end up with roasties that have a fluffy middle and golden, crisp exterior. 
Source: BBC Good Food
4 tbsp rapeseed oil
1.5kg potatoes, cut into quarters, peelings reserved
50g butter
1/2 bunch of lemon thyme
6 garlic cloves, lightly bashed
1 tbsp sea salt
Method
Heat the oven to 220C/200C fan/gas 8. Add the oil to a large flameproof baking tray and put in the oven for the oil to heat up. 
Bring a large pan of salted water to the boil, tip in the potatoes and the peelings (to impart extra flavour) and simmer for 8-10 mins. Drain the potatoes and discard the peelings. Leave to steam dry for 15 mins, then return the potatoes to the pan, put the lid on and gently shake to lightly rough up the edges.  
Remove the tray from the oven and put directly on your hob over a medium heat. Add the butter to the hot oil and, using tongs, add the potatoes to the tray, one by one, carefully turning them in the fat, and leaving a little space between them. Reduce the oven to 200C/180C fan/gas 6. Nestle the lemon thyme in amongst the potatoes, along with the garlic. Sprinkle over the sea salt and return to the oven to roast for 1 hr, turning every once in a while, until golden and crisp. 
Put in the fridge until you are ready to eat but eat within an hour of making ideally.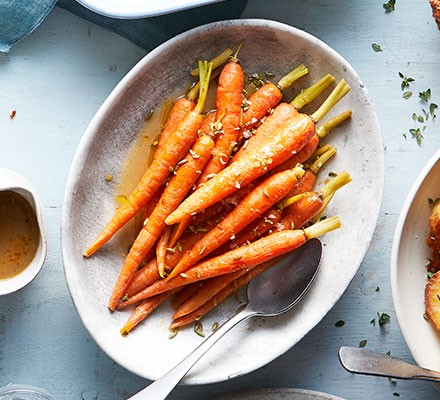 Don't waste time peeling and chopping carrots – just braise baby carrots with butter, sugar and fennel seeds for the perfect side dish.
Source: BBC Good Food
300ml vegetable stock
300g baby topped carrots
2 tbsp butter
1 tsp caster sugar
1 tsp fennel seeds, crushed
Method
Heat the vegetable stock, then tip the carrots into a deep frying pan. Add the butter, sugar, fennel seeds and the hot stock. Season to taste.  
Simmer, uncovered, over a medium heat for 25-30 mins or until the carrots are cooked through and the liquid is reduced and glossy.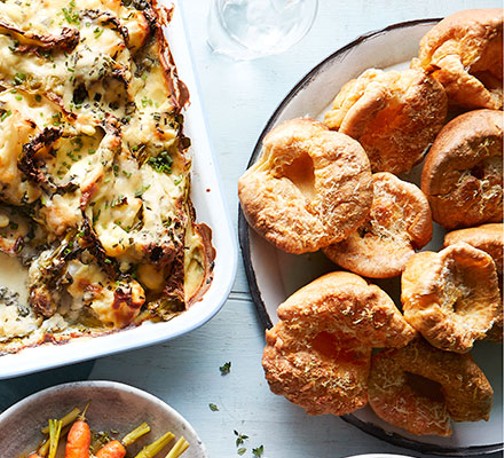 Parmesan Yorkshire Puddings
Add parmesan to traditional Yorkshire puddings and take this Sunday roast side dish to a new level. Make them ahead and freeze them for up to three months.
Source: BBC Good Food
Sunflower oil, for the tin
260g plain flour
6 eggs
300ml whole milk
50g Parmesan or vegetarian alternative, finely grated
Method
Heat the oven to 220C/200C fan/gas 8. Drizzle a little oil into the holes of a six-hole Yorkshire pudding tin, or six-to-eight holes of a 12-hole muffin tin. Put in the oven to get the oil hot. 
Tip the flour into a bowl, season with salt and pepper, make a well in the centre, then crack in the eggs. Whisk until smooth, gradually adding the milk. Transfer to a jug. 
Slide the tray halfway out of the oven and divide the batter between the holes. Bake undisturbed for 25 mins or until puffed and golden. Leave to cool on a wire rack. Will keep in the fridge for up to two days or frozen for up to three months. 
Turn the oven down to 200C/180C fan/gas 6. Sprinkle the Yorkshires with the parmesan and cook for a further 5 mins or 10-15 mins from chilled.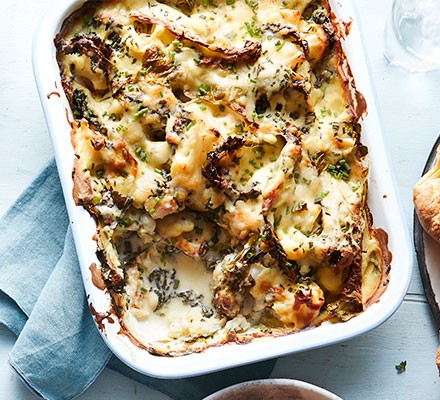 Jazz up cauliflower cheese with green broccoli and spinach, and a cheddar and chive sauce. Be sure to use the cauliflower leaves, too, for extra flavour. 
Source: BBC Good Food
1 cauliflower (450g), broken into florets, leaves reserved
200g purple sprouting broccoli
200g spinach
70g unsalted butter
70g plain flour
900ml whole milk
2 tsp English mustard
150g mature cheddar
1/2 bunch of chives, finely chopped
Method
Bring a pan of lightly salted water to the boil and cook the cauliflower florets for 3 mins. Add the broccoli and cook for 2 mins more. Drain in a colander and leave to steam dry. 
Tip the spinach into a large saucepan, add 2 tbsp water and cook with the lid on over a low heat for 3-4 mins until wilted, then tip into a sieve and press the excess moisture out of it with the back of a wooden spoon. Set aside. 
Heat the oven to 220C/200C fan/gas 7. Melt the butter in a saucepan over a low heat until foaming, then stir in the flour to create a thick paste. Cook for 2 mins, remove the pan from the heat and whisk in the milk in several additions until lump-free. Return to the heat and whisk until thickened. Whisk in the mustard, most of the cheese and the chives. Season to taste. 
Arrange the vegetables, including the cauliflower leaves, in a medium ovenproof dish. Pour over the sauce, then sprinkle with the remaining cheese. Bake for 25-30 mins or until golden and bubbling.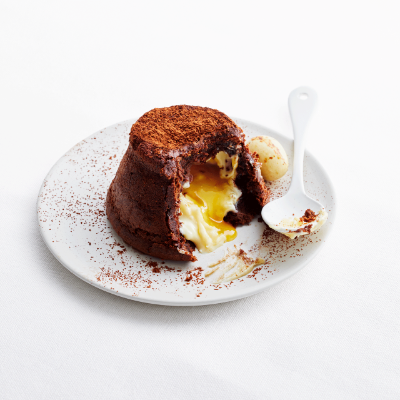 Gooey Chocolate Orange Pudding with a 'Creme Egg' Filling
Prep time: 25 mins + chilling
A delicious and naughty dessert for Easter, with an ooey, gooey creme egg-like centre! 
Source: Waitrose
200g Belgian white chocolate, broken into pieces
6 tsp orange curd
65g unsalted butter, very soft, plus extra for greasing
250g plain chocolate, broken into pieces
65g light muscovado sugar
Finely grated orange zest
4 medium eggs
50g plain flour
Cocoa powder for dusting
Chocolate mini eggs, to decorate
Method
Melt the white chocolate in a bowl resting over a saucepan of gently simmering water, making sure the base of the bowl is not in contact with the water. Place 6 double-thickness paper fairy cake cases on a plate and spoon two-thirds of the chocolate into the cases. Make a dip in the centre of each with the back of a teaspoon and fill with 1 tsp of orange curd. Freeze for 10 minutes to firm up, leaving the remaining chocolate over the pan of hot water. Spoon this into the cases to cover the orange curd and return to the freezer while making the puddings. 
 
Preheat the oven to 180°C, gas mark 4. Grease 6 x 175–200ml individual metal pudding tins. Melt the plain chocolate as above. Beat together the butter, sugar, orange zest, eggs and flour using a hand-held electric whisk. Beat in the melted plain chocolate. 
 
Spoon two-thirds of the mixture into the tins. Unwrap the frozen white chocolate shapes and press one down into each of the puddings. Spoon the remaining pudding mixture on top and level the surface. Place on a baking sheet and bake for 15 minutes. Remove from the oven, loosen the edges with a knife and leave to stand for 5 minutes. 
 
Invert the puddings onto serving plates and shake them gently to loosen. Lift away the moulds and arrange a few mini eggs on each before dusting with cocoa powder to serve.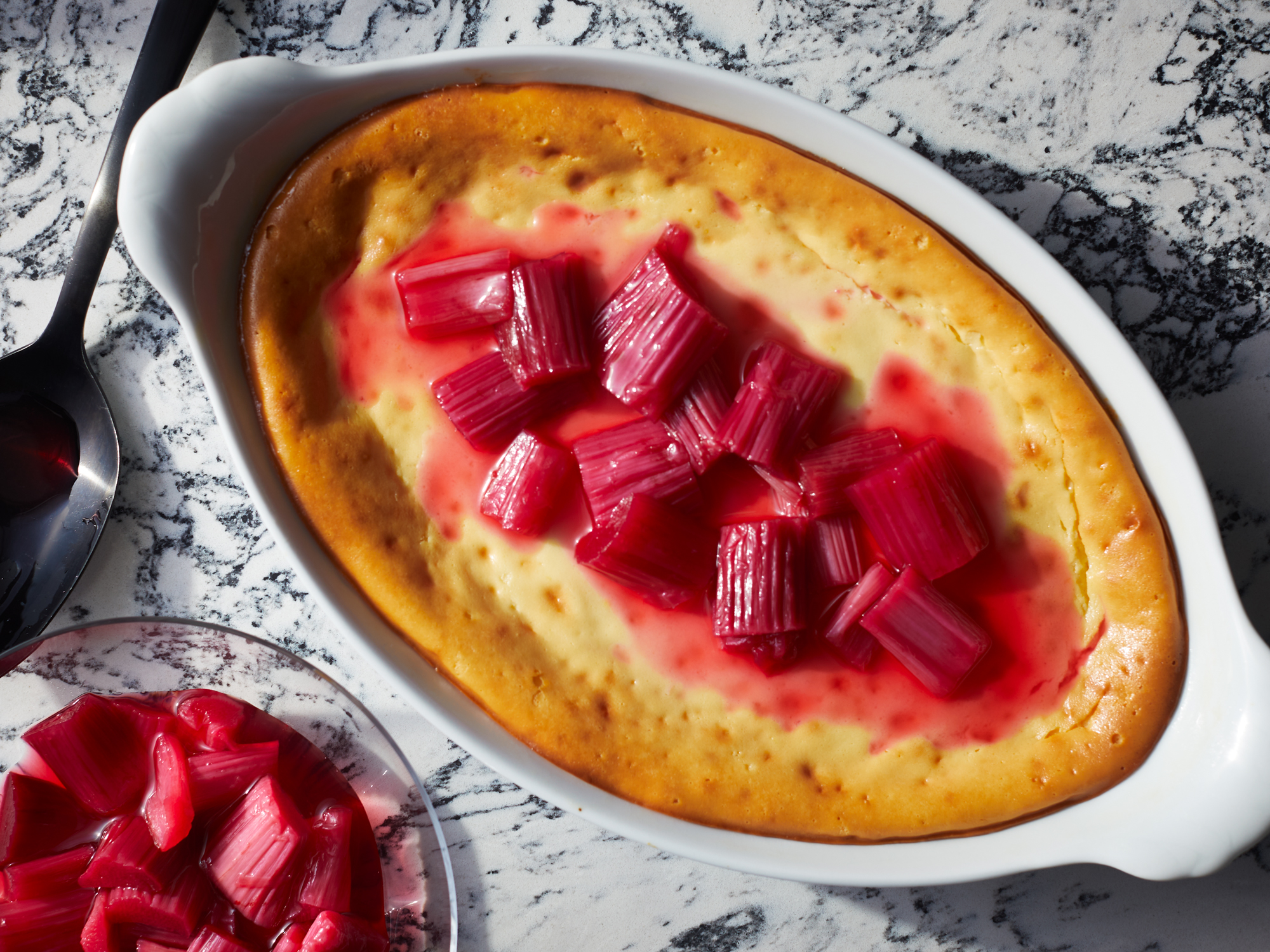 Baked Ricotta with Spice-Poached Rhubarb
Baked ricotta is light, not too sweet, easy to make, and, most importantly, it's delicious.  The thin, pudding-like cake tastes even better when you bake it ahead of time. It also provides an ideal platform for seasonal produce (like the rhubarb here), so you can make it all year round and never grow tired of it. You can even play around with the flavourings (swap in orange or lime zest for the lemon, add rum in place of vanilla and so on) according to your tastes and the fruit accompaniment.  
Source: Food & Wine
340g rhubarb, trimmed and cut into 1-inch lengths
96g granulated sugar
1 tsp lemon zest, plus 2 tbsp lemon juice, divided
1/2 tsp fine sea salt, divided
1 whole star anise
1 cinnamon stick
450g best-quality whole-milk ricotta cheese
1 large egg
2 tbsp honey
1/4 tsp vanilla extract
Unsalted butter, for greasing the baking dish
Method
Preheat oven to 180C. Combine rhubarb and 60g cup sugar in a mixing bowl. Add lemon juice and 1/4 teaspoon salt. Toss to coat the rhubarb evenly. Arrange in a single layer in a baking dish. Tuck star anise and cinnamon stick into the dish. Cover with aluminium foil, and roast in preheated oven until rhubarb is tender when pierced with the tip of a knife, 20 to 25 minutes. Set aside, covered, to cool. The roasted rhubarb can be refrigerated for up to 2 days. 
Spoon the ricotta into a food processor fitted with the chopping blade. Add egg, honey, vanilla, lemon zest, remaining sugar, and remaining 1/4 teaspoon salt. Process until very smooth, about 1 minute. 
Lightly grease a baking dish or a 9- to 10-inch pie plate. Scrape the ricotta mixture into the baking dish, and bake at 180C until fragrant and toasty brown around the edges, about 1 hour. (The top may puff up as it bakes, but it will settle once out of the oven.) Let stand at room temperature for at least 10 minutes. Serve warm, at room temperature, or chilled, topped with rhubarb mixture. The baked ricotta keeps, tightly covered, up to 2 days in the fridge.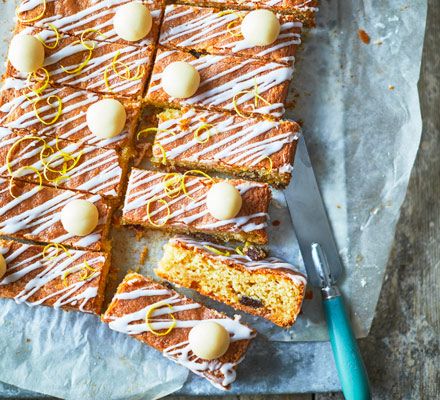 Lemon Drizzle Simnel Slices
Lemon drizzle meets almondy simnel cake in this Easter traybake. It's a fruity treat that you can slice and enjoy with afternoon tea (or anytime to be honest – breakfast cake anyone!) 
Source: BBC Good Food
Oil for the tin
250g butter, softened
250g golden caster sugar, plus 50g for the topping
2 large lemons, zested and juiced
3 large eggs
200g plain flour
100g ground almonds
2 1/2 tsp baking powder
50ml milk
100g mixed dried fruit
300g marzipan, chilled
50g icing sugar
Method
Heat oven to 180C/160C fan/gas 4. Oil and line a 20cm x 30cm baking tin with baking parchment. Beat the butter and sugar with most of the lemon zest until pale and fluffy. Add the eggs one at a time, mixing constantly, then add the flour, almonds and baking powder, and keep mixing until you have a smooth cake batter. Stir in the milk and dried fruit. 
Scrape half the cake batter into the tin and level the surface.  
Coarsely grate half the marzipan onto the batter to create an even layer, then cover with the rest of the batter, trying not to disturb the marzipan too much. Level the top and bake for 35-40 mins or until a skewer inserted into the centre comes out clean. If any wet cake mixture clings to the skewer, return the cake to the oven for 5 mins, then check again. Mix the remaining caster sugar with a quarter of the lemon juice, then drizzle over the cake while still warm. Leave the cake to cool in the tin. 
Mix the icing sugar with enough lemon juice to make a drizzly icing – 2-3 tsp should be enough. Divide the rest of the marzipan into 11 even lumps and roll into balls. Drizzle the icing over the cake, top with the marzipan balls and sprinkle with the remaining lemon zest. Will keep in an airtight container for up to five days.