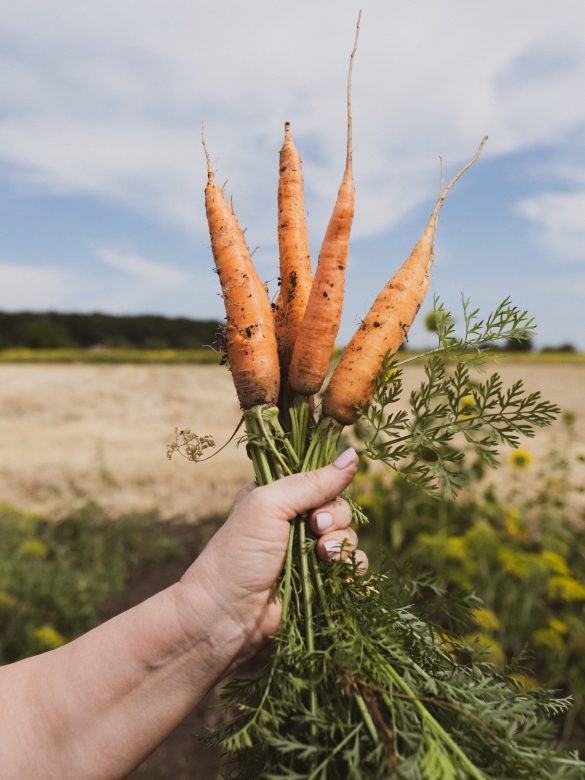 Carrots are a root vegetable that comes in many colours and shapes. Orange carrots were first developed in Central Europe around the 15th or 16th century. Other colours include purple, yellow, red and white and they all slightly vary in taste and can add a brilliant pop of colour to any dish.
Purple carrots have a sweet flavour that is sometimes accompanied by a peppery taste. They are great to eat raw as a snack, in a salad or in pickles.
Red carrots don't differ that much from orange carrots in terms of taste but their lovely red colour comes from the same antioxidant that is found in tomatoes.
White or yellow carrots have a mild flavour and are typically a lot sweeter. They are really tasty when roasted.
Orange carrots are rich in beta-carotene, our bodies convert beta-carotene into vitamin A helping with our eyesight. So kids, eating your carrots really does help you see better!
No peeling – Carrot peel contains about half the antioxidants so instead of peeling, wash them thoroughly with a scrub brush.
Find out more about carrot preparation along with some delicious Spring recipes in our previous carrot blog. Don't forget to check out our Pinterest for more recipe inspiration.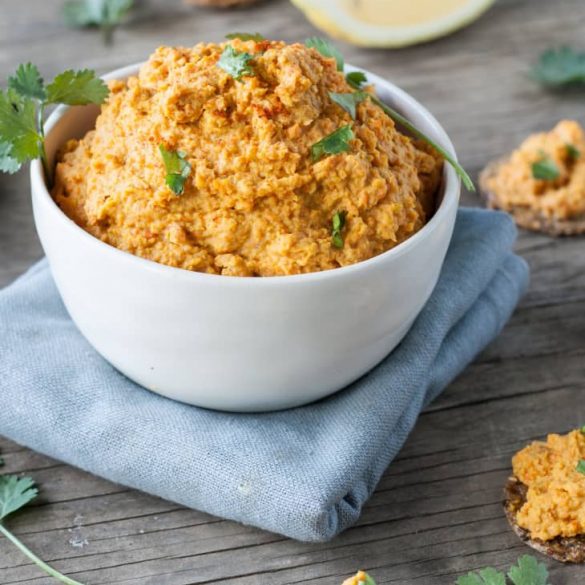 This hummus is so addicting, both in flavour and in colour — bright orange! The Moroccan spices add such a lovely dimension, too. It's great for snacking, you can serve with matchstick veggies, crackers or toasted flatbread.
Source: The Kitchn
450g carrots
3 garlic cloves
4 tbsp extra virgin olive oil, divided
200g tinned chickpeas, rinsed and drained
30g tahini
2 tbsp fresh lemon juice
60ml water
1/2 tsp ground cumin
1/2 tsp ground ginger
1/2 tsp salt
1/4 tsp black pepper
1/4 tsp ground coriander
1/2 tsp ground cayenne
1/4 tsp ground allspice
1/8 tsp ground cloves
Fresh coriander, finely chopped, to serve
Method
Preheat the oven to 200C. Toss the chopped carrots and whole garlic cloves with 2 tablespoons of olive oil. Scatter evenly on a baking tray lined with parchment and roast in the oven until the carrots are tender and lightly browned, 18 to 20 minutes. Toss carrots halfway through cooking. Once cool enough to handle, squeeze the garlic cloves out of their peels.
In the bowl of a food processor, combine roasted carrots, roasted garlic, chickpeas, tahini, lemon juice, water and all of the spices. With the motor running drizzle in the remaining 2 tablespoons of olive oil. Whirl away until smooth, scraping the sides down as necessary. Taste and adjust seasonings if necessary. If the hummus is too thick, add a little more water or oil and process until desired consistency is achieved.
Serve with fresh coriander and your favourite veggies and crackers. This will keep in the fridge for up to 7 days.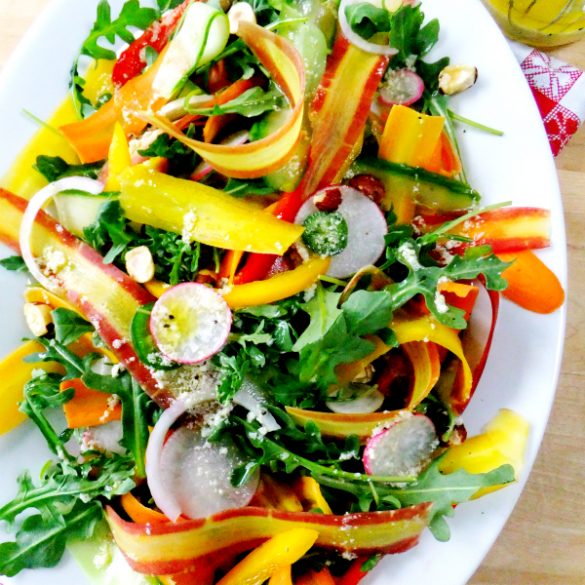 Summer Carrot Ribbon Salad
A colourful, crunchy, light and healthy summer salad using the freshest produce of the season! Use different colour carrots to make it a treat for the eyes.
Source: Proud Italian Cook
1 bunch of carrots, using different colours if available, made into thin ribbons using a vegetable peeler
1/2 red onion, sliced into strips
1 yellow and red pepper, cut into strips
1 large cucumber, made into ribbons using a veg peeler
8 radishes, thinly sliced
A large handful of rocket or spinach
1 small jalapeno, thinly sliced optional 
A small handful of toasted hazelnuts, slightly crushed
For the dressing
3 heaped tbsp mayonnaise
3 tbsp lemon juice
3 tbsp olive oil
2 tbsp grated parmesan
A pinch of salt and pepper
Method
Gently toss all the salad ingredients into a bowl, place on a nice platter.
Whisk together all the dressing ingredients and drizzle over the salad when ready to eat.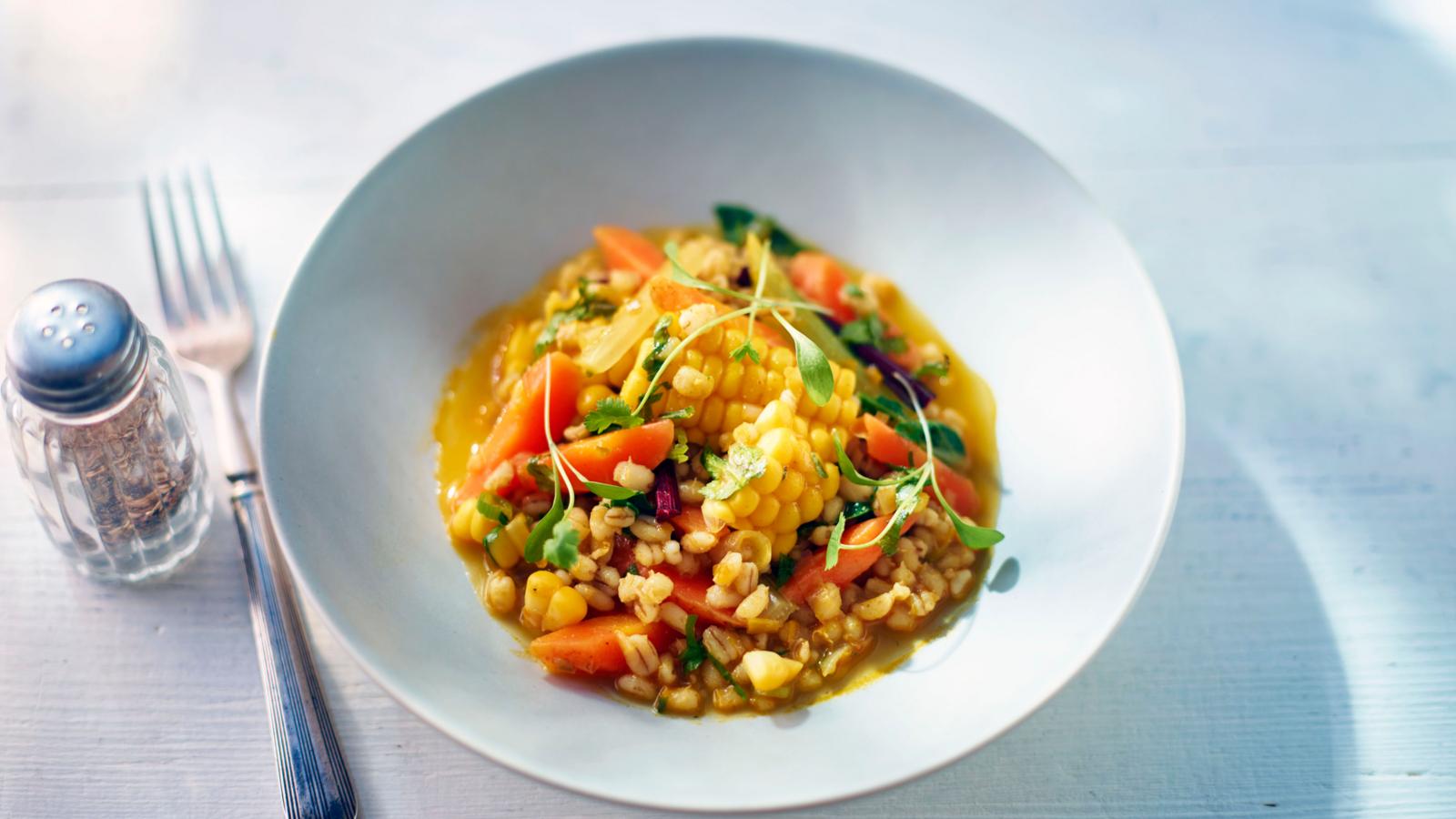 Carrot, Cumin & Barley Summer Stew
This barley stew is perfect for the colder summer days. Refreshing, wholesome and yet luxurious.
Source: BBC
500ml carrot juice
Large pinch of sea salt
1 tsp ground cumin
6 carrots, skin on, scrubbed, halved lengthways then cut into 1 cm slices
For the barley
2 tbsp rapeseed oil
1/2 white onion, chopped
2 chillies, deseeded and finely chopped
150g pearl barley
1 tsp ground cumin
1 corn cob, cooked in boiling water for 20 mins, covered
4 rainbow chard leaves, rolled and chopped; stems cut into 3 cm
3 spring onions, finely sliced
Small bunch coriander, chopped
1/2 lemon, juiced
Salt and freshly ground black pepper
To finish
1 1/2 tbsp rapeseed oil
Micro coriander, optional
Method
For the carrots, in a large saucepan over medium heat, bring the carrot juice and 100ml water to the boil, then add the salt and cumin. Add the carrots and simmer gently for 10 minutes, or until they are cooked through. Remove from the heat, remove the carrots and reserve the cooking liquor.
For the barley, in a medium, lidded saucepan over medium heat, heat the oil and gently fry the onions and chillies for 5 minutes, covered with a lid, until softened. Stir in the barley and cumin and continue to fry for a minute. Add 500ml of the carrot cooking liquor to the pan. Bring to a gentle simmer, then cover with the lid and cook for 50–55 minutes, stirring from time to time, until the barley swells and is firm with a good bite. Check the texture, taste and season with salt and pepper. Cook for a few minutes more, if necessary. Set aside in the pan.
To finish the barley risotto, using a long knife, carefully cut the kernels off the corn cob by running a knife along with the central core. Keep 4 of the biggest lengths intact to use as garnish. Set these aside then release the kernels from the rest. Add the chard stems and leaves, spring onions and loose corn kernels to the barley pan and stir. Place the pan back on medium heat and cook for 12 minutes. Add the coriander and cook for a further minute until wilted. Finally, taste and adjust the seasoning if required, then add the lemon juice to sharpen the flavour.
To finish, in a frying pan over medium heat, fry the cooked carrot pieces in the rapeseed oil for 6–7 minutes, until caramelised. Add the reserved pieces of sliced corn to the pan and cook for 3 minutes, or until they begin to brown.
To serve, remove the caramelised carrots, add them to the barley risotto and divide the risotto evenly between four plates. Finish with a length of sliced corn and micro coriander, if using. Serve immediately.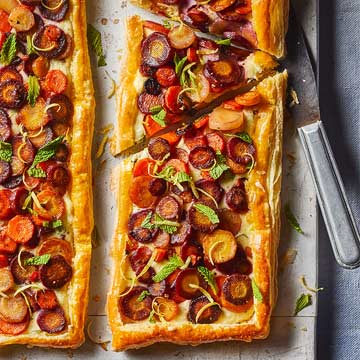 Carrot Tart with Goat Cheese, Lemon and Mint
Eat as a meal with a salad or slice into petite wedges for a grab-and-go party or picnic.
Source: Midwest Living
1 sheet puff pastry
1 tbsp unsalted butter
1 tbsp olive oil
450g thick carrots, cut in 0.5cm slices
2 tbsp dry vermouth
1 tbsp water
1/2 tsp salt, divided
1/4 tsp black pepper, divided
2 eggs
130g ricotta cheese
65g goats cheese, at room temperature
30g parmesan cheese, grated
1 tbsp fresh mint, finely chopped
1 tsp lemon, finely zest
Method
Preheat oven to 220°C. Cut pastry in half. On parchment paper, roll each piece to a 15cm x 30cm rectangle.
In a large frying pan, heat butter and oil over medium-high heat. When foaming, add carrots. Cook, stirring occasionally, until edges of carrots are lightly golden, about 5 minutes. Add vermouth and 1 tablespoon water; cover, reduce heat and steam for 1 minute. Season carrots with 1/4 teaspoon of each salt and pepper.
In a medium bowl, lightly beat one egg. Add ricotta, goat cheese, Parmesan, mint, lemon zest and the remaining salt and pepper, stirring to combine.
Transfer parchment with pastry to a large baking tray. Using a sharp knife, gently score a 1cm border around each tart, being careful not to cut all the way through.
Separate the remaining egg into two small dishes. Lightly beat both the yolk and the white. Brush edges of tarts with the beaten yolk. Prick inside of tarts with a fork. Bake on the bottom oven rack until edges are nicely golden brown, about 10 minutes. Remove from oven, but leave the oven on and reduce temperature to 190°C. Immediately press centres of tarts with a metal spatula to flatten. Cool 5 minutes. Brush centres of tarts evenly with egg white (to create a moisture barrier between the crust and the filling).
Divide cheese mixture between tarts and spread to the inside edges of borders. Arrange carrots evenly overfilling. Bake tarts at 190°C until fillings are set, about 20 minutes. Cool on a wire rack for at least 15 minutes. Garnish with lemon zest and mint. Serve warm or at room temperature.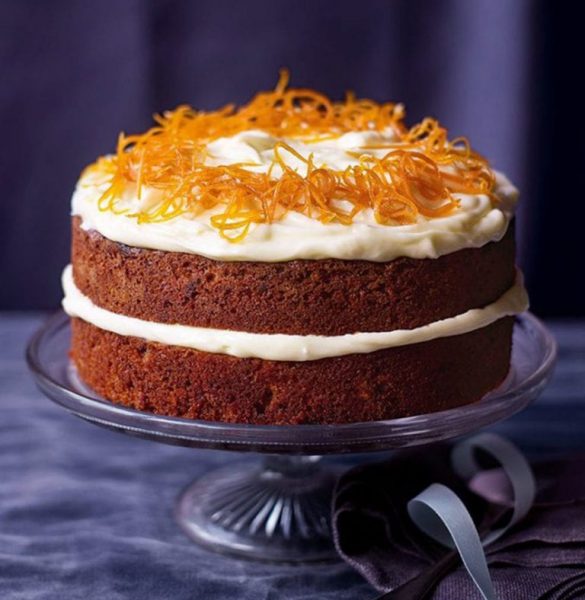 This carrot cake recipe uses pecan nuts for crunch and flavour, with a lovely warmth coming through in the cinnamon and ginger spices. It's topped with cream cheese frosting and decorated with a crown of orange zest.
155ml sunflower oil, plus for greasing
230g self-raising flour
1 tsp baking powder
1 1/2 tsp ground cinnamon
1/2 tsp mixed spice
1/2 tsp ground ginger
230g light brown muscavado sugar
Finely grated zest of 1 satsuma strips, to decorate
100g pecans, halved
260g carrots, coarsely grated
3 medium free-range eggs, beaten
For the icing
50g butter, softened
200g full-fat cream cheese
100g icing sugar, plus extra to dust
Finely grated zest of 1 orange
For the orange peel
2 oranges
200ml water
200g caster sugar
Method
Preheat the oven to 180°C/fan160°C/gas 4. Grease an 18cm loose-bottomed round cake tin and line the base with baking paper. Sift the flour, baking powder and spices into a large bowl. Add the sugar, zest, pecans and grated carrots, then stir until well combined. Stir in the beaten eggs and oil, then mix well.
Pour into the prepared cake tin and bake in the oven for 1 hour or until a skewer comes out clean. Transfer to a cooling rack, leave in the tin for 5 minutes, then turn out and leave to cool completely before icing.
For the icing, beat the butter in a large bowl with a hand mixer until really soft. Add the cream cheese and beat again until well mixed. Sift over the icing sugar, add the orange zest, then beat until smooth. Store, covered, in the fridge until needed.
For the orange peel, carefully pare the zest from the orange. Put the water and sugar in a saucepan and heat until the sugar has dissolved. Add the orange zest and remove it from the heat. Let the zest sit in the sugar syrup until it has completely cooled.
Carefully cut the cake in half then spread half the icing between the cake layers and the other half on top. Decorate with the orange zest strips.