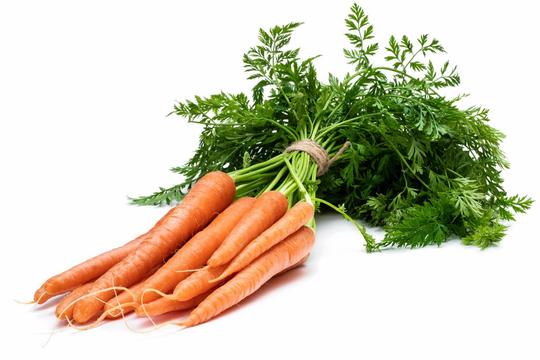 Carrots are a root vegetable that comes in many colours and shapes. Orange carrots were first developed in Central Europe around the 15th or 16th century. Other colours include purple, yellow, red and white and they all slightly vary in taste and can add a brilliant pop of colour to any dish.
Purple carrots have a sweet flavour that is sometimes accompanied by a peppery taste. They are great to eat raw as a snack, in a salad or in pickles.
Red carrots don't differ that much from orange carrots in terms of taste but their lovely red colour comes from the same antioxidant that is found in tomatoes.
White or yellow carrots have a mild flavour and are typically a lot sweeter. They are really tasty when roasted.
Orange carrots are rich in beta-carotene, our bodies convert beta-carotene into vitamin A helping with our eyesight. So kids, eating your carrots really does help you see better!
No peeling – Carrot peel contains about half the antioxidants so instead of peeling, wash them thoroughly with a scrub brush.
Grab some Bromham bunched carrots and get cooking.
Don't forget to check out our Pinterest for more recipe inspiration.
Moroccan spiced carrot hummus
This hummus is so addicting, both in flavour and in colour — bright orange! The Moroccan spices add such a lovely dimension, too. It's great for snacking, you can serve with matchstick veggies, crackers or toasted flatbread.
Source: The Kitchn, find the recipe here
Summer Carrot Ribbon Salad
A colourful, crunchy, light and healthy summer salad using the freshest produce of the season! Use different colour carrots to make it a treat for the eyes.
Source: Proud Italian Cook, find the recipe here
Carrot, Cumin & Barley Summer Stew
This barley stew is perfect for the colder summer days. Refreshing, wholesome and yet luxurious.
Source: BBC, find the recipe here
Carrot Tart with Goat Cheese, Lemon and Mint
Eat as a meal with a salad or slice into petite wedges for a grab-and-go party or picnic.
Source: Midwest Living, find the recipe here
This carrot cake recipe uses pecan nuts for crunch and flavour, with a lovely warmth coming through in the cinnamon and ginger spices. It's topped with cream cheese frosting and decorated with a crown of orange zest.
Recipe source: Delicious magazine, find the recipe here