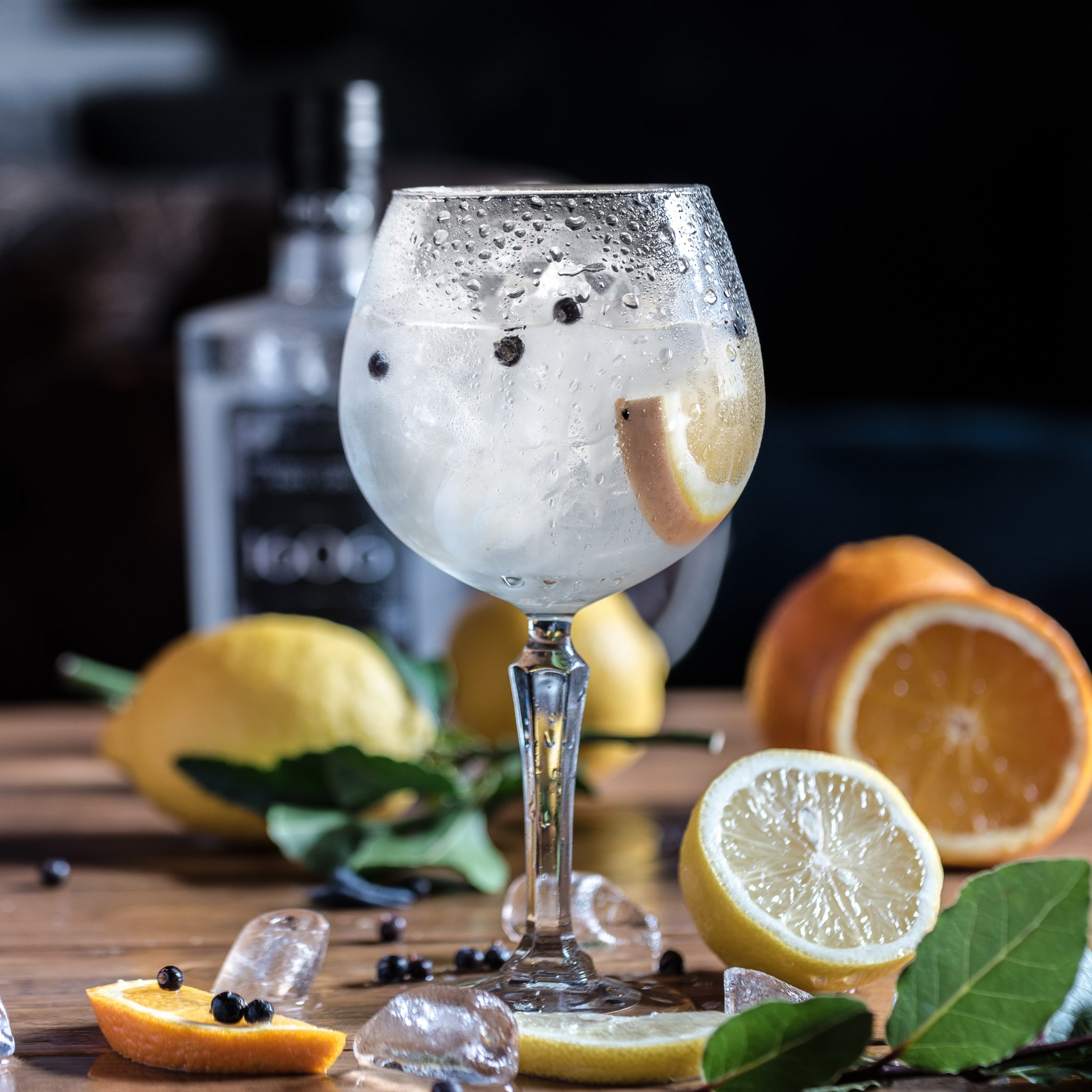 World Gin Day – 12 June 2021
World Gin Day it's a day for everyone and anyone (over the legal drinking age of course…!) to celebrate and enjoy gin! Whether you're already a fan of the juniper spirit or looking for an intro, World Gin Day is the perfect opportunity to get involved.
At Heritage, we have Bombay Sapphire and Tanqueray gin in stock to buy.
To celebrate in style we thought we would share with you our favourite gin recipes to enjoy now the weather is warming up. Check out our Pinterest board too for more recipe suggestions…
Gin, Apple & Elderflower Punch
Full of fresh flavours, this punch is bound to go down a treat at your next party.
Source: Delicious
Ice cubes
165ml elderflower cordial
330ml gin
750ml chilled sparkling apple juice
250ml chilled prosecco
2 cucumbers, thinly sliced
2 Pink Lady apples, thinly sliced
Elderflower sprigs and edible flowers, to serve
Method
Fill a punchbowl with ice. Add cordial, gin, apple juice, prosecco, cucumber and apple, and stir. Top with elderflower sprigs and edible flowers to serve.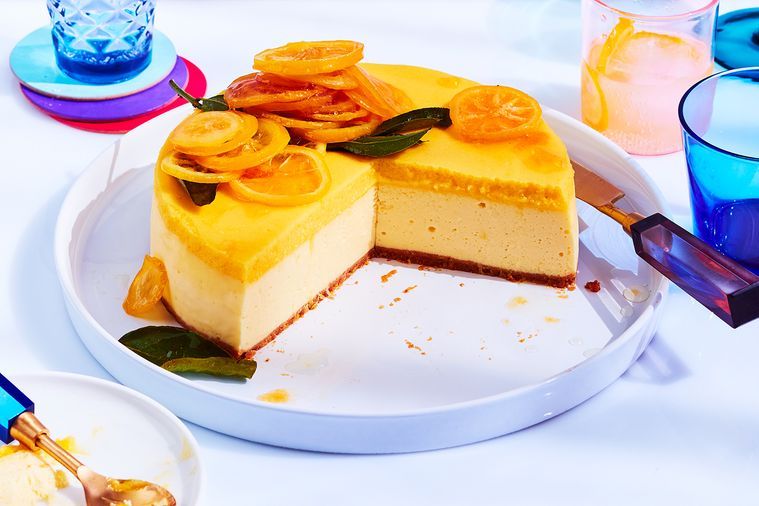 Cook time: 1 hr 30 mins + 4 hrs setting + chilling
Just like the famous Gin & Tonic, this cheesecake is full of punch and zip!
Source: Delicious
120g digestive biscuits
70g unsalted butter, melted
500g cream cheese, at room temperature
150g caster sugar
50g cornflour, sifted
3 eggs
500g sour cream, at room temperature
Finely grated zest of 1 lemon
 1 tbsp tonic water
60ml gin
For the lemon and juniper curd
2 eggs, plus 2 egg yolks
165g caster sugar
80g unsalted butter, chilled
6 juniper berries, bruised
Zest and juice of 2 lemons
1 tbsp cornflour
For the gin and bay lemons
2 lemons, thinly sliced
110g caster sugar
125ml gin
125ml tonic water
1 bay leaf sprig
Method
For the lemon and juniper curd, whisk whole eggs, yolks and sugar in a saucepan until smooth, then place the pan over low heat. Add the butter, juniper berries, lemon zest and juice and cornflour, and whisk continuously until thickened (about 10 minutes). Strain through a sieve into a bowl.
Preheat the oven to 150°C. Grease a 20cm springform pan and line base and side with baking paper. Wrap outside of pan with aluminium foil to make watertight.
To make the base, place biscuits and butter in a food processor and whiz to combine. Press crumb mixture into the base of prepared pan. Chill until needed.
To make the filling, place cream cheese and sugar in a stand mixer fitted with the paddle attachment and beat until smooth. Add the cornflour and beat until combined. Add eggs, 1 at a time, beating well after each addition. Beat in sour cream, lemon zest, tonic water and gin until combined. Pour cream cheese mixture over the base.
Place cheesecake pan in a large, deep baking dish. Fill the dish with boiling water halfway up the side of the cheesecake pan.
Bake for 1 hour 20 minutes or until cheesecake is mostly set. Carefully top with curd and bake for a further 10 minutes or until set with a slight wobble. Turn off the oven. Stand cheesecake in oven with the door closed for 1 hour, then remove the pan from water bath and set cheesecake aside to cool to room temperature. Chill cooled cheesecake for at least 3 hours or until firm.
Meanwhile, for the gin and bay lemons, place all ingredients in a large frying pan and place over high heat, stirring until sugar is completely dissolved. Bring to the boil, reduce to a simmer and cook, turning halfway, for 20 minutes or until the lemon is tender. Set aside to cool completely.
Remove cheesecake from pan, transfer to a serving plate and top with gin and bay lemons to serve.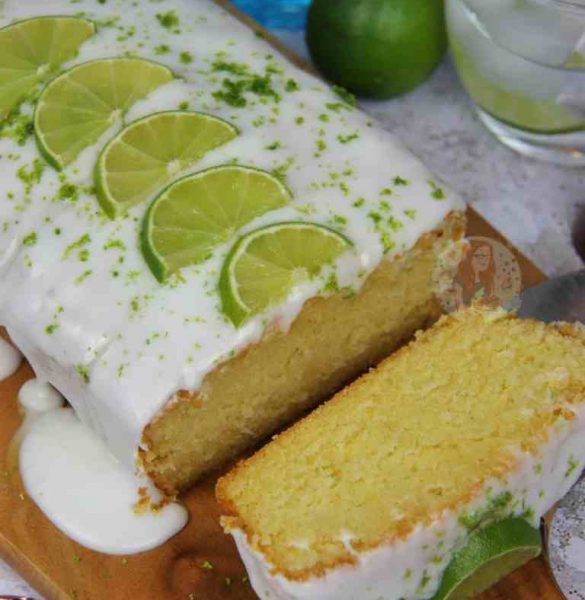 A deliciously light, soft, and flavourful cake based on the wonderful Gin & Tonic. Lime sponge, Gin & Tonic drizzle, Gin icing, and lime = Gin & Tonic Drizzle Cake! Sometimes, the cakes can take longer than the time stated due to oven temperatures and such. Keep an eye on it, but make sure to look for the clean skewer and no bubbling sounds for when it's done!
Source: Janes Patisserie
250g unsalted butter
250g caster sugar
250g self-raising flour
5 medium eggs
1 lime, zested
For the drizzle
75g caster sugar
5 tbsp gin
5 tbsp tonic water
For the icing
200g icing sugar
3-4 tbsp gin
For the decoration
1 lime, zested
Lime slices
Method
Grease and line a 2lb loaf tin, and preheat your oven to 180C/160C fan.
Cream together the butter and caster sugar until light and fluffy.
Add in the eggs, flour, and lime zest, and beat again till smooth and combined.
Pour the cake batter into the tin, and bake in the oven for 40-45 minutes. When baked fully, a cake skewer should come out clean, and the cake shouldn't be making a bubbling sound.
Remove the cake from the oven and leave to cool slightly whilst making the drizzle.
For the Drizzle!
Add the caster sugar, gin, and tonic to a small pan.
Heat on a low-medium whilst stirring, and wait for the sugar to dissolve. Once dissolved, turn off the heat.
Poke the cake lightly with a cake skewer/fork, and then drizzle over the drizzle. Leave the cake to cool fully in the tin.
To Decorate!
Once the cake has cooled, remove it from the tin.
In a small bowl, add the icing sugar, and gradually mix in the gin until you get a thick pourable consistency. You don't want it too thin otherwise it will all runoff.
Pour the icing over the cake, and sprinkle over some lime zest, and then add some lime slices for more decoration.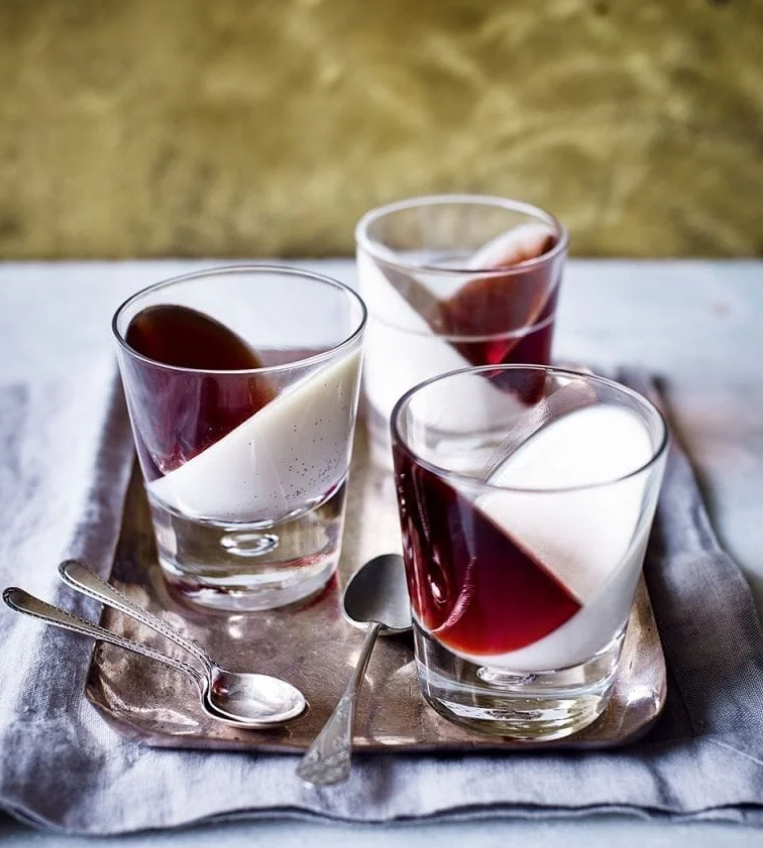 Vanilla Panna Cottas with Slow Gin & Rosemary Jelly
The addition of rosemary and sloe gin-spiked jelly takes these from classic pannacotta to a really special dinner party dessert.
Source: Delicious Magazine
For the panna cottas
4 gelatine leaves
800ml double cream
70g caster sugar
1 vanilla pod, split & seeds scraped
For the sloe gin jelly
6 gelatine leaves
100g caster sugar
250ml sloe gin
2 fresh rosemary sprigs
You will also need:
6 x 200ml dessert glasses
Blue-tac optional
Method
For the Panna cottas, put the 4 gelatine leaves in a medium bowl, cover with cold water and set aside. Put the double cream, caster sugar and vanilla seeds in a large saucepan and heat gently, without simmering, until the cream is just starting to steam and the sugar has completely dissolved. Remove from the heat. Squeeze the liquid from the gelatine leaves, then add them to the warm cream and stir until dissolved. Remove from the heat. Squeeze the liquid from the gelatine leaves, then add them to the warm cream and stir until dissolved. Strain the mixture into a clean jug and set aside until just warm to the touch.
Pour the panna cotta mixture into the glasses and put them in the fridge to set for 2 hours. For extra drama, put the glasses into small bowls and lean them against the sides so they're at an angle, then carefully pour the mixture in halfway and chill (if your glasses won't stay still, secure them with Blue-Tac).
When the Panna cottas have almost set, make the jelly. Put the 6 gelatine leaves in a medium bowl of cold water, then set aside. Put 300ml water and the caster sugar in a medium saucepan and heat gently until the sugar has completely dissolved. Add the sloe gin and rosemary, then turn down the heat to low and cook for 2 minutes. Remove from the heat. Squeeze out the liquid from the gelatine leaves and add the gelatine to the sloe gin mixture, stirring until dissolved. Allow to cool until just warm to the touch, then remove the rosemary.
Pour the jelly over the Panna cottas (if tilting the glasses, turn them onto the other side and pour the jelly on top to fill the other half at an angle). Leave to set in the fridge for 3 hours. Take out of the fridge around 1 hour before serving to bring back to room temperature.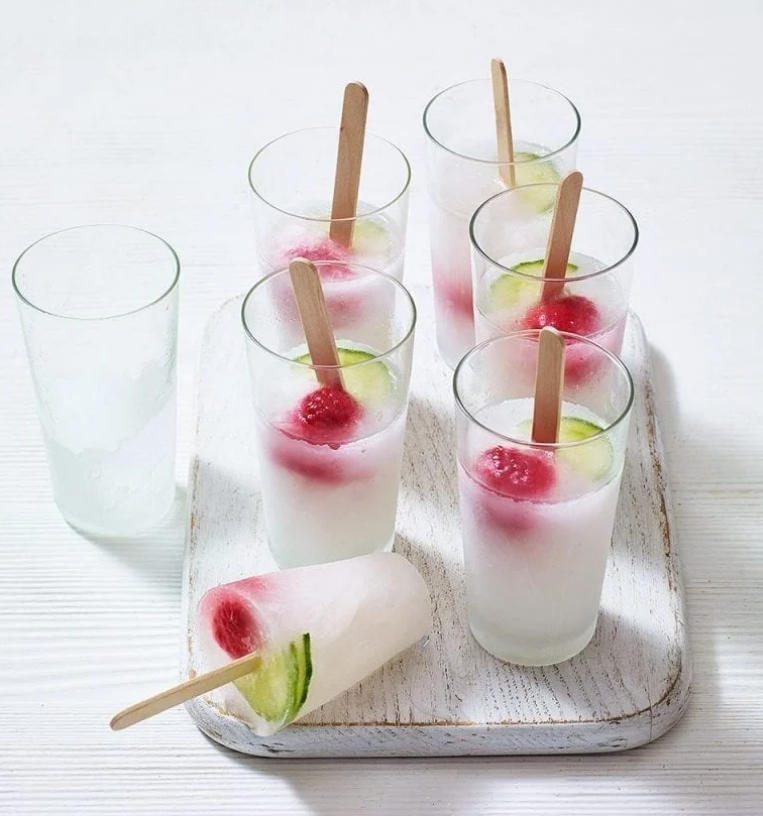 Gin and Tonic Ice Lollies
Turn childhood memories of ice lollies into a grown-up's reality with gin and tonic on a stick – perfect for warmer weather festivities or a weeknight treat.
Source: Delicious Magazine
100g caster sugar
80ml gin
Juice of 1 lime
225ml tonic water
4 slices cucumber, cut into half-moons
8 fresh raspberries
You'll also need:
8 x 80ml ice lolly moulds and 8 lolly sticks
Method
Put the sugar with 50ml cold water in a small saucepan and cook over low/medium heat (don't let it boil) until the sugar has dissolved. Set aside to cool completely.
When cool, put the sugar syrup in a medium pouring jug with the gin, lime juice and tonic water, then mix. Put a cucumber slice and a raspberry into each of the lolly moulds, then pour the mixture evenly into the moulds. Add the lolly sticks and put them in the freezer. Freeze until solid (ideally overnight).