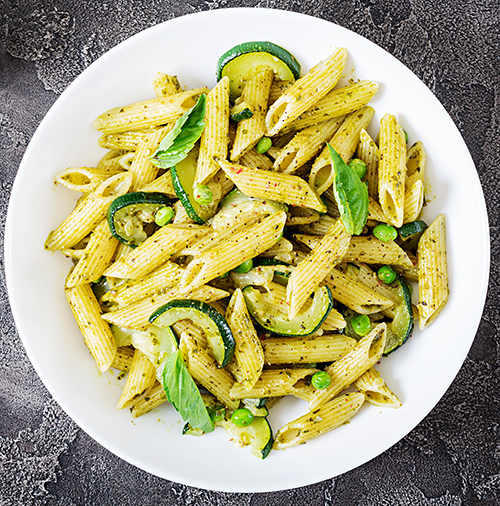 Making your family with healthy dinners can be hard, especially when you need to stick to a budget!
This carbonara recipe uses courgettes, which is a great way to add veggies to your meal as well as giving a delicious summery twist to an Italian classic!
6 medium courgettes
500g penne
4 large free-range eggs
100ml cream
1 small handful of parmesan cheese
olive oil
1/2 a bunch of fresh thyme
Method
Put a large pan of salted water on to boil.
Halve and then quarter any larger courgettes lengthways. Cut out and discard any fluffy middle bits, and slice the courgettes at an angle into pieces roughly the same size and shape as the penne. Smaller courgettes can simply be sliced finely.
Add the penne to the pan and cook according to the packet instructions.
To make your creamy carbonara sauce, separate the eggs and put the yolks into a bowl (saving the whites for another recipe). Add the cream and grate in half the Parmesan, and mix together with a fork. Season lightly with sea salt and black pepper, and put to one side.
Heat a very large frying pan and add a good splash of olive oil. Add the courgette slices and 2 big pinches of black pepper,  Chop and sprinkle in the thyme leaves (reserving any flowers), give everything a stir and fry until they start to turn lightly golden and have softened slightly.
It's very important to get this next bit right or your carbonara could end up ruined. You need to work quickly. When the pasta is cooked, drain it, reserving a little of the cooking water. Immediately, toss the pasta in the pan with the courgettes then remove from the heat and add a ladleful of the reserved cooking water and your creamy sauce. Stir together quickly.
While you're tossing the pasta and sauce, grate in the rest of the Parmesan and add a little more of the cooking water if needed, to give you a silky and shiny sauce. Taste quickly for seasoning.
Serve and eat immediately, as the sauce can become thick and stodgy if left too long.
If you want to add something extra to this already tasty recipe, fry off 6 rashers of diced bacon with the courgettes too.