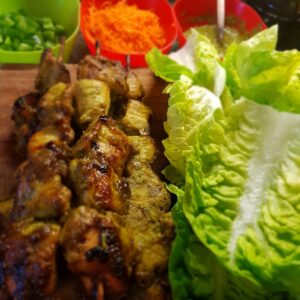 Rob's Chicken Satay Skewers
Rob shares his tasty recipe using the three free items in the box this week! It's a great dish for the whole family to eat and enjoy as everyone can make up their own baby gem 'wraps' and add in as much extras as you want. Enjoy!
2 red chillies
1 garlic clove
3 good tbsp of crunchy peanut butter
Glug of soy sauce
Thumb-sized piece of ginger
2 limes
Pineapple, optional
Runny honey
2 chicken breasts, chopped into skewer sized chunks
Skewers, if using wood, you need to soak these in water for 30 minutes
Method
Prepare the chicken coating
Put the coriander with stalks, peeled garlic, chillies, peanut butter and a glug of soy sauce into a food processor or blender. Add the ginger roughly chopped, zest of two limes and the juice of one lime.
Add a couple of splashes of water, season and blend to a smooth paste. Add a splash more water if the mix is too dry as it's to coat the chicken.
Keep half of the paste in a separate tub and add a small amount of olive oil to it. Mix the rest with two chopped chicken breasts.
Place skewered chicken under the grill running honey over the top and cook roughly for 10-15 minutes turning over and pouring more honey on top.
Whilst the chicken is cooking, break some baby gems open, grate some carrot and dice some pepper.
We had pineapple as well and the boys wanted them in the wraps –  there are no rules, just enjoy.
Use the rest of the sauce on top of the chicken as you build it up…squeeze the remaining lime juice on as you go!
This dish has a good clean hit of heat to it, for the hard core add another chilli or more coriander, we do!