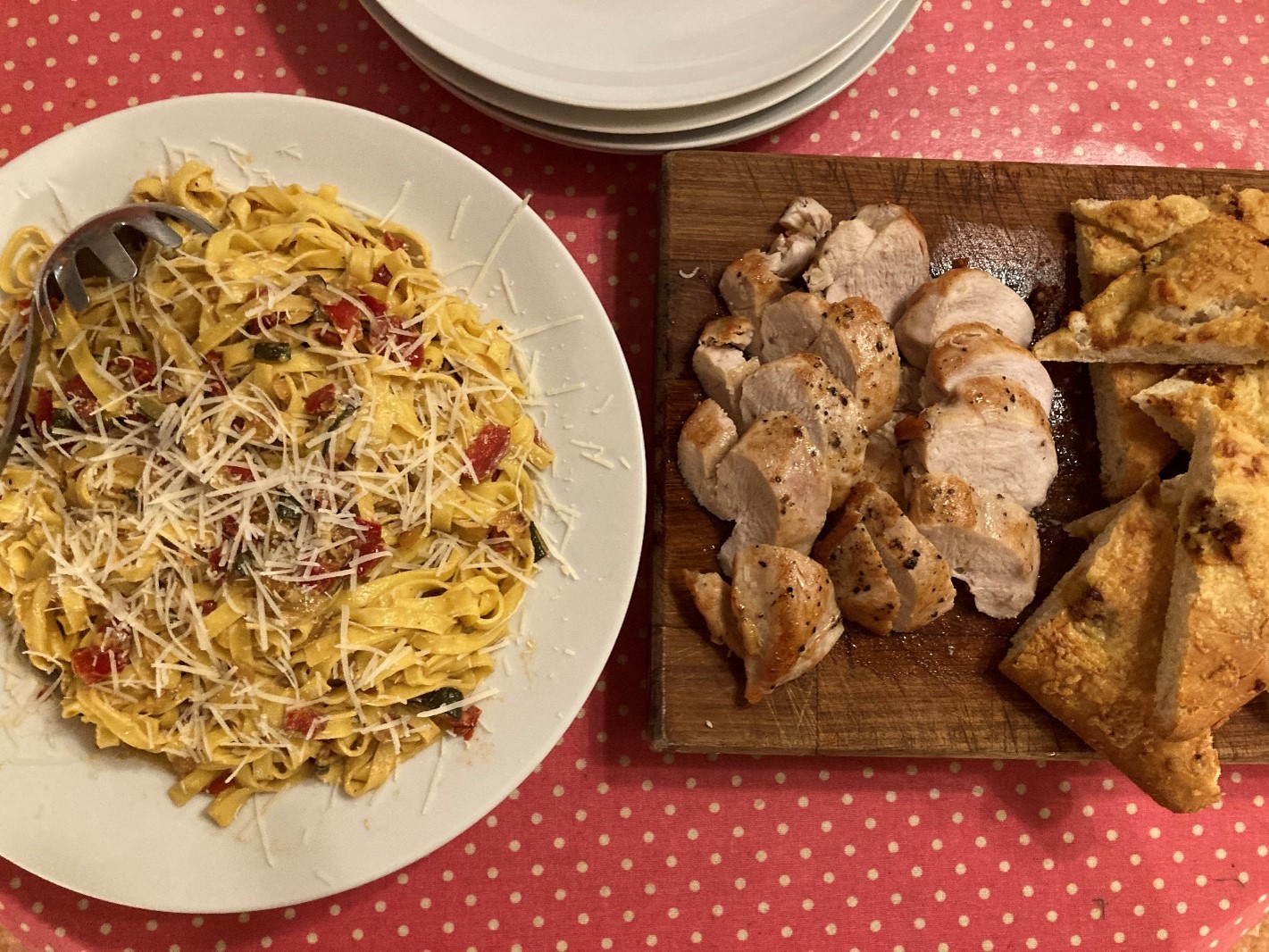 Enjoy Rob's delicious Pasta Peperonata –  a fantastic, easily adaptable dish to be shared with all the family.
Rob says 'A great family favourite. I add chicken as my boys are carnivores – I also added a courgette which needed using up, both are optional'.
Leave out the chicken to keep this dish vegetarian.
2 red peppers, sliced and diced
2 yellow pepper, slice and diced
Olive oil
Salt and black cracked pepper, to season
2 red onions, sliced and diced
2 garlic cloves, peeled, sliced or grated
2 handfuls of Parmesan
500g of any pasta
Good swig of balsamic vinegar
2 good tbsp of mascarpone
Flat leaf parsley to serve, optional
Method
Chop the veg.
Slowly cook the pepper and courgette (if using) on a medium heat for about 10 minutes, making sure it doesn't burn! Cook to soften and sweeten, add in a drizzle of oil and season.
Add the onion and garlic, and cook for another 10 minutes.
Season again and add the balsamic vinegar, keep moving in the pan to ensure everything is coated.
Add 1 handful of Parmesan and the mascarpone and stir. Turn down the heat to low heat.
If you're added chicken to this dish, sear in a pan and place in the oven for 20 mins at 200C.
Cook your pasta according to package instructions.
Once cooked, drain the pasta, reserving some of the water. Add the pasta to the veg, stir everything together adding some of the water from the pasta and a good glug of olive oil.
Serve whilst hot and top with the remaining Parmesan.