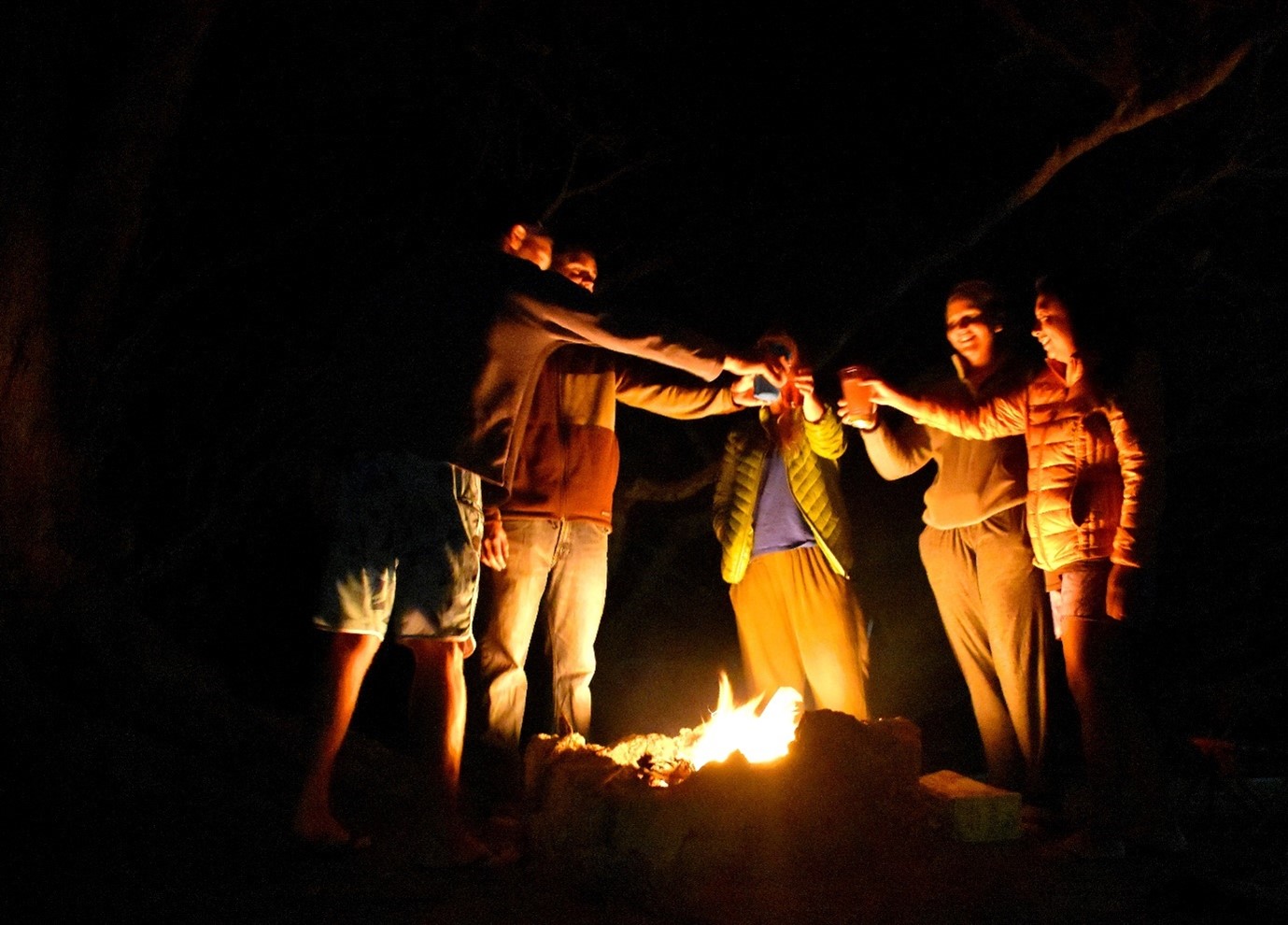 Have a Heritage at Home Bonfire Night Celebration with your family
Bonfire night is a fun excuse to dress up warm, keep the kids up late, enjoy some tasty food and have some fun. We've put together some ideas and activities to make it a special evening for you if you decide to celebrate at home.
Dress up your garden/back yard
Light up your garden with some LED lights placed in some jam jars and hang from trees or place on walls to add some atmosphere. Longer chains of LED lights can be wound around trees for stunning effects too. Alternatively, add some glow sticks inside of some balloons and tie up in trees.
No fireworks this year – try glow in the dark bubbles
Who doesn't love bubbles?  If you want bonfire night activities that will make everyone say 'ooh' and 'ahh'  without the big bang this is a really effective thing to try.  Empty some bubble solution from your bottle, cut glow sticks of different colours and pour the contents into the bubble bottles. Mix up and blow as normal – keep the bottles out of reach of very young children as the solution can be harmful if ingested.
Our Heritage Top 3 Bonfire dishes
Dishes that can be thrown in the oven to cook in one pot are ideal for a bonfire meal with a bit of heat. tasty, full of flavour and nutritious.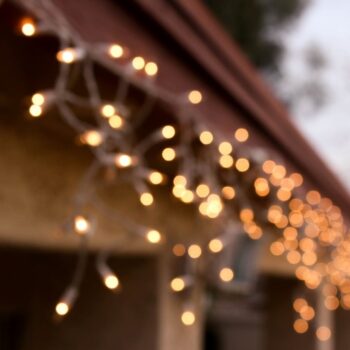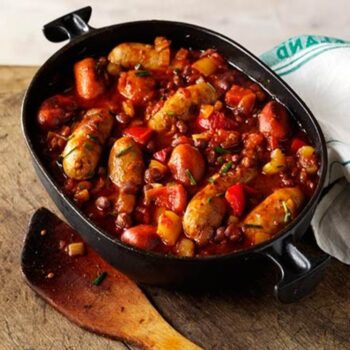 Smoky Sausage & Bean Casserole
A really delicious and comforting and hearty one-pot sausage stew with chorizo, smoked paprika and plenty of vegetables. Load into bowls and enjoy.
Source: BBC
2 tbsp olive oil
1 onion, finely chopped
2 medium celery sticks, finely chopped
1 yellow pepper, chopped
1 red pepper, chopped
6 cooking chorizo sausages (about 400g)
6 pork sausages (about 400g)
3 fat garlic cloves, chopped
1 1/2 tsp sweet smoked paprika
1/2 tsp ground cumin
1 tbsp dried thyme
125ml white wine
800g tinned chopped tomatoes
2 sprigs fresh thyme
1 chicken stock cube
400g tin aduki beans drained and rinsed
1 bunch chives, snipped
Method
Heat 2 tbsp oil in a large heavy-based pan.
Add 1 finely chopped onion and cook gently for 5 minutes.
Add 2 finely chopped medium celery sticks, 1 chopped yellow pepper and 1 chopped red pepper and cook for a further 5 mins.
Add 6 chorizo sausages and 6 pork sausages and fry for 5 minutes.
Stir in 3 chopped garlic cloves, 1 ½ tsp sweet smoked paprika, ½ tsp ground cumin and 1 tbsp dried thyme and continue cooking for 1 – 2 mins or until the aromas are released.
Pour in 125ml white wine and use a wooden spoon to remove any residue stuck to the pan.
Add 1 x 800g can of tomatoes, and 2 sprigs of fresh thyme and bring to a simmer. Crumble in the chicken stock cube and stir.
Cook for 40 minutes. Stir in a 400g drained and rinsed can of aduki beans and cook for a further five minutes.
Remove the thyme sprigs, season with black pepper and stir through some snipped chives, if using. Serve.
Chilli loaded jacket potatoes
Jacket potatoes and chilli are great comfort food when the nights draw in.  For a meat-free version replace the meat with Quorn mince.
Source: Adapted from BBC Good Food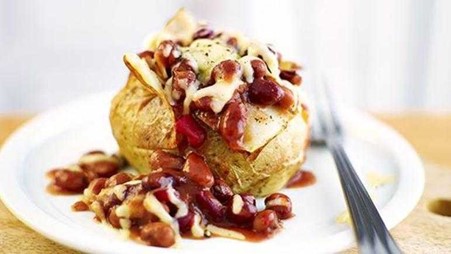 1 large onion
1 green pepper
2 garlic cloves
1 tbsp oil
1 heaped tsp hot chilli powder (or 1 level tbsp if using mild)
1 tsp paprika
1 tsp ground cumin
500g lean mince beef
1 beef stock cube
400g tinned chopped tomatoes
1/2 tsp dried marjoram
2 tbsp tomato puree
410g tinned red kidney beans
4 baking potatoes
Method
Heat oven to 200C/180C fan/gas 6. Prick the potatoes all over with a fork, then put on a baking sheet and bake in the oven for 1 hr.
While the potatoes are baking prepare your vegetables. Dice 1 large onion. Chop 1 green pepper (removing seeds).  Finely chop 2 garlic cloves.
Add 1 tbsp oil and leave it for 1-2 minutes until hot – Add the onion and cook, stirring fairly frequently, for about 5 minutes, or until the onion is soft, squidgy and slightly translucent.
Tip in the garlic, pepper, 1 heaped tsp hot chilli powder or 1 level tbsp mild chilli powder, 1 tsp paprika and 1 tsp ground cumin.
Give it a good stir, then leave it to cook for another 5 minutes, stirring occasionally.
Brown 500g lean minced beef. Turn the heat up a bit, add the meat to the pan and break it up with your spoon or spatula. The mix should sizzle a bit when you add the mince.
Make the sauce. Crumble 1 beef stock cube into 300ml hot water. Pour this into the pan with the mince mixture.
Add a 400g can of chopped tomatoes. Tip in ½ tsp dried marjoram, 1 tsp sugar and add a good shake of salt and pepper. Squirt in about 2 tbsp tomato purée and stir the sauce well.
Simmer it gently. Bring the whole thing to the boil, give it a good stir and put a lid on the pan. Turn down the heat until it is gently bubbling and leave it for 20 minutes.
Drain and rinse a 410g can of red kidney beans in a sieve and stir them into the chilli pot. Bring to the boil again, and gently bubble without the lid for another 10 minutes, adding a little more water if it looks too dry.
Taste a bit of the chilli and season. It will probably take a lot more seasoning than you think.
Pour over your potato, add grated cheese or alternatively sour cream or guacamole.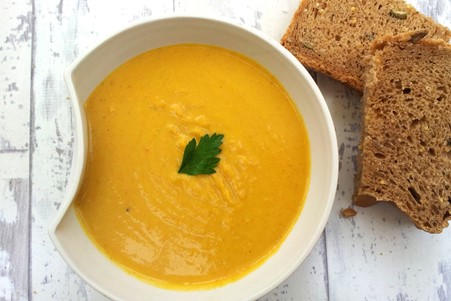 Red Lentil and Carrot Coconut Soup [Vegan]
This red lentil and carrot coconut soup makes a lovely warming meal for bonfire night. It has a lovely orange glow and the soft, smooth creaminess of the coconut milk makes it extra decadent. Lentils are also a good source of proteins and antioxidants, making this soup a quick & super healthy meal.
Source: The Flexitarian
250g red split lentils
4 medium carrots
1 large onion, roughly chopped
2 garlic cloves, crushed
2 tbsp medium curry powder
1 tsp coriander powder
1.2 litres vegetable stock
400ml light coconut milk
1 to 2 tbsp lemon juice
Olive oil
Salt & Pepper
Method
Heat some olive oil in a large saucepan over medium heat. Gently fry the chopped onion and crushed garlic with curry and coriander powders for 5 minutes.
Add carrots peeled and chopped into thin slices. Mix well and cook for 5 mins.
Add split red lentils and vegetable stock.
Bring to the boil, then reduce heat and cook covered under medium heat for 20 mins until carrots are cooked.
Add coconut milk and cook for a further 5 mins.
Purée the soup with a liquidiser.
Add lemon juice. Season to taste.
Tasty, fun bonfire treats…
Doughnut Bobbing
Why not try doughnut bobbing.  Hang ring doughnuts on strings from a fairy-lit tree, off a bamboo cane or improvise with a couple of adults to hold the doughnuts on strings.  Blindfold a willing participant and tie their hands behind their back. Spin them around a few times and point them in the direction of the swinging doughnuts and see how long it takes them to devour a whole one.  Extra points if they do it without licking their lips!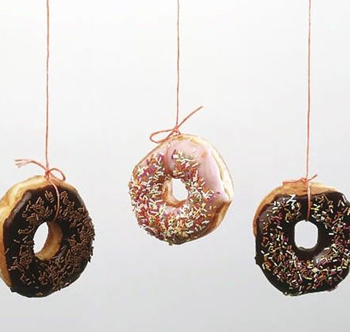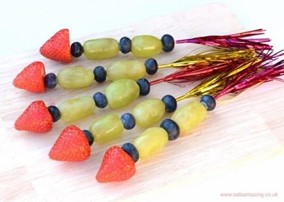 Edible Fruit Rockets
Source: Eats Amazing
Ingredients:
5 strawberries
10 large green grapes
15 blueberries
5 foil cocktail sticks
Method:
Wash and dry the fruit, then hull the strawberries by chopping the tops off them. Thread the blueberries and grapes onto the skewers, alternating between them. Top each skewer with a strawberry to make a point at the top of the rocket.
Edible Sparklers!
Source: The Bear and The Fox
Put a marshmallow on the end of a kebab skewer. Dip the end in melted chocolate and then cover in hundreds and thousands or little stars. Your very own edible sparkler!
Ingredients:
Breadsticks
Dark or white chocolate
Sprinkles
Method:
Break the chocolate into small pieces and melt in a heatproof bowl over a pan of simmering water. Make sure the water is not boiling and is not touching your bowl!
Dip the breadsticks into the melted chocolate, then stand them in a mug. The chocolate will drip down and make a mess, so make sure you have something underneath.
Wait a couple of minutes for the chocolate to start setting, then sprinkle over your sprinkles. If you do this too soon, the sprinkles will just run down the sticks along with the dripping chocolate or the heavier sprinkles will fall off.
Leave the sparklers in the mug – making sure they are not touching – until the chocolate is completely set (stick them in the fridge, complete with mug) to speed up the process a little. You may need more than one mug if you are making lots.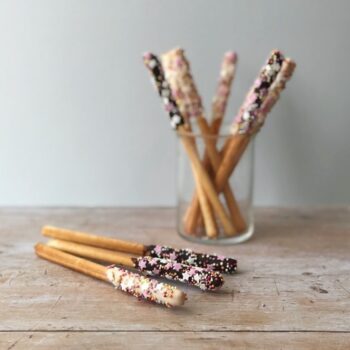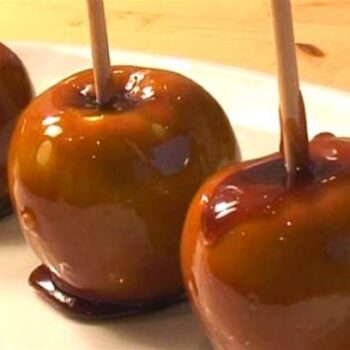 Homemade Toffee Apples
Prep: 10 mins | Cook: 10 mins | Makes 8
Nothing beats the crunch of a toffee apple on a crisp autumnal evening and these taste so much better than shop-bought.
Ingredients:
8 Granny Smith apples
400g golden caster sugar
1 tsp vinegar
4 tbsp golden syrup
Method:
Place the apples in a large bowl, then cover with boiling water (you may have to do this in 2 batches). This will remove the waxy coating and help the caramel to stick. Dry thoroughly and twist off any stalks. Push a wooden skewer or lolly stick into the stalk end of each apple.
Layout a sheet of baking parchment and place the apples on this, close to your stovetop. Tip the sugar into a pan along with 100ml water and set over medium heat. Cook for 5 mins until the sugar dissolves, then stir in the vinegar and syrup. Set a sugar thermometer in the pan and boil to 150C or 'hard crack' stage. If you don't have a thermometer you can test the toffee by pouring a little into a bowl of cold water. It should harden instantly and, when removed, be brittle and easy to break. If you can still squish the toffee, continue to boil it.
Working quickly and carefully, dip and twist each apple in the hot toffee until covered, let any excess drip away, then place on the baking parchment to harden. You may have to heat the toffee a little if the temperature drops and it starts to feel thick and viscous. Leave the toffee to cool before eating. Can be made up to 2 days in advance, stored in a dry place.
For all our bonfire night at home recipes please see our Pinterest board.