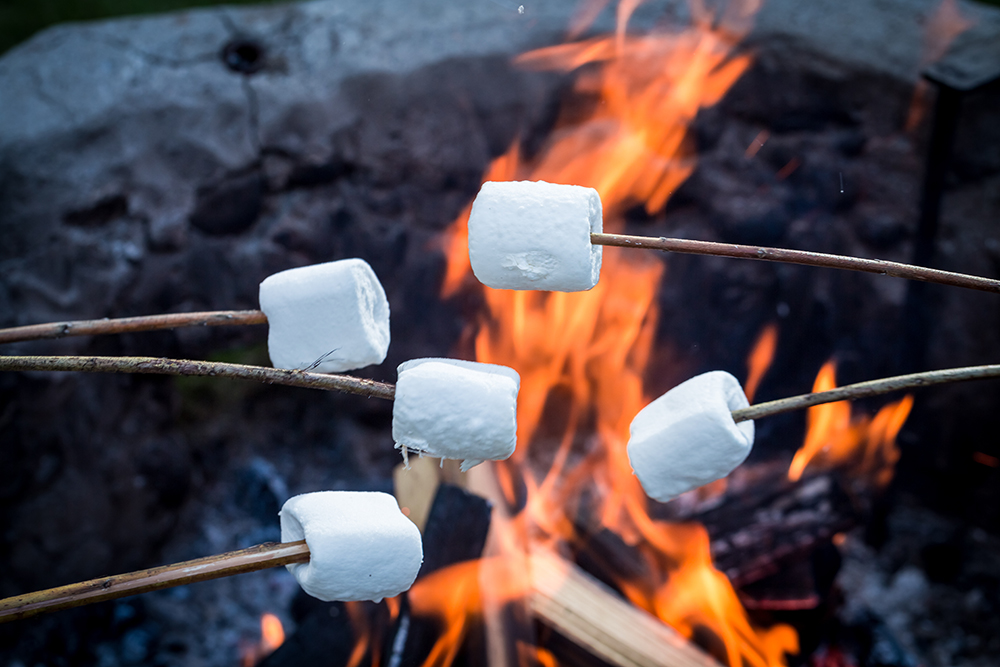 Bonfire night celebrations
Bonfire night is a great excuse to dress up warm, keep the kids up late, enjoy some tasty food and have some fun. We've put together some tasty treats to make it a special evening for you if you decide to celebrate at home (recipes are tasty though throughout the autumn and winter time).
Smoky Sausage & Bean Casserole
A really delicious and comforting and hearty one-pot sausage stew with chorizo, smoked paprika and plenty of vegetables. Load into bowls and enjoy.
Source: BBC, find the recipe here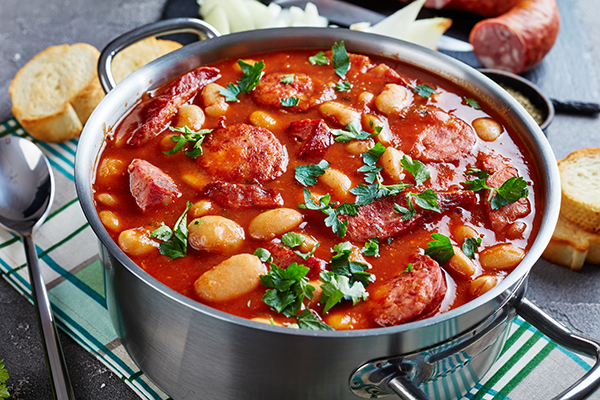 Chilli loaded jacket potatoes
Jacket potatoes and chilli are great comfort food when the nights draw in.  For a meat-free version replace the meat with Quorn mince.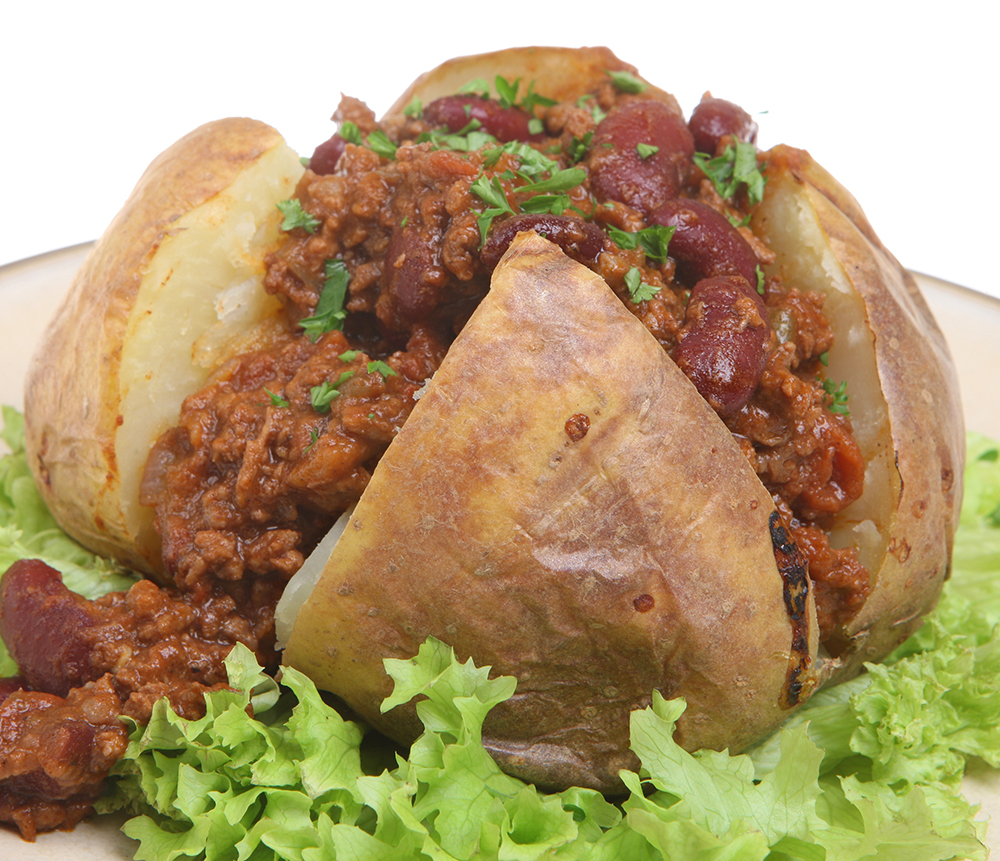 1 large onion
1 green pepper
2 garlic cloves
1 tbsp oil
1 heaped tsp hot chilli powder (or 1 level tbsp if using mild)
1 tsp paprika
1 tsp ground cumin
500g lean mince beef
1 beef stock cube
400g tinned chopped tomatoes
1/2 tsp dried marjoram
2 tbsp tomato puree
410g tinned red kidney beans
4 baking potatoes
Method
Heat oven to 200C/180C fan/gas 6. Prick the potatoes all over with a fork, then put on a baking sheet and bake in the oven for 1 hr.
While the potatoes are baking prepare your vegetables. Dice 1 large onion. Chop 1 green pepper (removing seeds).  Finely chop 2 garlic cloves.
Add 1 tbsp oil and leave it for 1-2 minutes until hot – Add the onion and cook, stirring fairly frequently, for about 5 minutes, or until the onion is soft, squidgy and slightly translucent.
Tip in the garlic, pepper, 1 heaped tsp hot chilli powder or 1 level tbsp mild chilli powder, 1 tsp paprika and 1 tsp ground cumin.
Give it a good stir, then leave it to cook for another 5 minutes, stirring occasionally.
Brown 500g lean minced beef. Turn the heat up a bit, add the meat to the pan and break it up with your spoon or spatula. The mix should sizzle a bit when you add the mince.
Make the sauce. Crumble 1 beef stock cube into 300ml hot water. Pour this into the pan with the mince mixture.
Add a 400g can of chopped tomatoes. Tip in ½ tsp dried marjoram, 1 tsp sugar and add a good shake of salt and pepper. Squirt in about 2 tbsp tomato purée and stir the sauce well.
Simmer it gently. Bring the whole thing to the boil, give it a good stir and put a lid on the pan. Turn down the heat until it is gently bubbling and leave it for 20 minutes.
Drain and rinse a 410g can of red kidney beans in a sieve and stir them into the chilli pot. Bring to the boil again, and gently bubble without the lid for another 10 minutes, adding a little more water if it looks too dry.
Taste a bit of the chilli and season. It will probably take a lot more seasoning than you think.
Pour over your potato, add grated cheese or alternatively sour cream or guacamole.
Red Lentil and Carrot Coconut Soup [Vegan]
This red lentil and carrot coconut soup makes a lovely warming meal for bonfire night. It has a lovely orange glow and the soft, smooth creaminess of the coconut milk makes it extra decadent. Lentils are also a good source of proteins and antioxidants, making this soup a quick & super healthy meal.
Source: The Flexitarian, find the recipe here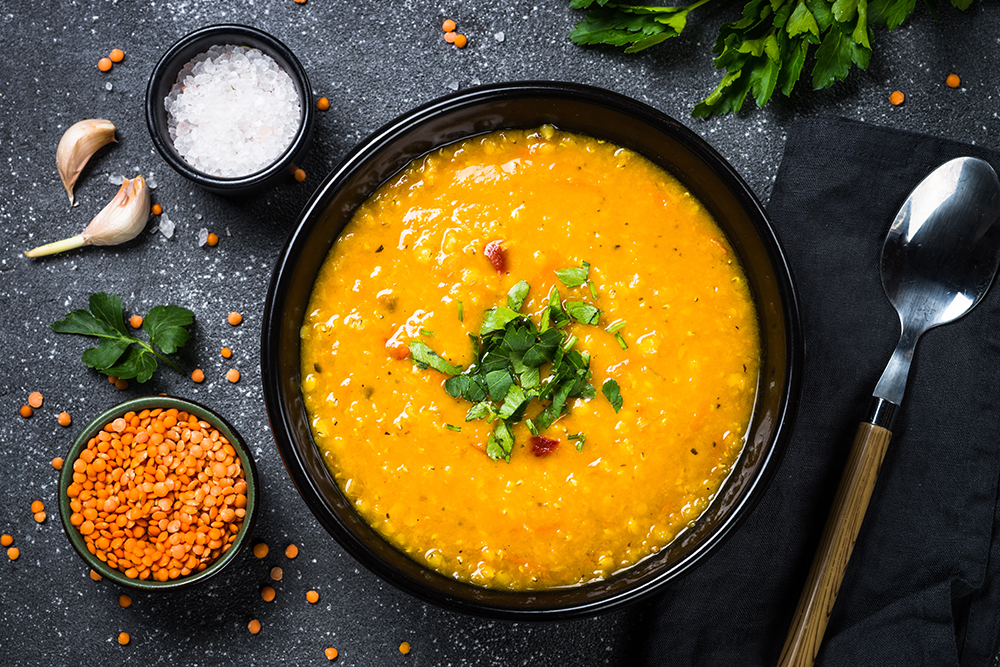 Tasty, fun bonfire treats…
Doughnut Bobbing
Why not try doughnut bobbing.  Hang ring doughnuts on strings from a fairy-lit tree, off a bamboo cane or improvise with a couple of adults to hold the doughnuts on strings.  Blindfold a willing participant and tie their hands behind their back. Spin them around a few times and point them in the direction of the swinging doughnuts and see how long it takes them to devour a whole one.  Extra points if they do it without licking their lips!
Edible Fruit Rockets
Ingredients:
5 strawberries
10 large green grapes
15 blueberries
5 foil cocktail sticks
Method:
Wash and dry the fruit, then hull the strawberries by chopping the tops off them. Thread the blueberries and grapes onto the skewers, alternating between them. Top each skewer with a strawberry to make a point at the top of the rocket.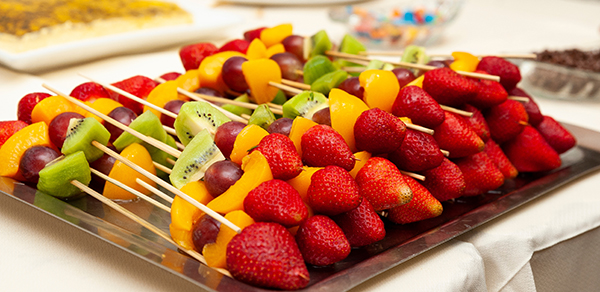 Homemade Toffee Apples
Prep: 10 mins | Cook: 10 mins | Makes 8
Nothing beats the crunch of a toffee apple on a crisp autumnal evening and these taste so much better than shop-bought.
Ingredients:
8 Granny Smith apples
400g golden caster sugar
1 tsp vinegar
4 tbsp golden syrup
Method:
Place the apples in a large bowl, then cover with boiling water (you may have to do this in 2 batches). This will remove the waxy coating and help the caramel to stick. Dry thoroughly and twist off any stalks. Push a wooden skewer or lolly stick into the stalk end of each apple.
Layout a sheet of baking parchment and place the apples on this, close to your stovetop. Tip the sugar into a pan along with 100ml water and set over medium heat. Cook for 5 mins until the sugar dissolves, then stir in the vinegar and syrup. Set a sugar thermometer in the pan and boil to 150C or 'hard crack' stage. If you don't have a thermometer you can test the toffee by pouring a little into a bowl of cold water. It should harden instantly and, when removed, be brittle and easy to break. If you can still squish the toffee, continue to boil it.
Working quickly and carefully, dip and twist each apple in the hot toffee until covered, let any excess drip away, then place on the baking parchment to harden. You may have to heat the toffee a little if the temperature drops and it starts to feel thick and viscous. Leave the toffee to cool before eating. Can be made up to 2 days in advance, stored in a dry place.
For all our bonfire night at home recipes please see our Pinterest board.