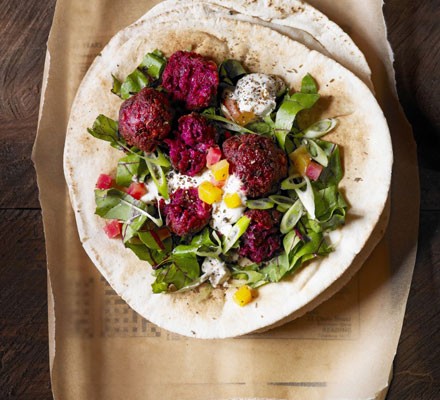 Beetroot Falafel Flatbreads

– Eat Healthy for Less
Jazz up an all-time vegetarian favourite with these beetroot falafel flatbreads. Add vibrant beetroot and serve with tahini yoghurt dip and pickled beets. Wrap it all in an easy homemade flatbread for a delicious lighter midweek option. This dish costs £1.02 per serving. Let us know if you have a go at this dish and tag us in a picture on Facebook and Instagram.
Adapted from: BBC Good Food
Nutritional Information: Calories 260kcals; Carbohydrates 36g; Total Fat 7g; Saturated Fat 1g; Fibre 7g; Protein 10g; Salt 1.1g.
1 tbsp olive oil
2 onions, chopped
2 tsp ground cumin
2 x 400g cans chickpeas, drained
500g raw beetroot, peeled, trimmed and coarsely grated
100g fresh breadcrumbs
1 egg
1 tbsp tahini paste
Vegetable oil, for brushing
Flatbreads
200g plain flour
1/4 tsp salt
100ml warm water
2 tbsp olive oil, plus extra for cooking
To serve
1 tbsp tahini paste
300ml natural yoghurt
Pinch of salt
3 handfuls of mixed salad
Few pickled beetroots, diced
Method
Place the flour and salt in a large bowl and trickle on the water bit by bit. 
Mix the water and flour mixture together. 
Add the oil and knead the dough – you are aiming for a soft dough. If it is too sticky, add a little more flour or if it is too dry, add a splash of water. 
Knead the dough for 5 minutes. 
Leave the dough to stand for about 30 minutes.  
Heat the olive oil in a frying pan and fry the onions until softened but not coloured. Add the cumin and cook for 1 min, then scrape the mixture into a food processor with the chickpeas, two-thirds of the grated beetroot, the breadcrumbs, egg and tahini. Whizz to a rough paste, then scrape into a bowl and stir in the remaining grated beetroot with plenty of seasoning. 
With damp hands, shape into about 20 balls and space on baking parchment-lined baking sheets. Chill until ready to serve. 
Heat oven to 200C/180C fan/gas 6. Brush the falafels with a little vegetable oil and bake for 20-25 mins until crisp and hot through. Alternatively, heat 2.5cm oil in a deep wok and fry in batches, turning, until crisp and hot. 
On a clean surface, roll each ball of dough one at a time using a rolling pin. If you pick up and move round the flatbread often you know it hasn't stuck. (You may need to sprinkle a little flour on the surface but only use a little as too much will dry out the dough.) Don't worry if they aren't perfect circles! 
Heat a large frying pan. Take a sheet of kitchen paper and rub a little oil onto the surface of the pan. Cook each flatbread for about 2 minutes on one side – it should puff up a little. Flip the flatbread over using tongs and then cook for a couple of minutes on the other side. The flatbread should have turned lighter in colour and may have a few spots of brown. Keep the cooked flatbreads warm, wrapped in foil or a clean tea towel, until the others are cooked. 
To serve, mix the tahini with the yoghurt, sugar and some seasoning, then dollop onto the flatbreads with the warm or room-temperature falafels, diced beetroot and salad.