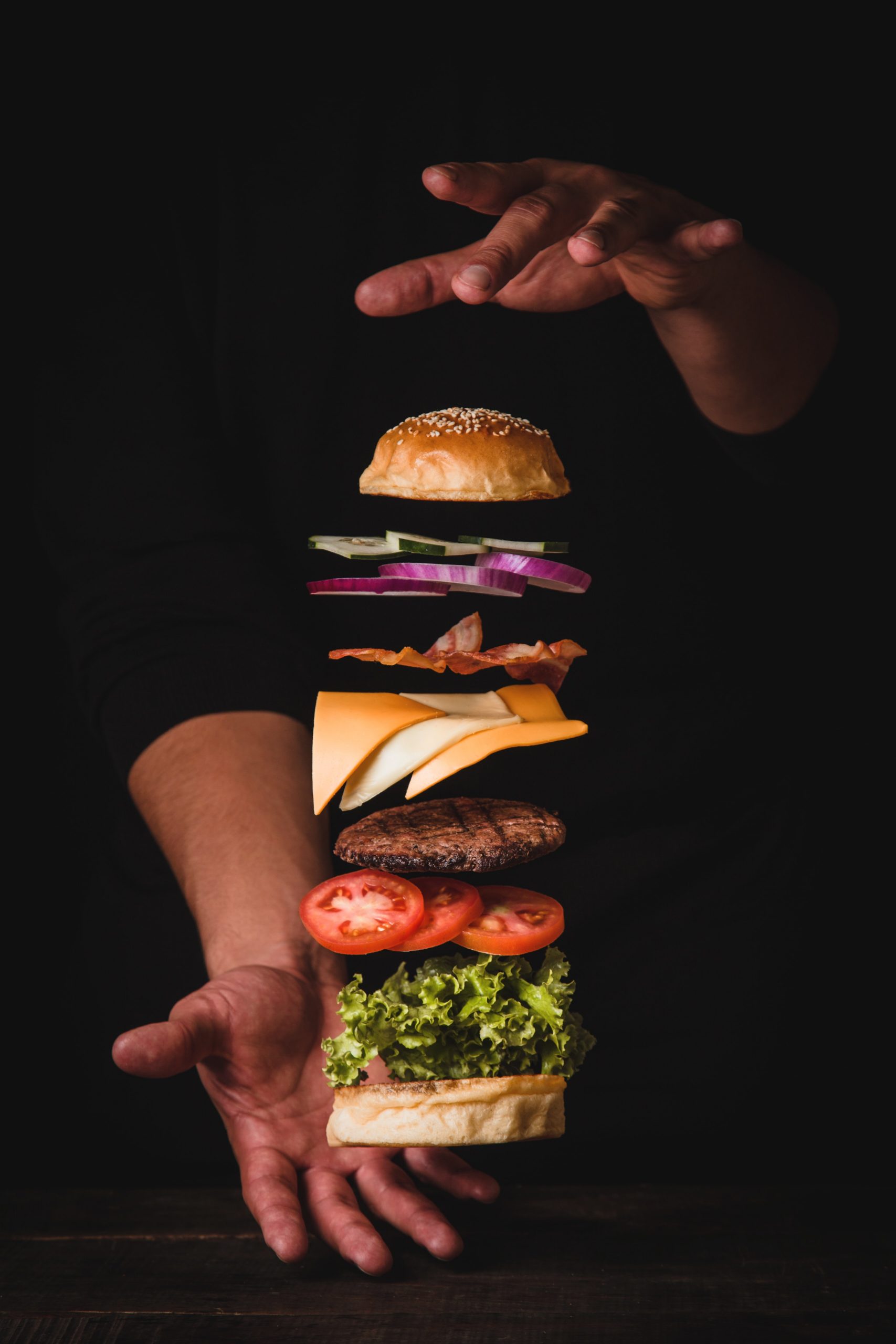 International Hamburger Day
Friday, May 28th is International Hamburger Day. The burger (and in particular the hamburger) is one of the most popular types of fast food. Let's face it; there isn't anything in the world quite so tasty as your first bite of a rich, juicy hamburger. But why are hamburgers so amazing? Well, there will be some form of burger for you. Unlike some popular dishes where you just get what you get, a hamburger can be designed and created for the person who is eating it.
History of the Hamburger
The hamburger's roots lead back to 4th-century Europe and minced meat recipes. However, most hamburger-loving historians state that the true history of the burger began in the 1840s when Germans brought high-quality meats from Hamburg to the U.S. The hamburger made its first appearance on a U.S. menu in New York City in 1873.
The true inventor of the modern hamburger is up for debate as Charlie Nagreen from Wisconsin and Frank and Charles Menches from New York claim to be those who served a burger patty on a bun first. However, the hamburger truly captivated Americans when it was featured at the 1904 St. Louis World's Fair. The world's first fast-food burger chain, White Castle, opened in Kansas in 1916. The rest is history.
How to Celebrate Hamburger Day
How you celebrate National Hamburger Day is up to you, but we suggest dining on your favourite version of the burger, whether at home or at your favourite burger restaurant. Burgers aren't just about one thing either, so vegetarians are invited to celebrate with their favourite plant-based burgers too or how about fish or chicken too?.
You can either buy some Lowerfield Farm burgers from us or buy the ingredients to make some of the following suggestions.  We've included meat, chicken, fish and veggie burgers for you to try out.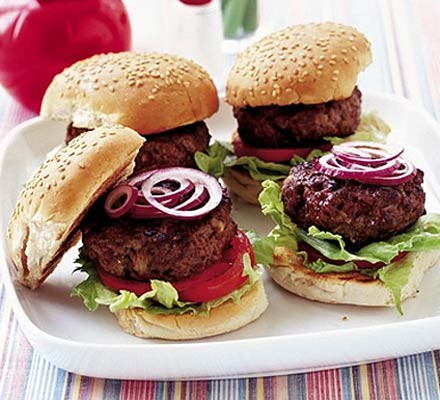 The Classic Burger for the BBQ
Learn how to make succulent beef burgers with just four ingredients. An easy recipe for perfect homemade patties.
Source: BBC Good Food
1 small onion, diced
500g good-quality beef mince
1 egg
Salt & pepper, to season
1 tbsp vegetable oil
4 burger buns
Any of the following to serve;
sliced tomato
beetroot
horseradish sauce
mayonnaise
ketchup
iceberg lettuce
rocket
watercress
Method
Tip 500g beef mince into a bowl with 1 small diced onion and 1 egg, then mix.
Divide the mixture into four. Lightly wet your hands. Carefully roll the mixture into balls, each about the size of a tennis ball.
Set in the palm of your hand and gently squeeze down to flatten into patties about 3cm thick. Make sure all the burgers are the same thickness so that they will cook evenly.
Put on a plate, cover with cling film and leave in the fridge to firm up for at least 30 mins.
Heat the barbecue to medium-hot (there will be white ash over the red hot coals – about 40 mins after lighting). Lightly brush one side of each burger with vegetable oil.
Place the burgers, oil-side down, on the barbecue. Cook for 5 mins until the meat is lightly charred. Don't move them around or they may stick.
Oil the other side, then turn over using tongs. Don't press down on the meat, as that will squeeze out the juices.
Cook for 5 mins more for medium. If you like your burgers pink in the middle, cook 1 min less on each side. For well done, cook 1 min more.
Take the burgers off the barbecue. Leave to rest on a plate so that all the juices can settle inside.
Slice four burger buns in half. Place, cut-side down, on the barbecue rack and toast for 1 min until they are lightly charred. Place a burger inside each bun, then top with your choice of accompaniment.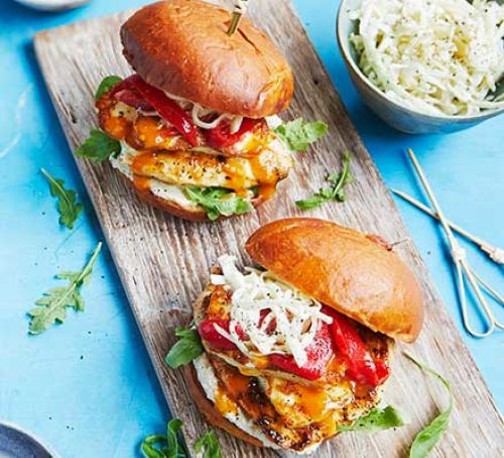 15-minute Chicken & Halloumi Burger
Struggle to find dishes to cook that take very little time but the whole family will love? Look no further than these chicken and halloumi burgers.
Source: BBC Good Food
2 skinless chicken breasts
1 tbsp oil, plus extra for frying the halloumi
4 tbsp Piri-Piri sauce or other mild chilli sauce, plus extra for drizzling
1/2 lemon, juiced
Burger buns, split in half
250g block lighter halloumi, sliced into 8 pieces
1/4 small white cabbage, finely sliced
2 tbsp mayonnaise
4 tbsp hummus, tzatziki or sour cream and chive dip
Handful of rocket
2 large roasted red peppers from a jar, drained and sliced
Method
Put the chicken breasts between two pieces of baking parchment and bash with a rolling pin until 1cm thick. Cut each into two even pieces.
Heat two frying pans over medium-high heat, heating the oil in one. Fry the chicken in the oiled pan for 3-4 mins on each side until cooked through. Season. Reduce the heat, drizzle in the chilli sauce and half the lemon juice and cook for 1-2 mins more until the sauce is reduced. Remove from the heat.
While the chicken cooks, toast the buns in the dry frying pan for 30 secs. Transfer to a plate, then fry the halloumi in the pan (add a bit of oil if the pan is not non-stick) for 30 secs on each side until golden. Toss the cabbage with the mayo and remaining lemon juice.
Spoon the hummus (or dip of your choice) into the toasted buns, then top with the rocket, chilli chicken, halloumi and peppers. Drizzle with a little more chilli sauce, spoon over the cabbage, season with black pepper, and top with the bun lids. Serve with any extra cabbage on the side or a green salad.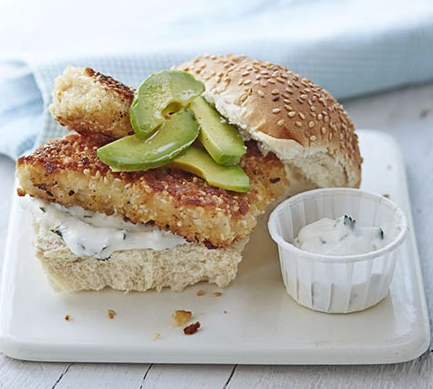 Crispy Sesame Fish Burger with Lime Mayo
Make a four-star fish finger burgers by serving crisp pieces of cod, haddock or pollock in a burger bun with coriander mayo and avocado.
Source: BBC Good Food
250g sustainable white fish fillets, such as cod, haddock or pollock
2 tbsp plain flour
1 egg, beaten
4 tbsp dried breadcrumbs
2 tbsp sesame seeds
Vegetable oil, for frying
1 ripe avocado
1 lime, juiced
Small pack coriander, chopped
2 tbsp light mayonnaise
2 burger buns, split and toasted
Method
Cut the fish into 4 chunky fingers. Put the flour in a bowl with some seasoning, put the egg in another bowl, and the breadcrumbs and sesame seeds in a third. Dust the fish fingers in flour, then dip in egg and, finally, coat in breadcrumbs. Chill for 10 mins, if you have time.
Heat a drizzle of oil in a frying pan and cook the fish fingers for 3-4 mins each side until golden and cooked through, adding a drizzle more oil if the pan looks too dry.
Meanwhile, stone, peel and slice the avocado, squeeze over a little of the lime juice to prevent it from turning brown, then mix the remaining lime juice and coriander into the mayonnaise.
To serve, spread a little mayo over the base of each bun, top with 2 fish fingers, a few slices of avocado and the bun lid. Serve the remaining mayo on the side.
Between homemade, restaurant, and store-bought, these are the best black bean burgers we've ever tried.
Source: Sally's Baking Addiction
2 cans black beans, drained, rinsed and patted dry
1 tbsp extra-virgin olive oil
1/2 finely chopped bell pepper
1/2 finely chopped onion
3 garlic cloves, minced
1 1/2 tsp ground cumin
1 tsp chilli powder
1/2 tsp garlic powder
1/4 tsp smoked paprika
50g bread crumbs
75g feta cheese
2 large eggs
1 tbsp vegetarian BBQ sauce
2 tbsp ketchup
Pinch salt & pepper
Method
Preheat oven to 160°C. Spread beans evenly onto a lined baking sheet and bake for 15 minutes until slightly dried out.
Meanwhile, sauté olive oil, chopped pepper, onion, and garlic over medium heat until peppers and onions are soft, about 5-6 minutes. Gently blot some of the moisture out. Place in a large bowl or in a food processor with the remaining ingredients (cumin, chili powder, garlic powder, smoked paprika, bread crumbs, cheese, eggs, Worcestershire, ketchup, salt, and pepper). Stir or pulse everything together, then add the black beans. Mash with a fork or pulse the mixture, leaving some larger chunks of beans.
Form into patties– about 1/3 cup of mixture in each.
To bake: Place patties on a parchment paper-lined baking sheet and bake at 375°F (191°C) for 10 minutes on each side, 20 minutes total. To grill: Place patties on greased aluminium foil and grill 8 minutes on each side. Heat temperature is a personal preference as all grills differ. Generally, black bean burgers should grill on medium-high heat about 180°C – 200°C.
Serve with your favourite toppings. Store leftovers in the refrigerator for up to 5 days or freeze – Cooked or uncooked black bean burgers freeze wonderfully for up to 3 months. Stack between parchment paper in a freezer container or zipped-top bag. Thaw in the refrigerator and reheat to your liking or, if uncooked, cook according to instructions. If desired, you can skip thawing and reheat/cook from frozen for an extra couple of minutes.