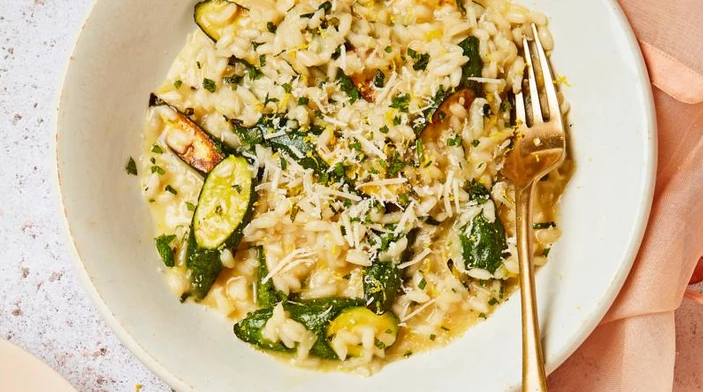 Courgette Risotto

– Eat Healthy for Less
A fresh and creamy risotto that puts baby courgettes in the limelight. It's also flavoured with mint, lemon and plenty of salty Grana Padano.  This dish costs £1.25 per serving. Let us know if you have a go at this dish and tag us in a picture on Facebook and Instagram.
Source: Olive Magazine
Nutritional Information: Calories 450kcals; Carbohydrates 43.2g; Total Fat 19.9g; Saturated Fat 8.7g; Fibre 2.9g; Protein 15.5g; Sugar 2.3g; Salt 2.1g.
900ml vegetable stock

 

30g butter

 

200g courgettes, thickly sliced in the 

diagonal

 

1 long shallot, finely chopped

 

1 garlic clove, crushed

 

150g risotto rice

 

Small glass of dry white wine, about 100ml

 

Handful of mint leaves, chopped

 

½ lemon, zested and juiced

 

30g Grana

Padano

, finely grated plus extra to 

serve

 
Method
Keep the stock in a pan on a low simmer. 
Melt half the butter in a deep, wide frying pan. Fry the courgettes with some seasoning on both sides until lightly golden. Scoop out and drain on kitchen paper. Wipe out the pan. 
Heat 2 tbsp of olive oil in the same pan, then gently cook the shallots and garlic for 6-8 minutes or until beginning to soften. Stir in the rice and heat through for a minute. Pour in the wine and bubble, stirring until it evaporates. Add the stock a ladleful at a time, allowing the liquid to be absorbed before adding more. Keep adding stock until the rice is tender with a tiny bit of bite left. 
Stir in the courgettes and let them heat through for a minute. Add the mint and stir into the rice with the lemon juice and zest, parmesan, remaining butter and a final ladleful of stock. The risotto should be creamy and oozy rather than stiff, so add extra stock accordingly. Put on a lid and leave to sit for a few minutes, then serve in warm bowls with extra cheese, if you like.