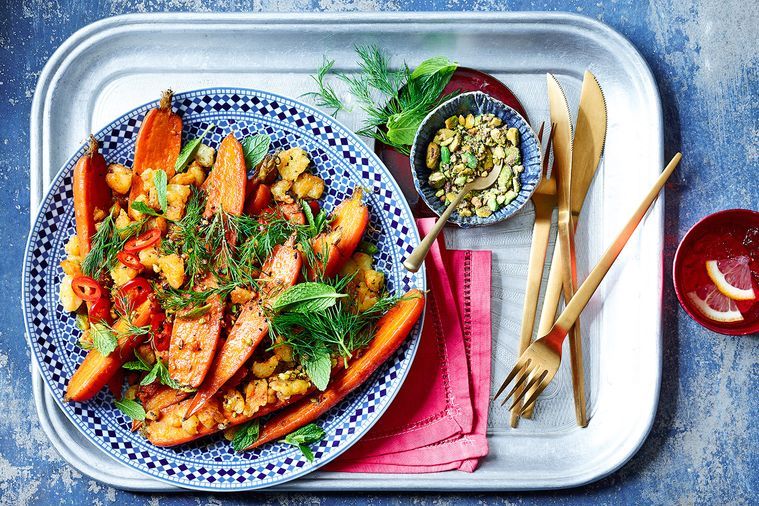 We have put together some of our favourites BBQ sides & extra recipes. With the warmer weather making an appearance and lockdown rules slowly being lifted – we are sure to be hosting and attending plenty of BBQ's this Spring/Summer.
You can purchase a BBQ box from our website and add your extras to make these delicious sides and desserts to help spice up your BBQ table.
Don't forget to check out our Pinterest Board for even more recipe suggestions.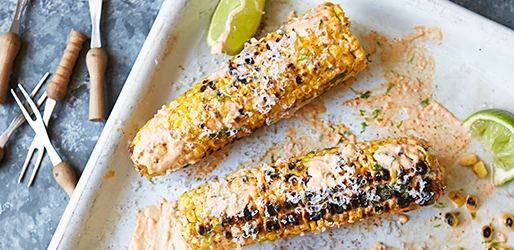 Pep up this grilled Mexican street snack with punchy Korean spicy sauce for your next barbecue.
Source: Olive Magazine
6 corn on the cob
Rapeseed oil
50g parmesan, finely grated
Lime wedges, to serve
Sauce
5 tbsp mayonnaise
6 tbsp soured cream
150g feta cheese, finely crumbled
1 lime, zested & juiced
2 tbsp chilli paste
1/4 tsp smoked paprika
2 tbsp freshly chopped coriander
Method
Mix all the sauce ingredients then scoop them into a shallow baking dish or tray. This will make it easier to coat the corn.
Heat the barbecue or a griddle pan. Brush the corn cobs with a little bit of oil and grill for 8-10 minutes (or 15-20 minutes on a griddle pan), turning occasionally so they're charred all over. Dunk them straight into the sauce, turning the cobs to coat them all over. Sprinkle with the parmesan and serve with lime wedges and any leftover sauce.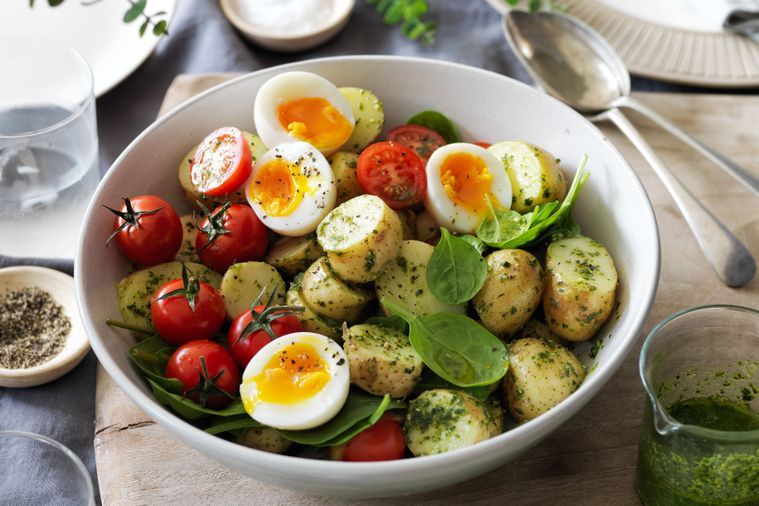 Pesto, Potato & Egg Salad
This simple yet health-conscious salad is a perfect accompaniment to a BBQ.
Source: Delicious
750g salad potatoes
4 eggs, at room temperature
260g baby spinach leaves
1 bunch flat-leaf parsley, finely chopped
250g vine-ripened cherry tomatoes
For the pesto
1 bunch basil, leaves picked
2 garlic cloves, crushed
40g parmesan, grated
100g roasted cashews, chopped
1 tsp finely grated lemon zest
1 lemon, juiced
1 tsp smoked paprika
125ml extra virgin olive oil
Method
For the pesto, place all ingredients in a food processor and whiz until smooth. Season and set aside.
Place potatoes in a saucepan of cold salted water. Place over medium-high heat and bring to a simmer. Cook for 15-20 minutes until tender.
Drain and set aside to cool completely, then halve. Bring a saucepan of water to the boil over medium-high heat.
Cook eggs for 6 minutes for soft-boiled or until cooked to your liking. Drain and run under cold water.
Place potatoes in a bowl with half the pesto and toss to combine. Add the spinach leaves, parsley and tomatoes.
Peel the eggs and halve. Place on top of the salad and serve with extra pesto.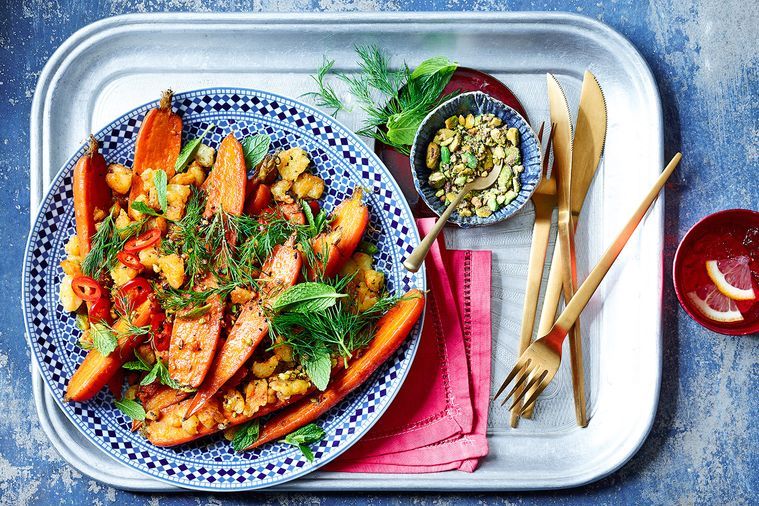 This carrot recipe proves that side dishes don't have to be boring.
Source: Delicious
165ml extra virgin olive oil
1kg carrots, trimmed, halved lengthways
2 tsp brown sugar
1/2 tsp ground cardamom
75g shelled pistachios, roasted
1 tbsp nigella seeds
1 tsp ground coriander
1/2 tsp cumin seeds
Finely grated zest and juice of 1 orange
1/4 tsp orange blossom water
1 tbsp harissa paste
150g halloumi, crumbled
1 long red chilli, thinly sliced
Mint leaves and dill sprigs, to serve
Method
Preheat the oven to 140°C. Grease a baking tray and line with baking paper.
Drizzle 2 tbsp oil onto prepared tray, add carrots, cut-side down, and roast for 1 hour or until just tender. Increase oven to 220°C. Combine sugar and cardamom in a bowl. Remove carrots from oven, turn and scatter with sugar mixture. Return to oven to roast for a further 10 minutes or until slightly caramelised.
To make dukkah, using a mortar and pestle, pound pistachios, spices and orange zest until coarsely ground.
To make orange blossom dressing, combine orange juice, orange blossom water, harissa paste and 60ml oil in a bowl and set aside.
Heat the remaining 60ml oil in a frypan over high heat. Add halloumi and cook, stirring frequently, for 4-5 minutes or until golden. Remove with a slotted spoon and set aside on a paper towel to cool.
Place carrots on a serving platter, spoon over the dressing and sprinkle with some dukkah. Scatter over halloumi, chilli, mint leaves and dill sprigs, and serve with remaining dukkah.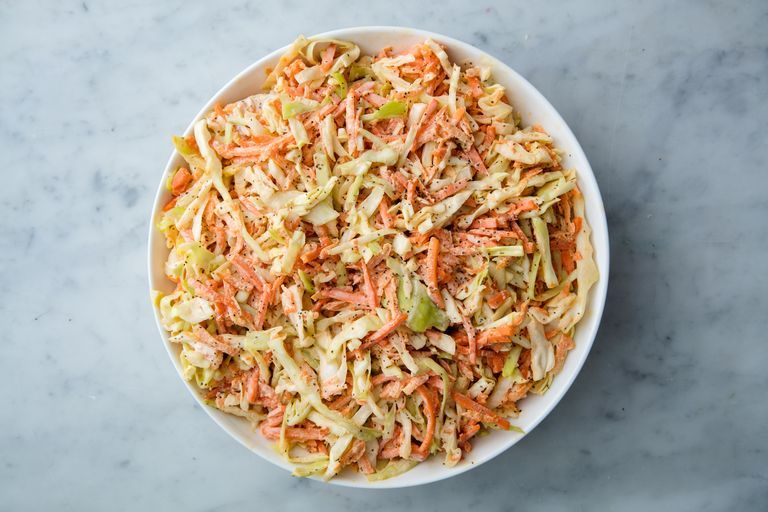 No summer BBQ is complete without a big bowl of coleslaw, and we happen to think this recipe is the absolute best.
Source: Delish
230g mayonnaise
60ml apple cider vinegar
1 tbsp Dijon mustard
2 tsp granulated sugar
2 tsp celery seed
Salt
Freshly ground black pepper
1/2 large head green cabbage, thinly sliced
3 large carrots, grated
Method
Whisk together mayonnaise, vinegar, dijon mustard, sugar, and celery seed. Season with salt and pepper to taste. Add cabbage and carrots and mix to thoroughly combine.
Cover with cling film and refrigerate until ready to serve.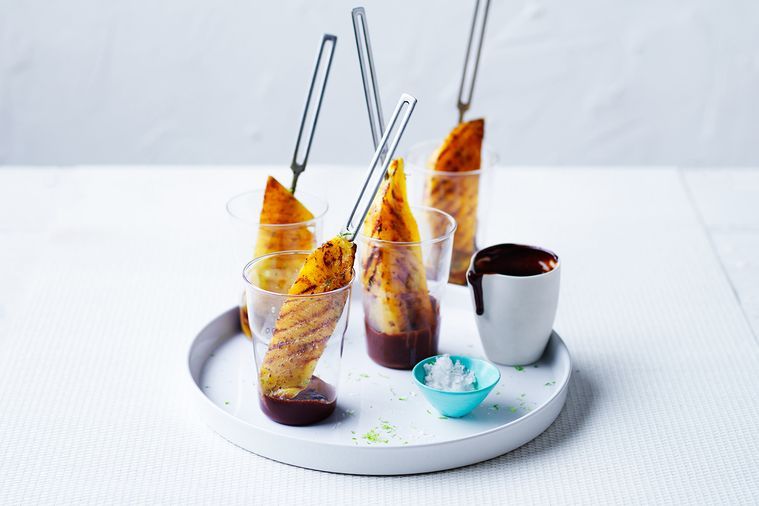 Spiced BBQ Pineapple with Chocolate Dip
A delicious spicy twist on a tropical childhood favourite.
Source: Delicious
1 star anise
1 cinnamon quill
5 whole cloves
8 Szechuan peppercorns
100g unsalted butter, melted
1 pineapple, peeled, cut lengthways into 8 wedges
Finely grated zest of 1 lime
Chocolate dip
100g dark chocolate, finely chopped
125ml double cream
Method
Place the star anise, cinnamon, cloves and peppercorns in a dry pan over medium heat. Toast for 3 minutes or until fragrant.
Transfer to a spice grinder or mortar and pestle, and grind to a fine powder. Place half the spice mixture in a bowl. Add the butter and stir to combine. Set aside.
Preheat a barbecue or chargrill pan over medium-high heat. Thread the pineapple onto skewers and brush with the spiced butter. Grill, brushing frequently with spiced butter, for 10 minutes or until lightly charred.
Meanwhile, for the chocolate dip, place the chocolate in a heatproof bowl. Place cream and remaining spice mixture in a saucepan over medium heat.
Bring to the boil, then pour through a sieve over the chocolate. Set aside to cool for 1 minute, then use a spatula to stir until smooth and combined. Stir in a pinch of sea salt.
Serve pineapple skewers with the spiced chocolate dip, grated lime zest and extra sea salt.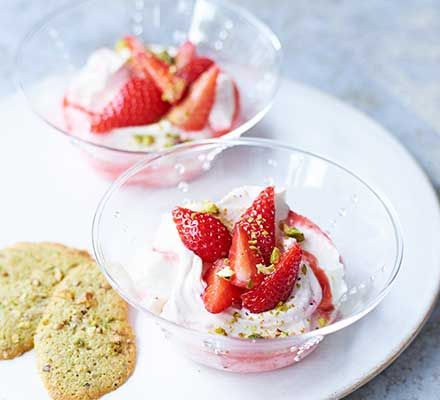 Total time: 4 hrs 20 mins
Try this easy summer dessert which features thick Greek yogurt, strawberries macerated in rosewater, honey and pistachios. Serve with biscuits on the side.
Source: BBC Good Food
400g natural, thick full-fat Greek yogurt
400g strawberries
1 1/2 tsp caster sugar
2 tsp rosewater
3 tbsp good-quality honey
Chopped pistachios, to serve
Method
Mix the yogurt with a pinch of salt. Line a sieve with muslin and set it over a deep bowl. Spoon in the yogurt and put in the fridge to strain for 4 hrs.
Meanwhile, hull and quarter the strawberries, mix them with the sugar and rosewater and leave to macerate.
After 4 hrs, turn the labneh out into a clean bowl. Gently fold through the honey. Take ¼ of the strawberries and purée them in a blender, then fold into the labneh, so you have a rippled yogurt. Serve in glass bowls with the rest of the strawberries on top, scatter with pistachios, and serve with the pistachio & coriander seed biscuits on the side.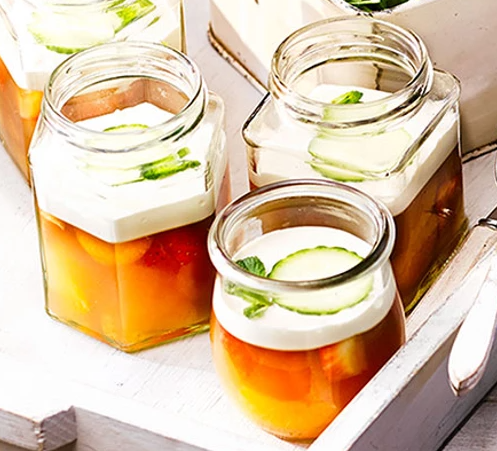 Fun and fruity individual desserts with a layer of set cream – use portable jam jars to pack up for a picnic or a fun BBQ dessert.
Source: BBC Good Food
9 gelatine leaves
600ml apple juice
4 tbsp golden caster sugar
250ml Pimm's
6 strawberries, hulled and chopped
300g can mandarin segment in juice, drained
200ml single cream
100ml semi-skimmed milk
6 thin sliced of cucumber, to serve
Mint sprigs, to serve
Method
Put 7 gelatine leaves in a bowl of cold water and set aside to soften for 5 mins. Meanwhile, heat the apple juice in a small pan with half the sugar until steaming. Remove from the heat, squeeze out the water from the gelatine, then add it to the pan, 1 leaf at a time, stirring until dissolved. Add the Pimm's and stir again.
Divide the strawberries and mandarin segments between 6 jam jars, pour over the apple juice and Pimm's mixture, then put in the fridge to set for at least 4 hrs.
When the jelly has set, soften the remaining gelatine as before. Heat the cream, milk and remaining sugar in a pan until steaming. Squeeze out the water from the gelatine, add it to the pan and mix well. Set aside to cool for 10 mins. Pour the cream mixture over the jellies, then chill for 1 hr.
Top each jelly with a slice of a cucumber and a small sprig of mint. Pack into a cooler bag for transporting. Can be made 1 day before serving.